When we took our first trip to Niagara Falls more than a decade ago, I was convinced it would be our last. It wasn't that impressive, the area seemed kind of tacky and in three hours we felt like we'd seen more than we really needed to.
It turns out we were doing it wrong. We made plenty of Niagara Falls "rookie mistakes", but fortunately I learned from them and our visit at the end of our epic New York/Canada road trip. Our second trip to Niagara Falls was far more successful, so I'm here to share what I've learned along the way: the best things to do in Niagara Falls and what not to do in Niagara Falls. You'll also find out where to stay in Niagara Falls, how to get around Niagara Falls Canada and more in this Niagara Falls trip planning guide.
Where to stay in Niagara Falls (Canadian side)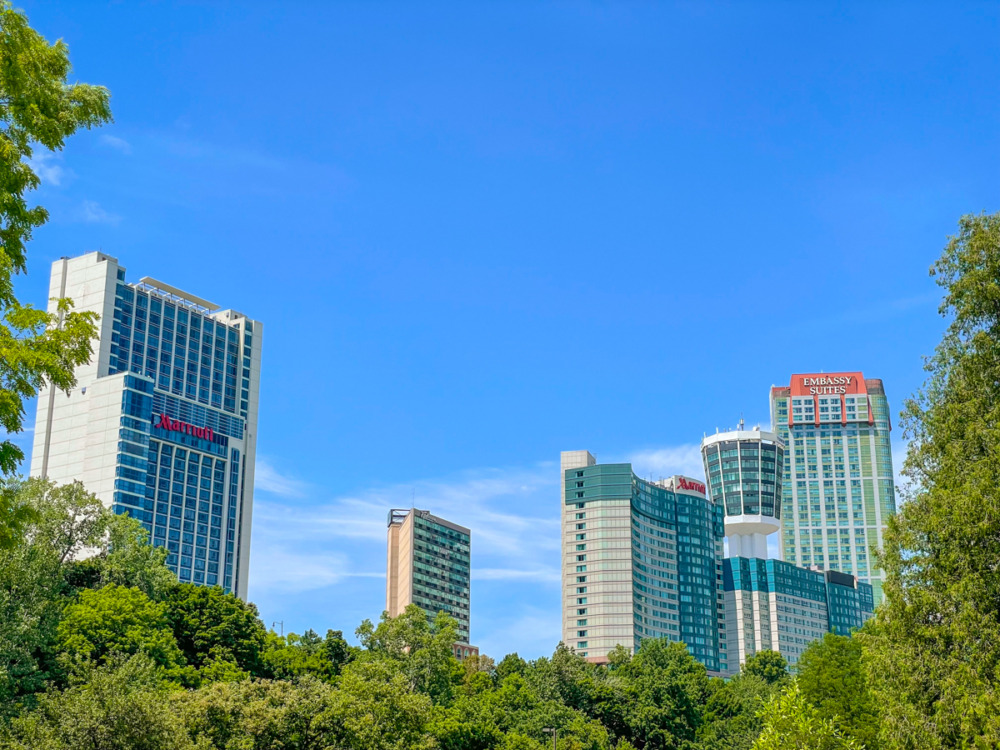 I'll discuss the reasons why more below, but I strongly recommend that you get a hotel on the Canadian side of Niagara Falls. There are a few features I'd look out for that are specific to staying overnight in Niagara Falls, and in my opinion a clear winner.
Falls view: The point of staying overnight in Niagara Falls is to have an amazing view at all hours, so don't skimp on this! If you're using a hotel comparison engine to narrow things down by price, they generally show you the cheapest available room rather than the room with the view you want – prepare to do some digging.
Accessibility to Niagara Falls viewing area: The vast majority of Niagara Falls hotels with a view are located along Fallsview Blvd. However, that's up a fairly steep hill from the platforms along Niagara Parkway and there's basically just one pedestrian route connecting them – Murray Street.
Breakfast: In 2022 none of the hotels were offering free breakfast, and it showed. I kid you not that the line at the closest Tim Horton's was out the door and all the way along the outside wall of the shop at 9am! For 2023, it looks like complimentary breakfast is back on at many hotels. If you're planning ahead for a visit during the busy summer season, try to book a hotel that will serve a quick breakfast and get you out the door and on your way to the top Niagara Falls attractions.
Speaking of planning ahead, the good rooms at best hotels in Niagara Falls do book up early! Don't miss out on a room with a view of Niagara Falls, especially if you're visiting in the summer.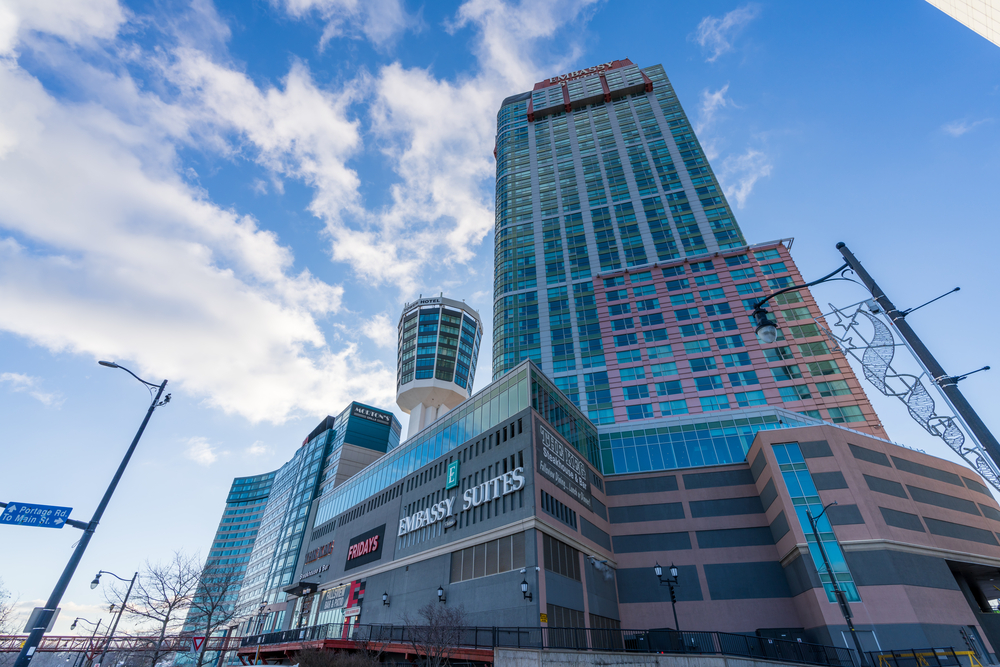 So which hotel do I think you should stay at in Niagara Falls? To me the winner is Embassy Suites Niagara Falls/Fallsview – which is not where we stayed. The Embassy Suites has a front-and-center view of both the American and Canadian sides for the nighttime light show, and it's one of the best hotels where you can see the Niagara Falls fireworks! It's one of the tallest hotels in Niagara Falls, so there are lots of opportunities for an excellent view. The hotel includes free breakfast and an evening manager's reception, plus there's a Starbucks in the lobby.
The other piece that makes the Embassy Suites a stand-out is the Niagara Falls Incline Railway in its backyard. Instead of hoofing it all the way to the Casino and traversing the steep hill of Murray Street, you can pay a few dollars to be deposited right where you want to go: the main viewing platform for Niagara Falls and the Niagara Falls Welcome Center. The Incline Railway is a miniature funicular and you can buy unlimited rides for just over $6 CAD per day. While the Niagara Falls Incline Railway is available to anyone willing to pay, the convenience for Embassy Suites guests is just unparalleled.
Check prices on these sites to make sure you get the best deal on the Embassy Suites in Niagara Falls: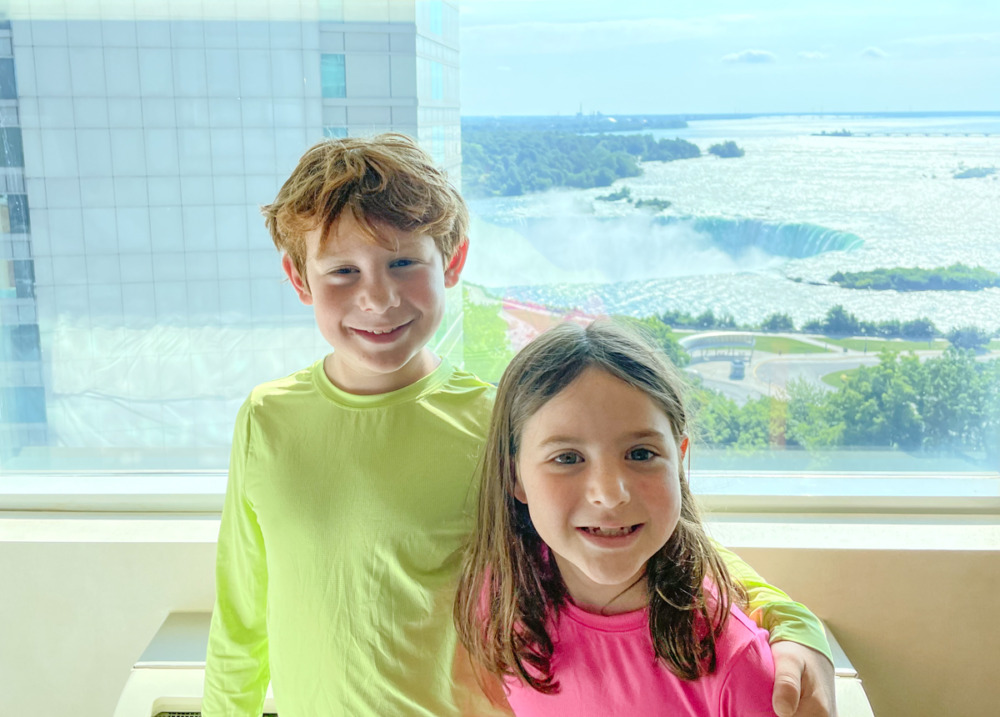 If the Embassy Suites is so great, why didn't we stay there? First, because I didn't fully realize how isolated most of Fallsview Blvd is from Niagara Parkway (and when we arrived late at night the hotel clerk didn't mention that we could shorten our walk by catching the Incline Railway). But second, I booked relatively last-minute for a holiday weekend and the cost would have been much more than I was willing to swallow.
As a compromise, we stayed up the street at the Radisson Hotel & Suites Fallsview. Check out our view above! In addition to the cheaper room, parking cost a reasonable $25 CAD compared with $70 CAD at Embassy Suites (yes, you read that right).
The Radisson isn't nearly as tall as many of its neighbors and it's located behind them (specifically this one), but they do offer several rooms (including ours) with excellent views. Check out our view here! It flies a little "under the radar" compared to some of its neighbors so you may be more likely to score a deal compared with other Fallsview hotels. The staff was very helpful and the kids couldn't get enough of the enormous polar bear in the lobby.
Check prices for the Radisson Niagara Falls here:
If neither of these strikes your fancy, this handy map should help you find a great hotel that meets your location needs and budget:
---
Niagara Falls Mistakes to Avoid
Want to have an amazing trip to Niagara Falls? Be sure not to make these mistakes – including a few that we've made in the past.
DON'T: Stay only on the American side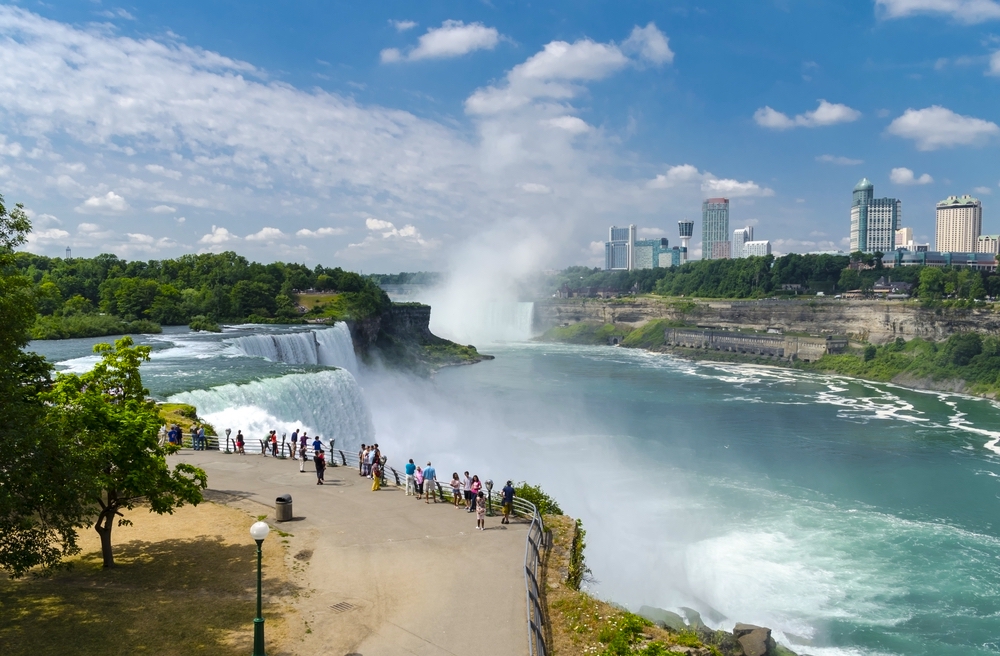 On our first visit to Niagara Falls, many years ago, we were driving from Buffalo and made a quick stop en route to Niagara-on-the-Lake. Stopping on the American side of Niagara Falls made sense for our plans so that's what we did.
Unfortunately, the view from the American side of Niagara Falls is… incomplete. You can't see all of Horseshoe Falls, and you're standing right next to American Falls so that you can't see all of that either when you're in Niagara Falls State Park. When you're debating Niagara Falls Canada vs New York, the winner is clear.
The only reason to skip the Canadian side of Niagara Falls in favor of the American side is if you don't have a passport or you're in a huge rush coming from the New York. If you have enough time, feel free to stop at both!
I won't go into depth on the tourist attractions in Niagara Falls NY, but you'll want to check out both Maid of the Mist and Niagara Falls observation tower (which extends over Niagara River Gorge) so that you can see American Falls, Horseshoe Falls and Bridal Veil Falls. Under the encouragement of Frederick Law Olmsted, the area surrounding the falls was wisely preserved as America's first state park so there are plenty of beautiful free viewpoints.
Book a photoshoot
We always love to book a photoshoot when we're traveling. As a mom, it's tough to get in the photos since I'm always behind the camera. We use Flytographer to capture our memories. You can get $25 off your shoot by booking with this link or using code FAMILYVOYAGE.
DON'T: Get sucked into a scam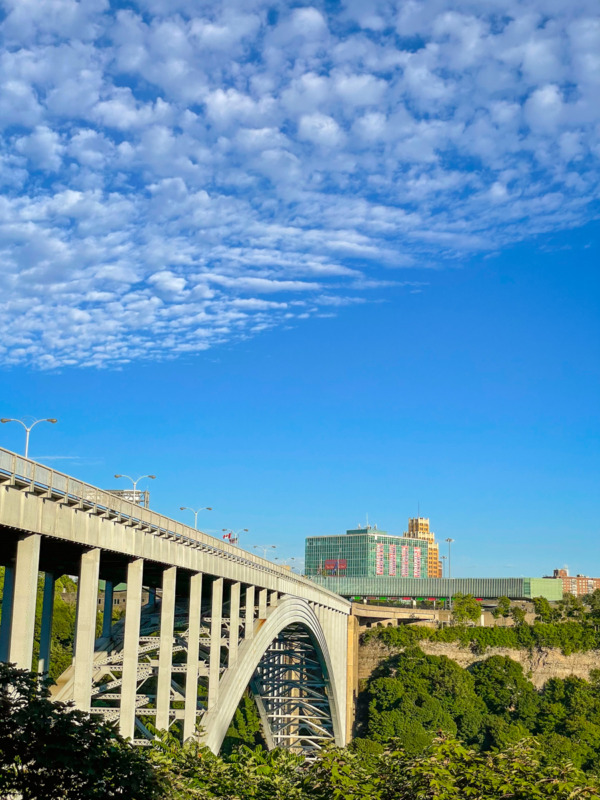 Confession time: on that ill-fated first trip to Niagara Falls, we didn't do any research. We were just taking a quick side trip from Buffalo and we assumed everything would be straightforward. Go take in a view point, take a ride on Maid of the Mist and then move on to Niagara-on-the-Lake.
Everything seemed fine as we pulled into the parking lot at One Niagara Welcome Center (pictured above so that you can avoid it) – it offers some of the cheapest parking in Niagara Falls New York. But once in the lot, we were funneled into the massive, official-looking building in order to access the Falls.
Since they advertise attraction tickets we asked to buy tickets for Maid of the Mist. They were happy to sell us tickets, but told us that the only way to go on Maid of the Mist was as part of a tour to see several Niagara Falls sites. That was an out and out lie, but we only found out after we had paid and been herded onto a shuttle bus that took us miles away (with other unsuspecting tourists) to see some other part of the Niagara River. At the end of the tour, more than an hour later, we were dropped off at the actual entrance to Maid of the Mist and handed bulk-purchased tickets.
Needless to say the experience left a bad taste in our mouths, as we felt we'd been cheated of our time, our money and our preference to be independent travelers. Niagara Falls is one of the most popular tourist attractions in New York State and has the infrastructure to match – just don't get suckered.
Read more: How to make the most of 24 hours in Toronto
DON'T: Spend all of your time mobbed by tourists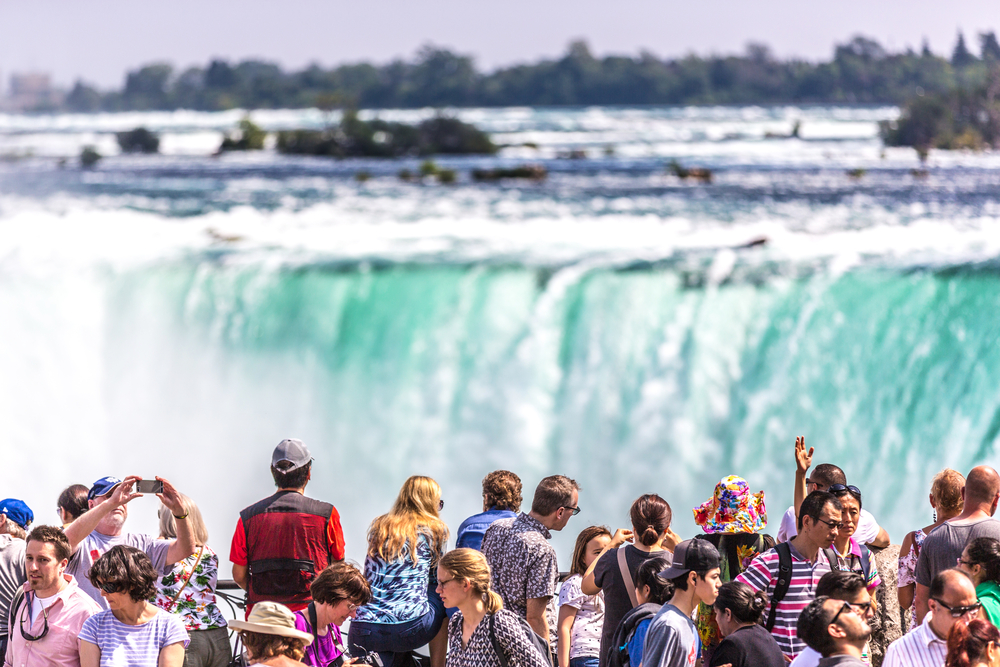 The most popular place in Niagara Falls, Canada is the walkway between the Table Rock Visitors Center and the boarding area for Niagara City Cruises, then continuing up to the Clifton Hill entertainment area. It's packed!
Don't be afraid to get away from the crows to have a different Niagara Falls experience. We found it much more peaceful on either end of Niagara Parkway (closer to Rainbow Bridge and near the Niagara Parks Power Station). After being packed like sardines on a 700 person boat, finding ourselves virtually alone in Bird Kingdom was a welcome change – more on that below!
Another great way to avoid huge crowds is to visit Niagara Falls in winter!
DON'T: Leave after just a few hours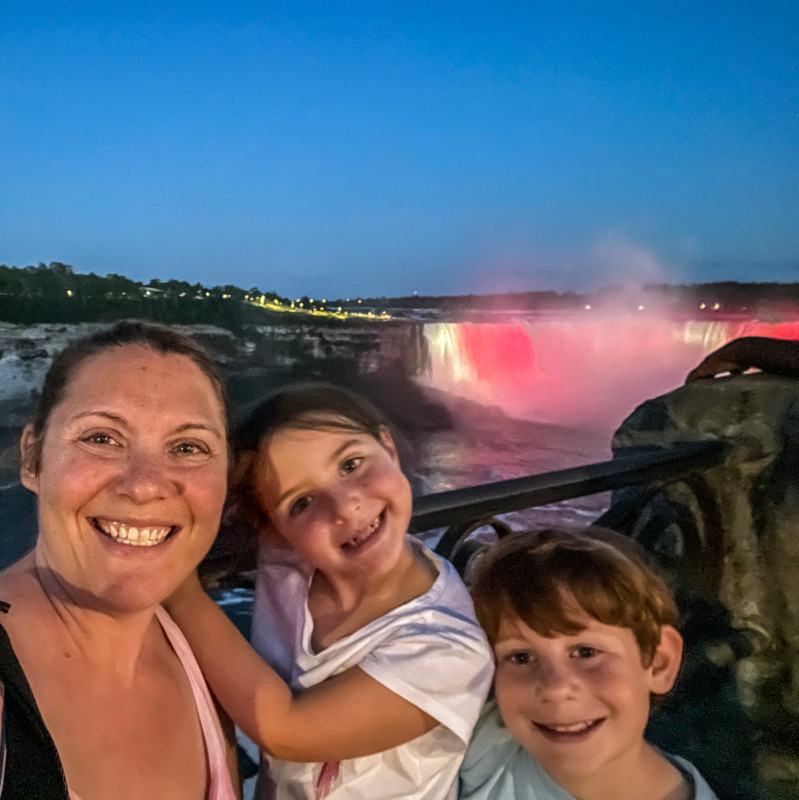 While you could get a quick taste of Niagara Falls just by looking out from the platform and taking a boat tour, you'd be missing out! Seeing Niagara Falls illuminated at night, getting below the Falls, watching fireworks over the American Falls, checking out an aerial view of Horseshoe Falls… there's just so much to do that it's worth spending at least 1 day in Niagara Falls.
We arrived in Niagara Falls mid-afternoon and departed just before lunch the following day. That allowed us enough time to see the Falls both day and night, and also minimized our crowded, tourist-priced meals.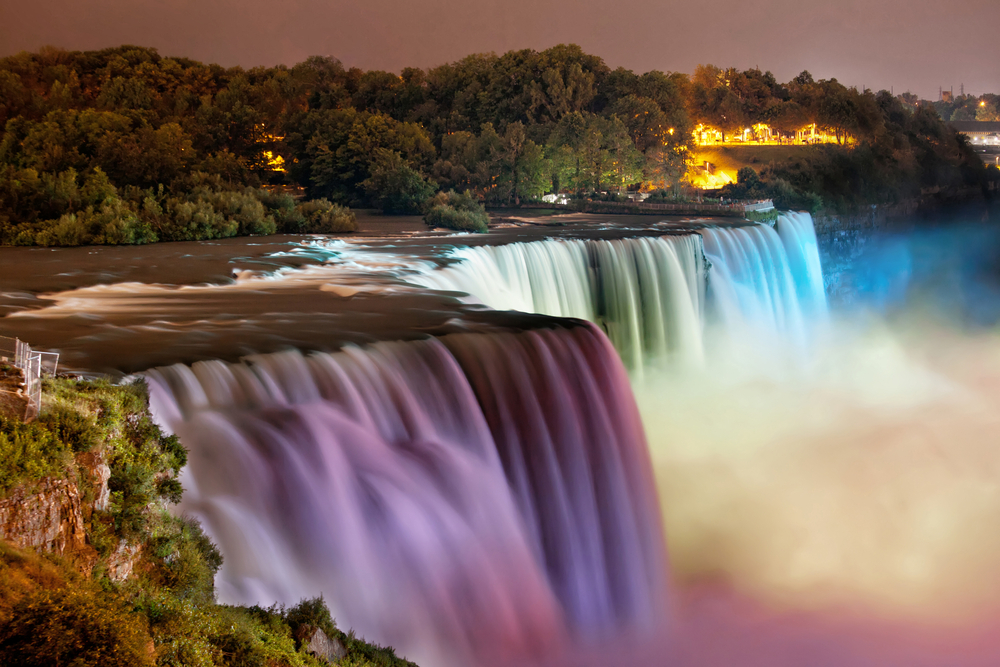 Even if you're only exploring the Niagara Falls American side, it's still worth catching the unique side view of the illuminated American Falls before checking into your Niagara Falls New York hotel for the night.
---
Niagara Falls Things to Do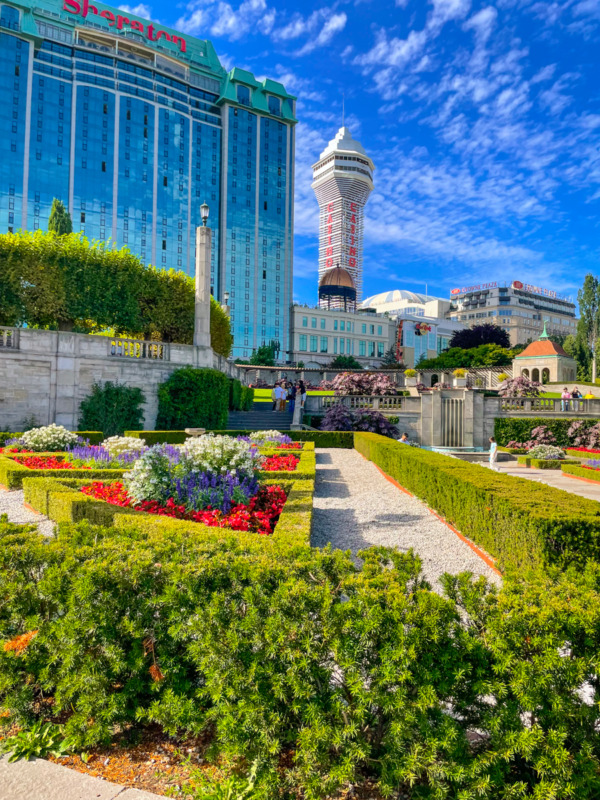 We've gone over what not to do, but what are the best things to do in Niagara Falls? Here are a few absolute "musts" along with Niagara Falls tips to ensure everything goes smoothly for you. Don't forget to slow down and enjoy how pretty the area is!
DO: Get a room with a view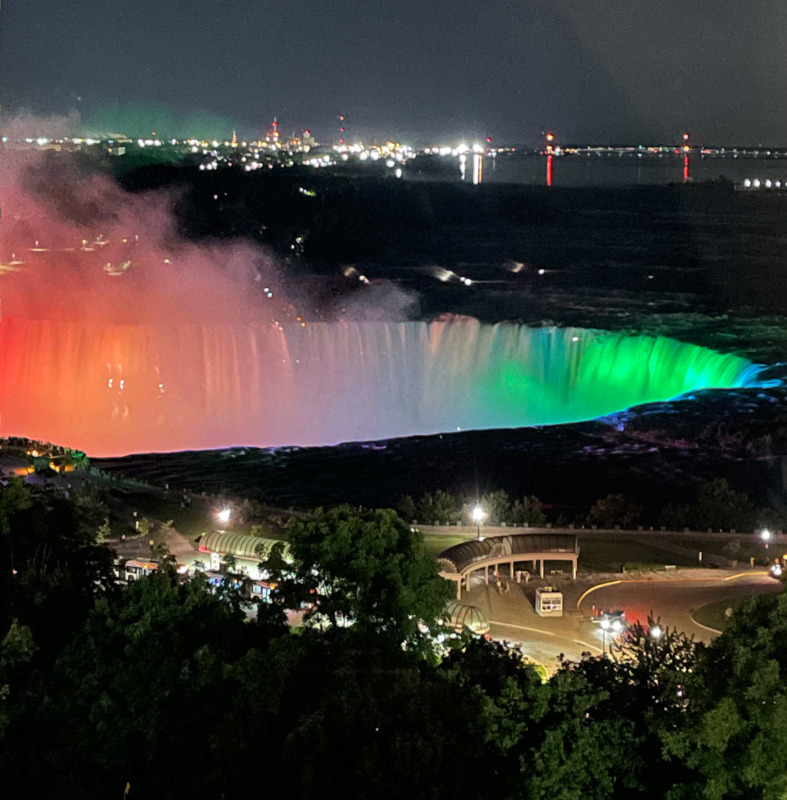 I'm not normally a hotel splurger, and I hesitate to even call our one night at the Fallsview Radisson a "splurge" at just over $300 USD. But there's truly something special about seeing Niagara Falls from above during both the day and night. I even went to sleep with the window shade up a bit so that I could watch the light show on Horseshoe Falls from bed.
Since I went over the Fallsview hotels I recommend above I won't rehash them now, but be sure to review those options carefully. Here are a few quick picks:
DO: Take a boat tour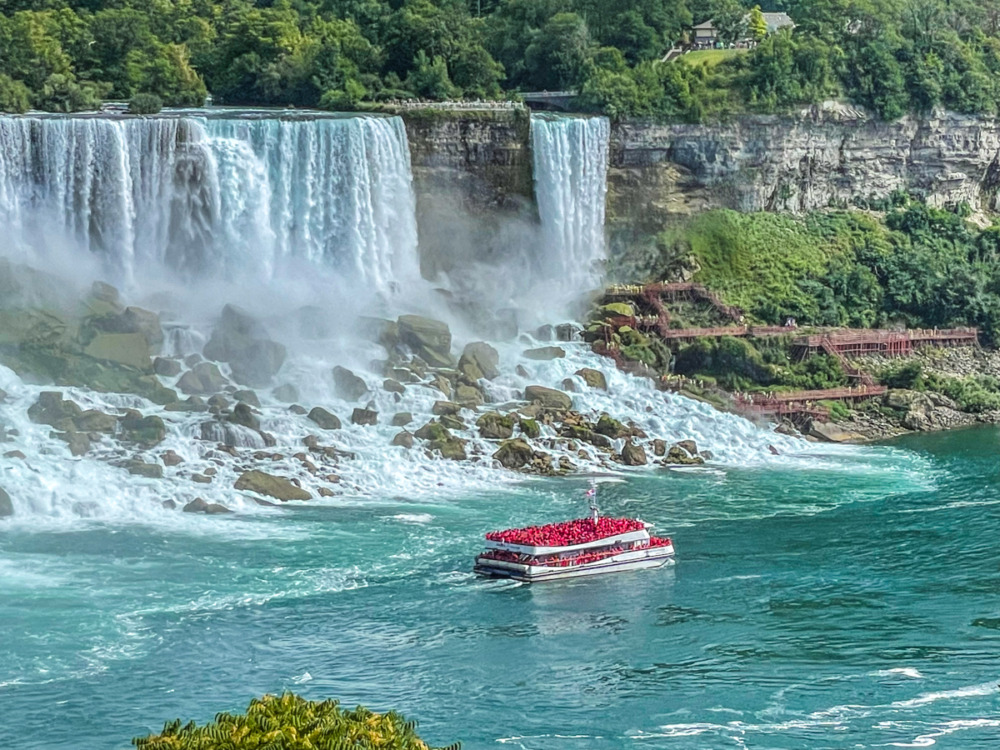 One of the most classic things to do in Niagara Falls is a boat tour, either Maid of the Mist on the New York side or Niagara City Cruises (formerly Hornblower) on the Canadian side. The two Niagara Falls boat tours are basically the same except for the departure point and the Canadian boats are a little nicer in my opinion. They both cross in front of the American Falls and then proceed into the thundering water of Horseshoe Falls for a drenching. Thankfully both boats give visitors a poncho to stay dry – red on the Canadian side and blue on the American side.
How long is the Niagara Falls boat tour? Surprisingly, it's only about 20 minutes. But allow plenty of time for the complete "experience" if you're visiting Niagara Falls in the summer – from the time we got in line to board to the time we disembarked it was a solid hour, plus a few more minutes waiting for an elevator back to the top.
What should you wear for Maid of the Mist or Hornblower? On a small adult carrying a backpack, the poncho goes to about knee length. I chose to wear shorts and waterproof shoes to avoid walking around soggy for the rest of the day. The ponchos extend much further on kids obviously, so only their shoes were exposed. One kid wore Keens while the other wore these boots and both stayed dry and comfortable.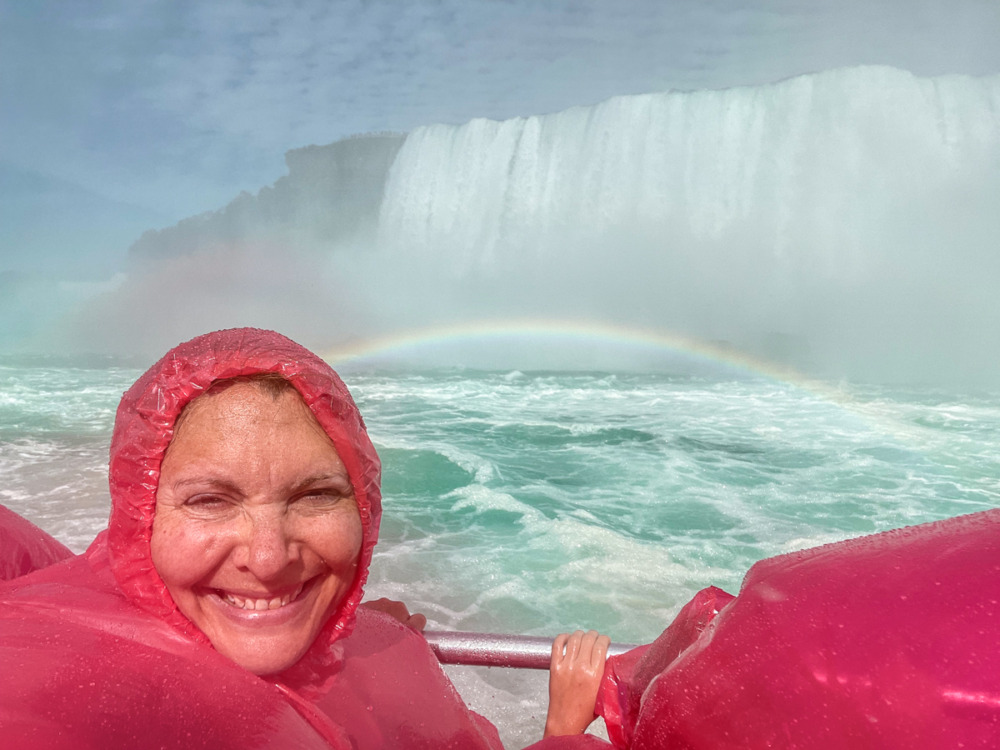 Where is the best place to stand on a Niagara City Cruise? We took our Niagara Falls cruise in the afternoon, and it worked out great to park ourselves near the front of the boat a little toward the American side. We had a fantastic view of all three waterfalls for almost the entire boat ride and didn't have the sun in our eyes except for a brief time at the end (when we were already soaked from Horseshoe Falls and didn't care).
Can you take a baby on Maid of the Mist or Niagara City Cruises (Hornblower)? There's no age restriction on children riding the Hornblower/Niagara City Cruises/Maid of the Mist. However, you need to think carefully about how you're going to bring your baby on board. The provided ponchos do a very good job of keeping your upper half dry, but wouldn't be safe for babywearing since they're totally unbreathable.
The family next to us actually brought their entire stroller/car seat travel system on board but quickly seemed to realize it wasn't a great choice: absolutely everything was soaked as soon as we got near Horseshoe Falls and there's a risk that their car seat will develop rust and/or mold if not properly drained and air dried very quickly. At some point they took their overwhelmed and unhappy baby out of her car seat to hold her and they did their best to hold the slippery poncho around her. I'm not sure there's really a great way to take a baby on a Niagara Falls boat tour but hopefully this at least gives you some food for thought.
DO: See Niagara Falls from different perspectives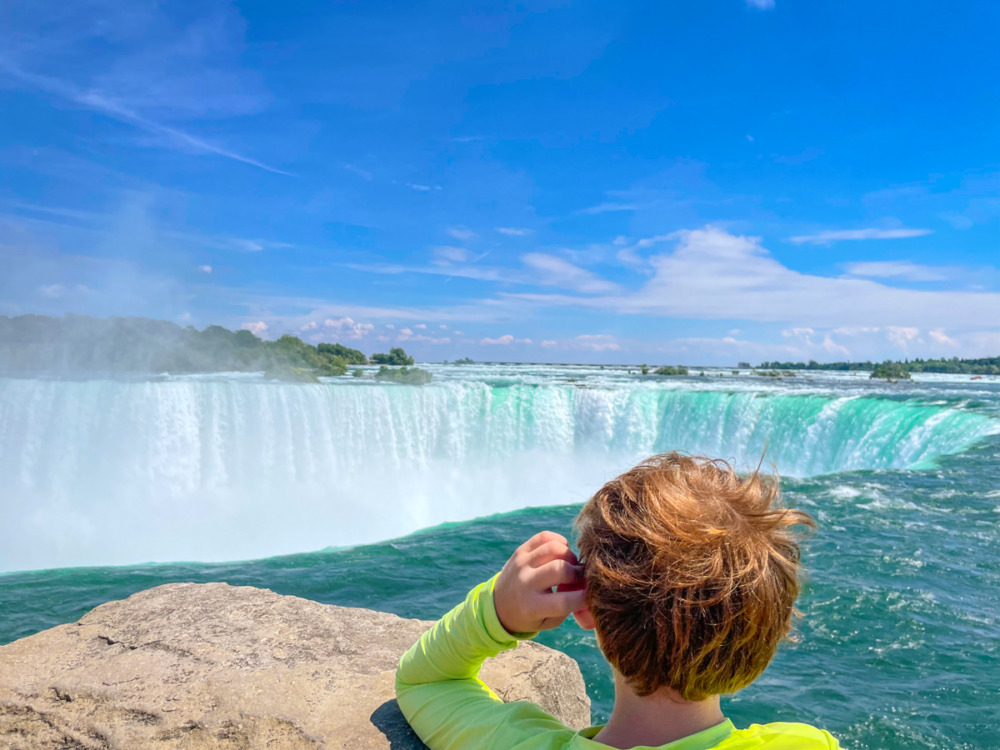 The water flow rate over Niagara Falls clocks in at a cool 750,000 gallons per second. It is truly jaw-dropping and a place you have to see.
But one of the most fascinating things about Niagara Falls is that it looks completely different depending on where you're standing. Give yourself time to check it out from different angles! Obviously be sure to stop at the main viewing areas along Niagara Parkway – there's a reason this area is the most popular place to view Niagara Falls.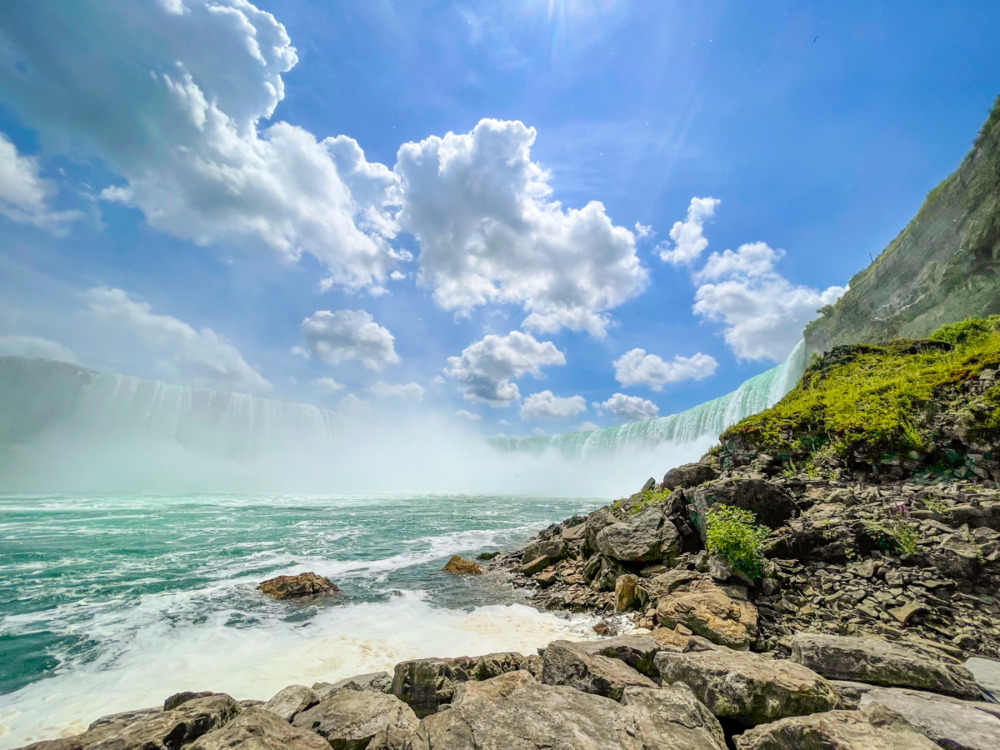 I'd recommend heading to the far ends of town for a more unique perspective in addition. For instance, if you head over toward the Falls from the Niagara Parks Power Station (more on that later) you can actually get right near the water before it tumbles over the cliff… and then you can get down to the bottom of the Falls too.
Closer to (of even on) Rainbow Bridge on the opposite side of town you'll get a wider perspective on the Falls. You can also get that broader – and higher – perspective from the top of Skylon Tower standing 775 feet above the Falls. Be sure to check this Groupon for discounted tickets!
DO: Consider your transportation options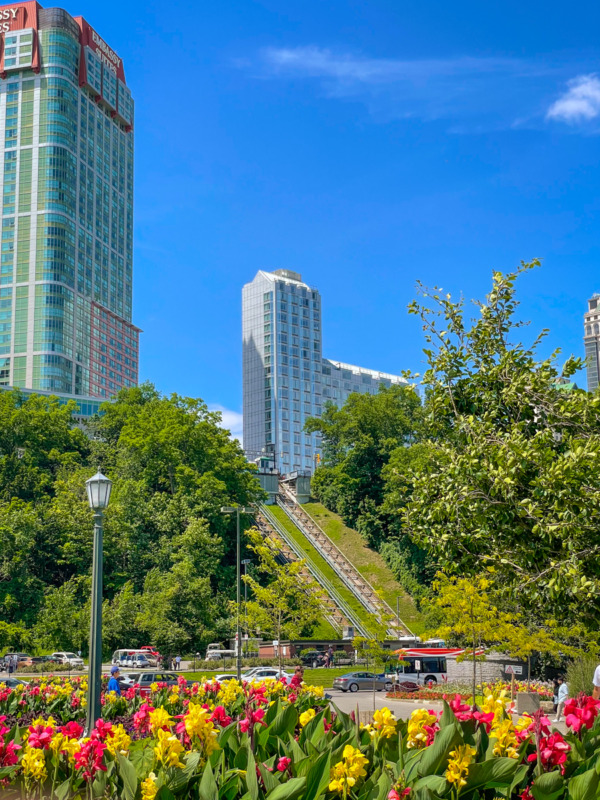 The simplest way to visit Niagara Falls is by car. That's straight-forward if you're on a road trip, but if you're flying in you'll want to arrive in Toronto (2-2.5 hours depending on traffic) or Buffalo (45 minutes plus time to cross the border).
While Buffalo Niagara International Airport is closer, flights may be more limited an expensive – for example, our home in Columbus is much closer to Buffalo and in the same country, but Buffalo flights are more expensive and inexplicably require a stop. Greater Rochester International Airport faces the same challenges and is even further from Niagara Falls, though it's a good gateway to visiting the Finger Lakes NY.
Keep in mind travel document requirements, which vary based on exactly how you get to Niagara Falls, Ontario.
Flying into Toronto: Everyone needs a valid passport book
Flying into Buffalo and crossing overland: Adults need a passport book, passport card, enhanced drivers license (not the same as Real ID) or NEXUS card; children under 16 only need a birth certificate
Why does this difference in documentation matter? If you're planning to visit Niagara Falls with kids and your family doesn't travel overseas with any regularity, it may be cheaper to fly into Buffalo since only the adults need a passport and they may have access to less expensive alternatives.
Once you get to an airport in the region, you can consider either renting a car or taking one of the many shuttle options from Toronto or from Buffalo. Which option is right for you depends a bit on what you intend to do – if you just want to spend a day or two at the falls, don't plan on driving or you're staying at a hotel with crazy expensive parking then the shuttle option maybe be a great fit.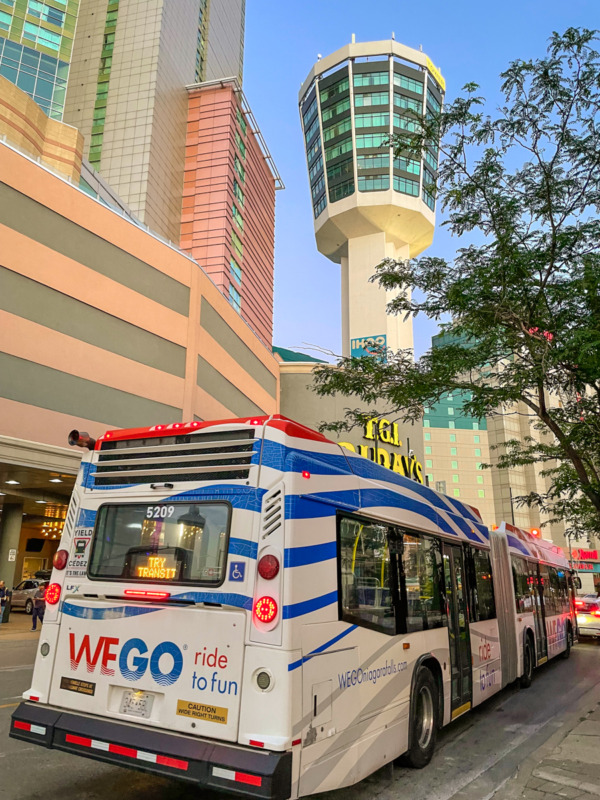 Within the town of Niagara Falls, you can walk to some locations, take the hop-on/hop-off WEGO tourist bus (particularly the blue line) or drive and park as need be. If you have a rental car, you may want to park it at your hotel as soon as you arrive in Niagara Falls and then walk or take WEGO everywhere. Daily parking at most lots that are anywhere near the falls is $25-30. I paid it one day because it made logistical sense for our plans, but it definitely hurt!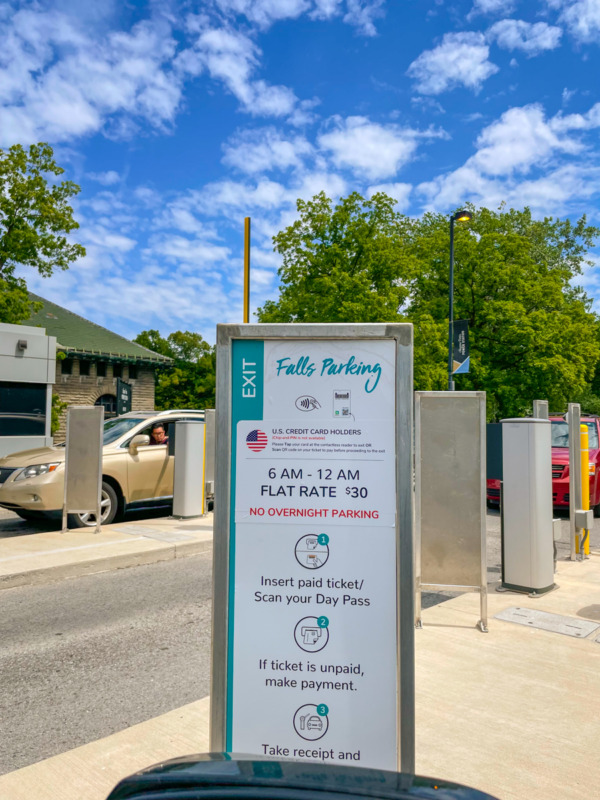 If you're thinking about the bus, WEGO Niagara Falls bus fare in 2022 is $10 per 24 hours for adults and $7 per child. You can also combine it with a daily package for the Niagara Falls Incline Railway at $6 per day. These options are all reasonably priced, but if you're traveling as a family then parking in one of the convenient lots may just be the most sensible choice. In the photo at the top of this section, you can see where the Incline Railway, WEGO and parking all meld together near the Table Rock Welcome Centre.
DO: Visit some less popular attractions
It seems like there are a thousand different Niagara Falls attractions – some good, some bad and apparently some ugly. This time around we managed to have a few fantastic experiences that most tourists overlook.
Niagara Parks Power Station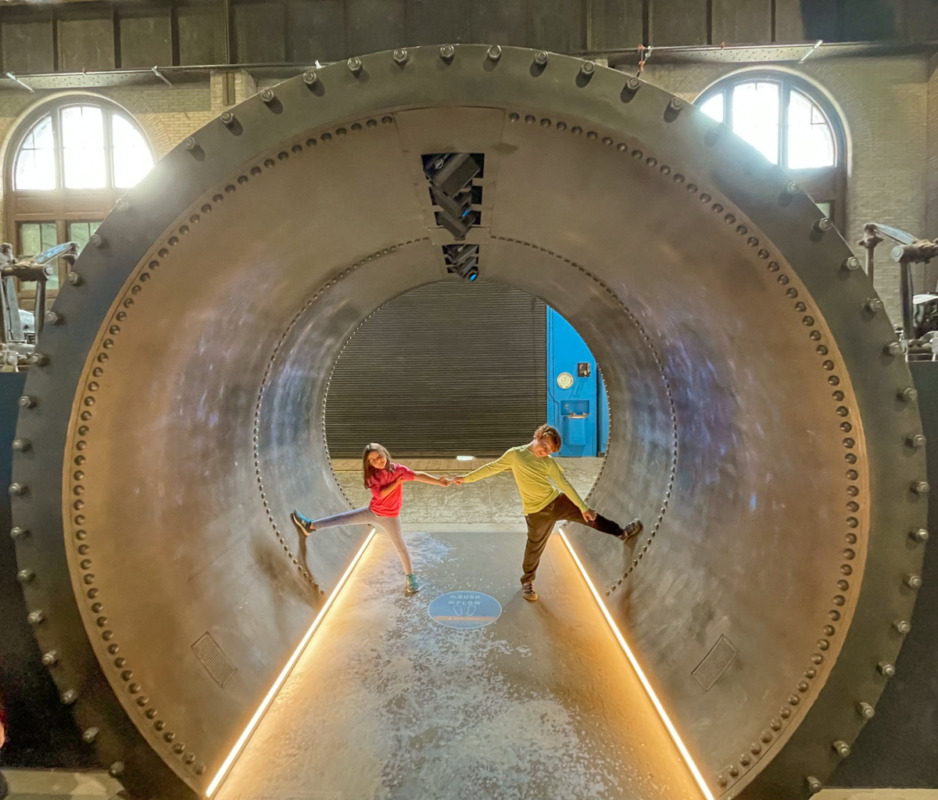 The Niagara Park Power Station just opened as an attraction in summer 2022, so it's still a little bit of a hidden gem. It was the first major power station on the Canadian side of the Niagara River and (other than added explanatory posters) still looks much like it did when it was operational. I highly recommend the guided tour, which explains how the falls were used to generate electricity, the fascinating history of the power plant and how it impacted the entire Niagara region.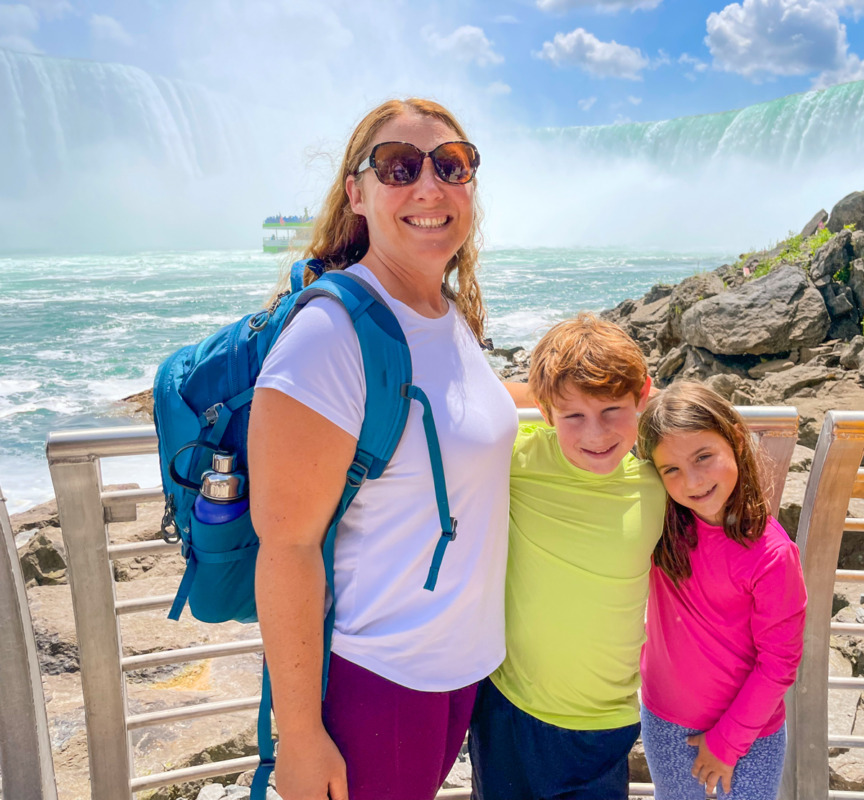 After the tour, you'll take a glass elevator down 180 feet and then walk the half-mile tunnel that used to carry water back into the Niagara River at the base of the falls. The viewing platform adjacent to Horseshoe Falls provides a fantastic perspective. It's not as immersive as Maid of the Mist and Niagara City Cruises, but without the sheer power of Niagara Falls blinding you with its spray.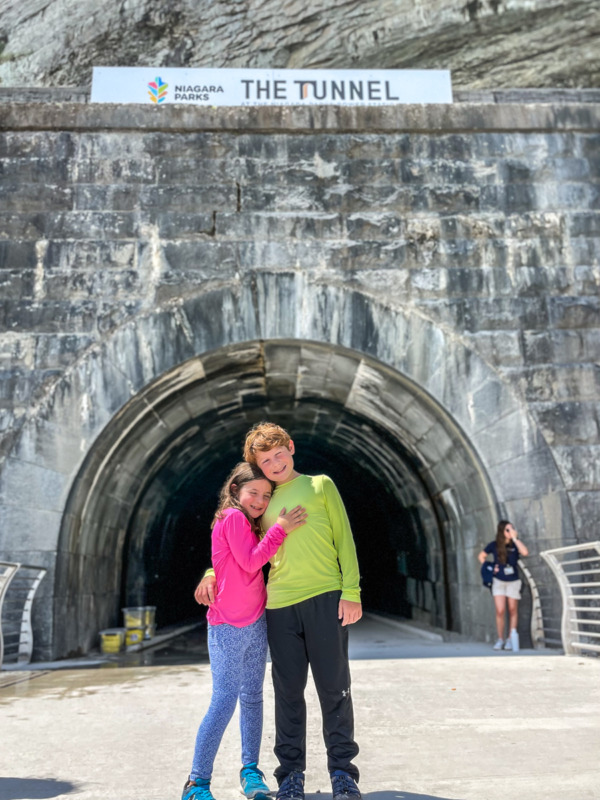 We spent about 2.5 hours at the Power Station including the guided tour and tunnel. The tunnel is cooler than it is outside, so you'll want to throw a sweatshirt in your bag to be prepared or wear a long sleeved shirt. There are ponchos available (you can see them in yellow in the photo above) in case the wind picks up and brings spray toward the platform, but it's less common than on the boat tours.
Bird Kingdom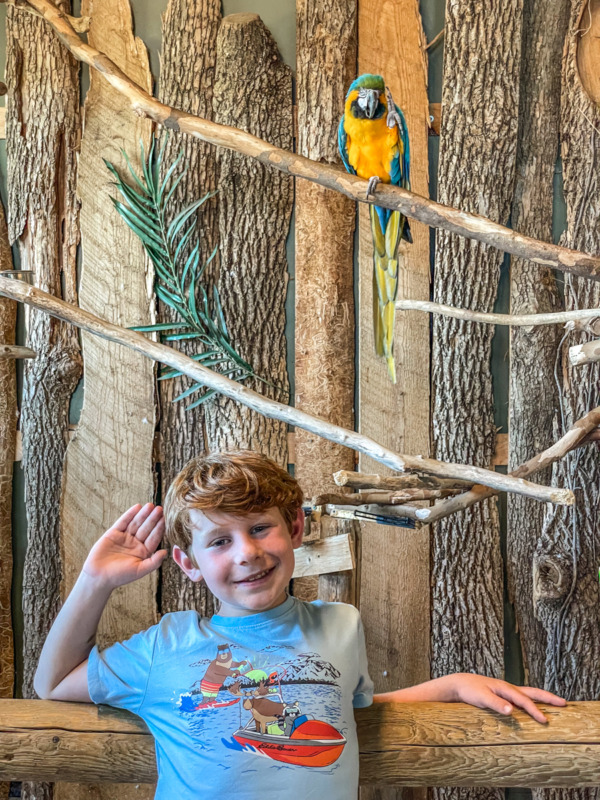 We often prefer to visit locally-themed attractions when we travel, but an Ontario family we met over the summer convinced me that Bird Kingdom was well worth a visit. They were absolutely right! Be sure to add this to your plans for a family vacation to Niagara Falls, Canada.
Before I tell you how great the experience is, it's good to know that Bird Kingdom is accredited by the Canadian Association of Zoos and Aquariums – their residents come from other zoos, from the Species Survival Program, from surrenders by private owners and other ethical means. It's run professionally and prioritizes animal welfare.
Now that the critical stuff is covered, our experience at Bird Kingdom was just as lovely as our Canadian friends promised! Even though we visited on Sunday afternoon of a holiday weekend, we were just about the only people there. We spent tons of time privately enjoying the company of parrots, macaws and other exotic birds while peppering their human caregiver with questions about their behaviors, personalities and care. The kids and I were all enthralled!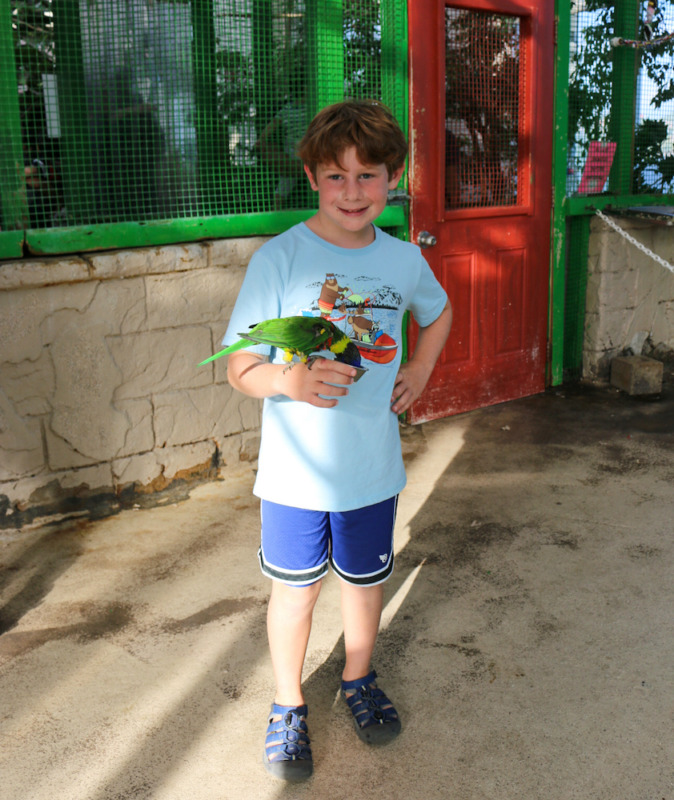 The biggest claim to fame is that Bird Kingdom is the world's largest indoor free-fly aviary. You can easily spend an hour watching a huge variety of birds flying around just being birds! There's also a fun opportunity to feed the adorable lorikeets.
Thankfully Bird Kingdom has its own two-level parking garage that costs a very reasonable $3 per hour! You pay at the machine with a credit card and just pop the receipt in your windshield. Because Bird Kingdom is past the Rainbow Bridge, it's much quieter than everything closer to the Falls. We parked our car there and made the quick walk over to Niagara City Cruises, then came back after the boat ride to spend an hour with the birds – Bird Kingdom is open until 6:30 in the summer (last admission 5:45).
We found the cheapest ticket prices through their (permanent?) Groupon using one of the frequently-available coupons to save on local activities.
DO: Drive for food if you need to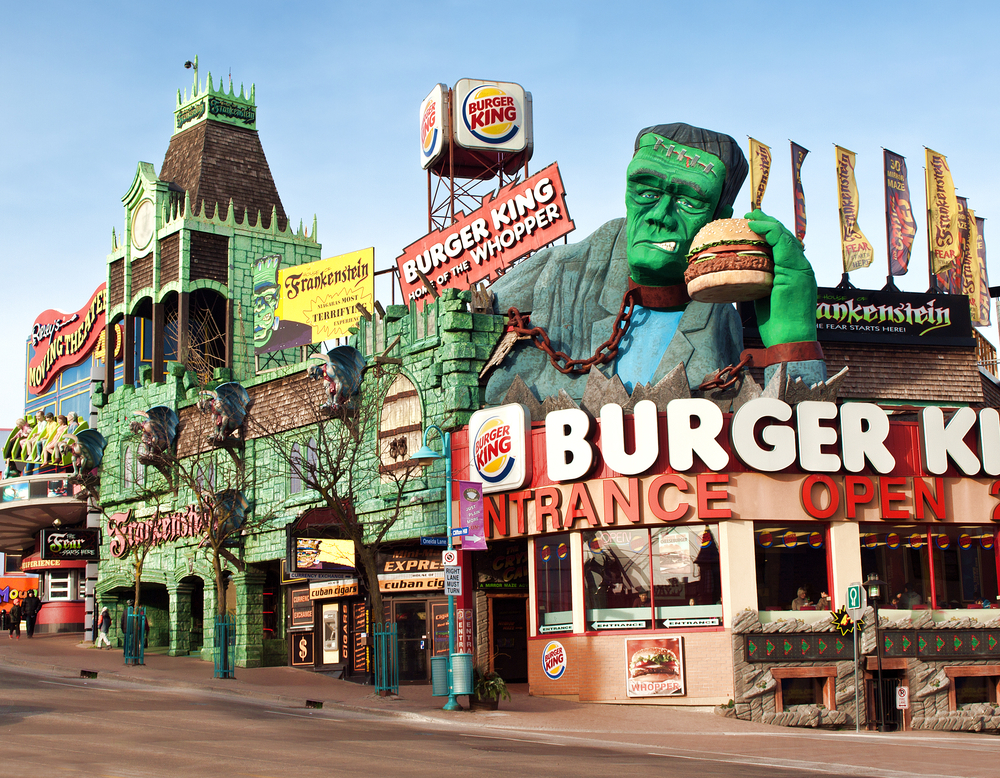 As I scoured Yelp for the best Niagara Falls restaurants, I was struck by the high prices and mediocre reviews paired with exhausting wait times reported for nearly every spot close to the Falls or the popular (and ultra-crowded) Clifton Hill entertainment area. Since I have no tolerance for that combination of traits, I asked some locals where to head for a better experience.
The universal suggestion was to head to the Lundy's Lane district, about 3km from Clifton Hill. It's a quick drive but offers better restaurants and little to no wait time even when we visited on a crowded holiday weekend. We had a nice, quiet Thai meal at Micah's Bistro. Another recommended option is Italian restaurant Carpaccio just across the street.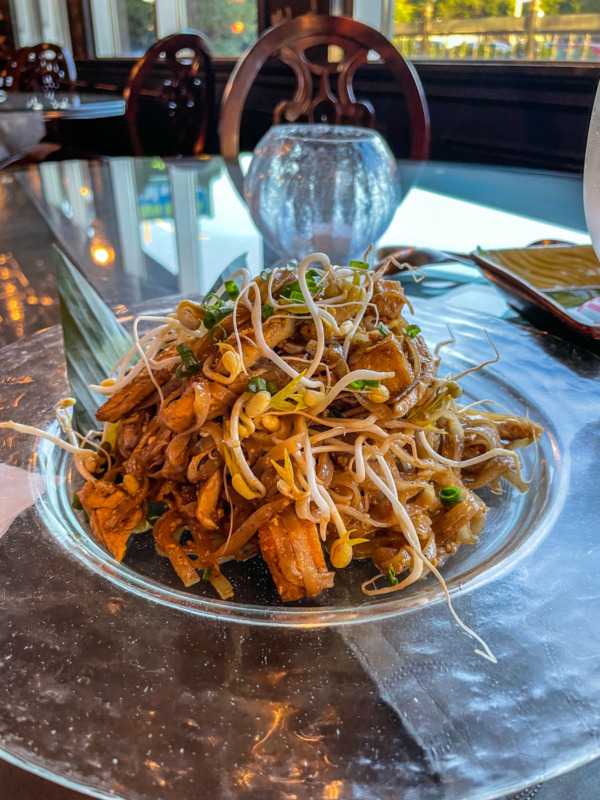 The great news is that if you've chosen to rely on WEGO to get around Niagara Falls, you can take the red line to Dorchester Road to access some of these good restaurants in Niagara Falls.
For a truly special dining experience, head to nearby Niagara-on-the-Lake for dinner at HOB NOB. It's housed in a restored 1832 Victorian manor that's also the location of The Charles Hotel. We dined there for our anniversary what seems like a lifetime ago and it remains a memorable experience! While I know I suggested above staying in Niagara Falls and I still stand by that, I'll forgive you for choosing the romantic charm of Niagara-on-the-Lake instead.
DO: Explore the rest of the area
The Niagara region of Ontario and western New York offer so many wonderful sites to explore! It would be a shame to overlook them. Even within just a few minutes of Niagara Falls there are a few places that should be on your radar for a Niagara Falls itinerary:
Niagara-on-the-Lake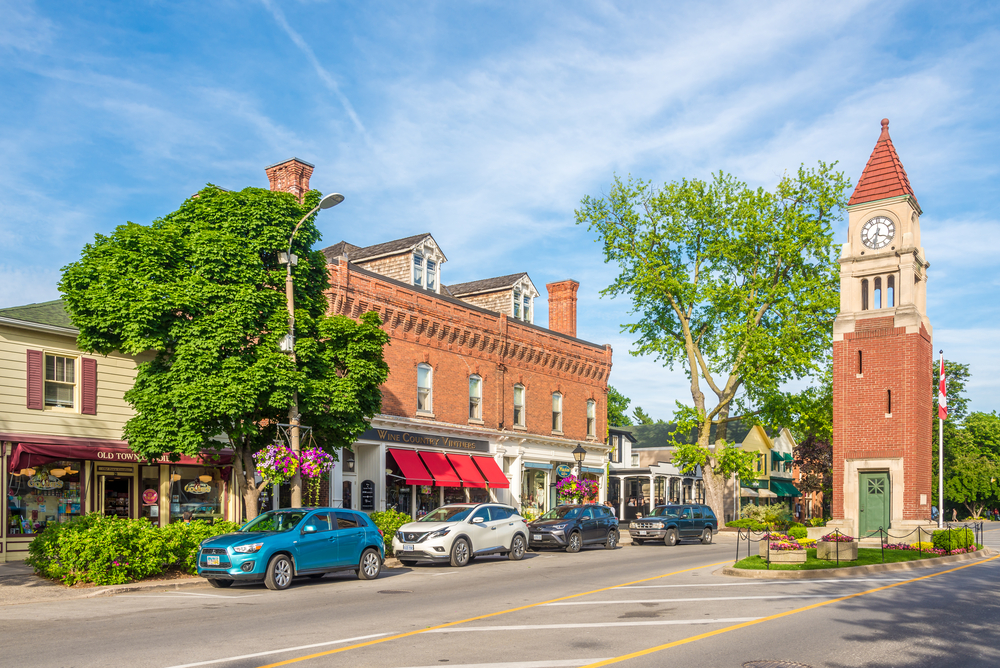 On our first visit to the area we stayed overnight in this charming village just 15 minutes north of Niagara Falls, Ontario. It offers beautiful scenery along Lake Ontario, great dining and wonderful wineries to sample. The local specialty is ice wine, which benefits from the cold winters.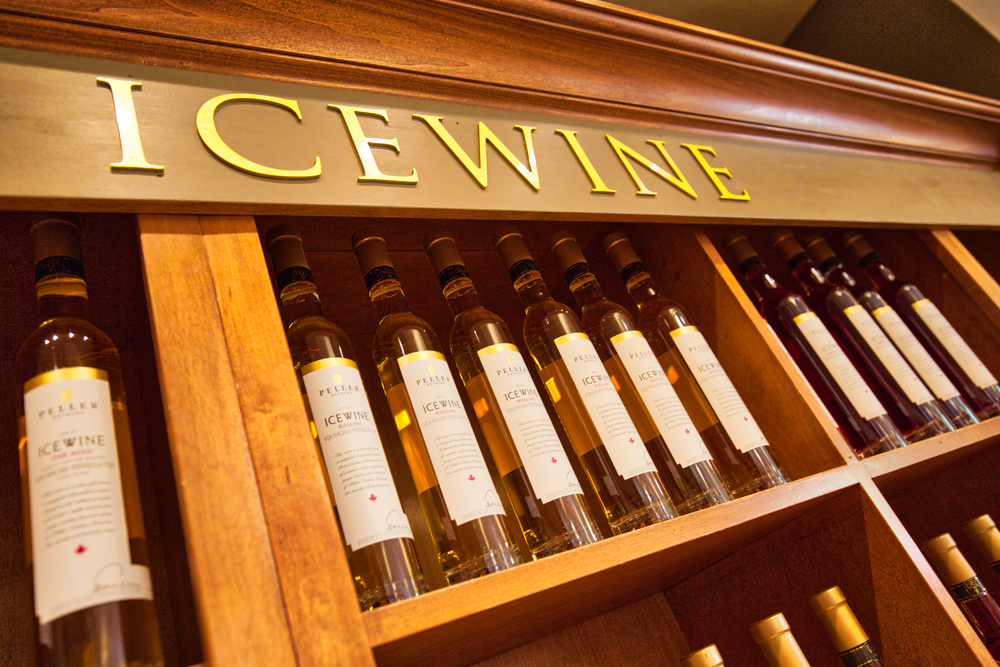 To avoid driving yourself from winery to winery, check out these two unique tour offerings:
Small group wine tasting tour – Includes visits to three hand-selected wineries to showcase a variety of styles and sizes
Vine and Dine winery bike tour – During our visit we saw just how bike-friendly the region is, so this will be our pick next time! You'll visit four wineries and enjoy a picnic lunch all while getting in your exercise for the day.
Niagara Falls Underground Railroad Heritage Center
While most of this article showcases things to do in Niagara Falls, Ontario, there's one spot that's on my personal "to visit" list for Niagara Falls, New York: the Underground Railroad Heritage Center. We missed it only because it wasn't open the day we were on the New York side of Niagara Falls! This is a must-visit if you're considering a 4 day Niagara Falls itinerary, which would give you plenty of time to explore both sides.
This region played a critical role in the search for freedom by self-emancipated Black Americans. Translation? Even as formerly enslaved people traveled up the East Coast or through Ohio away from "slave states", the Fugitive Slave Act of 1850 kept them at risk as long as they remained in the United States. Thousands of people flooded across the Niagara River Suspension Bridge to reach safety and freedom in Canada – you can read more details here.
At the Niagara Falls Underground Railroad Heritage Center you'll learn the stories of individual freedom seekers and pay homage to their lives through a unique art, interactive exhibits and more. Guided tours are available morning and afternoon most days of the week.
---
Visiting Niagara Falls Canada FAQs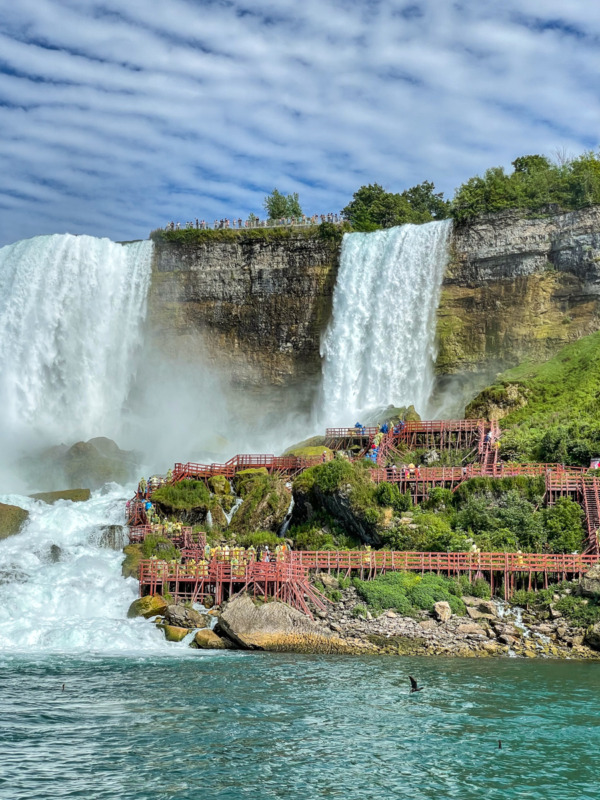 Where is Niagara Falls?
Niagara Falls is the connection point between Lake Ontario and Lake Erie. It straddles the border between southern Ontario, Canada and western New York State.
Which is better American or Canadian Niagara Falls?
The Canadian side of Niagara Falls affords a more complete view and robust tourism infrastructure for visiting Niagara Falls.
Is Niagara Falls USA worth visiting?
If you don't have the time or documentation to cross the border to see Niagara Falls' Canadian side, it's still worth a quick visit to the American side.
How many days do you need in Niagara Falls?
You can get a great taste of Niagara Falls in 24 hours.
Do you need passport to see Niagara Falls?
While Americans do not need a passport to see Niagara Falls from New York, you do need a passport, passport card, NEXUS card or enhanced drivers license to access the Canadian side of Niagara Falls.
Do you need a car at Niagara Falls?
It's possible to plan a car-free trip to Niagara Falls as long as you budget for transportation from a nearby airport.
How do I get from New York to Niagara Falls?
If you're trying to figure out how to get from NYC to Niagara Falls, you first need to recognize that they're nowhere close to each other: the drive time is almost 7 hours if you don't hit any traffic. The best way to get to Niagara Falls from NYC is to fly to Buffalo and hop in an Uber or grab a rental car.
Where to go next
It's easy to extend your trip to Niagara Falls with these great options nearby!
Still planning? Pin this for later!