Many travelers gush about how great public transport is in Italy. You can ride from Florence to Venice in two hours for only €30?! Amazing! Why would you bother renting a car in Italy?
Let's not even mention the horror stories of tourists driving along the rocky cliff edges on the Amalfi Coast or infamously ruthless Italian drivers.
There's no denying that trains are a fantastic way to travel from city to city in Italy and that hoofing it or taking public transportation are great within a city. But renting a car in Italy is essential when exploring the rural towns and countryside in regions like Tuscany, Sicily, and northern Italy's mountains and lakes.
An Italian road trip is not as daunting as many would have you believe and it allows you to travel at your own pace. If you are still nervous about getting an Italy car hire, this guide will break down absolutely everything you need to know to rent a car. It will help you prepare for your road trip as much as possible ahead of time so you can feel confident behind the wheel in Italy.
Already decided that an Italian rental car is right for you? Be sure to compare prices and reviews here:
---
Should You Rent a Car In Italy?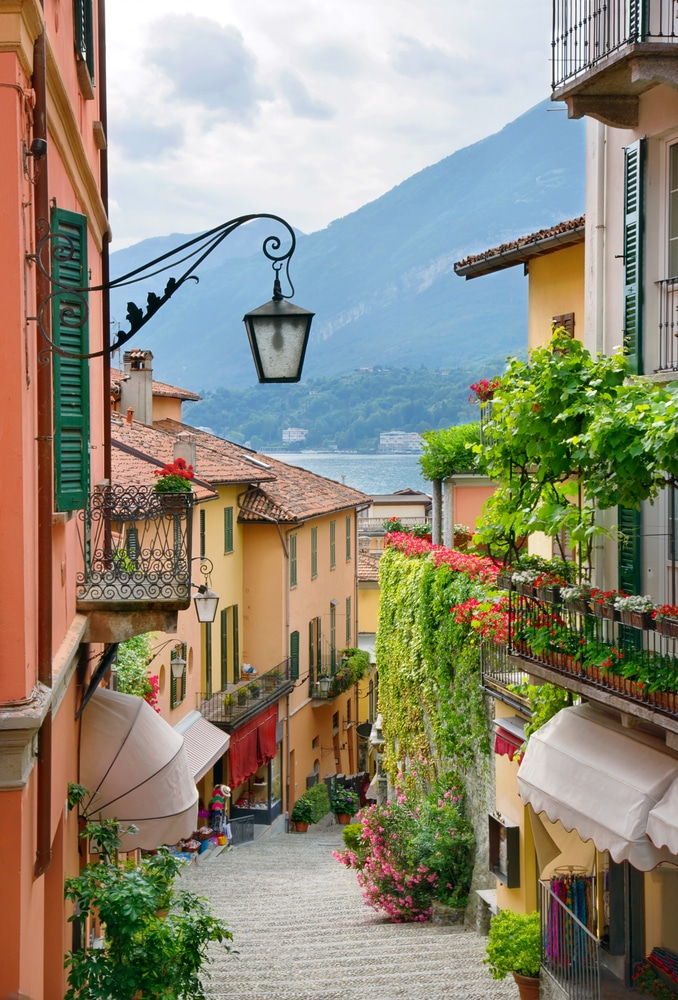 The biggest question is whether or not you should rent a car in Italy. In my experience, it really depends on what kind of trip you're looking to have. We've done it both ways!
If you're really just interested in exploring cities or places like Cinque Terre that are easy to access and get around by train, you may be able to skip the car entirely. You'll want to evaluate your options on Rail Europe and also research local transportation for day trips you're considering. Skipping the car can also help if you're trying to visit Italy on a budget.
On the other hand, if you dream of Tuscan hill towns or lakeside hikes then a rental car will help you get where you want to go.
Don't have time to read a bunch of reviews and blog posts? Here are our top picks for visiting Italy:
Get an Easy Italy Itinerary
Need a quick day-by-day, open-and-go itinerary for Italy? This guide does the work for you!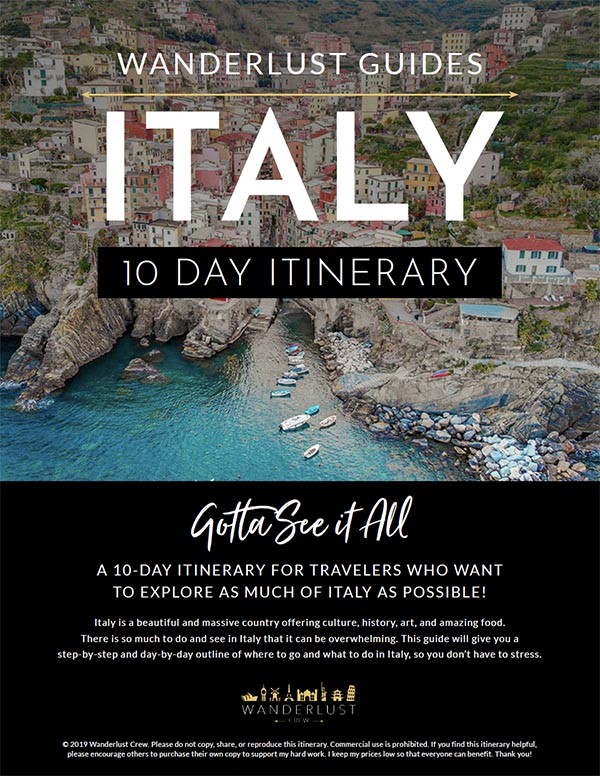 Awesome hotels in Italy
Fantastic tours in Italy
Renting a Car in Italy?
If you want to see the Italian countryside, I recommend you drive yourself. We prefer to use Rental Cars and Expedia Cars. We have had no issues with them and have been able to find the best prices available. Be sure to read these tips for renting a car in Italy.
Book a photoshoot
We always love to book a photoshoot when we're traveling. As a mom, it's tough to get in photos since I'm always behind the camera. We use Flytographer to capture our memories. You can get $25 off your shoot by booking at this link or using code FAMILYVOYAGE.
Be sure to buy travel insurance to protect yourself and your vacation expenses! Compare the top companies here to find the right plan for you.
---
Learn the Legal Requirements for Renting a Car in Italy
If you rent cars frequently in your home country or abroad, you'll know that every country has its own car rental laws and rules. Be sure you're able to rent a car in Italy before you plan your whole trip around it!
The minimum age for drivers in Italy is 18 years old, but to rent a car you need to be 19 years old. Most rental companies prefer drivers to be at least 21 or 25 years old, but it depends on the rental agency.
You need a valid driving license, identification (i.e. a passport), and a valid credit card too. You also need an international driver's permit as well as your regular driver's license. This isn't optional!
Luckily, getting an international driving permit is fairly straightforward and inexpensive. They cost around $20 from AAA or AA, depending on where you're from.
To rent a car in Italy, you need to have been driving for at least a year. Every rental company will check the dates on the license from your home country and your international drivers permit.
Read more: Must-Know Italy Travel Tips to Plan Your Dream Trip
---
Don't Drive Around Cities Even If You Pick Up Rental Cars from Airports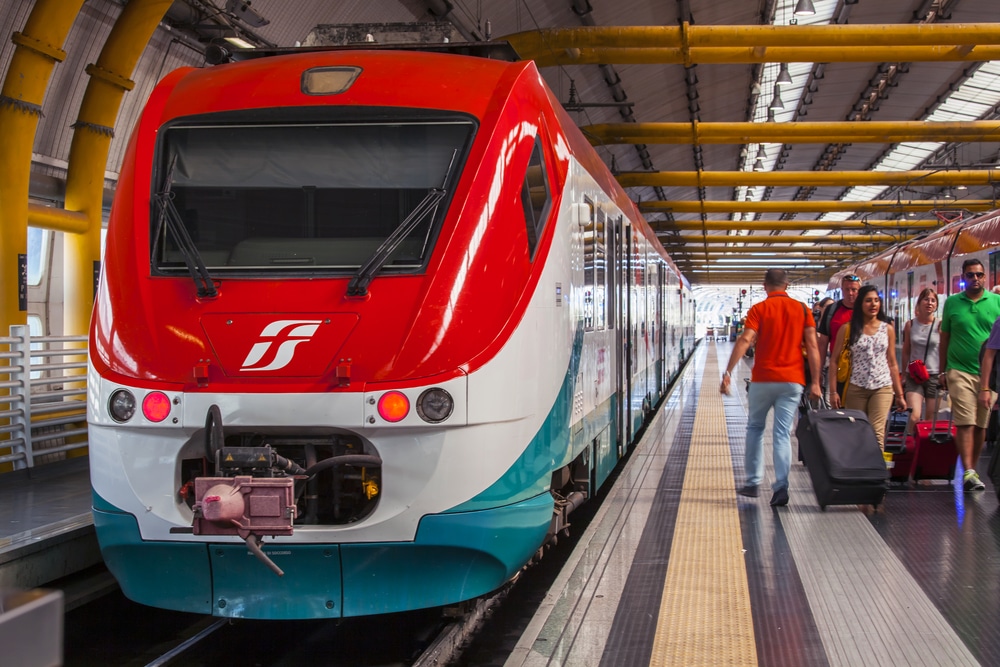 Most car rental companies operate out of every airport and major city center across Italy. However, driving in most Italian cities is a similar experience to Dante's Seventh Circle of Hell.
Arrange your rental pick ups and drop offs so you are car-free when exploring Italy's major cities like Rome and Florence. Dropping off your car rental at an airport rental location and then taking public transportation or a taxi into the city is far preferable to driving through the city and attempting to find a parking space.
In many cases, a one-way car rental in Italy can make the most sense despite the surcharge. It can save you the time and money you'd otherwise waste returning to your pick-up spot and then taking a train to your next destination. For example, on our first trip to Italy we rented a car when leaving Florence and spent several days exploring the stunning Tuscan countryside. When we were ready, we dropped the car at the Rome airport and made our way into the city car-free.
---
Compare Each Top Car Rental Company in Italy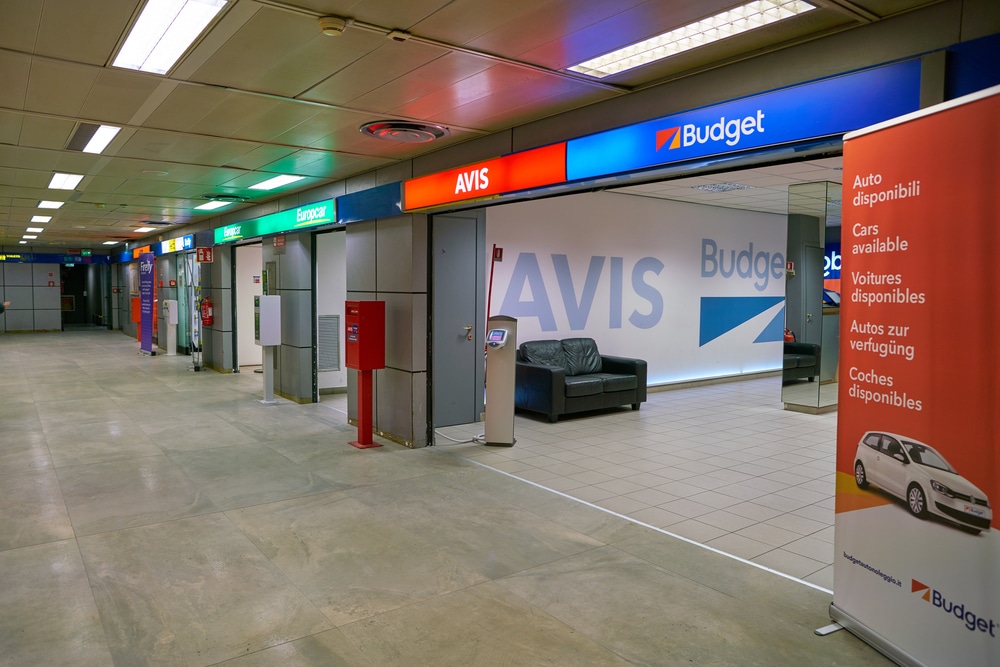 Some of the top biggest car rental agencies in Italy are Avis/Budget, Enterprise, Hertz, and Sixt. There are some regional Italy rent companies like Sicily By Car too.
I definitely recommending comparing prices on RentalCars, Expedia and Discover Cars as well, as they often purchase bulk days far in advance in order to offer discounted rental car rates. Renting a car online is just like making a hotel reservation – it's best to book in advance for the best deal and to lock in your preferred type of car, but choose a cancellable rate in case prices drop.
---
Italy Car Rental Locations and Opening Hours
The majority of car rental companies in Italy operate at the airport, in train stations, and in the city centers. Bigger companies will have facilities in all three places. It might be possible for you to rent a car in one location and return it in another but check in advance.
Their offices tend to be open 12 hours a day from around 7 am to 7 pm. Some are even open 24/7 but it varies. Check ahead so you don't miss your booking and you'll need to ask ahead of time if you want to drop off after hours.
---
Cost of a Rental Car in Italy
Car rental rates in Italy might be much more expensive than you expect. Demand is higher than supply which gives Italian rental car companies the advantage.
Average Italy cost to rent is around $255 per week or $36 per day. Factors that will affect the overall cost to rent a car include the size of the car, the season you are renting a car, and the city where you will pick up and drop off the car.
Compare prices here to find the best deal:
---
Decide On Car Rental Insurance Before You Leave
Collision Damage Waiver (CDW) insurance is a legal requirement for every driver who wants to rent a car in Italy. Some credit card insurance policies cover Collision Damage Waiver insurance in Italy, but not all. Bring a letter from your credit card company to prove you have coverage for the rental car.
Chase Sapphire Reserve and Chase Sapphire Preferred provide primary rental car coverage so that's what we always bring when we travel. That means if there is a claim, it goes to the credit card's insurance first rather than your personal insurance and avoids the potential for a higher rate in the future. Be sure you reject all coverage the rental car company offers if you want to use this benefit. The Sapphire Reserve also has other great travel-friendly features like no foreign transaction fees and lounge access all over Italy. If you sign up now, you can score enough points to cover your flight to Italy too!
Consider buying supplementary car insurance and third-party liability insurance if you aren't using your credit card's insurance as your primary insurance. CDW often doesn't cover minor damages or theft protection.
And it goes without saying, but always take out travel insurance for your entire family whenever you go on vacation. If the worst were to happen and you had a car accident, at least you know that your medical expenses will be covered.
---
Additional Charges and Extra Costs When Renting a Car in Italy
Many car rental companies do not include all costs in their online price. In most cases when renting a car in Italy, you will have to pay additional charges and extra costs.
Here are some examples of extra costs to rent a car after the rental price per day and insurance:
Additional driver fees
Younger/older driver fees
Automatic car surcharge
One-way drop fee
Out-of-hours fees
Extra equipment
Parking
If you would prefer to drive an automatic car then you should expect to pay extra for this. The majority of cars in Italy are manual transmission vehicles so automatic cars are only available at a premium. It's worth paying the extra fee for an automatic car if that's what you drive at home.
Not all parking spaces in Italy have a parking meter where you need to pay. Blue lines in the bay indicate paid parking, yellow lines indicated disabled permit holder parking, and white lines are free spaces – very different than in the US!
---
Things To Know About Gas Prices and Gas Stations in Italy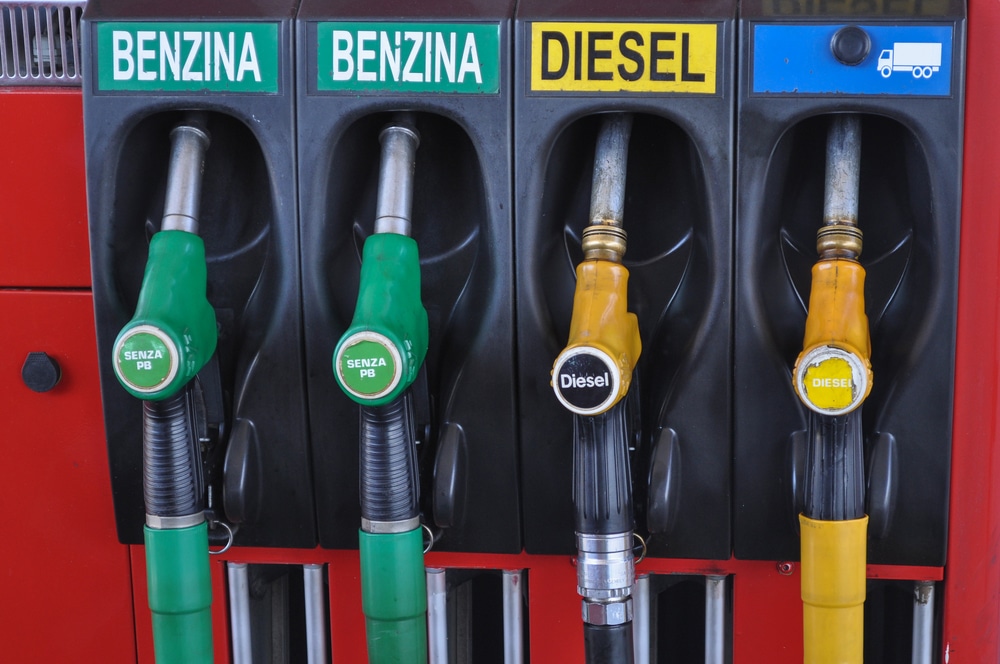 The price of gas in Italy (gasoline translates to gasolio or benzina) is incredibly expensive compared to North America. As of May 2023, approximate gas costs in Italy are:
Per liter of gas – €1.87/$2.05
Per gallon of gas – €7.07/$7.76
It depends on the size of your car's tank, but an entire tank of gas could cost around €100 and you need to return your car with a full tank.
Most Italy gas stations are self-serve and can look like anything from a tiny, one-pump station to a full-service garage.
---
Understand Italy's Car Seat Laws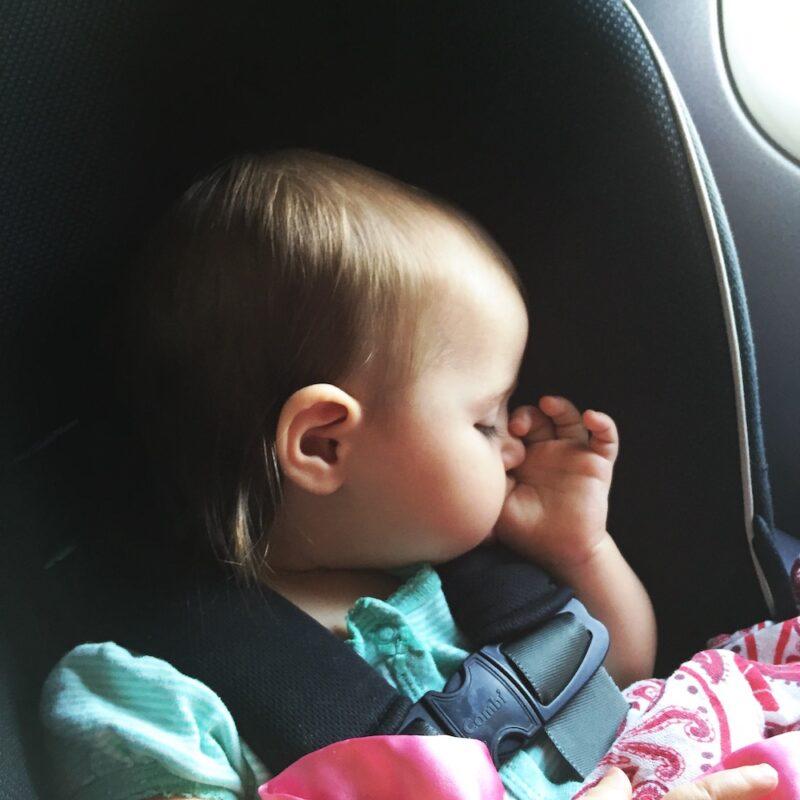 If you're planning to drive children in your car in Italy, it's important that you don't leave their safety at home. As with most countries, Italy requires that kids be secured properly in appropriate car seats.
The biggest difference you'll note if you're coming from the US is that Italy wisely requires children to use an appropriate car seat or booster seat until they're at least 150cm (59″) or 36kg (80lbs). Children up to that size should use a booster seat.
Technically US car seats are not legal in Italy (or anywhere else in Europe). Residents and visitors alike are supposed to use seats that conform to the UN ECE R44 or R129 standard. Newer R129 rear facing car seat options (Group 0+) work until 15 months, though R44 seats that only rear face to ~9 months are still legal and often provided by a car rental company. Most forward facing car seats (Group 1) provided by car rental companies can only be used until 18kg (around 40lbs).
Should you bring your car seat to Italy or rent one when you get there? You'll have to evaluate your personal comfort level with the safety of using a known, trusted car seat from home with the legality of renting an unknown car seat that may not meet your child's size needs or US best practices.
The good news is that your US or Canadian car seat will physically install in an Italian rental car without issue. All modern rental cars in Italy are equipped with ISOFIX, which is the equivalent of LATCH (or LUAS in Canada). Newer cars have top tethers as well.
If you anticipate riding in taxis, which may be older, you'll want to bring a locking clip and know how to use it.
Read more: Planning a trip to Italy with kids
---
Watch Your Speed and Keep an Eye Out for Cameras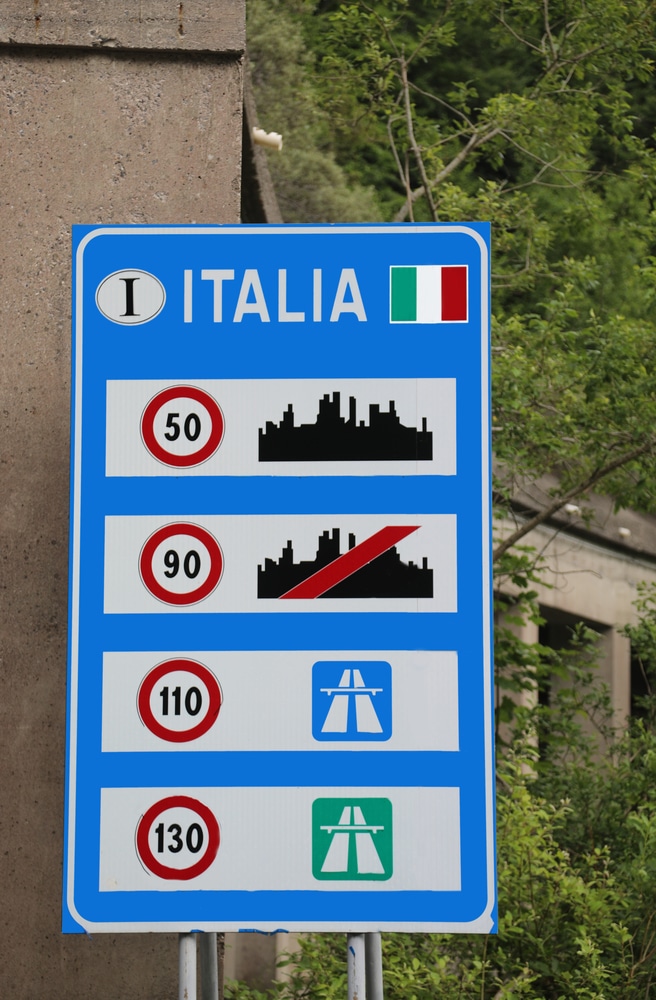 As with driving in any country, never exceed the maximum speed limit, and watch out for automatic speed enforcement cameras. Rental companies will pass along the fine to you if you're in violation.
As a general rule, these are the speed limits per hour for different Italian roads:
In built-up/urban areas: 50km – 70km
Outside built-up/urban areas: 90km – 110km
Highways – 130km
Be aware that speed limits are lower in bad weather. Luckily, Italy doesn't get many rainy days!
---
Avoid ZTLs and Driving Around Small Villages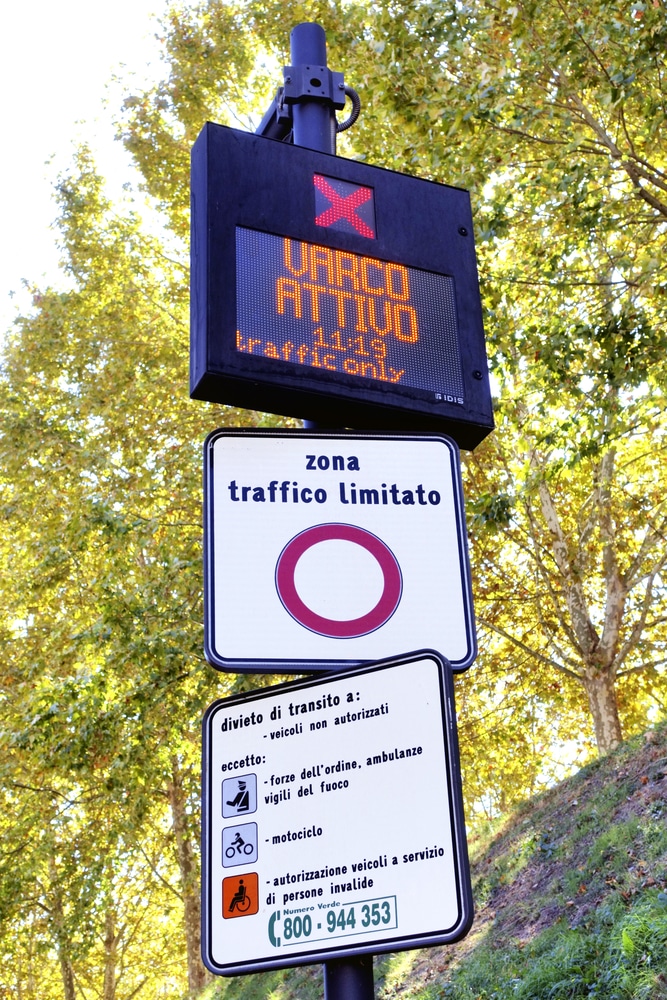 ZTL is a limited traffic zone or restricted driving zone. They're common in cities with historical centers. Not all cars can drive in these areas. Only local residents with their own vehicle and registered private vehicles can enter these zones. Rented cars are usually not allowed unless you have a special permit!
Watch out for Zona Traffico Limitato signs like the one above – the open circle means you're entering the ZTL, and if there's a slash that means you're exiting it. Unfortunately, many tourists (including yours truly) do drive through these areas accidentally and receive a bill in the mail from their rental car company six months later. The exact fine for driving in a limited traffic zone amount depends on the city but they can be around €100-350 plus administrative fees.
You should also avoid driving around super small villages if you can help it. Not only are the narrow, winding, cobbled streets a nightmare to drive through, but you might find yourself in the middle of a market with asparagus to your left, onions to your right, tomatoes in front of you, and nowhere to go!
If you know you will be driving through certain villages ahead of time, research their market days. Most produce markets end around lunchtime, but not all. Otherwise, pack your patience when renting a car as you'll need heaps of both driving in Italy.
---
Renting a Car in Italy FAQS
Is it a good idea to rent a car in Italy?
Yes! While taking public transport in Italy is great if you're traveling from city to city, renting a car in Italy is ideal for a road trip into the countryside in regions like Tuscany, Sicily, and northern Italy. There's no way you can explore hidden gems in central Italy without a car, for example.
Can tourists drive in Italy?
Yes! Tourists can rent cars and drive in Italy as long as they meet the minimum age requirements and have an international driving permit. Tourists also need a valid drivers license, a valid ID, a credit card, and insurance. They also need to have been driving for at least a year, get car insurance, and follow Italy's driving laws.
Are car rentals in Italy manual or automatic?
Most Italians (and Europeans, in general) drive cars with manual transmissions. Therefore, most rental car companies in Italy offer plenty of manual cars. Almost all of them offer automatic cars for an extra fee, which can be substantial.
Google Maps or GPS to navigate around Italy?
Most cars, most modern cars, have GPS so you will be able to easily navigate around Italy. Google Maps is also a great option but be sure to download offline maps before you set off as Italy might not have WiFi or cell service in rural areas (and depending on your plan you could incur hefty roaming fees).

Also, check if the car rental shop offers phone holders or if you need to bring one yourself if you want to use Google maps. I definitely recommend bringing a spare USB cable to leave in your car so that you always have power and can display your navigation on the car's built-in screen if it has CarPlay or Android Auto.
What type of car to choose when renting a car in Italy?
The best rental cars in Italy are compact and nimble to navigate Italy's small village streets and country roads. Weigh this against how much luggage you have and how many passengers there are when you rent a car. You need just enough space so everyone is comfortable, not a huge SUV. Be sure to minimize your luggage when you pack for Italy!
Do you need a credit card to rent a car in Italy?
Yes, if you are booking an Italy rental car then most companies will require a credit card. Many places in Italy don't accept American Express, so have a Mastercard or Visa as a backup. In my opinion, this is the best credit card for travel in Europe.
Can I rent a car in Italy with a US driver's license?
Yes, but you need an international driving permit as well as your US driver's license. It's essentially a multi-lingual translation of your English license, which you can get at your local AAA.
Follow These Tips For Success When Renting a Car in Italy
Renting a car in Italy might seem scary but renting a car in any country overseas has its own challenges. Overcoming obstacles is part of what makes travel so rewarding.
Using this guide will help you avoid the pitfalls and mistakes that many tourists make when embarking on an Italian road trip. All that's left for you to do is sit back, put on your cool driving sunglasses, and enjoy your trip around Bella Italia!
Don't miss these additional resources as you plan your trip to Italy:
Still planning? Pin this for later!