Baking challah on a Friday morning (or afternoon, if you're a procrastinator like me) is a time-honored tradition. But it can also be intimidating to try out. A family's challah recipe is always a work in process – it can take weeks, months or years to tweak it to just the way you want it. This one is no different!
Here are a few helpful notes:
This is probably one of the fastest challah recipes you'll find. I just don't have the patience or discipline to start at 8am, but I haven't found it to be necessary. Make sure to allow ~3 hours from start to finish.
Feel free to change the amount of honey if you like your challah sweeter or more savory. You can also try all sorts of different flavors, inside or outside! Some popular options: chocolate chips, olives, apple raisins and cinnamon, sesame seeds or (our favorite) everything bagel seasoning!
The bowl of hot water while your dough and braided challah rise is so important. It keeps your dough rising without the drying effect of actually turning the oven on. I use our electric kettle to heat the water separately while I'm doing other tasks.
Yield: 1 large challah (or 2 smaller ones)
Sweet, Eggy Challah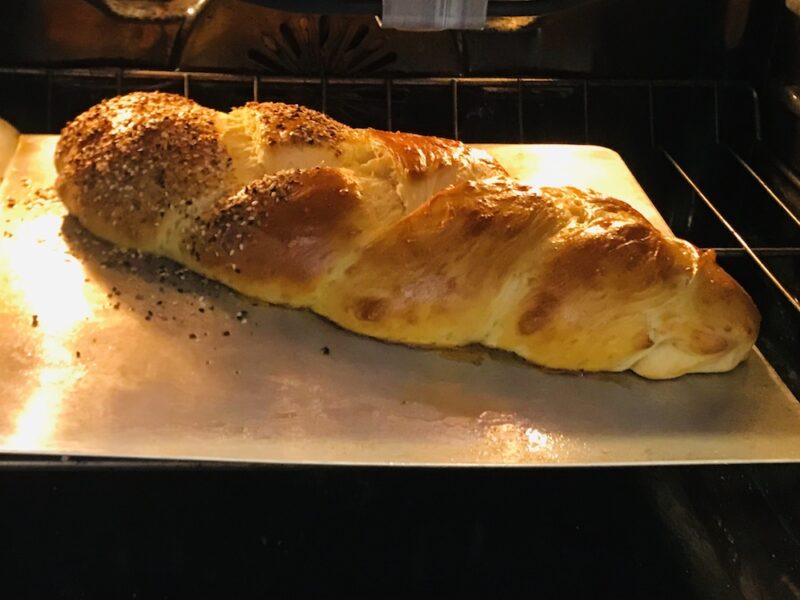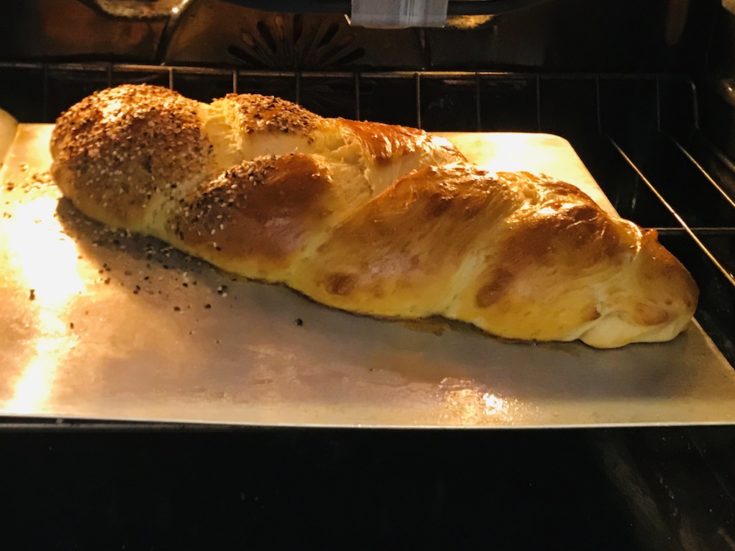 Ingredients
2.25 tsp yeast
1 cup warm water
1/2 cup honey
3 eggs
1/3 cup oil
~5 cups all-purpose flour
1 1/2 tsp salt
Instructions
Dissolve yeast in very warm water (I do this in a glass measuring cup), along with a little of the honey. Let sit for ~10 minutes until you see a creamy layer at the top.
While the yeast activates, beat 2 eggs with the oil. Measure ~4 cups of flour into your stand mixer bowl and add salt. Add egg/oil mixture and turn on stand mixer on low with dough hook attached.
Add remaining honey to yeast water and stir to dissolve. Pour into flour mix and set to medium. Let it run fo several minutes until all flour has been incorporated into the dough; you may need to stop the mixer once or twice to gently nudge the flour on the sides of the bow. Continue adding flour ~1/2 cup at a time until the dough has become a coherent ball and pulls away from the sides of the bowl. It's ok if it sticks to your dough hook.
Once you have a nice dough ball, drizzle a little oil on top and use clean hands to pick up the ball and oil it on the outside. Put the ball back in the bowl and cover with a clean dish towel. Place your bowl in the oven or microwave (turned off) along with a bowl of boiling water. Let it rise for 1-2 hours... until you're ready to come back to it.
Prep your baking sheet with flour or canola oil spray. Once the dough has risen, remove it from the oven and separate into pieces to braid - this recipe makes either one large challah or two smaller ones. Braid challah on the baking sheet. Cover with the towel and put it back in the oven or microwave, again with a bowl of hot water. Let it rise for 30-60 minutes.
Preheat the oven to 375 F. Beat the third egg in a small bowl and brush the top of the challah. Add toppings per your preference - sesame seeds, poppy seeds, even everything bagel seasoning!
Bake at 375 for ~30 minutes (my oven only seems to need 27 minutes, but you know your oven best). Watch for the perfect golden color on top.
Recommended Products
As an Amazon Associate and member of other affiliate programs, I earn from qualifying purchases.
Get more Israeli food inspiration!