Among Utah's "Mighty 5" National Parks, Capitol Reef is often-overlook despite being the second-largest National Park in Utah. But Capitol Reef is well worth a stop: we've visited many of America's National Parks this one is a real gem! There are plenty of fun things to do in Capitol Reef National Park with kids that you won't find anywhere else.
What makes Capitol Reef National Park so unique? For starters, it's defined by a 65 million year old, 100 mile long fold in Earth's crust called the Waterpocket Fold.
Unlike some of the other Utah National Parks, Capitol Reef is pleasantly quiet – there's no park shuttle, no timed entry, no hoard of people. Visitation is about half as much as Bryce Canyon and just a quarter as much as Zion National Park. You might even drive through Cap Reef without realizing it!
This guide will cover everything you need to know before visiting Capitol Reef with kids: where to stay, what to do in Capitol Reef National Park and (most importantly) the best snacks.
Where to stay near Capitol Reef National Park with kids
The closest place to stay near Capitol Reef National Park (short of camping in the park, which is a solid option if you love to camp) is the little town of Torrey. From Torrey you could, at least in theory, take a day trip to Bryce Canyon National Park. There are numerous places to stay in Torrey, Utah. Here are a few great options:
Capitol Reef Resort – Offers a range of traditional rooms or you can stay in a teepee or wagon for a Capitol Reef "glamping" experience! Includes pool, campfire, fitness center and more.
Red Sands Hotel – Modern, trendy and chic with an indoor pool and hot tub.
Cougar Ridge Lodge – If you want a luxurious "getaway from your getaway", you'll find it here. Choose from spacious rooms or private villas, and no matter what you can enjoy on-site activities including bowling, billiards, movie nights, spa treatments and more.
Pro tip: If you opt to take a day trip from Torrey to Bryce Canyon (or plan to stay near Bryce Canyon and take a day trip to Capitol Reef), take the long, scenic route through Grand Staircase-Escalante National Monument. How will you know you're going the right way? Set Kiva Koffeehouse as your destination. Stop in for a cup of coffee, a delicious sweet treat and incredible views.
How to get to Capitol Reef National Park and how to get around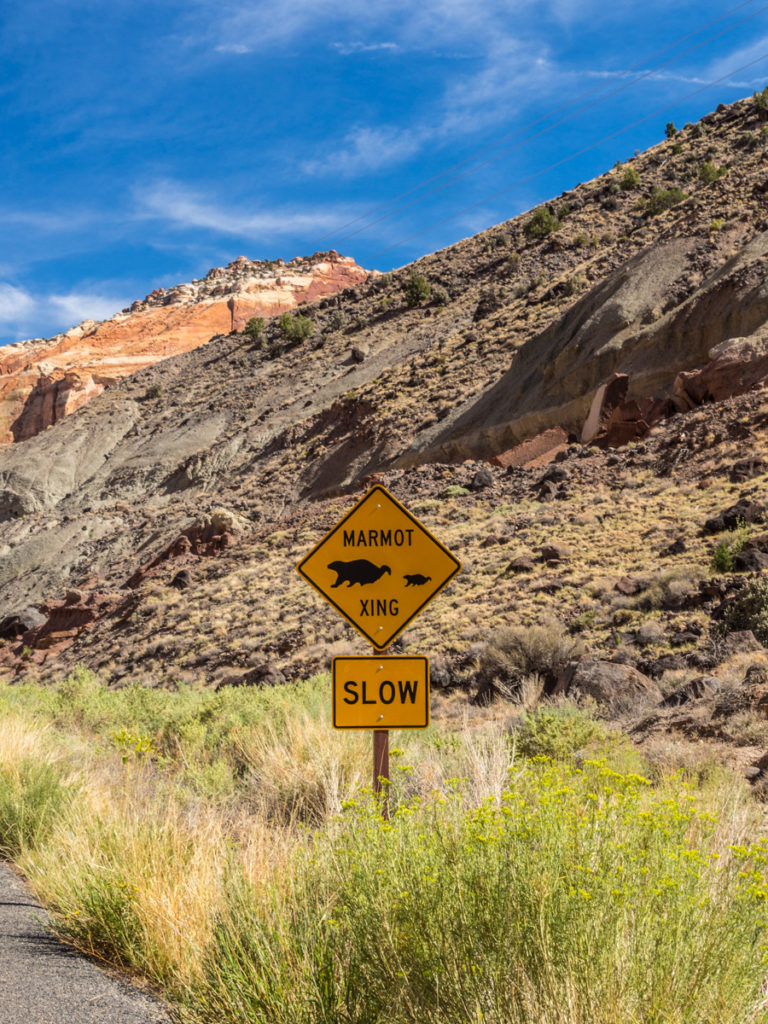 Pretty much the only way most people will be visiting Capitol Reef National Park is on a broader road trip through southern Utah. It's over 3 hours from Salt Lake City and 5 hours from Las Vegas. On the other hand, it's just two hours from Bryce Canyon, Arches and Canyonlands and three hours from Zion.
A trip to Capitol Reef National Park is a great opportunity to plan a broader trip around southern Utah! Whether you fly into SLC or LAS, grab a rental car and start exploring. The most popular areas of Capitol Reef are nicely paved and accessible by any passenger car. Some of the more rugged, remote hikes along the top of Waterpocket Fold may require a 4×4.
What to bring to Capitol Reef National Park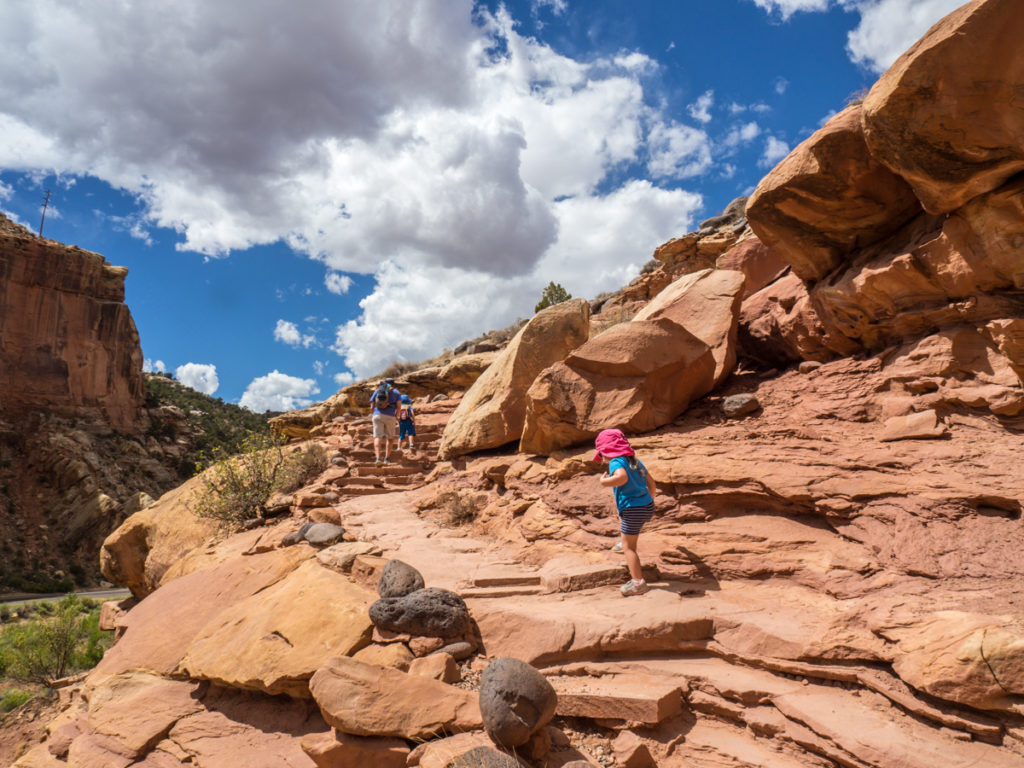 As with any hiking expedition, it's critical that you're prepared when you hit the trail.
Bring this gear with you for your day hikes:
-Hydration backpack ( his | hers | kids )
–Binoculars for bird watching
–Camera with zoom lens
-Snacks
–Sunscreen
–SPF lip balm
Recommended clothing for hiking in Capitol Reef National Park:
-Lightweight hiking pants ( his | hers | kids)
-Multiple layers – tank/short sleeve plus long sleeves for sun protection and warmth
-Hat – Sunday Afternoons has amazing options for the whole family
-Bandana or other neck protection (we love these!)
-Packable rain jacket July – September ( his | hers | boy | girl )
-Hiking shoes – for most trails, running shoes or even trail runners will suffice
Of course, don't forget to grab a National Parks pass to save on admission to hundreds of federal lands!
If you'll be taking a road trip around southern Utah, I always suggest throwing a few extra gallon jugs of water in the trunk of your car (even better if you have a hard-sided cooler and some ice packs). The region is incredibly remote and running out of water is the last concern you want to think about! You can fill up at the Visitors Center in Capitol Reef, but it never hurts to have extra with you.
Check out these awesome gifts for National Parks lovers!
Unique things to do in Capitol Reef with kids
Hiking in Capitol Reef National Park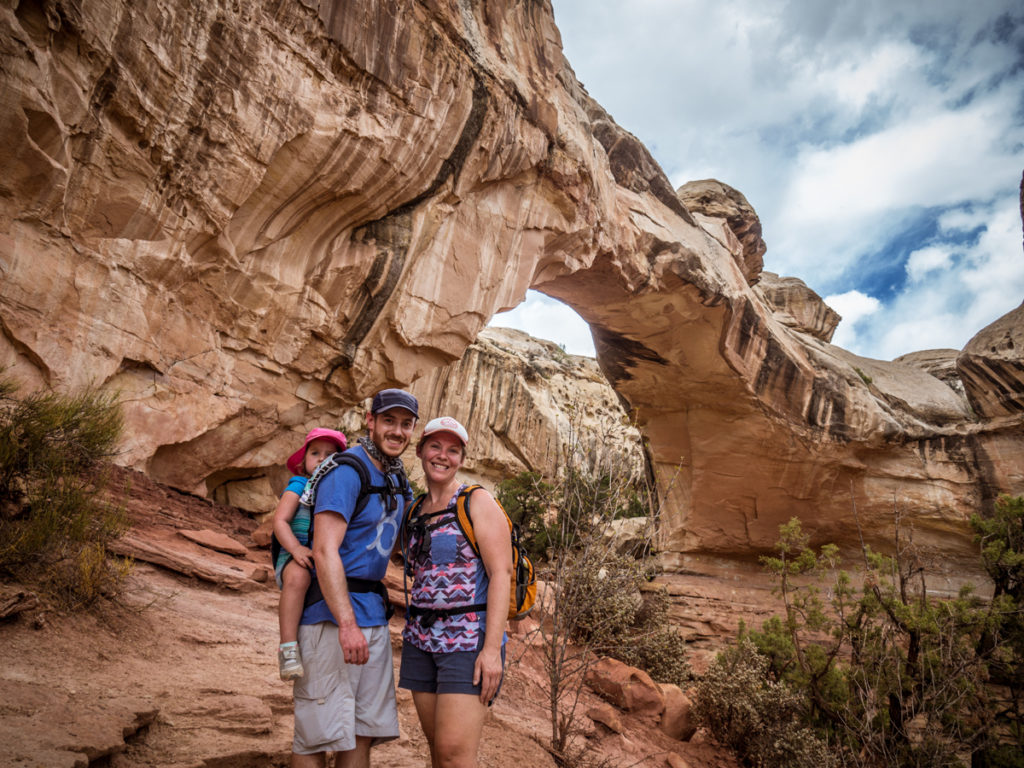 The easily-accessible area of Capitol Reef if much smaller than the park's overall footprint. Combined with the park's terrain, the result is that none of the Capitol Reef hiking trails is especially long. In fact, most of them are just 1-2 miles each way.
The most iconic hike in Capitol Reef is Hickman Bridge, which is appropriately-categorized as moderate and covers one mile each way. At the end of the hike you'll see an impressive natural bridge spanning a gorge. This is a reasonable option for families visiting Capitol Reef with kids – our 7 year old handled the hike just fine on his own, though our 4 year old was happier riding in a carrier for part of the hike.
Learn about the Fremont Culture and their inhabitation of the land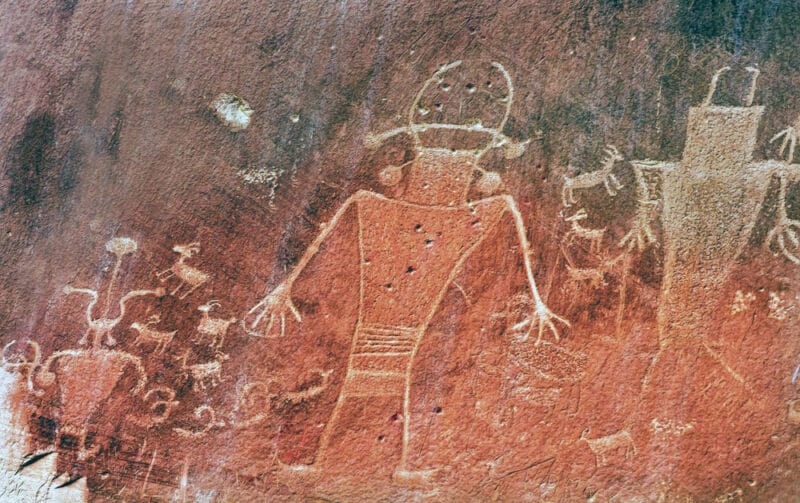 The Indigenous people of the Fremont Culture lived on this land more than a thousand years ago. Visitors today can see petroglyphs and pictographs they left behind from an accessible boardwalk along Highway 24 in the Fruita Historic District.
In addition, Park Rangers periodically offer educational programs to share more information about the Fremont Culture. We saw several examples of their unique woven baskets and learned about their relationships with neighboring Native American communities.
Visit remnants of a pioneer homestead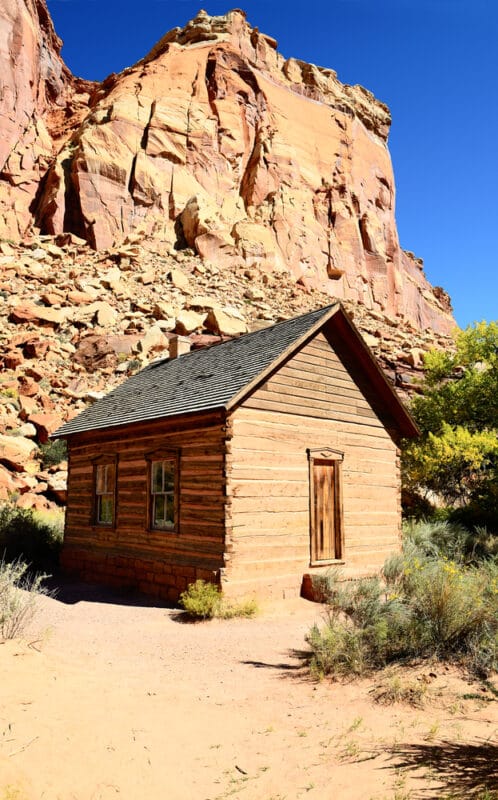 In the 1880s century, Mormon pioneers began settling near the Fremont River. Several buildings remain today, which visitors can explore.
The Fruita Schoolhouse operated from 1896 to 1941 and is still furnished as it would have been almost a century ago. While you aren't permitted to enter, you can get a good view through the window. If you're on a family trip to Capitol Reef, ask your kids what looks the same or different compared to their own schools!
You can also visit – and go inside – the Giffords Homestead in Capitol Reef National Park. It has evolved over the years, but the original home is over a century old. Together with the old-look-yet-actually-new addition, the main house now serves as a shop selling traditional items and homemade snacks (more on that below).
Enjoy some homemade ice cream and pie
Perhaps the best part of visiting the Giffords Homestead is enjoying a delicious treat! An homage to the area's productive orchards, today you can grab a slice of local fruit pie or even some homemade ice cream in Capitol Reef. That'll definitely bring a smile to your tiny travelers if you're visiting Capitol Reef with toddlers or kids!
Pick your own fruit in Capitol Reef National Park orchards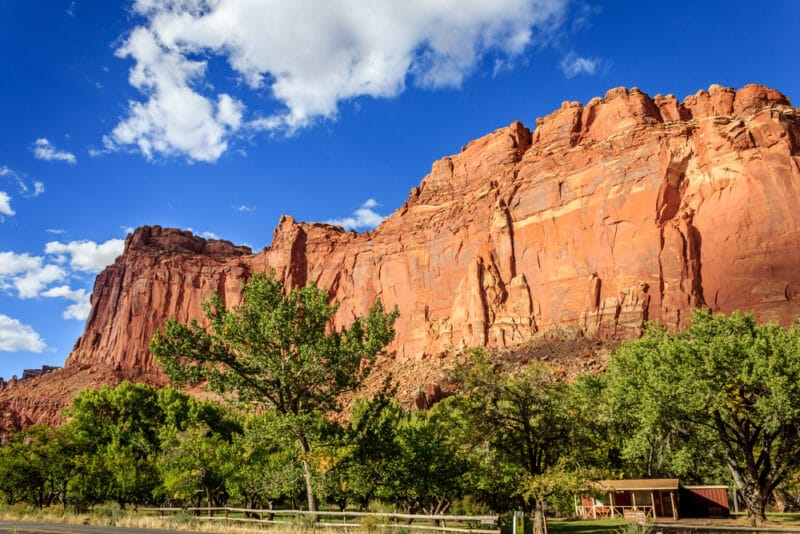 The Fremont people, the Paiute and later the Mormons were very deliberate in choosing this little slice of rugged land for settlement: overflow from the Fremont River makes it possible to irrigate the land of Capitol Reef even without 21st century technologies.
The orchards of Fruita continue to thrive with stewardship from the National Park Service. If you go fruit picking in Capitol Reef National Park, depending on the time of year you may find apples, pears, tons of stone fruits, nuts or other trees ready to harvest. We were there in late August and collected wonderfully sweet peaches!
How much does it cost to pick fruit in Capitol Reef National Park? It depends on how much you take. Fruit is priced by the pound and paid for on the honor system. Bring some $1 or $5 bills to cover your haul.
Stop by the Capitol Reef Visitor Center
National Park Visitor Centers are an essential stop for our family. We love chatting with Rangers to get their best ideas for how to spend the day, perusing exhibits to learn about the history and geology of the area and watching the official Park movie.
National Park movies are a great way to add more context to your visit! If you start your day early, you can do that first to get you geared up for the day ahead. If we're starting late or we know that it will be an especially hot day, we sometimes make a quick stop at the Visitor Center to help plan our day, go do a hike and then come back later to watch the movie during the hottest part of the day. Especially if you're pushing your kids when it comes to their hiking endurance, the park movie can be a welcome respite in the day.
Capitol Reef also (sometimes) has the student-staffed Ripple Rock Nature Center just for kids! It offers educational programs, activities to connect young visitors with the history of Cap Reef, art projects and more. If you're planning to visit Capitol Reef with kids for several days, be sure to allow some time. Kids can even earn a special Junior Geologist patch by completing certain activities at Ripple Rock!
Complete the Capitol Reef Junior Ranger program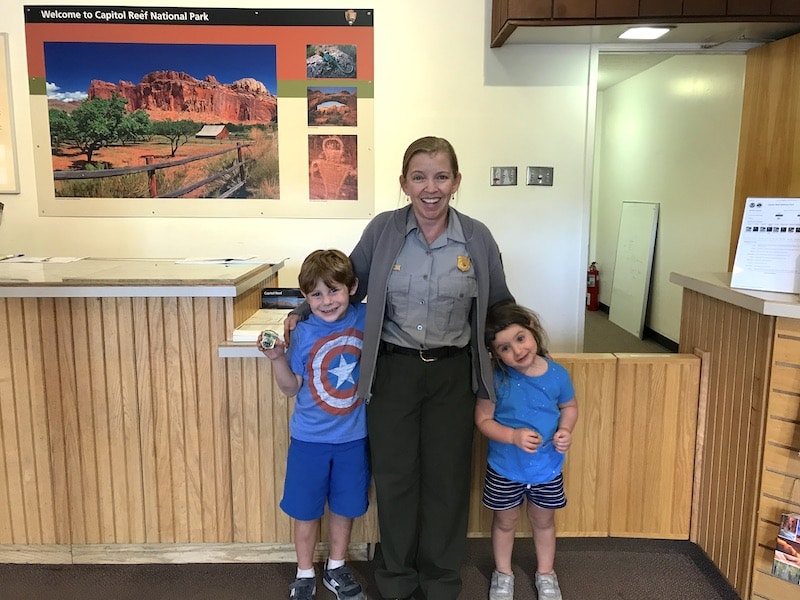 We love participating in the National Park Junior Ranger programs! They're a little different at each park, and Capitol Reef's offers opportunities for kids as young as 3 to deepen their understanding through explorations of the Park's geology, ecology and history. The activities in the Capitol Reef Junior Ranger book are best for 1st grade and up.
If you plan to have your kids participate in the Junior Ranger program at Capitol Reef, stop by to pick up the book when you arrive at the park. Your kids can complete some activities as you drive around and others as you explore the park. It's one of the best things to do in Capitol Reef National Park with kids because it provides engaging context for all of your other activities.
Capitol Reef National Park FAQs
Is Capitol Reef worth visiting?
Absolutely! You should plan to spend at least one day exploring Capitol Reef on your trip to Utah. It showcases unique geology and history amid the rugged terrain of the Colorado Plateau.
How much time do you need at Capitol Reef National Park?
Plan to spend at least a half day at Capitol Reef National Park, but ideally you should spend 1-2 days in Capitol Reef if you plan to do some hiking.
How much does it cost to visit Capitol Reef National Park?
Entrance to Capitol Reef costs $20 per car, or it's included with your America the Beautiful National Parks annual pass. If you're just passing through on Hwy 24, no one will stop you and ask for payment… you can just slow waaaay down and enjoy the scenery around you. But if you'll stop to enjoy the park (as you should), make sure to pop into the Visitors Center to pay.
Where to go next
If you're interested in extending your trip to Utah into other Southwest destinations, consider these options:
Utah:
Arizona:
Colorado:
New Mexico:
California:
Still planning? Pin this for later!