Most visitors to Greece can't wait to step off a ferry and onto a charming, white-washed island paradise. And I can't blame them – it's every bit as amazing as it sounds. But tackling the Greek isles with kids is a little different than visiting as a 20-something!
When planning our own trip to Greece, we heard plenty of feedback from other parents. Santorini? Too crowded and hilly, not enough shallow beaches. Mykonos? Too many drunken party-goers. But one island kept coming up in recommendation after recommendation for visiting Greece with kids: Naxos.
Read more Greece articles or get Europe travel inspiration
Why you should visit Naxos with kids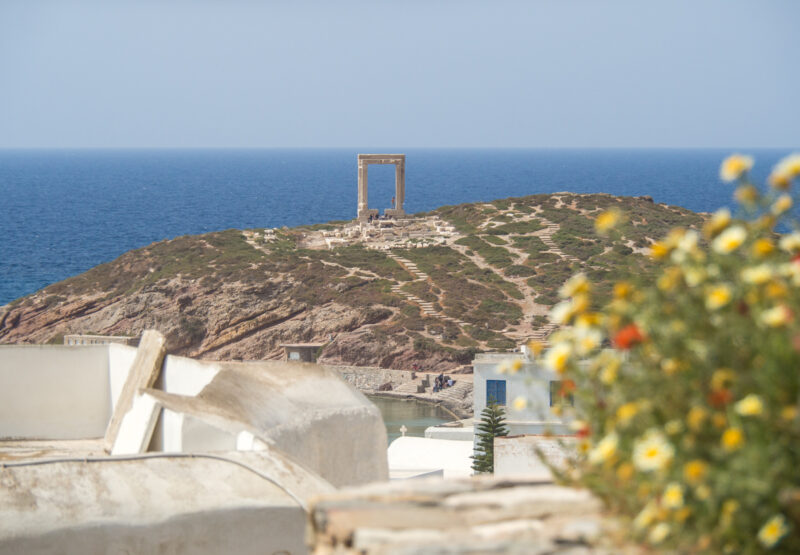 What's so great about Naxos? In a word, everything. Naxos is truly one of the most kid-friendly vacations we've taken, without being overrun by all-inclusive resorts with kids clubs (not that there's anything wrong with that, as Seinfeld would say, but it's not our style).
-Naxos offers the perfect balance of activity and relaxation. There are shops to visit, villages to explore and ruins to see but also world-class beaches for lounging and splashing.
-It can be a car-free vacation! You don't need a car on Naxos if you're staying near town. If you have kids in car seats like we do, you'll understand how amazing it feels to get around everywhere on foot for a week!
-It doesn't have to be expensive. While some other islands cater to the luxury set, Naxos offers quality accommodations and dining at all price points. Check out this awesome place we stayed for less than $100 per night! Read more insider tips about how to visit Greece on a budget.
-Last, but certainly not least, your kids are welcome and loved on Naxos. Plenty of other popular Greek islands are full of no-kids-allowed hotels and restaurants. On Naxos you'll find relaxed waiters and waitresses popping by to play with the kids, lunch spots with kids menus and even an arcade along the waterfront.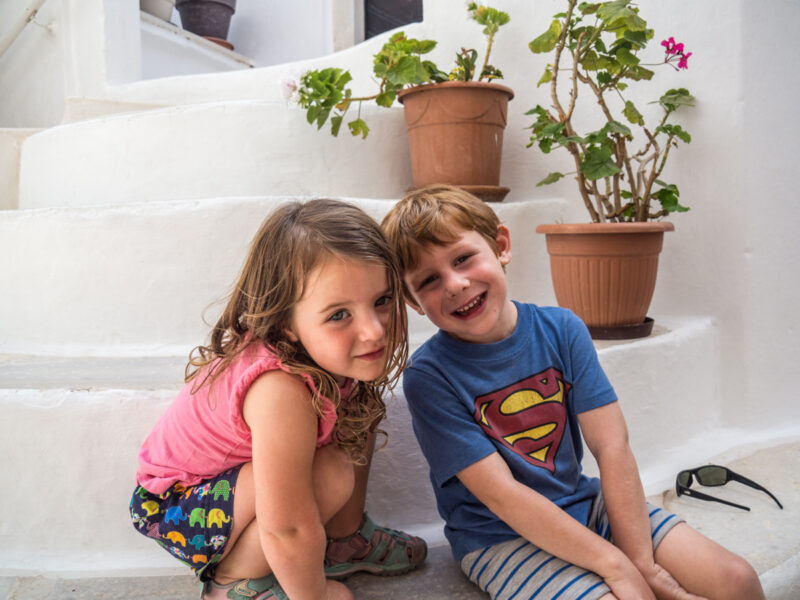 The best time to visit Naxos
"The season" on Naxos begins on May 2, the day after May Day, and ends in late September. But your experience will be very different depending on when you choose to visit.
We arrived at the end of April and found the island so quiet you could hear a pin drop. Several times, we dined completely alone in restaurants and sampled the first attempt at the chef's new menu. Our hotel was only about ¼ occupied and we had nearly all of Agios Prokopios to ourselves. Hard to believe, eh?
The weather during shoulder season in Greece was mostly lovely, but we had about 1½ days of rain and wind during our week there. It was just warm enough to swim in the sea, but not hot enough to want to jump in the the unheated hotel pool (though we did anyway).
A week later, as we prepared to depart in early May, Naxos was utterly transformed. Every store and restaurant was open, our hotel was near capacity and the sun was shining full-blast. The summer is in full-swing through May and June, but with most European schools still in session, the crowds won't yet be unmanageable.
Ready to pack your bags? Check out our complete guide to packing for a spring trip to Greece!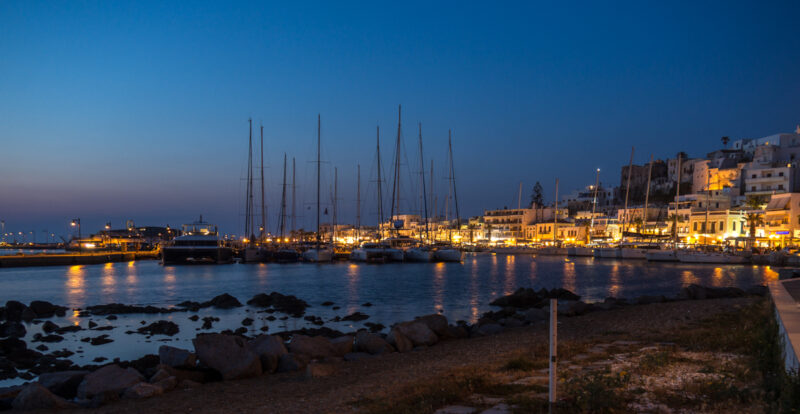 Naxos is rising in popularity, so the peak months of July and August will be hot and crowded. Maybe not Santorini crowded, but don't expect to have the beach (or anything else) to yourself! Highs will be in the low 80s, with near-constant sunshine.
By September the season – and the perfect weather – is winding down. Just as we experienced some inclement weather in May, mid-September usually sees the start of rains. Fortunately you'll have the place to yourself again! Don't plan visit too late in September, as businesses will begin to shut down for the winter.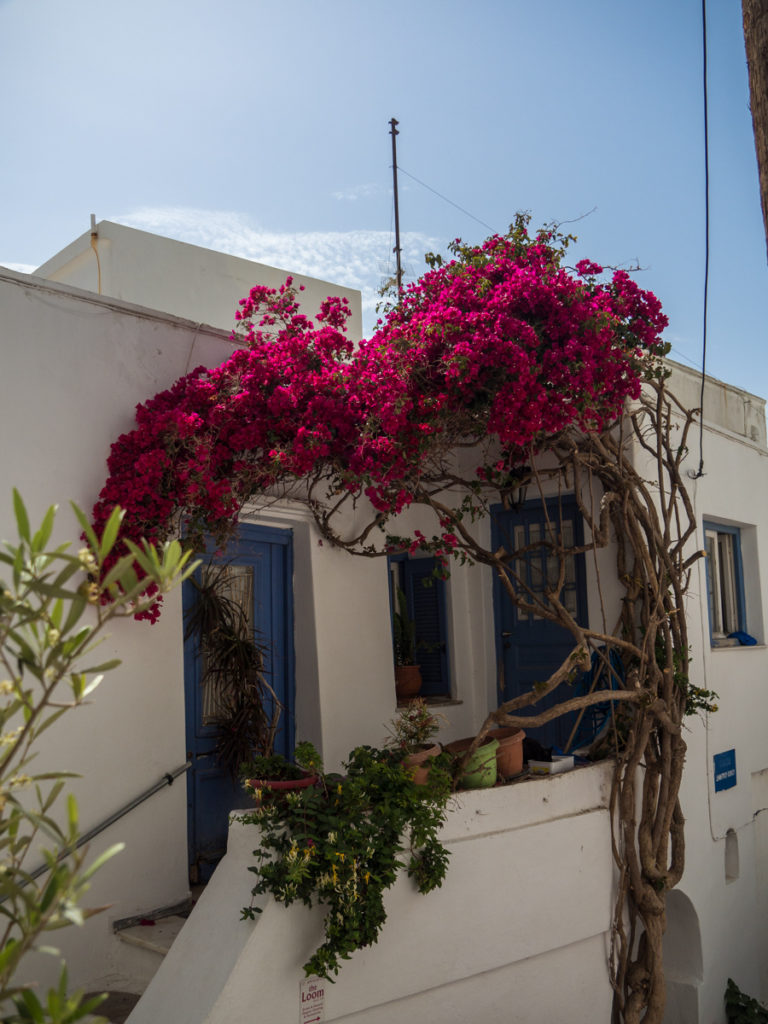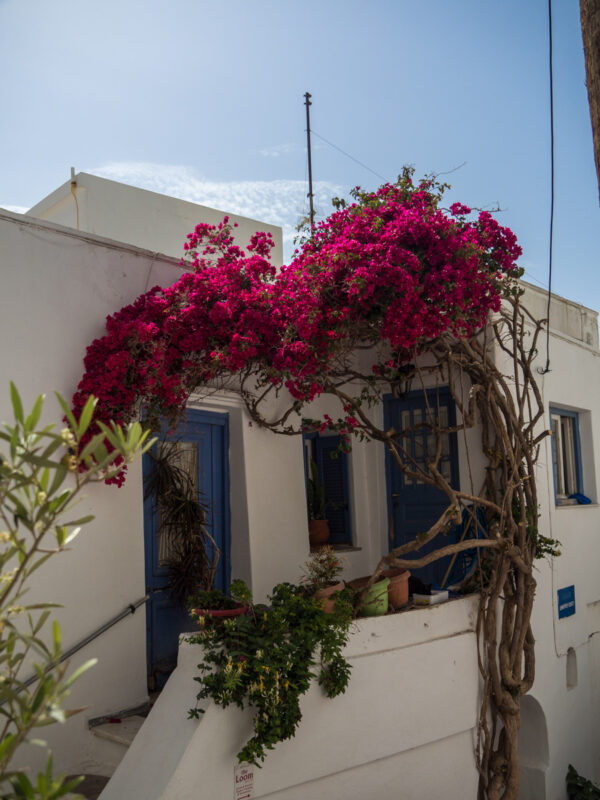 The best things to do in Naxos with kids
Check out the best beaches in Naxos
There are more than a few amazing Naxos beaches, including one that's ranked among the world's best. If you're staying in Naxos for a few days, you should have plenty of time to visit several of them.
Agios St. George is on the edge of Naxos town (Naxos Chora), just minutes away from the wonderful hotel where we stayed on our visit. St. George beach is the best in the area for families with young children thanks to its shallower entry and warmer temperatures compared with some of the more famous neighbors on the island. Indeed, we saw plenty of local families there with their own kids.
Agios Prokopios is by far the most famous beach on Naxos, and arguably its most beautiful. The water is crystal clear and the views are incredible. That said, the shore drops off fairly quickly and the water is colder than St. George beach so it's less ideal for families with young children.
It's about 15 minutes from Naxos Chora by car, but if you just want to visit for the day there's a convenient shuttle bus connecting the two. The cost is just a few euros per person and is runs several times per day (the exact schedule depends on the season). Of course, the schedule is all relative… prepare yourself for "island time"!
Agia Anna is just down the road from Agios Prokopios and can be accessed from the same bus route. We didn't visit, but heard it's a little less crowded and perhaps slightly less crowded but with similar scenery.
Plaka Beach offers a totally different experience that's probably better suited to aqua adventurers than tiny globetrotters. The intense winds can make swimming dangerous but provide world-class windsurfing.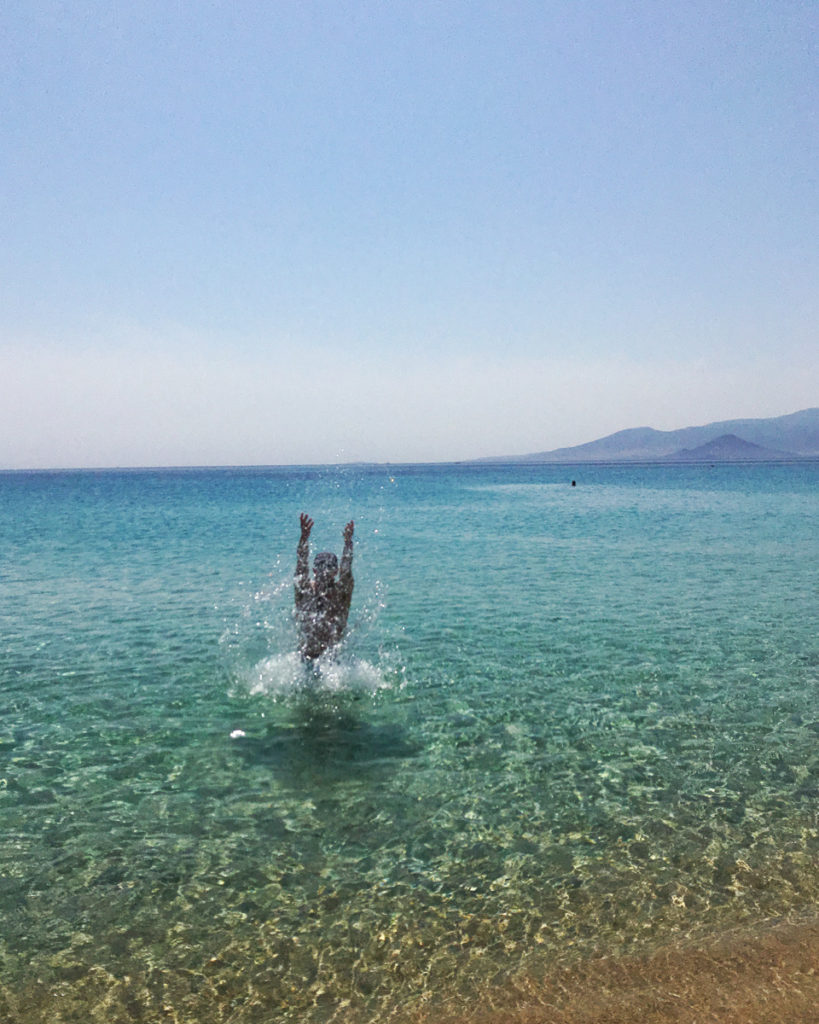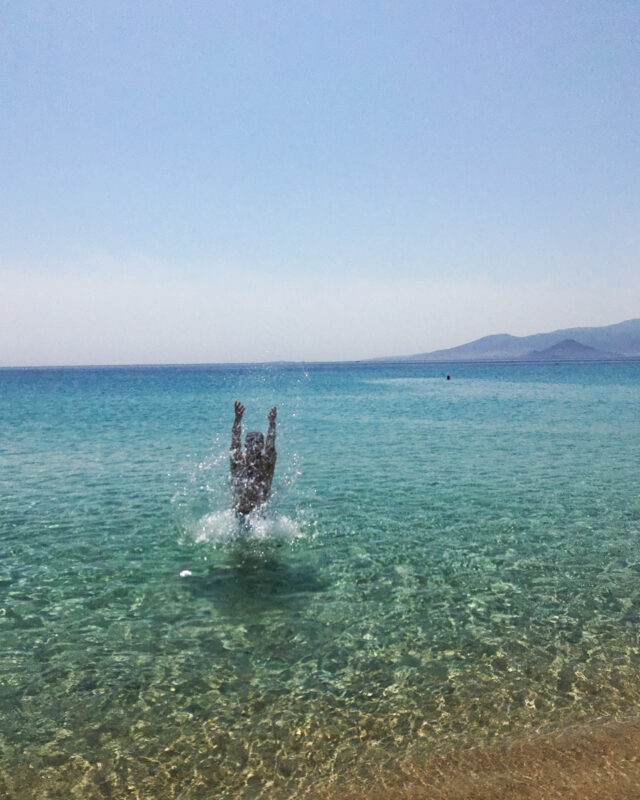 Soak up the charm around Naxos town
The white-washed walls and cobbled streets of Naxos town are the stuff of Cyclades dreams. Spend an afternoon strolling along the harbor and the narrow back streets, then wind your way up to the church at the top of the town's Venetian castle. Grab an iced coffee at Meli kai Kanela (Honey and Cinnamon) and then take in the stunning views around every corner.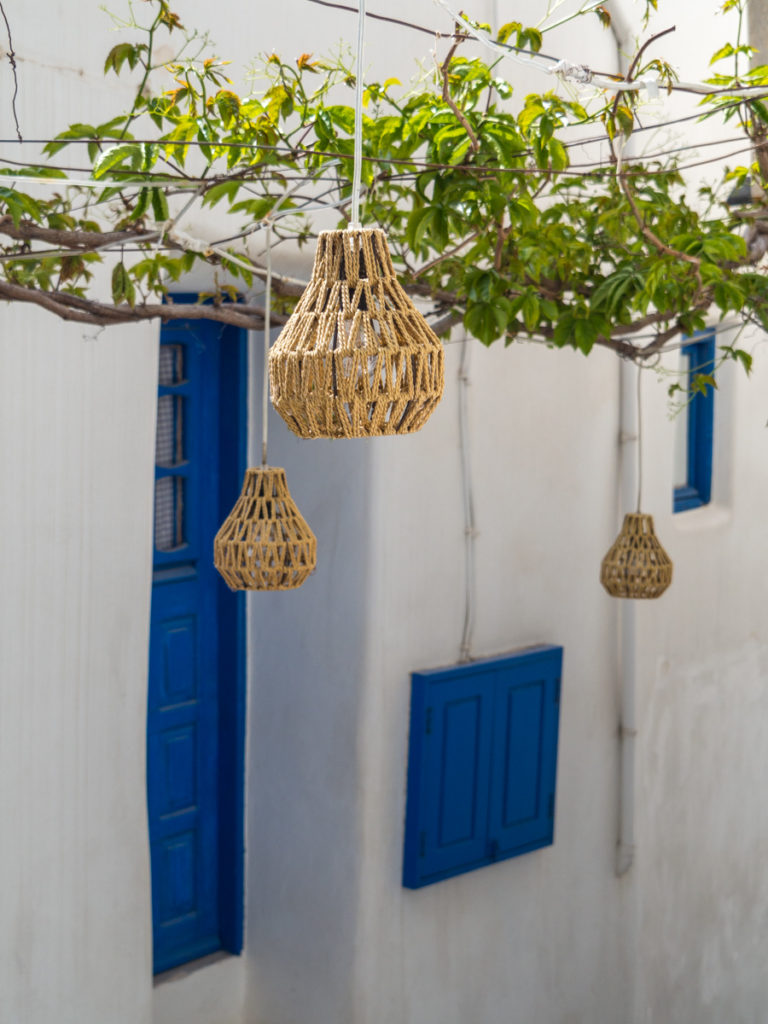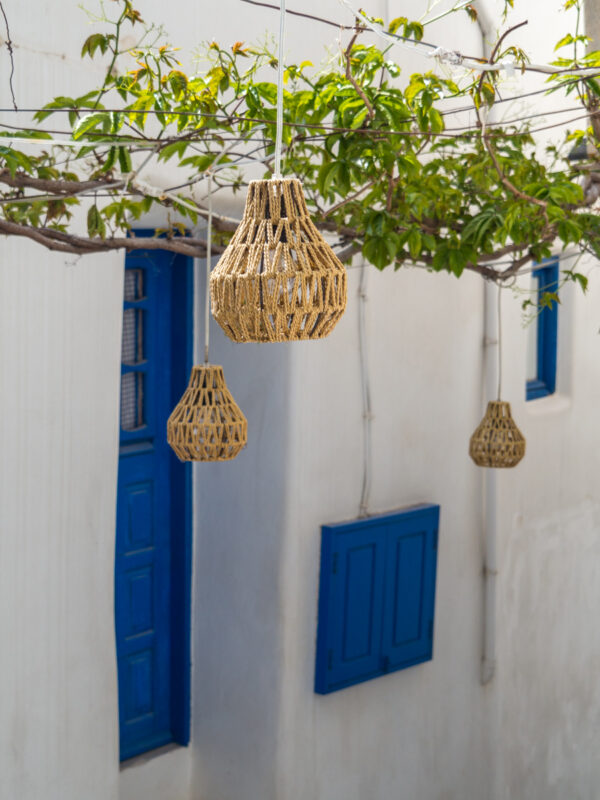 Visit the Portara of Naxos
It wouldn't be a Greek vacation without ancient ruins, right? Even tiny Naxos has its own and it's impossible to miss. Indeed, the Portara is the first thing you'll see when you arrive by ferry and it stands as the town sentinel visible from the entire waterfront.
The Portara was intended to be the doorway of a massive temple commissioned by the island's tyrant ruler, Lygdamis, over 2500 years ago. Construction was halted due to a war with neighboring Samos and then, as tends to happen, the unpopular tyrant was overthrown and his pet project fell by the wayside. You can read more about the history here.
To get to the Portara, walk along the waterfront just past the ferry and continue straight up the small hill. The path is not accessible, but if you're able to walk it shouldn't take more than about 10 minutes. The views around the back side seem to stretch on forever.
Want to get more helpful travel tips like this? Sign up for our email list!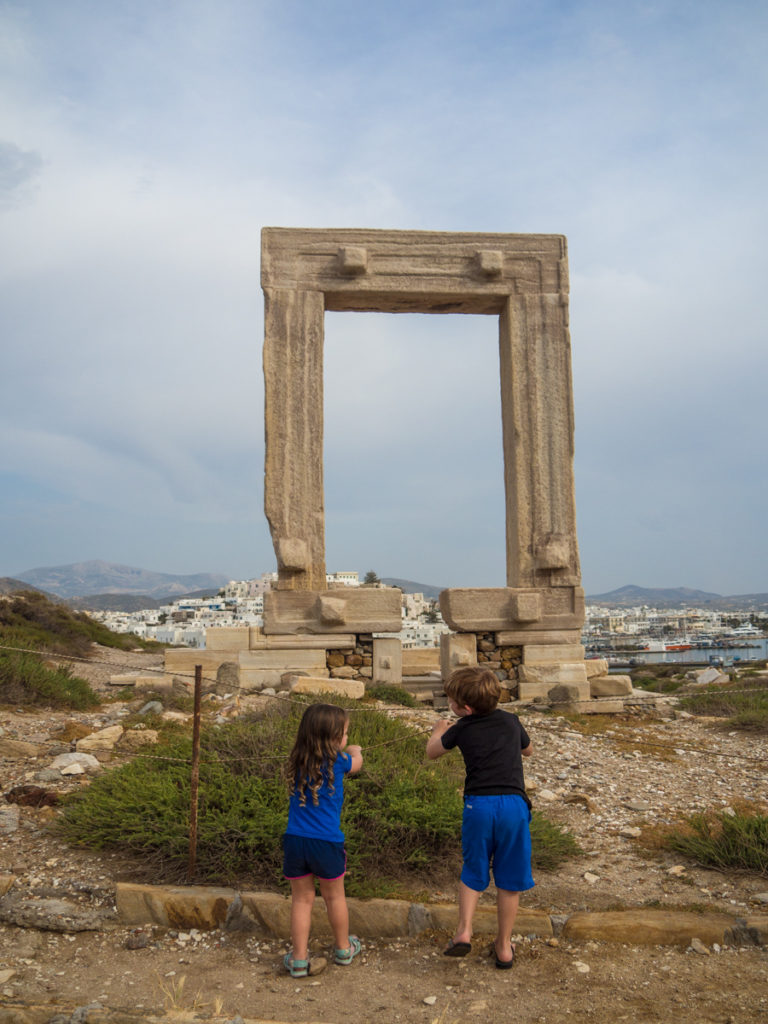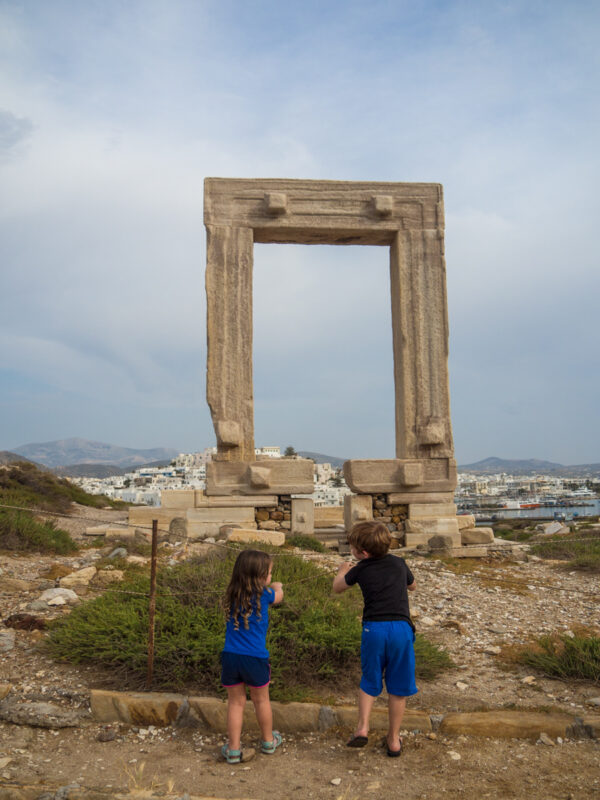 Explore the traditional Naxos villages
While beachside Naxos Chora is a haven for tourists, the smaller villages on the island's interior retain much of their old-world charm. If you leave town after breakfast, you can return by dinner time and get a totally different view of the island in the interim!
Our favorite stop was Damalas, where you can get a glimpse of some of Naxos' traditional industries. We spent a lovely hour with Manolis in his pottery workshop witnessing his mastery of the craft after 35 years of practice. Pro tip: the first pottery shop you pass on the left is run by Manolis' brother, but there's no "action" there – continue another 100-200m down the road and take the right turn toward pottery and the olive press.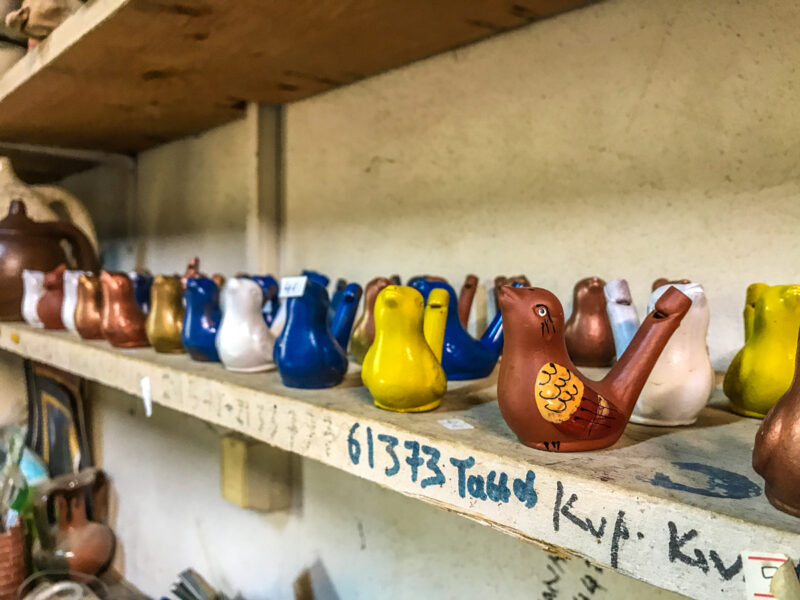 Once you've had your fill of pottery (and probably done some souvenir shopping), leave the car and keep walking another two minutes toward the village of Damalas. At the end of the village on the right, you'll find the villages original olive press and an explanation of why it was so important to the area. Make sure to try out the press to see if you have what it takes to be a real Greek villager!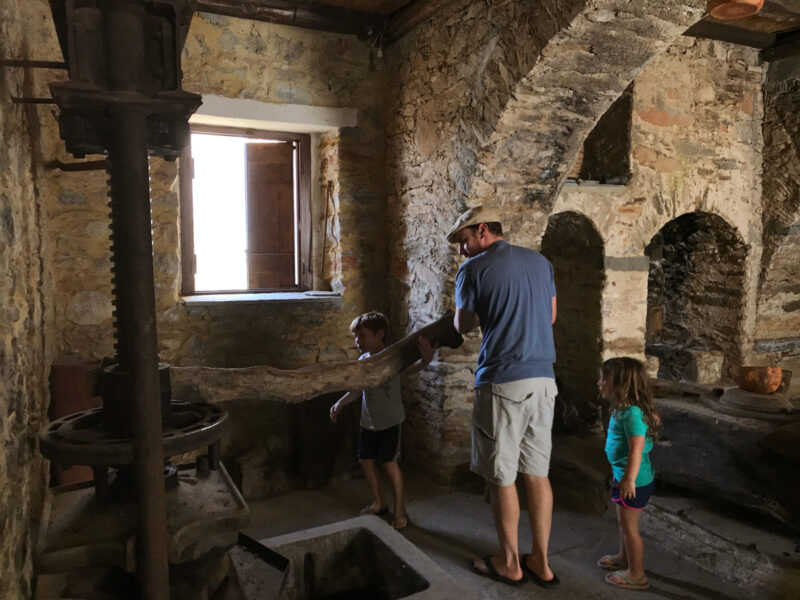 Leave behind village life and continue on to the sunny little town of Chalki. In some ways, Chalki feels like a miniature version of Naxos town, with a smattering of restaurants surrounding the everybody-knows-your-name town square. Apart from appreciating the charms of the place, take some time to get acquainted with a Naxos specialty, kitron liqueur. Move over, ouzo!
Never heard of kitron? Neither had we! It's distilled from the fruit and leaves of the Greek citron tree. Once we saw the tree itself, we immediately recognized its distinctive fruit as an etrog, the extremely fragrant and equally fragile citrus fruit used during the Jewish holiday of Sukkot.
While at Vallindras, take a few minutes to look over the old equipment and see how kitron is made. Then step into the tasting room to sample the different types available. Don't worry, kids are welcome too – they just can't drink. Chalki is also a great place for your lunch stop.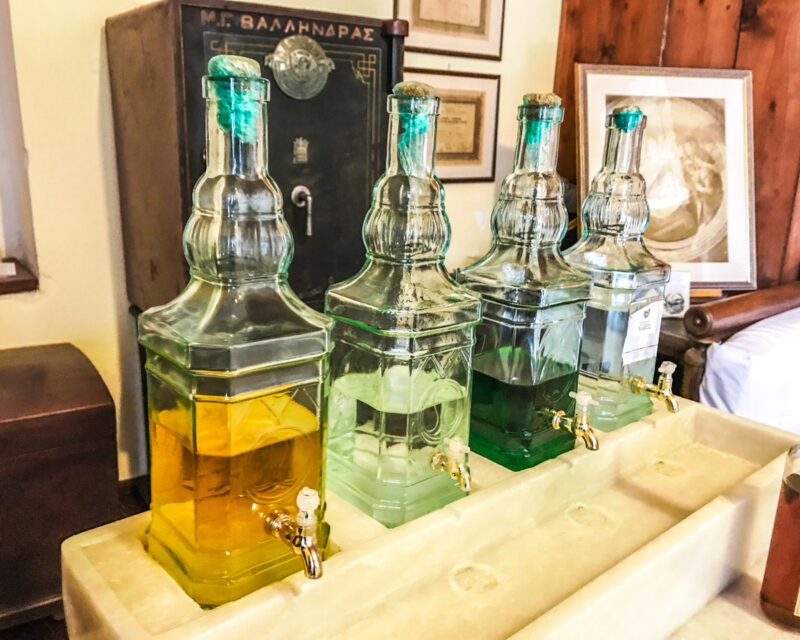 While we didn't have a car for most of our time on Naxos, it was easy and affordable to rent one for a day. We picked up an automatic transmission Fiat 500 convertible from a Moto Land for just 35 EUR and spent around 20 EUR on gas. If you can drive a manual transmission car, the options are even more affordable! If you'd rather not handle the logistics, check out this great, affordable tour around the island.
Cruise to nearby islands
If you have a little extra time and want to experience some other islands in the region, book a day tour on one of the many sailboats and catamarans filling the Naxos harbor. Some of them have set schedules for daytime or sunset cruises, while others are available as charters to take you wherever your heart desires. Check out this awesome luxury tour!

Our favorite Naxos restaurants
Though we usually go the self-catering route, we decided to treat our week on Naxos as a much-deserved vacation rather than just another "travel" period during our family gap year. In total we tried roughly a dozen restaurants! The good news is that this tiny island is overflowing with really great choices. Here are some of our favorite Naxos restaurant suggestions:
Best lunch spots on Naxos
Gyro gyro
This is a tasty, cheap lunch spot. It's right in the town square, so it's hard to miss. We had a really beautiful, fresh salad to start – Naxos is one of the only Greek islands that can produce everything it needs, from meat to produce to dairy. We ordered the lunch special of 13€ for two chicken gyros, two cokes and a Greek salad, while the kids split a big chicken plate for just 7.50€.
Yialos Tavern
If you're spending the day at St. George beach and need a solid food option, look no further tha Yialos Tavern (not to be confused with some of its neighbors, which we didn't enjoy nearly as much). The stuffed tomatoes and mousaka were amazing – food that made us say "wow". The kids loved their veal meatballs as well. Lunch rang up at 34€ for our family of four.
Yasouvlaki!
Yasouvlaki! Is a great lunch option at the Naxos port – and one of our favorite Naxos restaurants. They make an incredible chicken kebab – it was so good that we returned for a second lunch. The friendly waiter gave us glasses for our own water (since every restaurant in Greece seems to charge for water) and advised what to order for the kids to save money, which we always appreciate. The prices are unbelievably low 2.40€ for a gyro (ask for it with tatziki) and 3.60€ for kebabs with fries. Our total? 11.30€ for lunch for four. I'm not joking.
Best dinner places on Naxos
To Ellinikos
To Ellinikos is one of the closest restaurants to the great Naxos hotel where we stayed, so naturally we had to give it a try – and it was so good that we returned later in the week. Most of the seating is on their spacious, inviting patio that you can't miss as you up the street from St. George beach to the Naxos town square.
This might be the most child-friendly restaurant in Naxos – they have an actual kids menu! The kids loved the veal meatballs so much that they each ordered a second one – which sweet Sylvia brought free of charge. We feasted on their mezze and especially liked the stuffed bell pepper and the warm Naxos cheese. Ronnie declared the goat "exceptional" and I thoroughly enjoyed the mushroom pie. At the end of the meal, we enjoyed mandarin liquor and dessert on the house.
Shockingly, our total bill for dinner was just 38€. I could go on and on about To Ellinikos – the great food, the warm service, the charming ambiance… but if you go to Naxos, you'll just have to enjoy your own dinner there an say "hi" to our friends.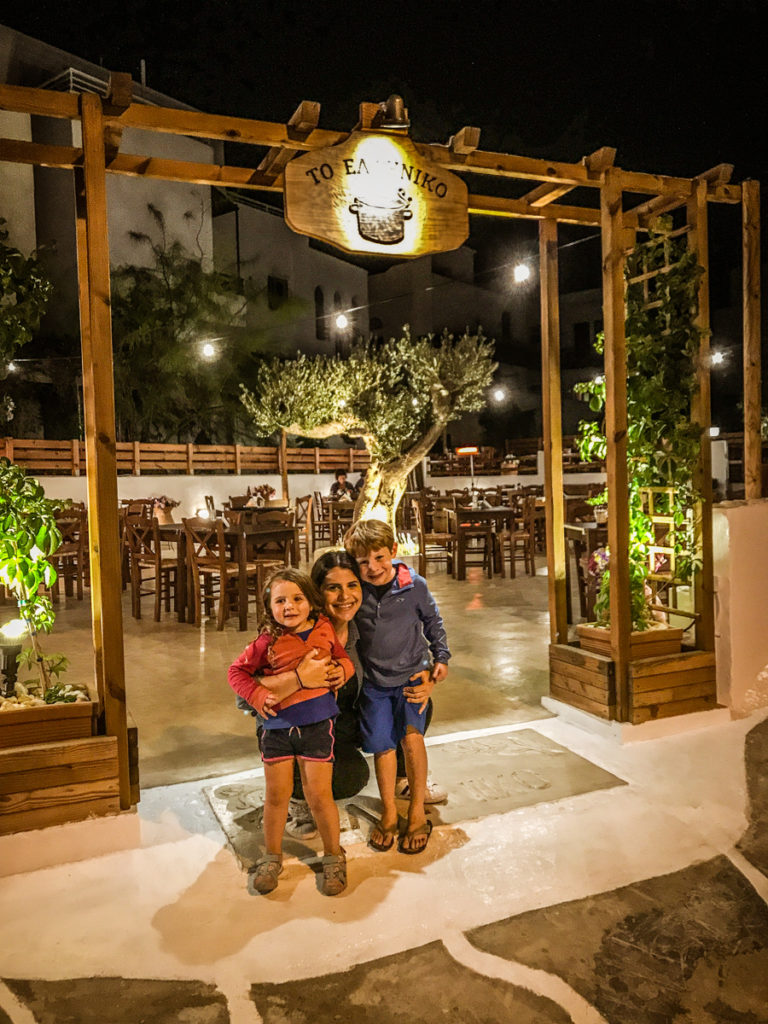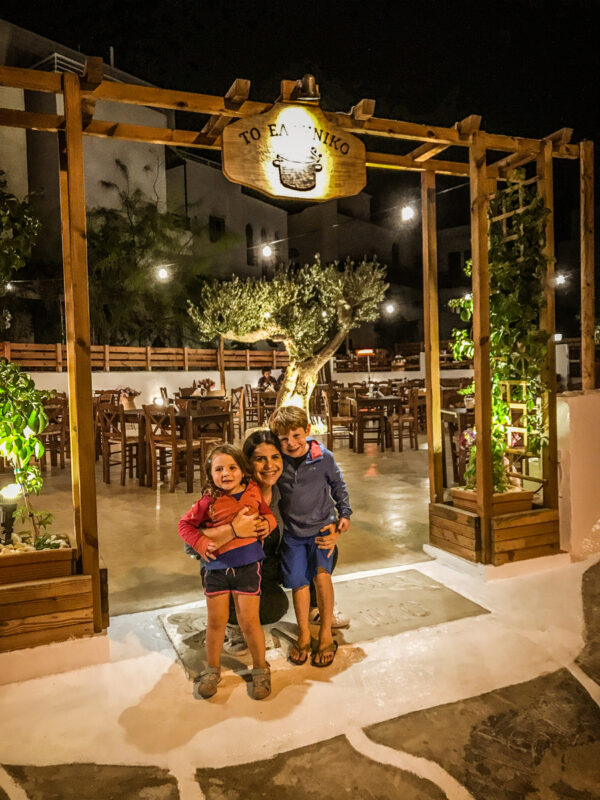 Strofili
Another favorite meal for our family was Strofili, just south of the harbor, which we caught on their opening night and had completely to ourselves! We've heard that usually the restaurant and it's associated club are popular and busy, so if you're visiting during peak season you might try to make a reservation. Strofili is known for its delicious homemade pastas, which didn't disappoint. The sea bass (16€) was wonderful – easily best dish we had on Naxos. While TripAdvisor rates the cost as $, be warned that it's really more like $$$. It's worth the price if you want to splurge for the best dinner on Naxos, but better to avoid the sticker shock.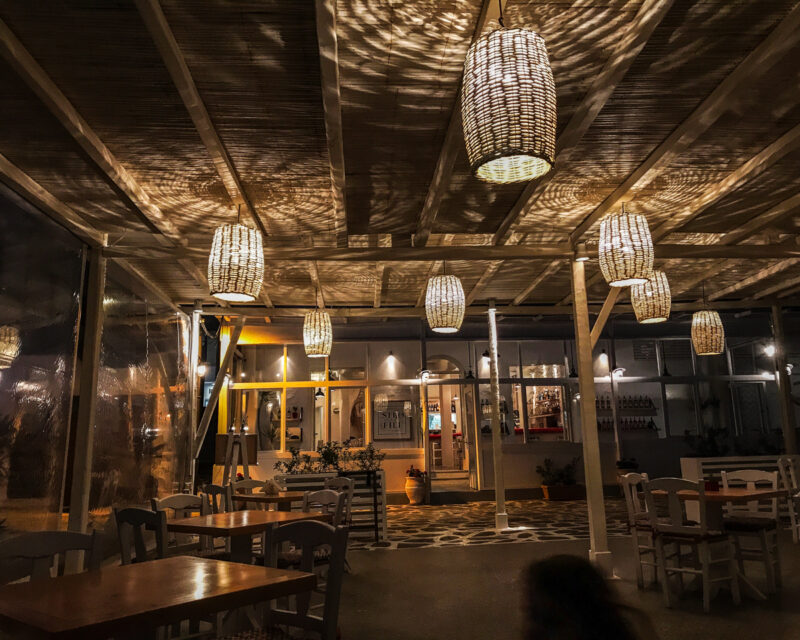 Must-eat desserts on Naxos
Waffle House
You can't miss Waffle House, located just off the main square as you walk into the older part of town toward the Castle. They serve up great ice cream and offer lots of flavor choices. The only downside is that it's expensive at 2.30€ for a single (but large) scoop.
Milkato
Milkato has a nice location on the harbor – grab your cone and sit on the benches while you watch the boats come in. The servings are generous and the prices are a little lower than Waffle House, but they don't have as wide of a selection of flavors.
Where to stay in Naxos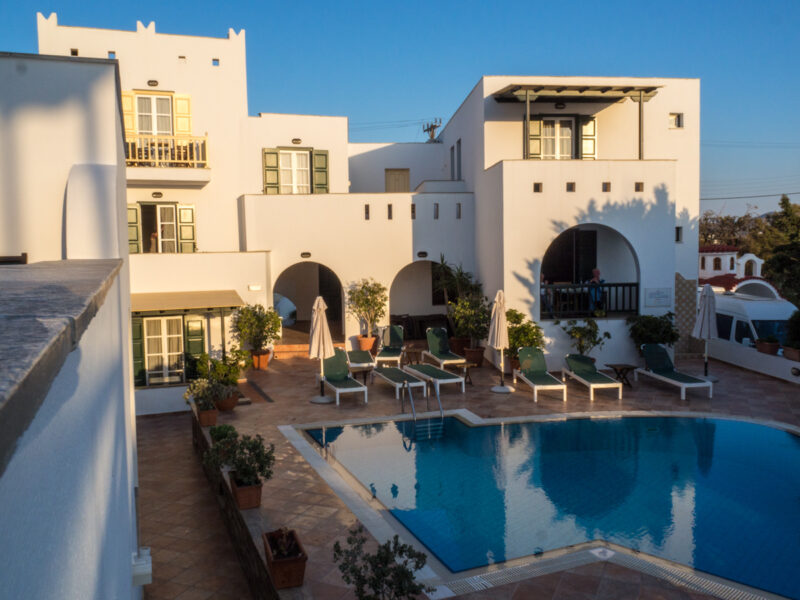 Naxos is full of places to stay for every style of travel and every budget, from luxury resorts to tiny Airbnb's. We consider ourselves middle-of-the-road value-oriented travelers, and so we were looking for accommodations to match.
As you saw above, Naxos town is full of wonderful restaurants (many of which are reasonably priced for the quality of food). On the other hand, grocery store options are limited in the tourist area. So instead of our usual leaning toward self-catering, we opted to stay in a more traditional Naxos hotel – even with breakfast included to speed up our morning routine!
We were thrilled with our choice to stay at Hotel Spiros. The location is wonderful, tucked in a quiet corner of Naxos town just a few minutes' walk to Agios St. George. It was equally convenient to walk to the dozens of Naxos restaurant choices in town. Around the corner are several car rental agencies to set you up for a day trip around Naxos villages, and about 10 minutes away you'll find the bus stop that takes you to stunning Agios Prokopios.
Our room offered plenty of space for the four of us, with a queen bed for the parents and a daybed with a trundle for the kids. We even had a little kitchenette for preparing basic breakfasts or a picnic lunch. Even better? We scored a huge terrace overlooking the beautiful pool! Hotel Spiros was a big win for our family and a great value to boot. Check the latest prices here and reserve your spot early, as they do book up during the high season.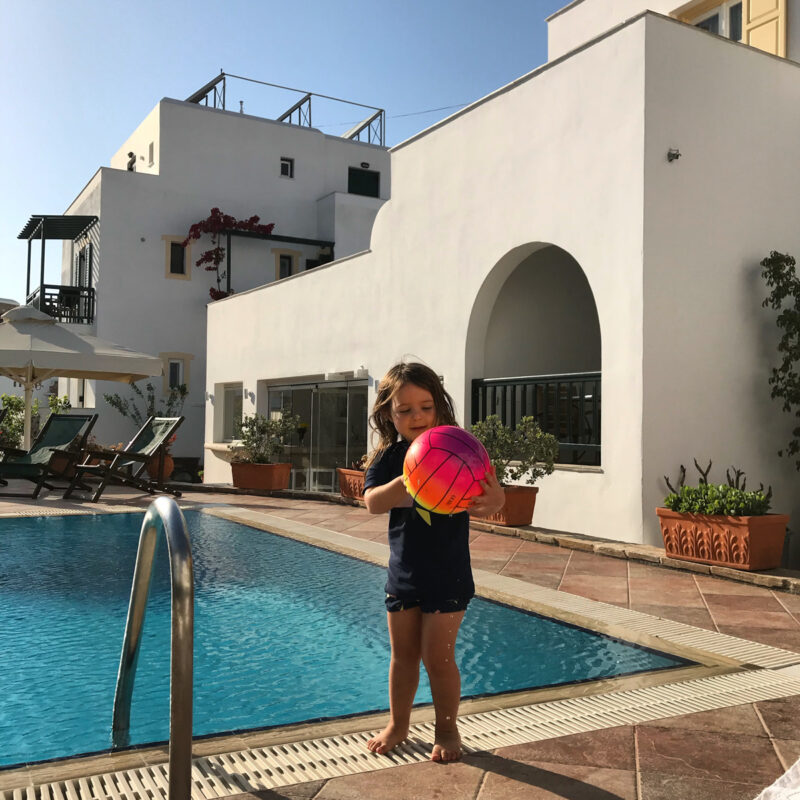 Use the interactive map to find vacation rentals and hotels in Naxos, Greece
---
How to get to Naxos
There are two ways to get to Naxos and they're both easy! You can take a ferry to Naxos town or you can fly to the airport near Agios Prokopios.
What should you do in Athens on the way to Naxos? Find out here!
Ferry to Naxos
The best option is to take a ferry from Athens to Naxos. The ride takes 3-5 hours depending on which ferry you choose and is very comfortable. Be advised that the "fast ferries" save time but may be harder on the stomach. Beyond the cost savings, the big benefit of taking the ferry to Naxos is that you arrive right in town and can walk to all of the local hotels. If you're visiting with kids, that means no car seat installation in a taxi! Book your ferry tickets here – and get them early for high season, as they do sell out.
Fly to Naxos
Alternatively, you can fly non-stop from Athens to Naxos on Olympic Air for as little as $45 each way! Check prices and schedules here – and if your travel dates don't show up, check back in a month or two. The airport is small and manageable, but it's located near Agios Prokopios – meaning you'll need to either take a taxi or rent a car to get anywhere else on the island. You'll also need to allow plenty of time to get to and through the airport in Athens, which may negate any time saved by flying rather than taking the ferry.
Would you rather stay on the mainland of Greece? Check out Stoupa!
If you want to travel Greece on a budget, here are some great backpacker-friendly Greece itineraries to suit all types of interests.
Plan your family holiday on Naxos
Check out these additional resources to plan your family trip to Naxos and the rest of Greece:
–Book ferry tickets
–Reserve Hotel Spiros
–What to pack for Greece in spring
–How to travel Greece on a budget
–Things to do in Athens with kids
–Crete with kids
–Visiting Greece with kids: where should you go?
–A Local Guide's Perfect Greece Island Hopping Itinerary
Still planning? Pin it for later!