Are you looking for an awesome place to visit in Greece that gives you everything – ruins, beaches, hiking, food and a warm feeling – all in one place? Look no further than Crete, the biggest island in Greece. There are so many things to do on Crete that people often make it the centerpiece of their Greece family vacation! Read this Crete travel guide to find the best of visiting Crete with kids and learn why we loved our time there.

Read more Greece articles or get Europe travel inspiration
Facts about Crete to know before you go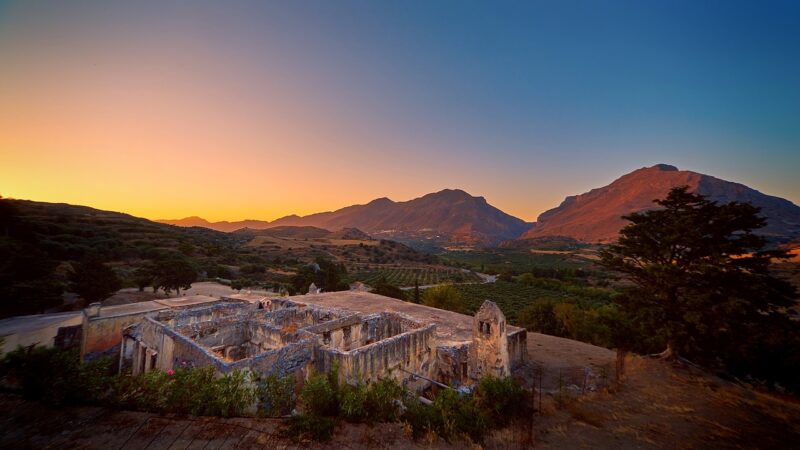 The first thing you should know before visiting Crete is that it's huge – almost 3,000 square miles. It's the largest Greek island and is home to 600,000 people. Don't underestimate the amount of time you need to explore this slice of paradise.
During your trip, make sure you allow enough time to visit different parts of the island without feeling rushed. Driving from east to west will take you on a 160 mile journey over windy roads and will require at least 6 hours. Keep your camera ready for the stunning coastal scenery on the exterior and the beautiful mountains, valleys and gorges in the interior – but beware that there aren't really any designated pull-offs, so make sure to find safe places to turn off the road for photo opps.
We recommend at least a week on Crete to get a feel for the island. There's so much to see and do including incredible historical sights, gorgeous beaches, fun hikes and sampling delicious food. Beyond the scenery, what makes Crete a special place to visit are the people. They are welcoming, friendly and extremely proud of their island. Crete is definitely one of those places where we found ourselves saying "why didn't we travel here sooner?"
A brief Crete history for travelers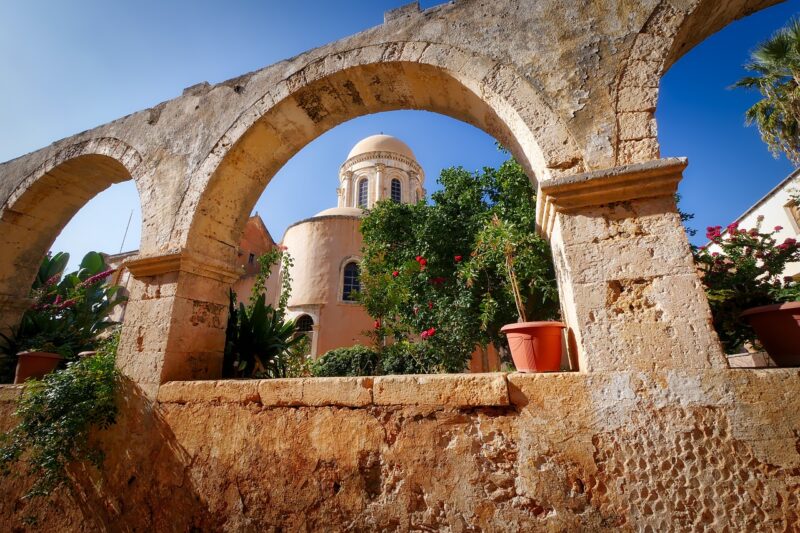 One thing Crete has is history… and lots of it. Crete is 'old school', wIth evidence of human settlement on the island dating back 130,000 years and the first written reference to the island nearly 4,000 years ago. The island played an important role in ancient Greek mythology as the birthplace of Zeus. If you want to see Greek mythology come to life, pay a visit to the Minoan palace of Knossos, where allegedly the Minotaur was slain by Theseus.

Pro Trip: Make your visit to Crete even more fun for your kids by reading Greek mythology stories together. Our kids loved learning about Odysseus. Be sure to check out these wonderful books to read to your little ones:

If the ancient history of Greece isn't interesting enough, the modern history is just as fascinating and showcases the strategic importance of Crete's location. Crete was a gateway between the peoples of the west and the near east. Over time, Crete was conquered by the Minoans, Greeks, Romans, Byzantines, Arabs, Venetians, Ottomans and even the Nazis. There was a very brief period between 1897 – 1913 when Crete was independent before uniting with Greece.
Crete has remained relatively immune from many of the financial woes that have befallen Greece since the start of the great recession in 2008. The local economy is supported substantially by tourism, and the quality service and outstanding hospitality around every corner help to show why this is the case.
Additionally, agriculture is a big part of the Cretan economy. The Mediterranean climate makes it an ideal place for growing olives, grapes and oranges. Be sure to visit local markets and taste the fresh produce and oils made on the island.
How to get to Crete and get around
What's the best way to get to Crete? There are several options, in the best choice for you will depend in part on where you're coming from.
Flights to Crete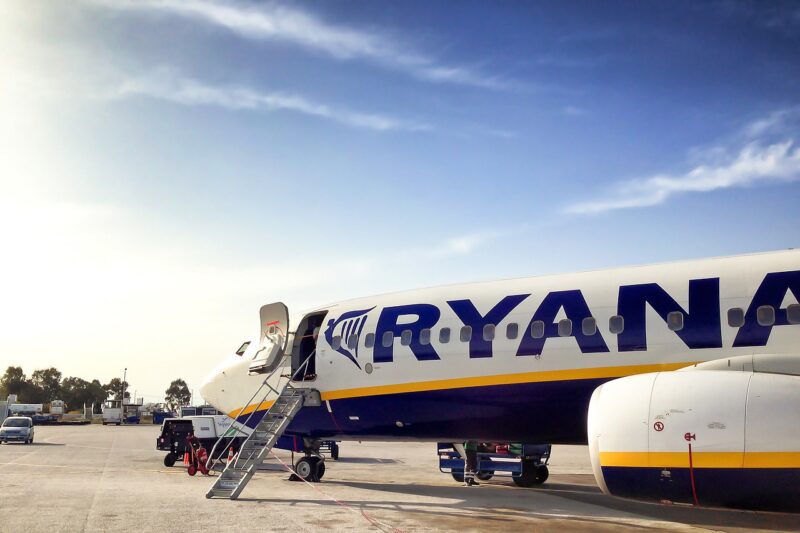 Given how far south it is located, the quickest and most efficient (and best) way to get from Athens to Crete is by plane. There are daily flights from Athens to both Heraklion and Chania. Non-stop flights from Athens are just 50 minutes long and will cost you between $100 – $150 roundtrip.
It's also easy and affordable to fly from mainland Europe to Crete now! Note that most service to Crete is provided by low-cost carriers, so checked baggage will cost you extra.
Ferries to Crete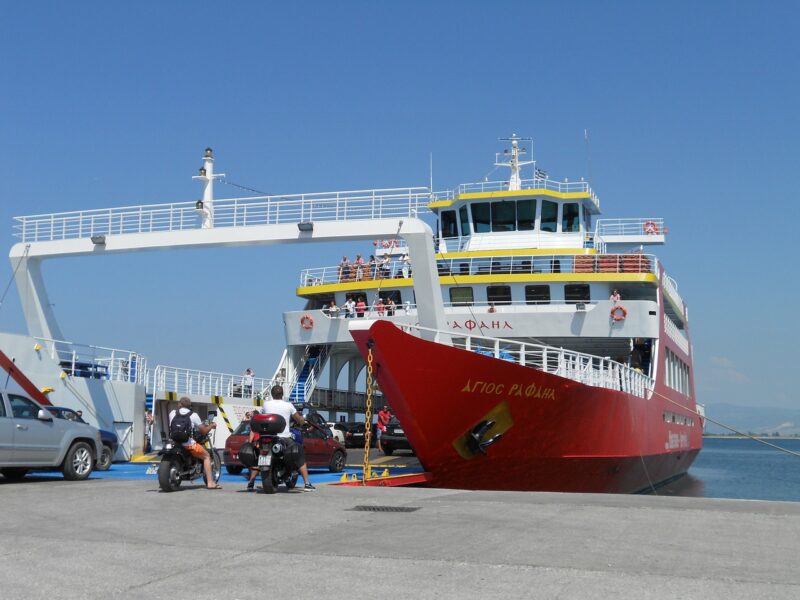 Taking a ferry to Crete is a more relaxing and scenic alternative to flying. Imagine clear blue waters and the feeling of cool wind on your face as you enjoy the serenity of the Mediterranean Sea. The ferry boats feel more like cruise liners with cafes on board, comfy seats and outdoor decks as well.
All ferries depart Athens from the Port of Piraeus which is approximately a 25 – 30 minute cab ride from Athens (city proper) depending on traffic. The two cruise lines that service Crete from Piraeus are Minoan or Anek Superfast. The trip will take you around 8-9 hours each way. Check the updated ferry schedules here.
A roundtrip ticket will cost between $70 – $250 depending on the fare class you select. The ferry boats leave at 9pm at night and arrive at 6:30am the next morning at either the port of Heraklion or Chania. Given that it's an overnight ferry, it's worth considering a sleeper cabin for comfort.
Inter-island ferries are also available if you are choosing to visit Crete after spending time on another Greek island. During our time in Greece, we visited Naxos prior to landing on Crete. The inter-island ferry schedules vary by season and depending on which island you are leaving from. Be sure to check your specific routes here for the most up to date schedules to avoid getting stuck and dealing with a frustrating situation. It is also important to know that while ferries do run daily from Piraeus (Athens) to Crete, the schedule is much more variable on the inter-island ferries and popular routes book well in advance.
Make sure to allow sufficient time when taking a ferry from Piraeus. Many providers will require you to first pick up a physical ticket from their ticket office (separate location from the port, but nearby) prior to boarding. Be sure to check your ferry provider's policies to avoid any last minute hassles.
Just like flying, allow enough time to get to Piraeus, check your bags and board. Your bags are stored in the cargo hold of the boat (where you enter), so make sure to keep your cabin bag and valuables with you as you board.
Compare ferry prices and schedules here
Driving on Crete
Once you arrive on Crete, a rental car is essential outside of the big cities of Heraklion and Chania. Crete is a large island with much to see. Having a rental car will allow you the flexibility to make the most of your time and explore vast swaths of the island.

Want to avoid driving right when you arrive? Welcome Pickups will pick you up at the airport and take you into the city. You can arrange your car and English-speaking driver in advance for the same price as the taxi line! They'll even provide a car seat if you request one. Get a quote for your pick up here.
If you need an automatic vehicle, make sure to book your rental car in advance to avoid having to learn how to drive manual for the first time on Crete's windy roads. Automatic cars are becoming more common in Greece, but rental car companies only have a limited number in stock (especially if you're arriving in Chania). Check updated rental car prices here.

Pro Tip: Save money by picking up and dropping off your rental car at the same airport. It's much cheaper to get a rental car at the Heraklion airport than the port. If you're arriving by ferry, take an inexpensive taxi from the ferry terminal to the car rental depot at the airport.

Getting your rental car can take time some time, so don't plan any activities immediately after you arrive on Crete. The rental car companies are often short-staffed and require a lengthy process for checking out your car.

The question of whether or not to purchase car insurance from the rental car company always comes up. We opt to waive the additional insurance fees from the rental car company and use our Chase Sapphire or Chase Business Ink cards which provide us all the necessary insurance coverage for our rental car.

Driving in Crete is pretty easy with the exception of some parts of Heraklion, which have extremely narrow streets. Many of the streets in small towns throughout the island often do not have sidewalks. Make sure to exercise additional caution to avoid injuring pedestrians.

We saw sporadic use of car seats throughout Greece, so if your child still needs one we strongly recommend that you bring your own (availability from rental car companies can be limited and there's no guarantee that the seat will fit your child and be unexpired).
If your child is 5+ and mature enough to sit still, the Bubblebum is a great choice – you can buy your own here or read our full review first. An amazing option for kids 3+ (including those who are big enough but not yet mature enough for a backless booster) is the Ride Safer Delight travel vest. We used it all over the world, including in Greece, and it was perfect for our needs. Check out our full review or get yours here with coupon BESTPRICE for the best deal!
Traveling with a child under 3 or one that needs a more traditional car seat? Don't miss our complete guide to traveling with car seats or find the best convertible car seat for travel.
Gas stations are located throughout the island and parking was not a problem in most places. Unfortunately, there are plenty of aggressive drivers on the island who will tailgate you if you are keeping to the speed limit. We opted to allow aggressive drivers to pass us to avoid speeding and the extra stress.
Compare car rental options here
Things to do in Heraklion

Heraklion is as close as you are going to get to a 'big city' feeling on Crete with plenty of hustle and bustle. Don't let the faster pace of life in the area scare you away. Make sure to allow for at least two days in and around Heraklion when planning your trip.

Heraklion Venetian Fort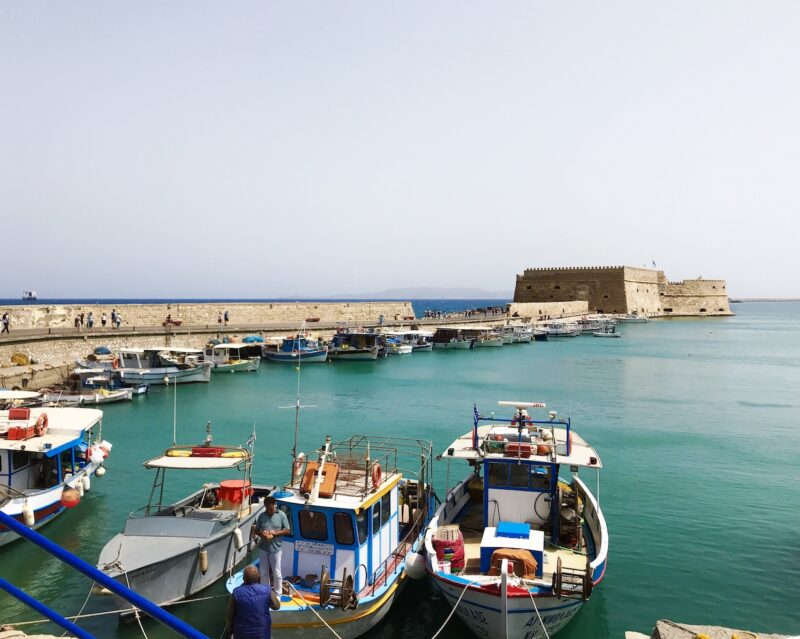 One of our favorite sites we visited in Heraklion was the Venetian Fort (Koules Fort). The cost of admission is €2 per person. Dating back from the 8th century, the fort played a strategic role in defending the island from outside invaders. Today, it is a symbol of the the rich history that helped shape modern Crete. After touring the fort, take a few minutes to enjoy a scenic stroll along the harbor.
There are a variety of places to park near Koules Fort. Be prepared to walk a couple of blocks to get there from your parking space.
Heraklion Archaeological Museum
If you are interested in taking a deeper dive into the history of Crete be sure to visit the Heraklion Archaeological Museum. Cost of admission is €10 per person or €16 for a combined ticket with Knossos. Considered by many historians to be one of the best museums in all of Greece. It houses a vast collection of Minoan artifacts and is most popular for its collection of Minoan art.
Knossos Palace ruins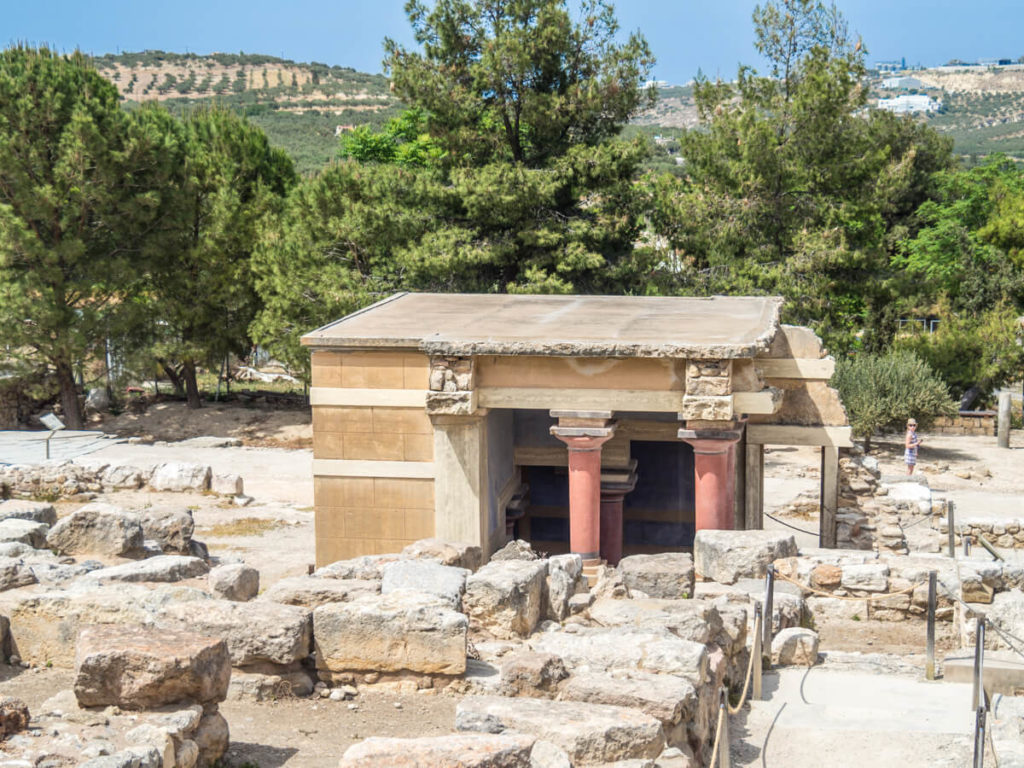 After exploring Heraklion, take a short 15 minute drive to Knossos, one of the best historical sites in all of Greece that provides a glimpse into ancient Minoan life. In Greek mythology, Knossos is where the Minotaur (head and tail of a bull and body of a man) was was slain by Theseus in the famous labyrinth.

There are huge parking lots with plenty of parking next door to Knossos. It is not more than a five minute walk from the parking lot to the entrance. Cost of entrance is €15 per adult (kids are free) or alternatively you can purchase a combined ticket with the Archaeological Museum for €16. Knossos can easily be explored on your own as there are information signs throughout the site. Tour guides will offer you their service for an additional fee at the entrance of Knossos. We opted to tour on our own and found it quite enjoyable.
Can you guess the #1 thing you should bring for your day at Knossos? Here it is.
Pro Tip: If you are looking for a bite to eat, the cafe located in Knossos is decent but does offer a beautiful and convenient setting to enjoy a quick meal. Alternatively, there are restaurants located across the street that would be happy to welcome your business.

CretAquarium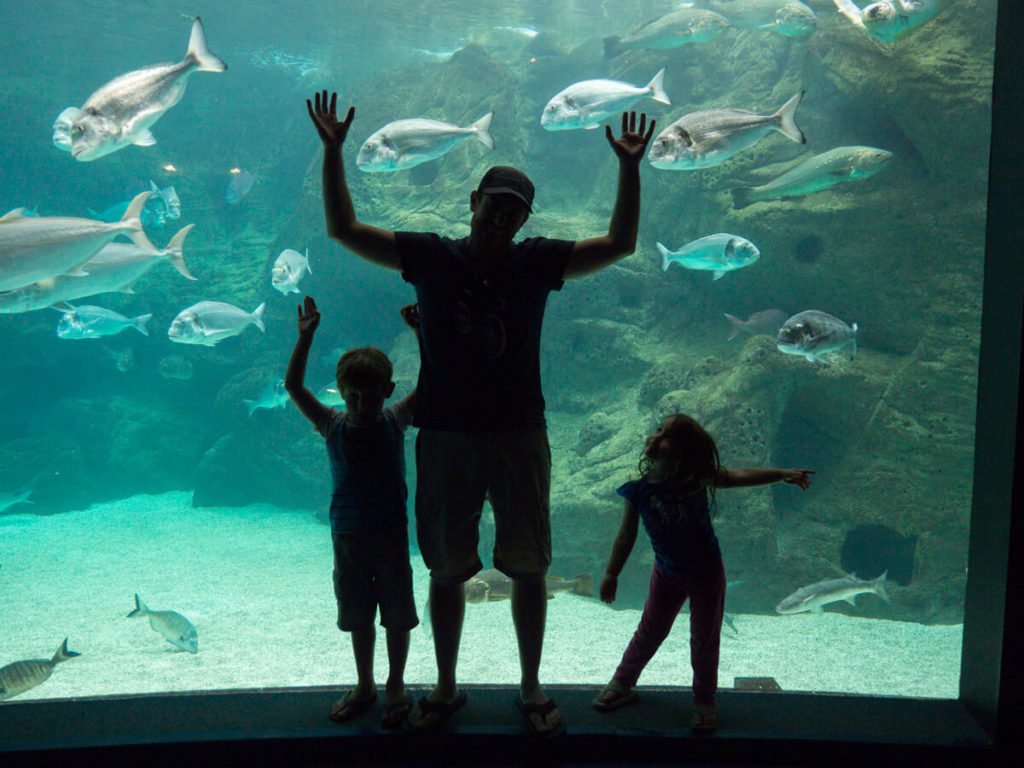 If you would like a break from historical sites then consider checking out the CretAquarium. They do a good job of showcasing the local sealife, including sharks, rays, jellies and a wide range of fish.
Many people we met suggested it as "must visit" attraction if you're visiting Crete with kids but we're not sure we'd call it that. We went on a rainy day and were honestly a bit underwhelmed compared to the ones we're used to visiting in California. It makes for a pleasant afternoon if it's brutally hot outside or if you're looking for things to do on a rainy day on Crete, but if you have a limited time to explore the island then don't make the aquarium a priority.
That said… the tile mosaic work outside the aquarium is lovely and makes a great backdrop for photos once the sun comes out!
To get there from Heraklion it will take you about 25 minutes. Admission is €10 per adult during peak season (April through October) and €6 off-season. Kids 5-17 are always €6 and younger ones are free. There is ample free parking on site.

Where to stay in Heraklion
Heraklion may be a bustling city, but we'd recommend picking a central location anyway. You'll be able to walk to several of the major sites and enjoy the wide range of waterfront cafes and restaurants. We enjoyed our brief stay at Candia Rooms & Suites – it offered just enough room for our family and even included parking! At just one block from the Venetian Fort, you can't beat the convenience. Even better, the price was extremely reasonable. Check rates for your stay here.

Use the interactive map to find vacation rentals and hotels in Heraklion, Crete
---
Don't miss these 5 simple hacks for saving more on Booking.com
Things to do in Chania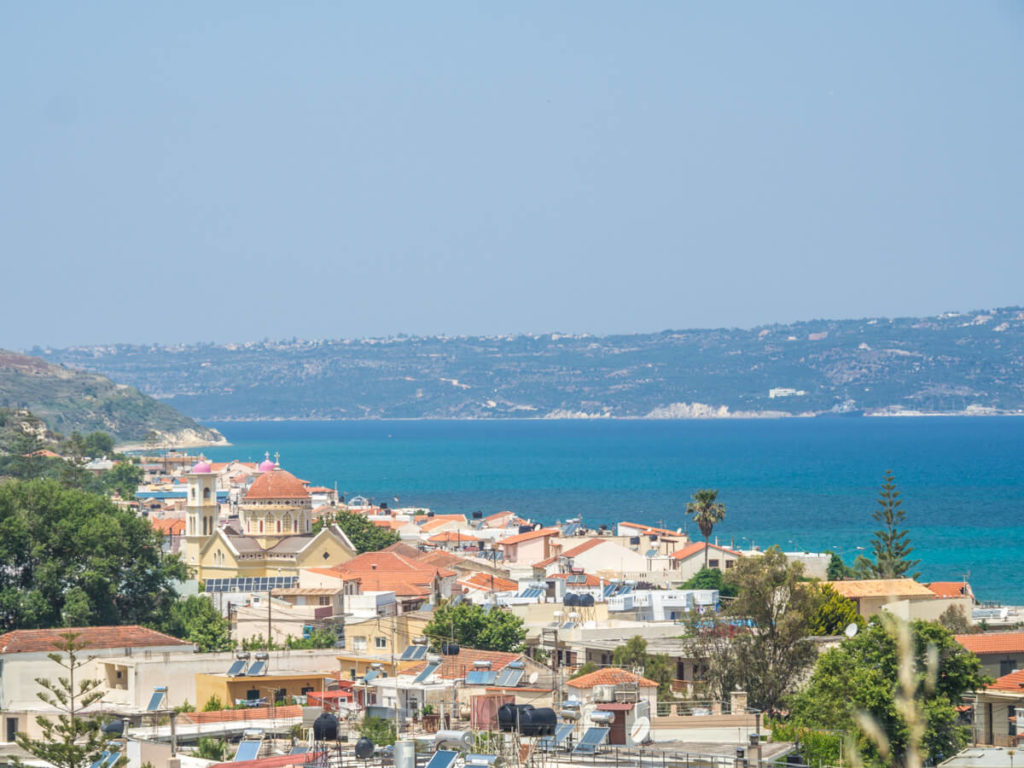 After two full days of exploring Heraklion, it's time to head to the western part of Crete and check out Chania, a low-key region of the island with plenty of attractions and even more wonderful beaches. In our opinion, it's the best place in Crete.

Chania is the north western capital of Crete and home to incredible beaches, restaurants, cute towns and fantastic outdoors activities. Allow at least four days to get a good taste for the area.
Best beaches in Chania
The highlight for us during our time in Chania were the beaches. Two in particular stood out above the rest.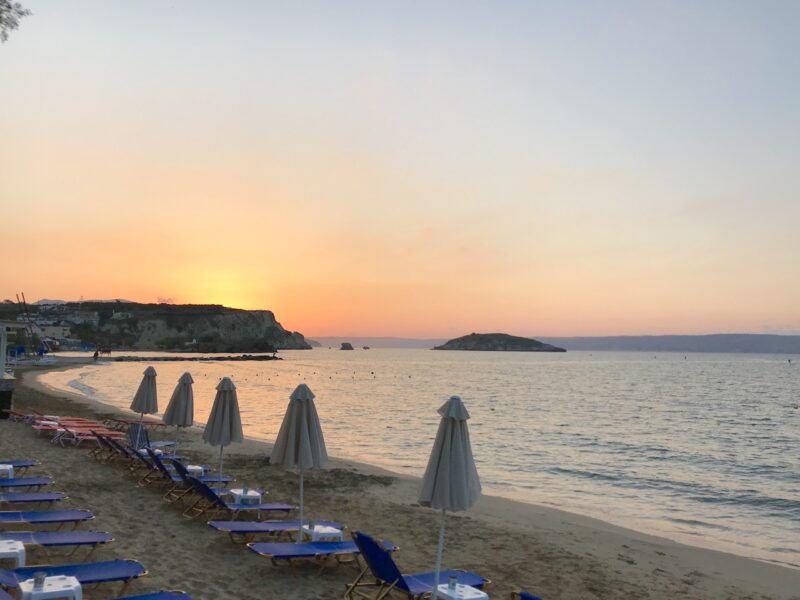 Our favorite beach on Crete is the low-key Almyrida beach. Getting there is quite easy, as it's only a 30 minute car ride east from Chania and parking can be found in a number of lots and streets behind the beach. You can easily spend a day (or two or three) at Almyrida beach, playing in the soft white sand, swimming in the calm shallow waters and dining at one of the many outstanding restaurants nearby.

The most famous beach on Crete is Elafonisi Lagoon, adjacent to the Libyan Sea. It's extremely popular with both tourists and locals with great shallow water for kids. It's known as the "pink sand beach" on Crete, though as you can see below it's just a little tinted. The water should be slightly warmer than beaches on the northern side of the island thanks to the incoming African waters.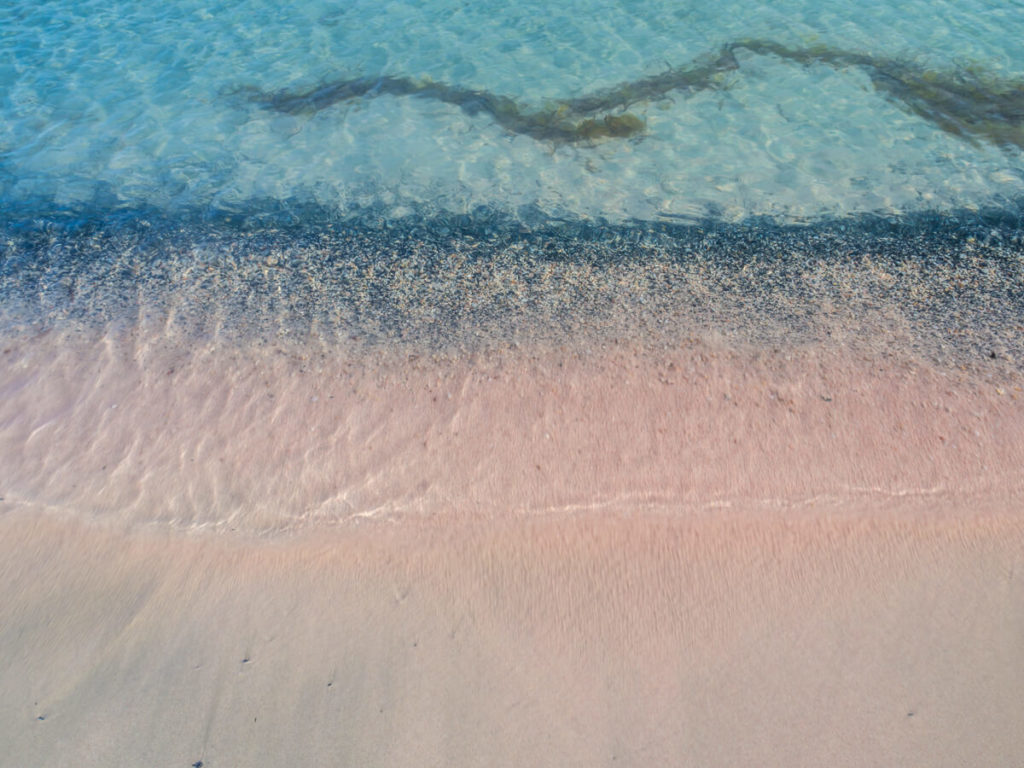 When arriving at Elafonisi Beach you'll find an abundance of parking but be prepared for a stressful situation trying to navigate the chaotic parking lot. Once you get your parking spot, take a deep breath, grab your beach gear and snacks, and stroll down to the beach to get situated. There are umbrellas and chairs for rent during the peak season and they are often free during the shoulder seasons.

The beach at Elafonisi Lagoon is divided into two main parts: a shallow lagoon which is perfect for little kids and the shore line with beautiful pink sand beaches – though the pink color wasn't nearly as pronounced as over-edited Instagram photos would lead you to believe! Our kids did not care much for the lagoon (since it's only about 6" deep) and instead preferred to swim and play right off the shore. The water is generally calm and a brilliant blue color.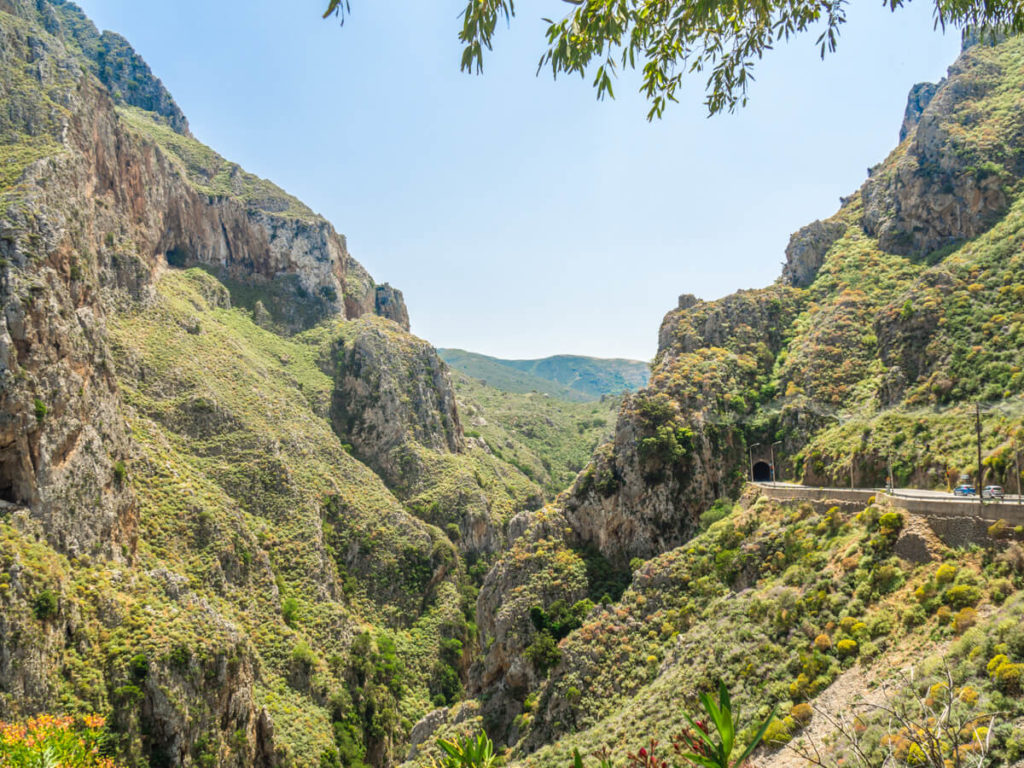 If you are staying in the Chania area, it takes approximately 1 hour and 30 minutes to get there – you're driving from north to south, which takes you through a gorge in the mountains. The drive is lovely and passes stunning scenery – give yourself extra time for photo stops! There are cute towns along the way with restaurants and shops to buy local trinkets and honey.

We visited several other beaches in Chania, but many of them are too rocky to fully enjoy with active kids. They're still great places to stop and enjoy the view!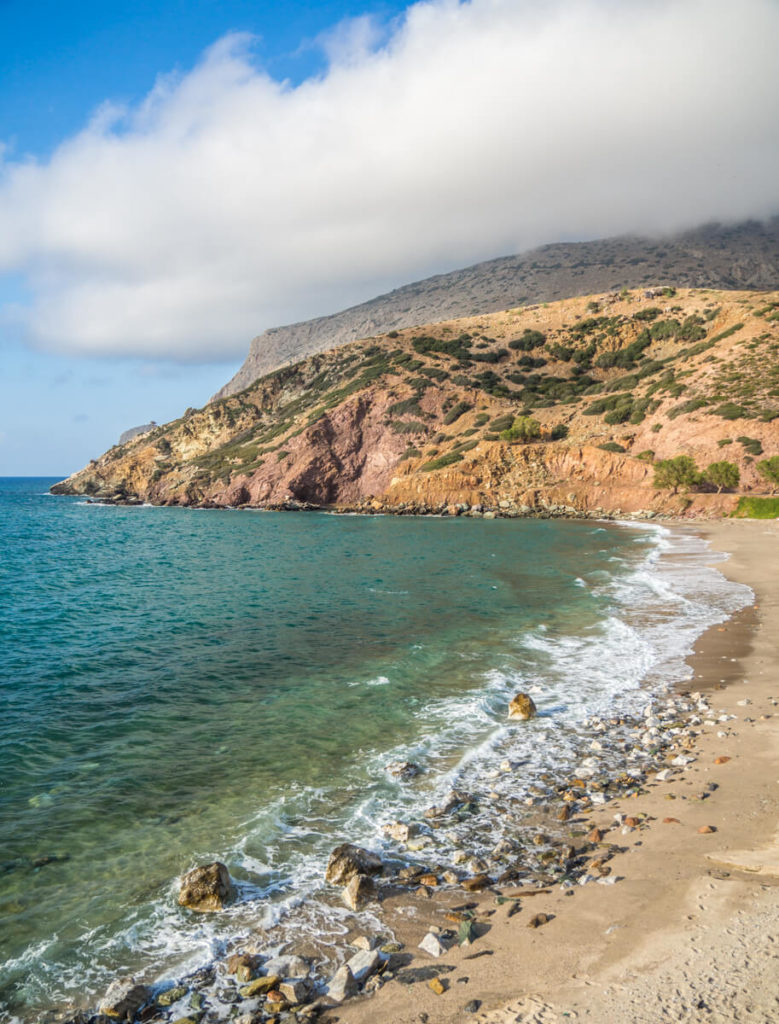 Visiting Chania town
Need a break from the beach? Pay a visit to Chania town. Chania is easy to visit thanks to the abundance of paid parking options around town. Make your way to the Venetian Fort along the waterfront, which showcases the rich history that once made Chania a strategic defense point on Crete.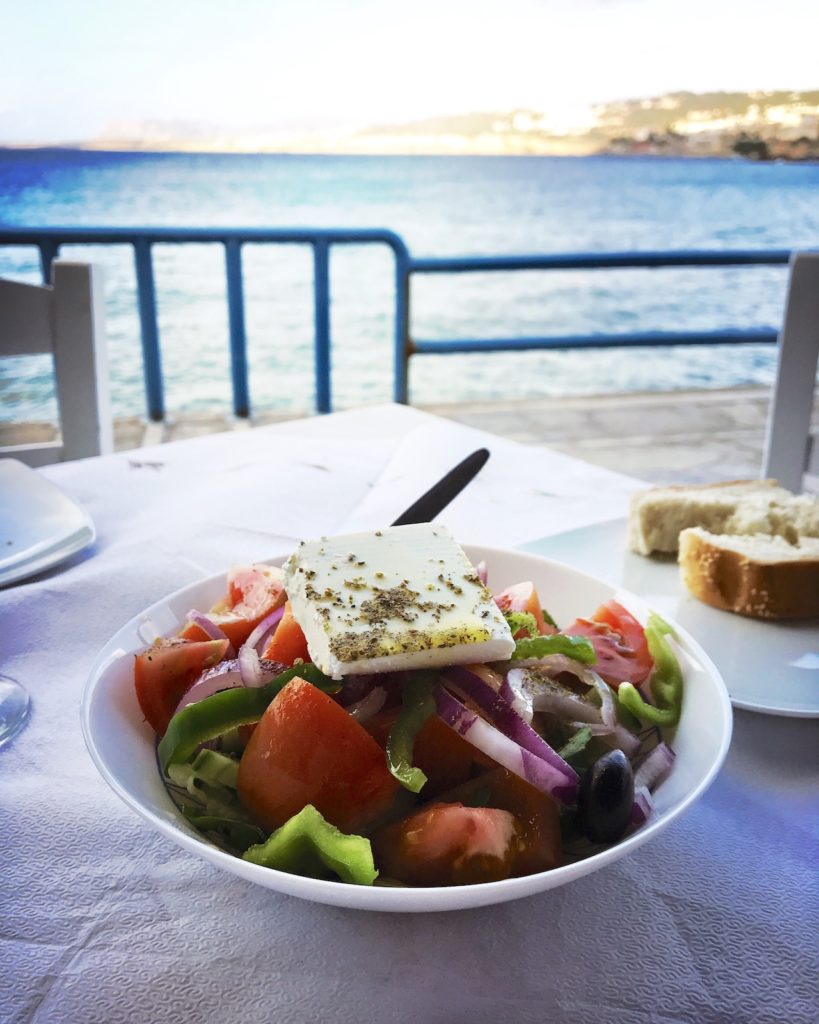 Adjacent to the Venetian Fort is a beautiful promenade where you can stroll and enjoy the breathtaking scenery. Make sure to stop at one of the cafes along the waterfront for a drink. These cafes can get quite busy so be prepared to track down your waiter/waitress to take your order. Otherwise, you will be sitting thirsty for a while. The best time to visit Chania is around sunset. The water is gorgeous and the promenade along the shore comes to life.

Where to stay in Chania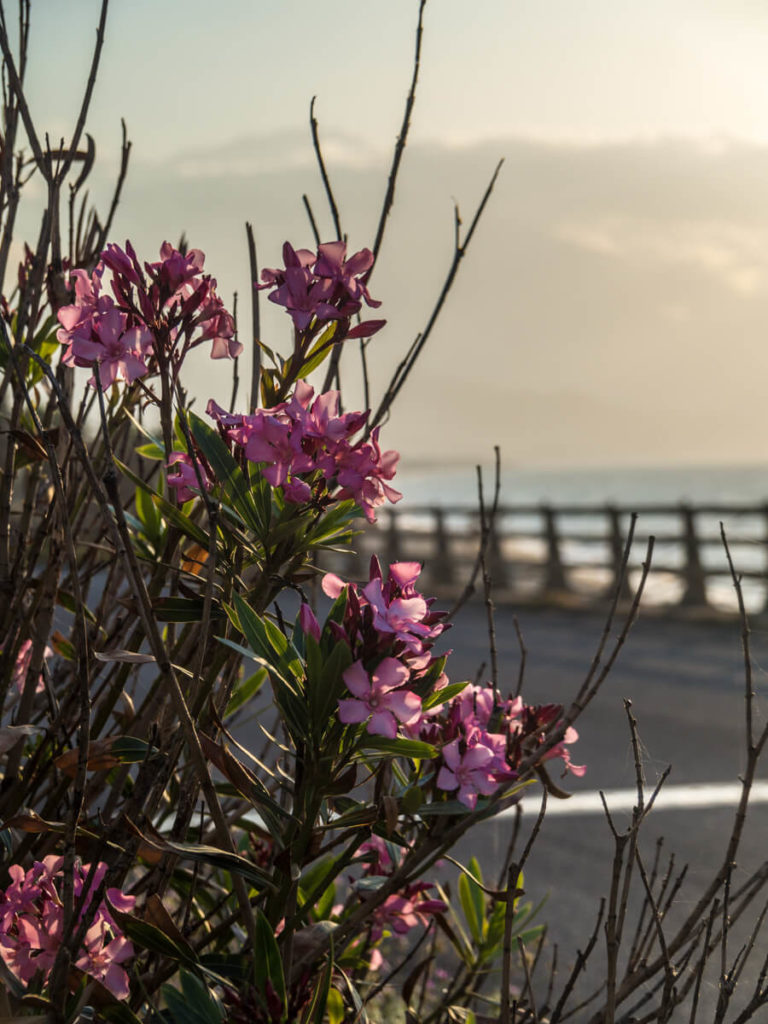 For our stay, we were able to arrange a beautiful villa through HomeExchange. It was so nice to spread out in the house and live like a local, complete with a local's recommendations for things to do in Chania and the best restaurants in the area.

If you prefer to stay at a hotel, be sure to check out Almyrida Beach Resort. It's adjacent to our favorite local beach and there are numerous solid restaurants there as well. The resort has several different options to suit various needs and budgets. See all of the choices here.

Use the interactive map to find vacation rentals and hotels in Chania, Crete here
Don't miss these 5 simple hacks for saving more on Booking.com
Resources to plan your trip to Crete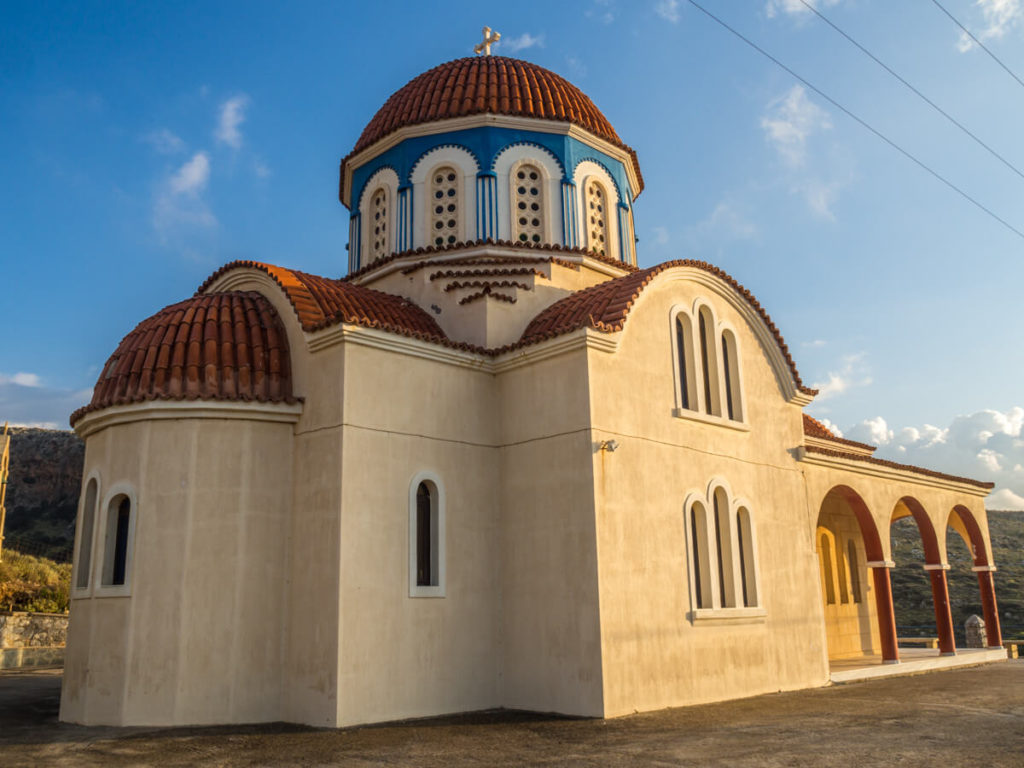 Visiting Crete makes for a memorable vacation that your family will love. It is a destination that strikes the perfect balance between rich history and natural beauty. The best way to enjoy Crete is by taking it slow and not trying to pack in too much. Remember you are on island time so be sure to take it easy. Happy travels!

Travel insurance for Greece
Flights to Crete
Ferries to Crete
Rental car on Crete
Hotel in Heraklion
Resort in Chania
Check out these other articles to plan your trip:
–What to pack for Greece in Spring
–Athens with kids
–Naxos with kids
–The best places in Greece for families
–Visiting Greece on a budget
–A Local Guide's Perfect Greece Island Hopping Itinerary
Guidebooks
Still planning? Pin this article for later!