If you're an American traveling to anywhere in Greece, there's a very good chance that your travels will take you through Athens – whether you like it or not. We're asked all the time whether or not it's worth visiting Athens with kids. After all, the city gets a bad rap for being gritty, dirty and a haven for petty crime.
We think you'd be remiss to skip Athens entirely, even if you're just trying to make it to your island paradise. The good news is that spending just two nights and the one day in Athens in between you can get a taste of what this amazing historic city has to offer.
Check out these additional articles to plan your trip to Athens, Greece with kids:
–What to pack for Greece
–Naxos with kids
–Crete with kids
–The best places in Greece for families
–Visiting Greece on a budget
–A Local Guide's Perfect Greece Island Hopping Itinerary

Or get more Europe travel inspiration
What to do in Athens with kids in one day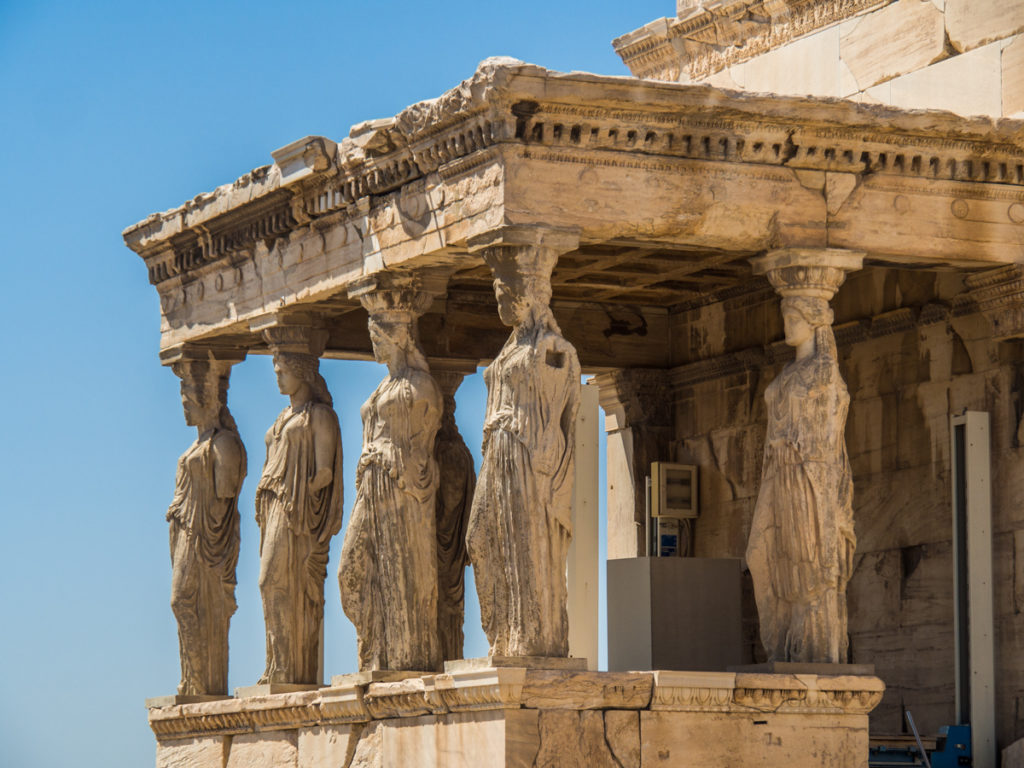 As seasoned family travelers, we know that we have to pick what sites are most important to us to see. If you're arriving in Athens after a long international flight, don't push yourself to see every site!
Introduce ancient Greek mythology for kids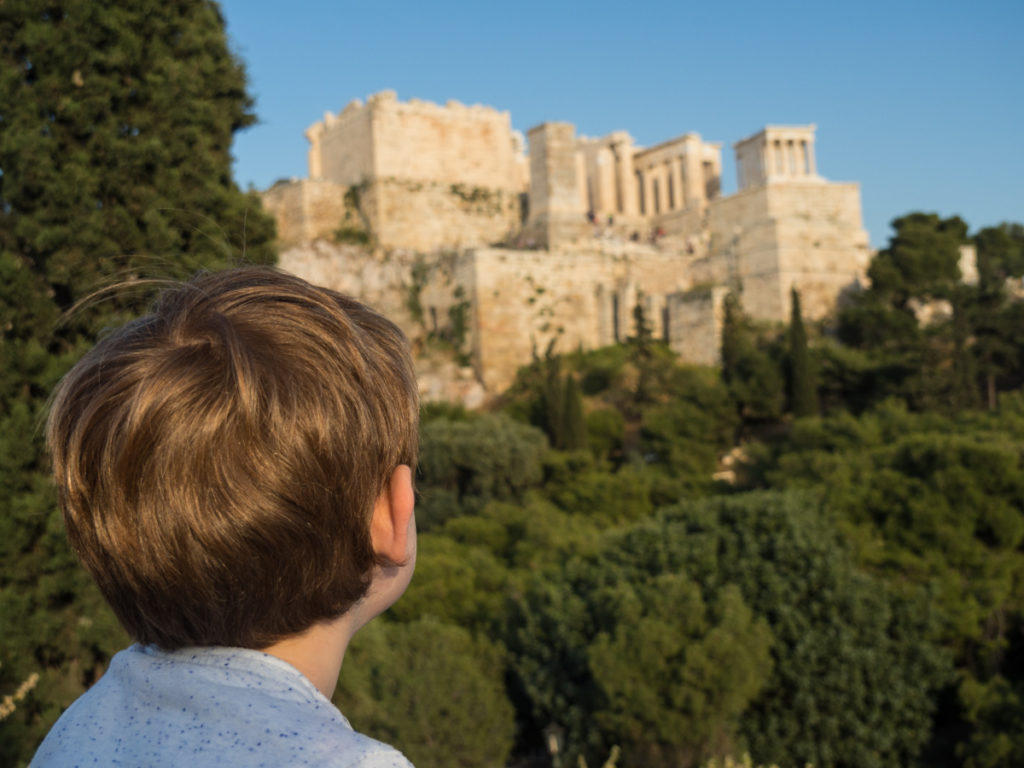 The most important site for your family visit to Athens is the Acropolis of Athens – impossible to miss as it sits high above the city like a sentinel. If possible, it's best to visit early in the day for a few reasons. First, the crowds are likely to be thinner. Second, your family will be fresher. And third, the temperature amid the reflections of the bright white buildings will be more manageable.
We suggest that you start your visit opposite the Acropolis at the foot of Filopappou Hill park (near the Prison of Socrates). Grab a frappe (trust me on this) or a breakfast picnic and park yourselves on a bench under a shady tree with a great view of the Acropolis. If you have time for a walk, the park has plenty of ancient sites of its own.
Why would we waste our limited time sitting at a park???
Because the best thing to do in Athens with kids is to make history come alive! Bring one of these great books of Greek mythology with you and spend a half hour doing a family read-aloud with the Acropolis in front of you. Ask your kids to envision the story taking place right in front of them! A little exposure to Ancient Greece for the kids will make them more interested in the actual visit to the Acropolis – otherwise it's just a bunch of crumbling old buildings!
Visiting the Acropolis with kids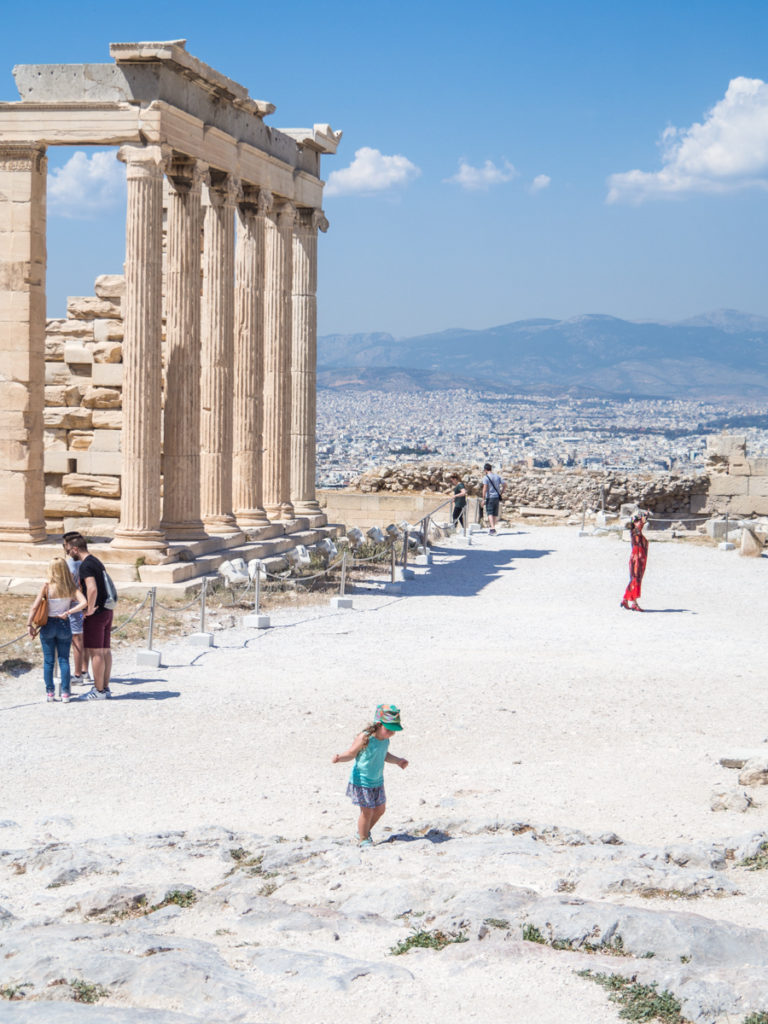 Now on to the big event: visiting the Acropolis should be at the tippy top of your list of things to do in Athens with kids!
Allow yourselves around an hour and a half (perhaps more if your kids are older) to ascend, explore and descend. There are a few great ways to make a visit to the Acropolis with kids more meaningful. Consider downloading this free audio guide to add background and context to your visit – but don't forget a headphone splitter and compact headphones so the whole family can listen.
Another option is to take a guided tour of the Acropolis and surrounding sites. This mythology tour looks like an excellent way to bring the ancient buildings to life for the whole family!
How much does it cost to visit the Acropolis? Adult tickets are 20 EUR from April through October and 10 EUR during the off-season, and kids are always free!
Don't forget these essentials when you visit the Acropolis:
–kid-safe sunscreen
–SPF lip balm
–reusable water bottle
–headphone splitter, headphones and extra battery pack if you will use an audio guide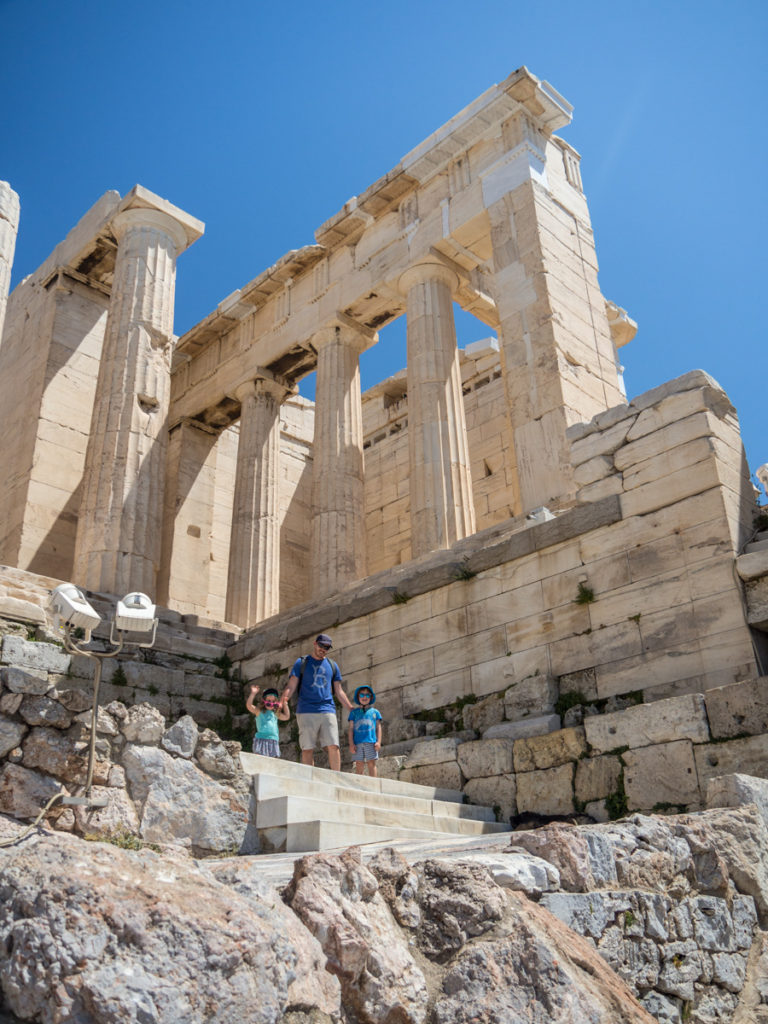 After your visit to the Acropolis, you can grab a quick lunch on the plaza opposite the Acropolis metro station. The choices are abundant and plentiful, and everything is so compact that you can treat it like a food court with each family member choosing his or her own favorite. We were split between pizza and gyros.
While you're over there, head down into the Acropolis metro station for a few minutes. It's amazing to see ancient artifacts and history placards so casually displayed! The is one of the fun free things to do in Athens on a blisteringly hot day.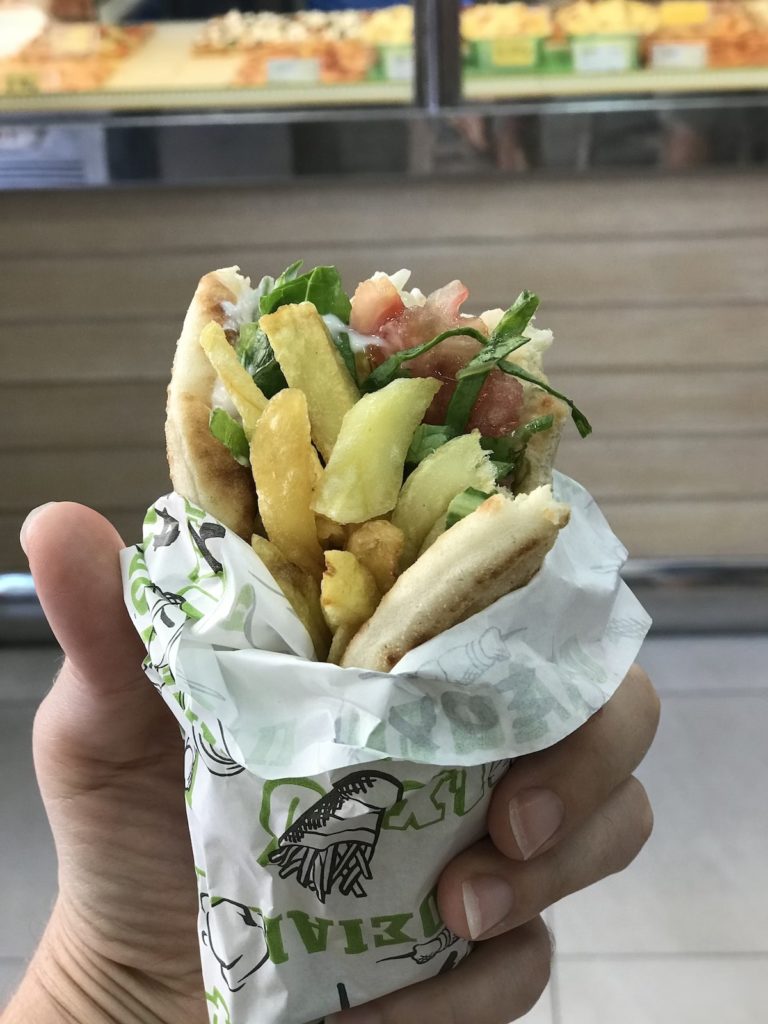 Acropolis Museum with kids
In the afternoon it's worth taking a walk to the New Acropolis Museum. We've heard mixed reviews from other visitors and decided not to go in, as our kids weren't up for it. Forcing a Museum visit isn't likely to make anyone happy!
But even without going inside, a visit to the museum exterior is a great pick. The entry is built on top of an excavated site from antiquity and many of the walkways are made of glass! There's helpful annotation provided to guide you as you explore the ruins of the ancient buildings. It's a neat experience for the whole family to see what the homes of everyday ancient Greeks looked like rather than just the striking remains of temples and palaces.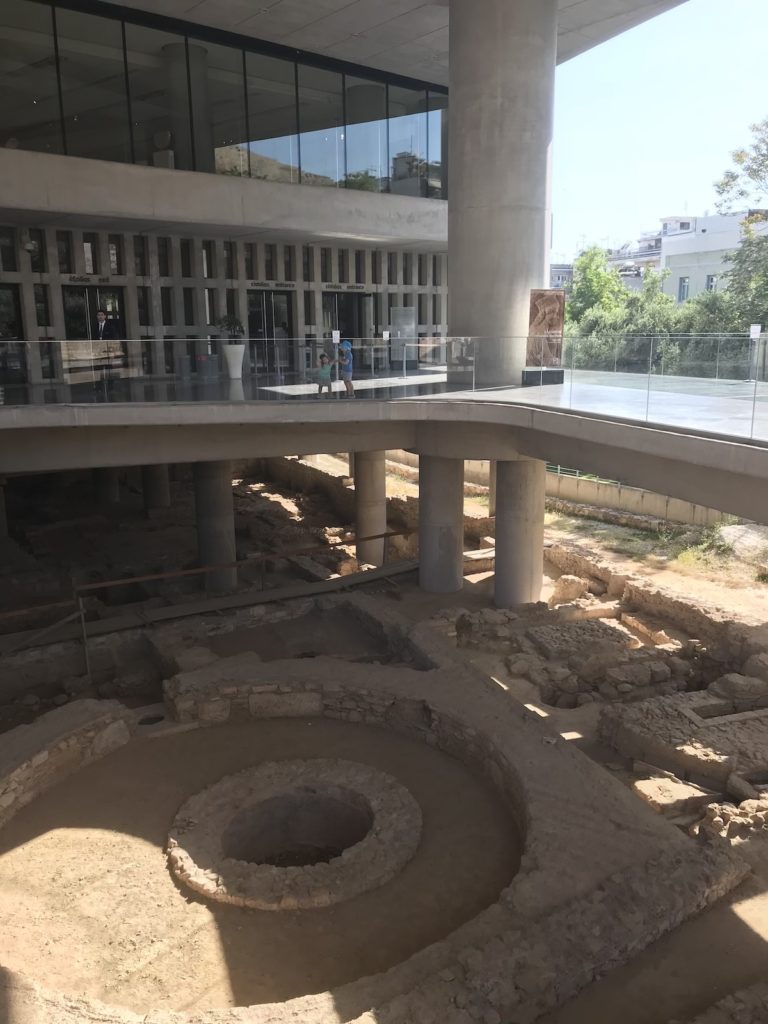 If you have more time and stamina in the afternoon (or are planning an itinerary for 2 days in Athens), stop in to enjoy the artifacts (and air conditioning). Among other things, the museum displays the original maiden statues from the Porch of the Maidens you saw in the morning. They even have a backpack full of activities available for kids to check out! Admission is 10 EUR per adult and 5 EUR per child in the summer and 5 EUR/3 EUR in the winter. You can even book your tickets in advance to minimize wait times.
Check out the ancient but revitalized Plaka neighborhood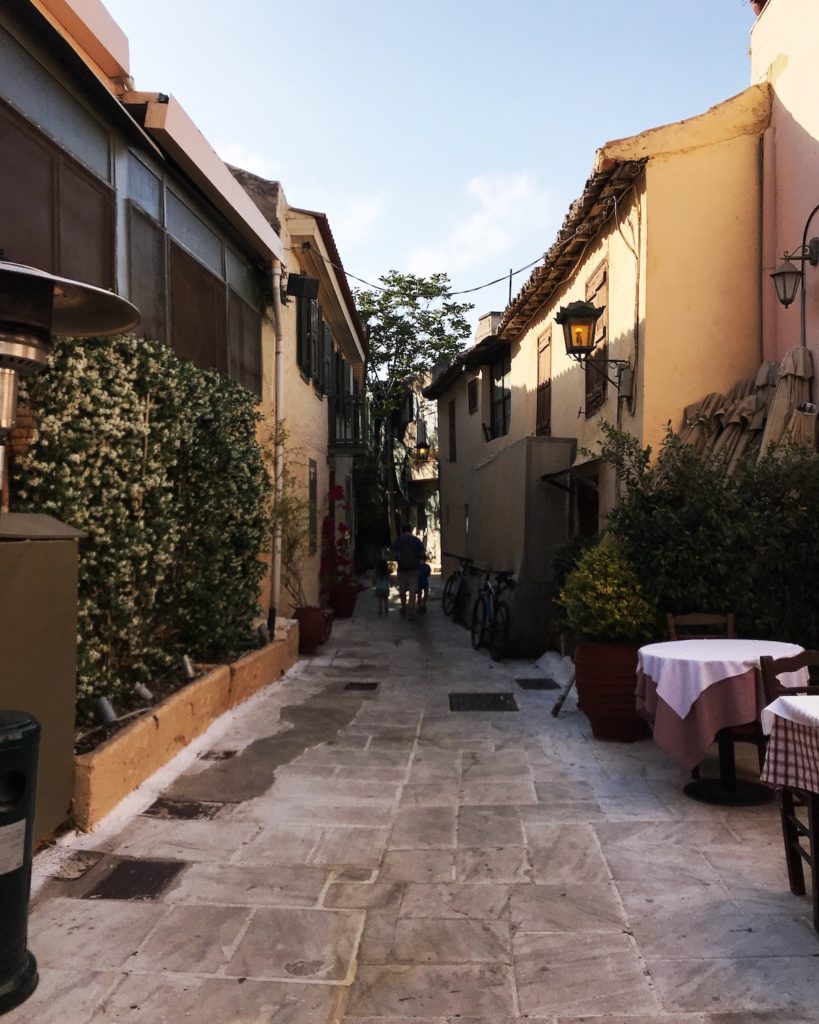 Next up is a relaxing stroll through Plaka, a quaint (albeit touristy) neighborhood with charmingly narrow streets, juice stands, souvenirs shops and more. It's a lovely place to go for a walk – you'll even find a few ancient ruins amid the trendy shops!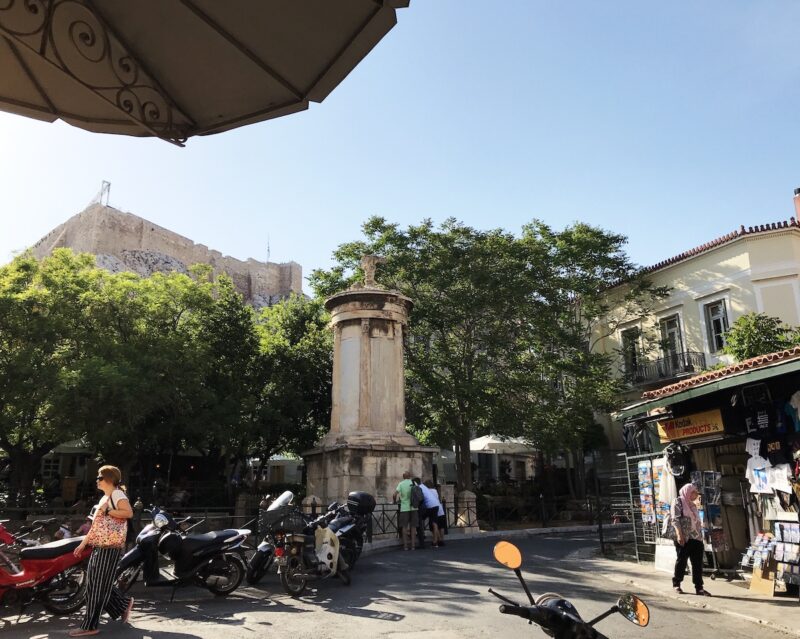 Plaka has been (nearly) continuously inhabited since it was the location of the Ancient Greek Agora and the accompanying residential area. It was later home to the Roman Market and Hadrian's Library. For a tourist coming from a country whose national identity doesn't even hit 250 years, it's remarkable to sip a coffee frappe next to the imposing ancient ruins!
Spend the evening in Anafiotika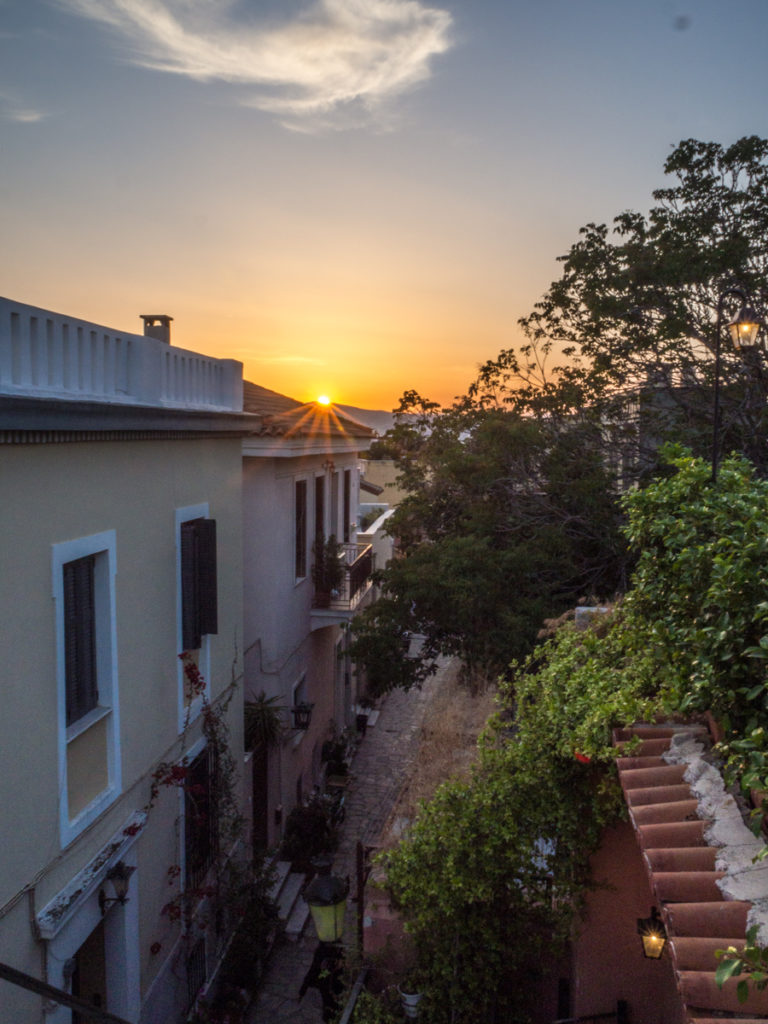 After some ambling in Plaka, make your way to neighboring Anafiotika. Prepare to feel as if you've been transported to an island in the Cyclades like Santorini, Mykonos or Naxos… all without leaving the metropolis of Athens.
Why the Greek island village in the middle of Athens? It wasn't just put there for tourists! In the late 1800s workers from the Cyclades island of Anafi were brought to Athens to help expand the city. They wanted their own neighborhood to remind them of the homes they had left behind, and this was born lovely Anafiotika. You'll find plenty of quiet streets, along with a few loud ones surrounding the most popular bars and restaurants.
When your appetite calls, head to Anafiotika the restaurant to get your fill of wonderfully prepared traditional Greek food. Arrive on the early side to get a coveted rooftop table, where you'll be treated to gorgeous sunset views between the buildings as well as the scene of the Acropolis above bathed in golden light. If you stay for dessert and make it to dark, you'll even see the Acropolis all lit up!
If you still have energy, explore one of these cool things to do in Athens at night. Some of them are perfect for travelers of all ages, but others look seriously babysitter-worthy.
Got 2 days in Athens? More things to do in Athens with kids
If your schedule allows a little more time or you explore faster, there are plenty of wonderful things to do in two days in Athens! We didn't make it to these activities but we'd love to hear about your experiences with them in the comments.
Changing of the guard in Syntagma Square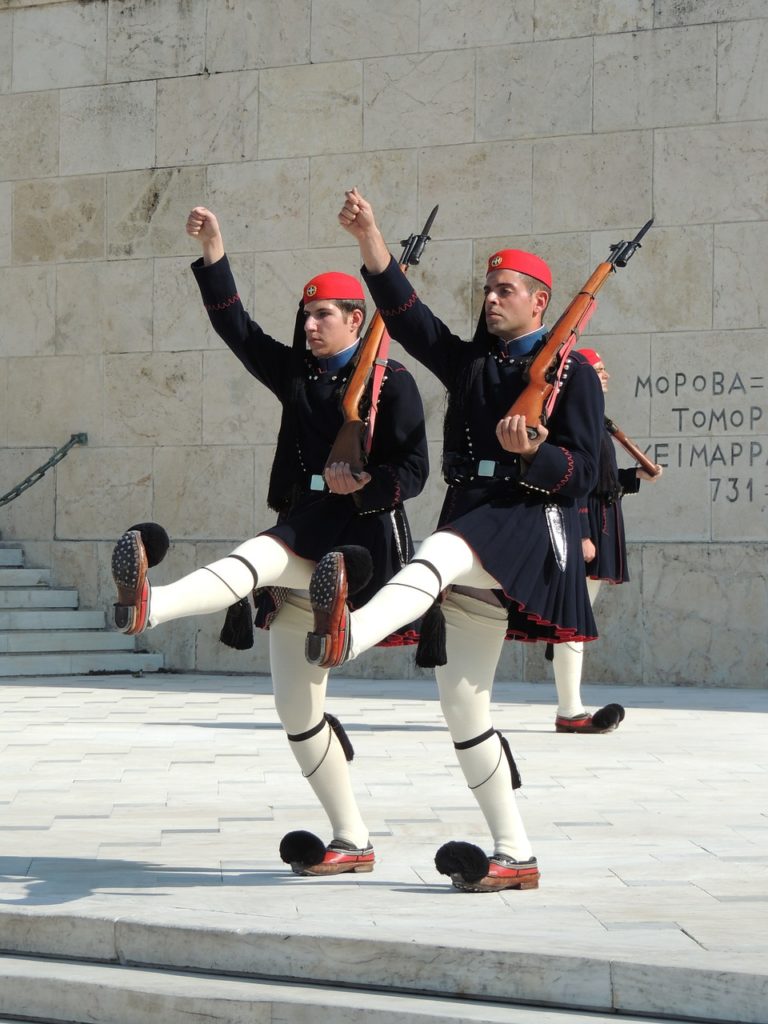 Every Sunday at 11am there is a traditional ceremony for the changing of the guard at Greece's Tomb of the Unknown Soldier in front of Parliament (in Syntagma Square). This "Grand Change" involves all of the guards in the elite Evzone unit and all members wear their ceremonial uniforms. This is an extremely popular tourist attraction in Athens, so arrive early to claim your spot.
Won't be around on a Sunday morning or don't want to deal with the huge crowds? There's a lower-key changing of the guard every hour, on the hour, every day. You won't see quite the same elaborate display, but you'll get a sense of how seriously these soldiers take their responsibilities and how much national pride they feel.
More ancient Greek ruins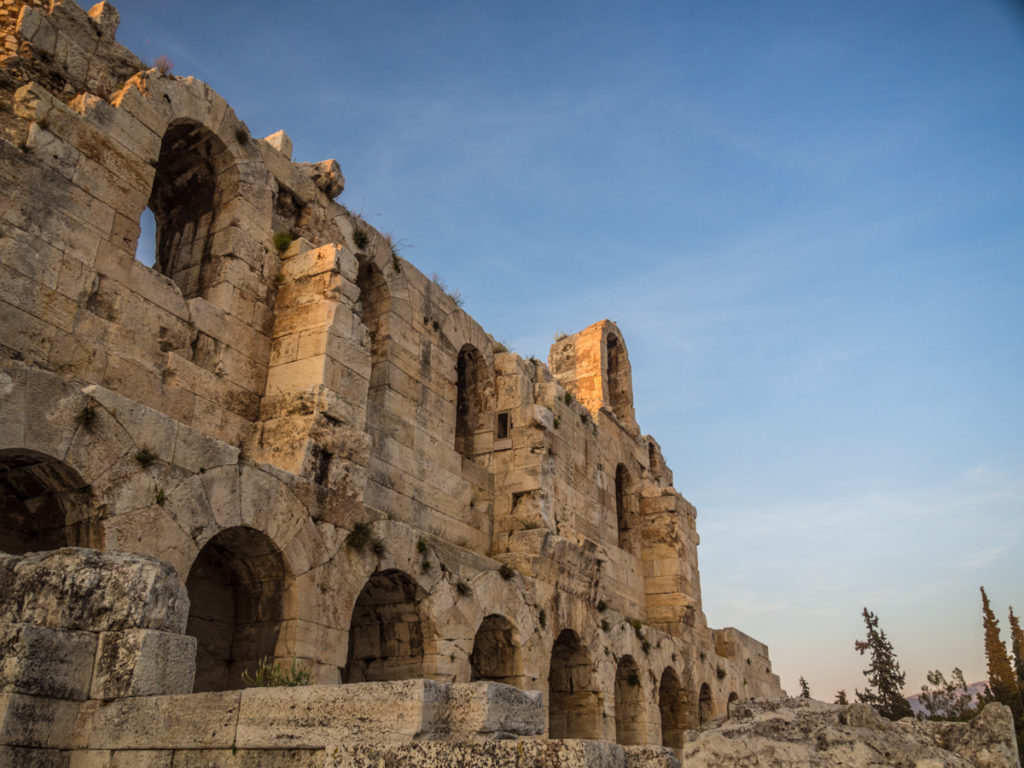 Obviously the Acropolis isn't the only game in town when it comes to ancient sites in Athens. There are so many choices! For an exploration of Roman ruins in Athens consider adding a stop to peek into the Herodion Theater (adjacent to the Acropolis, but only open for concerts) or the Panathenaic Stadium where kids can imagine the overlay of ancient races with those of the first modern Olympics in 1896.
Hellenic Children's Museum
If you're visiting Athens with toddlers or young children and they need a break from the more serious tourist spots, consider a visit to the Hellenic Children's Museum in Plaka. The experience is much like you'll find a children's museums around the world, with plenty of hands-on experiences and play-based learning.
Note that signage is in Greek, but in many cases that won't stop kids from knowing what to do! This is one of the top things to do in Athens with toddlers because it's something specifically for them in a city that normally caters to adult tourists.
The museum is closed from mid-July to mid-September, but is free to visit when it's open (though some special programs require an admission fee).
Museum of Greek Children's Art
Taking kids to art museums is an activity that presents a struggle for many families. You want to expose them to art appreciation and a range of styles and techniques, but many kids have a limited attention span and can make visiting a major museum challenging.
But what if you could take your kids to an art museum with works created by their peers? That's exactly what you'll find at the one-of-a-kind Museum of Greek Children's Art in Plaka, which curates art work by talented kids ages 5-14 who use a variety of media. Exhibit topics include Greek history and culture, diversity and more. It's one of the most unique things to do with kids in Athens, Greece.
The museum is closed every Monday and for the entire month of August. Admission is just 3 EUR per adult.
Poseidon's Temple/Temple of Sounion
For me, the 2500 year old Temple of Poseidon at Sounion is "the one that got away" on my Athens bucket list. The ruins themselves are interesting to see, but the real action is in the beautiful sunsets you'll see from Cape Sounion.
Why didn't we visit the Temple of Poseidon? Simply put, we couldn't make the schedule work for us. The cheapest way to visit Sounion is via public bus, which takes around 2 hours each way. But if you stay for sunset (which is why most people go there) you'll be taking the last bus back to Athens and it won't get you there until very late. In our case we had an early-morning ferry the following day and couldn't be gone for the entire day and night if we wanted a prayer of being on-time for our boat.
If you want to go but can't manage the lack of flexibility offered by the bus, consider a private or small group tour like this one. Your driver can get your there in one hour, and also provide the historical context that makes the region so unique. As soon as the sun is down and you're finished taking pictures, you'll hop back in the van and be back in Athens for a reasonable bedtime.
Find out more about taking a day trip to the Temple of Poseidon with kids
Get a taste of the islands on Aegina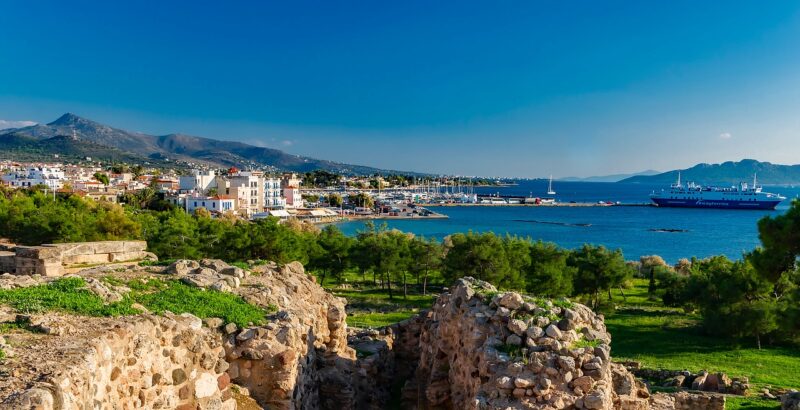 You don't have to go far and plan an entirely new destination to get a taste of the relaxing Greek island life! Aegina offers a lovely, uncrowded beach and one of the most complete ancient temples in all of Greece… and it's just a 40 minute ferry ride from the Piraeus ferry port. Check out the ferry schedule here to book it on your own or you can even arrange a day trip to save yourself the hassle.
Read more: A Local Guide's Perfect Greek Island Hopping Itinerary (Without the Crowds)
Where to stay in Athens with kids
Since you'll only be staying in Athens for a few nights, a hotel in a central area around the Acropolis and Syntagma Square is a good choice. This area of the city is completely walkable, so you won't have to spend time navigating an unfamiliar public transit system or spend money on taxis.
Though Airbnb is popular in Athens, many locals have voiced justified concerns that they're being forced out of their neighborhoods by investors purchasing apartments just to list them on Airbnb. For that reason, we suggest staying in a hotel in central Athens or in a HomeExchange. We love the affordable pricing and generous cancellation policies on booking.com – check out these simple hacks to save more on your next hotel reservation!

Check out these top hotels in the Athens city center:
-best hotels in Syntagma Square
-best hotels in Koukaki
Use the interactive map to find vacation rentals and hotels in Athens, Greece
---
An alternative neighborhood to consider is the leafy Mets district just across the road from Ardittou street and the Temple of Olympian Zeus. This tree-lined neighborhood is still relatively central and just a short five minute walk from Syntagma. Fortunately it's still completely devoid of tourists and provides a glimpse into daily life in Athens.
Things you need to know before visiting Athens with kids
Greek food for picky eaters
Good news for the picky eaters out there: it's easy to find simply prepared foods in Athens (and the rest of Greece). Whether it's basic grilled meat, gyro, fresh fish, a slice of feta cheese or deliciously crisp cucumbers, there's something for everyone. We also spotted ample pizza stands and burger joints.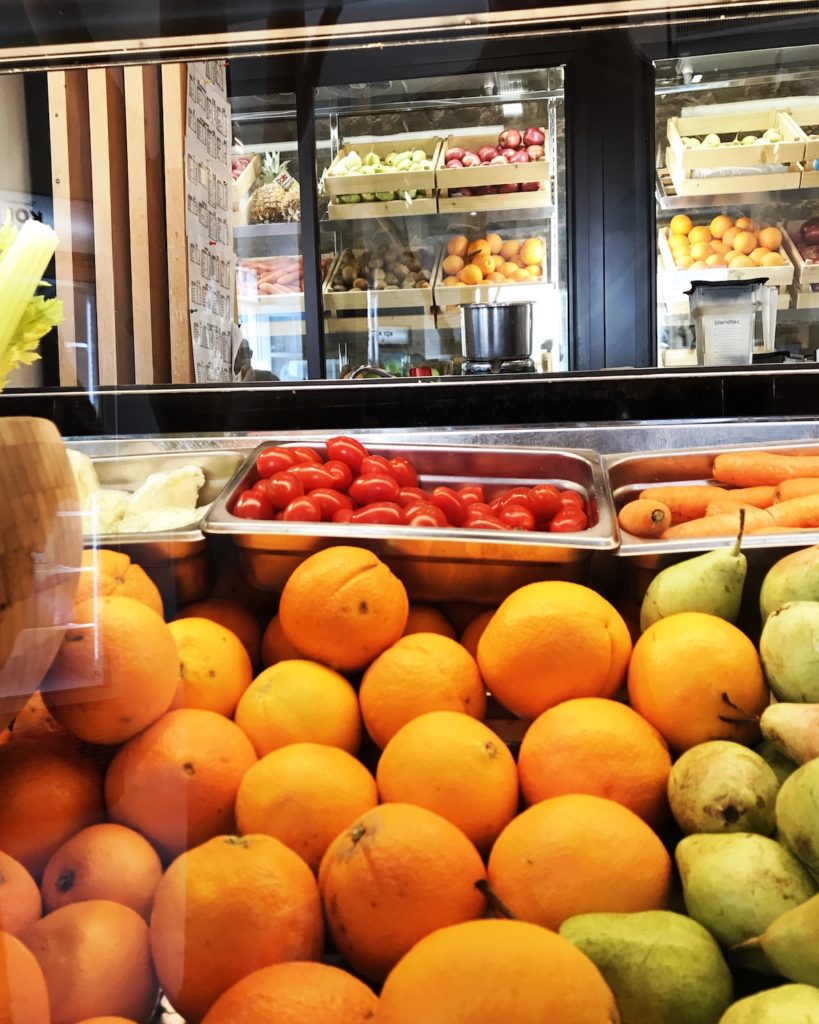 Metro in Athens
We have an overall positive view of metro in Athens: it gets you to the important places quickly and cheaply. It's not the dirtiest public transit option we've ever used, but also not the cleanest. We'd definitely carry some sanitizer in your day bag if your kids prefer to eat with their hands at meals (not that we know anything about that…).
As with all trains, it's important to make sure kids are seated if possible and don't goof around when the train is nearing a station. The trains can also get very crowded at peak times, so there can be some jostling (and/or attempted pick pocketing).
Safety in Athens
I won't sugar-coat things, there's plenty of petty crime in Athens. Some people may try to distract you by interacting with your child while an accomplice grabs your wallet. It sucks, but it's true. Since our kids were old enough to understand this issue, we explained it to them and convinced them not to goof around too much in the metro or busy squares.
Stroller for Athens vs baby carrier for Athens
Whether to use a stroller or a carrier is always the great debate for traveling with young kids! We actually used both in Athens, so we have a few insights to share.
The Acropolis requires climbing the stairs to go up a massive hill, so we would never consider a stroller for it. Instead, bring a high-quality and well-ventilated baby or toddler carrier if you think your child can't walk all the way up. The sun is strong in Athens and the reflections off the marble are intense, so you'll appreciate a cooler carrier up there.
If you're staying outside of the main tourist area around the Acropolis, some pedestrian routes require you to go up an elevator or a high flight of stairs, across a bridge and then down again to get over the metro tracks.
On the other hand, all of the metro stations do have elevators (assuming no malfunctions) and a stroller is perfect for an evening walk in the city center. You might even luck out and get your little one to fall asleep while you enjoy some peace and quiet!
Smoking in Athens
Unfortunately smoking is extremely popular among Athenians of all ages, no matter where they are. On our first evening in Athens as we sat watching the Acropolis stunningly bathed in golden light, our kids noticed that they were basically sitting in one enormous ashtray. There were smokers absolutely everywhere and there's no thought to putting cigarettes out or even moving them aside when kids are present. It's just part of the culture. For us, the rampant smoking was by far the biggest downside of visiting Athens with kids.
How to get from the Athens airport to the city center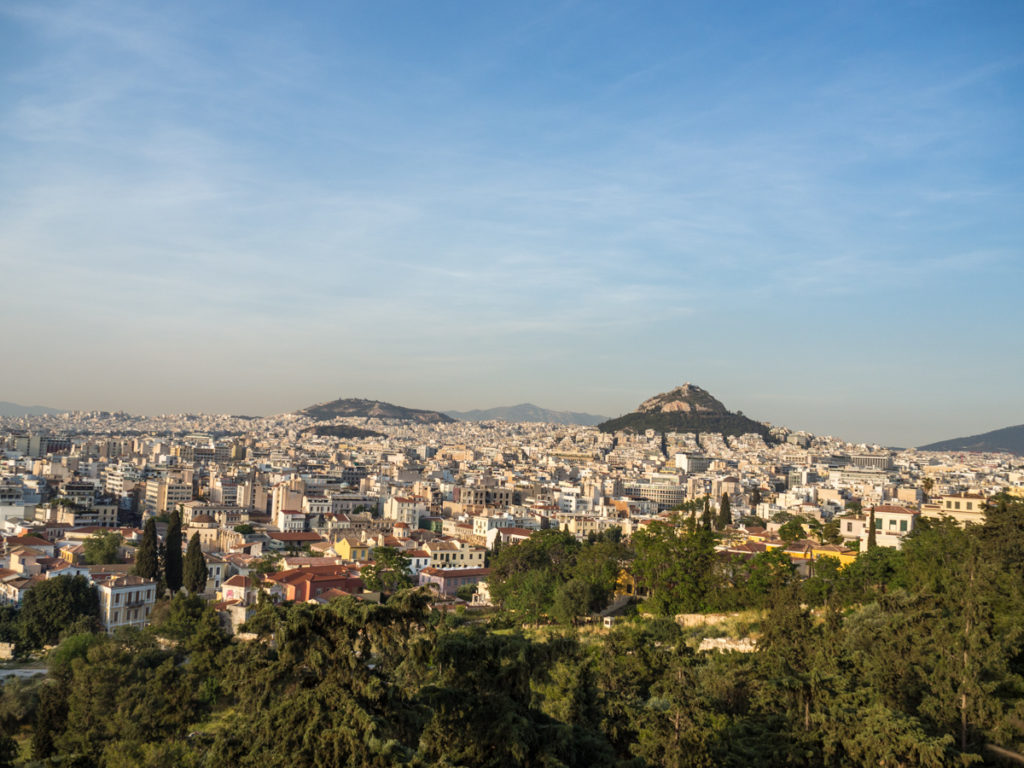 Most travelers will arrive in Athens by plane. The airport is large and modern, with comfortable lounges and plentiful inexpensive flights from around the world.
The airport is about 20 miles from the center of this sprawling metropolis of over 3 million people. There are three ways to get from the Athens airport to the city center: by car, bus or train.
Pro tip: If your credit card gives you airport lounge access, check out the Swissport lounge at the Athens airport. They have an amazing spread!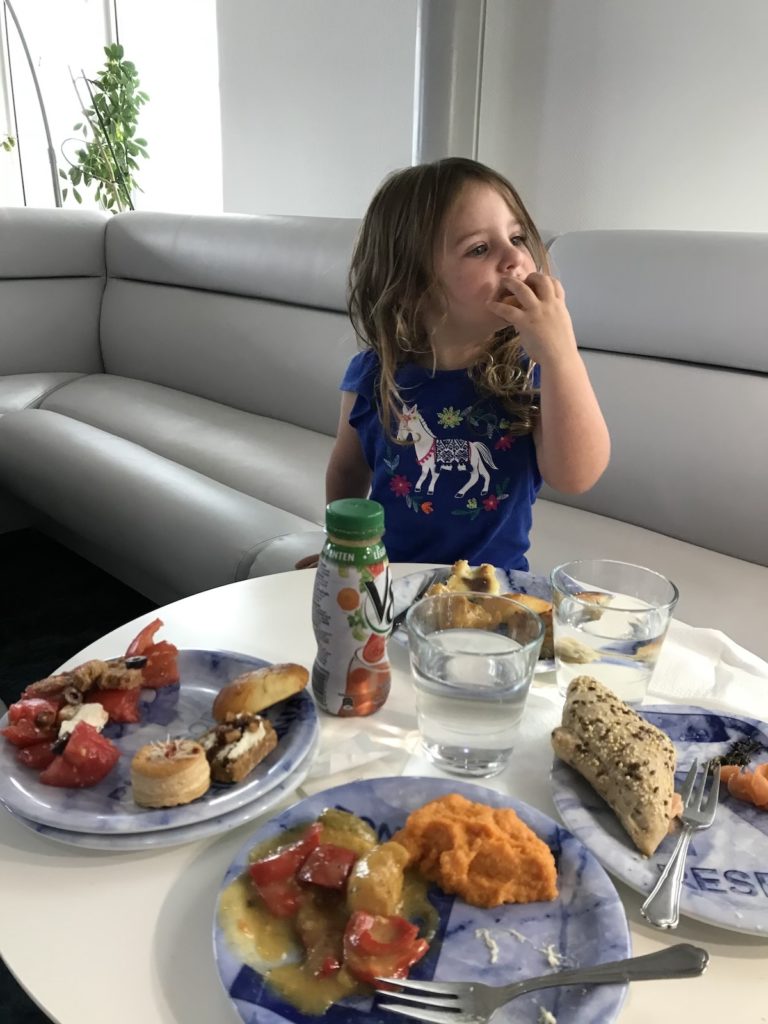 Taxi from Athens airport to the city center
We opted to take a taxi since we were a party of four with luggage to match. Fortunately we had our travel car seats with us, but if you're visiting Athens with kids and you aren't bringing car seats you can arrange for Welcome Pickups to meet you with everything you need. As in many major European cities, the drive from the airport to the city is between 45 minutes and an hour in traffic (more like 30 minutes if you arrive at an off-peak time). The taxi price is fixed at 38 EUR during the day and 50 EUR at night for up to four people if you're going to the city center. You can arrange Welcome Pickups in advance for the same rate – book it here.
If you're traveling with kids who still ride in car seats you have a few options. For very young ones, check out our full guide to traveling with car seats or find the best convertible car seat for travel. If your child is 3.5yo to 5, the Ride Safer Delight travel vest is an excellent alternative to a full-sized car seat. Check out our full review or pick up your own today (pssssst… use coupon BESTPRICE to score a discount!). If your child is 5yo+ and mature enough to handle riding in a booster seat, the Bubblebum is a great option – read our review or pick up your own before your trip.
Of course one of the handy things about visiting Athens with kids is that you can avoid taking a car seat altogether! Welcome Pickups offers rides from the airport to the city with car seats! Just book here and request the type of car seat you need. Once you're in the city center, it's easy to walk or use public transit to get around.
Bus from Athens airport to city center
An easy way to get from the Athens airport to Athens is by bus, which costs 6 EUR and takes a little over an hour. It's straightforward, but unfortunately subject to the same traffic issues as taking a taxi. Take line X95 to Syntagma Square.
Metro from Athens airport to city center
The other alternative is taking the train from the Athens airport into the city. Overall we found the trains to be efficient, but often crowded; if you're traveling with lots of luggage it many not be the best option. However, it's much more economical than a taxi at just 10 Euros per person and takes only 40 minutes to get to Syntagma Square. Trains depart from the Athens airport every half-hour from 6:30am to 11:30pm.
If you plan to take the train to and from the airport, it's worth considering the 3-day tourist Athena ticket. It gives you unlimited metro rides and a roundtrip airport transfer (using your choice of bus or train). However, if you are arriving at the airport and departing from the ferry terminal in Piraeus then the tourist ticket is unlikely to be your best choice – especially if you stay in the city center as we recommend below.
Getting around Athens
As much as possible, you'll want to walk around central Athens. There's no better way to get a sense of the city's history and culture! For as much as it's decried as being more raw than other European capitals, it's just as fascinating and staying on foot lets you pop into shops, cafes and museums when they interest you.
If you're staying away from the main Athens tourist attractions or you want to explore off the beaten path, the Athens metro is a great option. It only costs 1.40 EUR for a single ride, 4.50 EUR for a day pass or 22 EUR for a three-day "tourist ticket" that includes your round-trip airport transfer by either train or bus. Note that there's no surcharge for tickets to the Piraeus ferry port, so the tourist ticket may not be the best bargain for families who arrive in Athens by plane and depart by ferry.
Great news for families: kids from 7-18 only pay half fare on public transportation in Athens (teens must show ID to prove their ages), and kids 6 and under are completely free!
Even if you don't need to take the metro, hop underground to visit the Acropolis or Syntagma Square stations. They're essentially antiquities museums without their own buildings!
Getting from Athens to other parts of Greece
For most, Athens is just a jumping off point to the rest of their Greece family vacation. Check out these wonderful family-friendly spots to visit next. But how will you get there?
Ferry from Piraeus port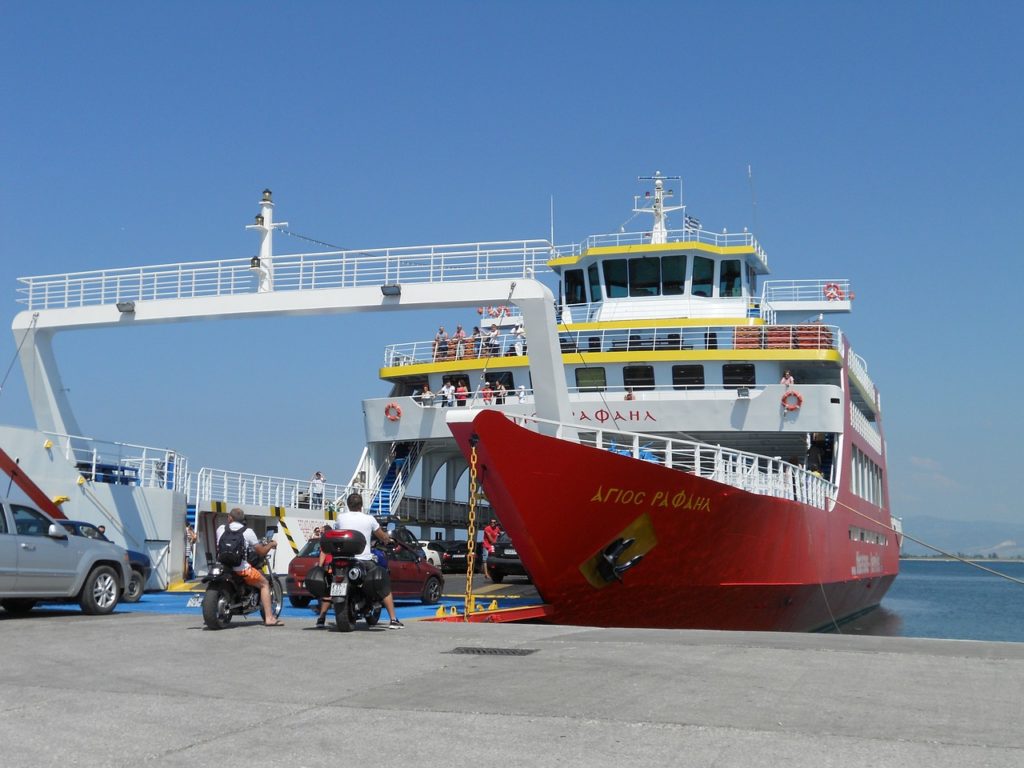 Most travelers continuing elsewhere will take the ferry from Piraeus. As noted above, it's a quick and cheap taxi or metro ride from the city center to the port. Many ferry companies require that you pick up your physical tickets in advance at their office, so allow a little extra time on the day of your departure. Hopefully this will change in the coming years and they'll move to electronic boarding passes like flights!
From Piraeus you'll be able to catch a ferry to nearly anywhere else in Greece and even a few other countries. Check out all the route options from all ferry companies here. The ferry boarding and landing processes are much faster than for flights and on most islands the ports are centrally located compared to far-flung airports. Therefore, in many cases taking the ferry will take the same amount of time overall as flying.
Taking the ferry is generally fun for kids. There's plenty of opportunity to walk around, scenery to check out, snacks to eat and big comfortable seats (at least compared to an airplane). Just be advised that some of the "fast ferries" can be a little rough if anyone in your family has a sensitive stomach. When comparing ferry schedules, if you see one option that's a little slower than the absolute fastest option it may be worth considering!
You can get to Piraeus easily and cheaply via the Athens metro. However, if you have plenty of luggage, it's worth arranging for Welcome Pickups to take you there.
Road tripping in Greece
If you're staying on the mainland of Greece, a great option is to rent a car when you're ready to leave Athens and then road trip to sites of interest. There's so much to see within just a few hours of the capital!
We found that manual transmission cars were much more common and cheaper in Greece. Sadly, we don't drive manual! If you need an automatic transmission, be sure to reserve your car well in advance to make sure that you have a car you can drive and that you get it at a reasonable price. Check here for the best rates.
Buses and trains in Greece
We don't normally think of Greece as a country for bus and train travel since most visitors are heading to the legendary Greek isles, but if your plans take you toward the Peloponnese or Thessaloniki then bus and train are convenient options. You choose to base yourself in walkable or transit-friendly villages or to rent a car for part of your visit to go on day trips.
Domestic flights within Greece
Finally, you can always fly around Greece. We prefer taking a ferry for shorter routes but sometimes a flight is the more practical route. For example, the ferry from Athens to Crete takes about 9 hours – manageable, but quite a lot compared with a one hour flight (and unlike many islands, the two Crete airports are close to their cities' harbors).
Domestic flights are generally inexpensive – check out all the options here. Be aware that many flights are only seasonal and the schedules aren't released as far in advance as for international flights. So if you look six months in advance and don't see what you want, keep checking to see if it comes up!
That said, some flights are always expensive. As a general rule, the tiny airports on islands that are well-served by ferry routes have tiny airports for a reason.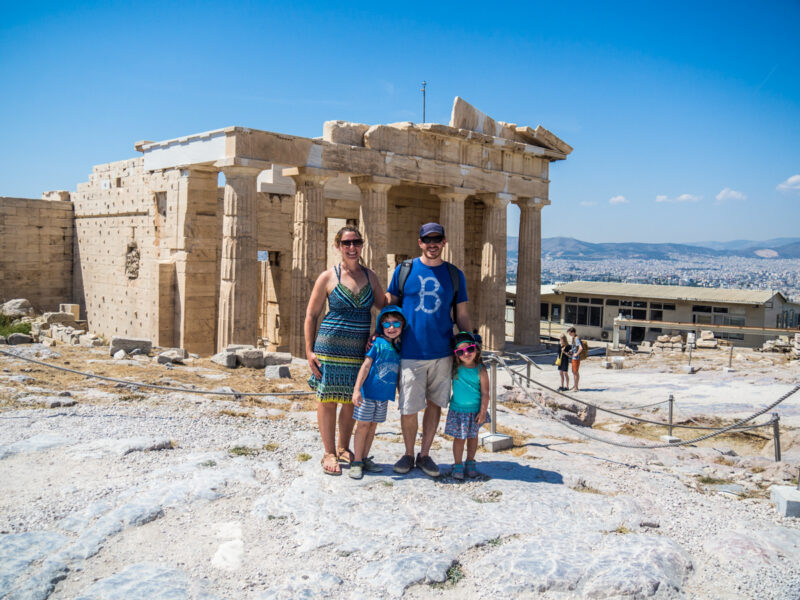 Planning your family trip to Athens
Visiting Athens with kids is an amazing opportunity to learn about the most iconic classical civilizations! If you plan your time well, it will be a fun and relaxing experience for the whole family.
Travel insurance for Greece
Flights to Athens
Ferries from Athens
Hotels in Athens
Check out these other articles to plan your trip:
–What to pack for Greece
–A Local Guide's Perfect Greece Island Hopping Itinerary
–Naxos with kids
–Crete with kids
–The best places in Greece for families
–How to visit Greece on a budget
–How to save money on booking.com
Guidebooks
Still planning? Pin this article for later!