Greece is truly a dream vacation for almost everyone, and rightfully so: it's gorgeous, the food is amazing, and you can find a wonderful balance of history, culture and relaxing on the beach. Seriously, what's not to love?
But with more than 2,000 islands in Greece it can be a challenge to figure out where to go on a Greece island hopping vacation and how to allocate your time. I've asked Luca, an experienced Greek tour guide and travel planning expert with Go Ask A Local, to share one of his favorite Greek island hopping routes – right through his "backyard"! He'll take you through a balance of must-see hot spots and off-the-radar locations during your 10 days in Greece itinerary.
---
Hey there, Greece travelers! My name is Luca and I am a tour guide based in the Cyclades islands. I live on Sifnos and Milos part of the year and in Athens during the off-season. I work all over the islands, but especially enjoy some of the more authentic ones that are less visited. Santorini, Mykonos, Ios, Naxos etc. are wonderful places, but during the summer season the crowds are so intense that they lose much of their charm.

During high season, I always recommend to my clients that they spend time on some of the lesser-known islands where you'll still get great food and beautiful beaches, but avoid the summer crush and get to see more authentic local life.

With that in mind, this Cyclades island hopping itinerary will start with two days in Athens exploring its unparalleled history before setting off to the islands for a week. Our first stop is one day in Santorini before heading off to two of my favorite islands for the rest of the week: 3 days in Milos and 3 days in Sifnos.

I've tried to include a balanced mix of sightseeing, time at the beach, culture and history, and downtime. Part of the beauty of a visit to Greece is taking things slowly and enjoying the pace of life here.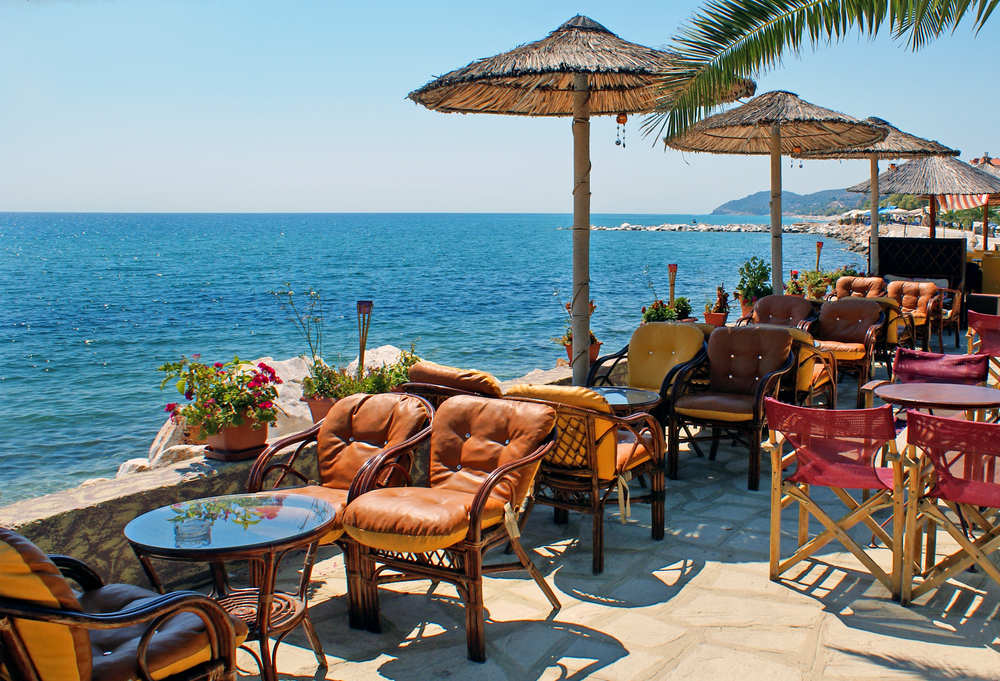 For food, I think everyone should have at least a couple of meals at local tavernas where you'll find traditional recipes, good service, and great prices. But you're on vacation! So I also recommend a few places where you'll get those sweeping views, beachside service, and creative twists on Greek cuisine.

Now let's look at the itinerary!
Quick Planning: What to book NOW for your Greece island-hopping itinerary
To avoid disappointment, extra expenses and last-minute schedule scrambles you'll want to book as much of your 10 day Greece trip as possible well in advance. Go through this quick checklist and get everything arranged, then you can fill in the details later.
Transportation
Accomodations
Activities
Book a photoshoot
We always love to book a photoshoot when we're traveling. As a mom, it's tough to get in the photos since I'm always behind the camera. We use Flytographer to capture our memories. You can get $25 off your shoot by booking with this link or using code FAMILYVOYAGE.
Day 1 – Athens & The Acropolis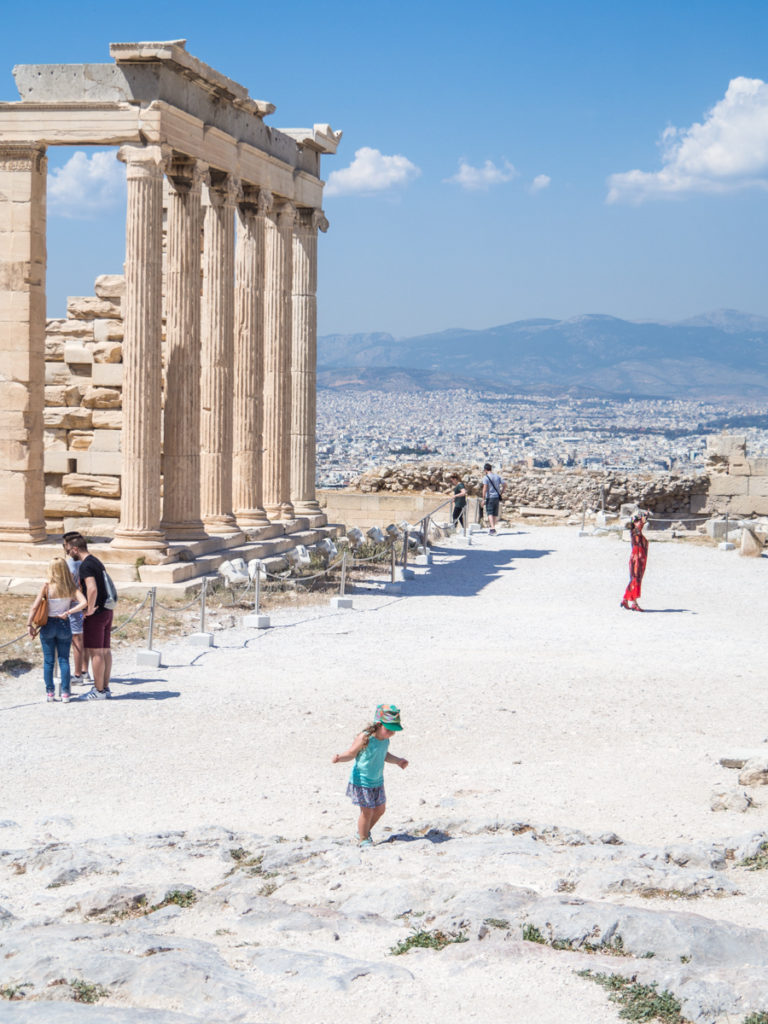 Morning
Once you've settled in, the first thing to do is to visit the city's symbol and landmark: the Acropolis with the Parthenon, the Theater of Dionysus, the Temple of Athena and the Erechtheion. Even without any background or history, the site is awe-inspiring. You'll also get a feel for the vastness of the city, as from the top of the Acropolis you'll have a 360 degree view over Athens in its entirety.
However, visiting it with a guide will help you appreciate it so much more. If you are traveling with kids and teens, a great option to keep the kids engaged is a mythology-focused tour. You'll get to explore the sights and monuments of this ancient city explained through the lens of myths and fables.
Afterwards, I'd recommend an easy hike up the Philopappus hill. On the way up, you'll be rewarded with a splendid view of the Acropolis.
For lunch, a light Greek meal in a traditional taverna in the lively area at the foot of the Acropolis is always great – and you won't have to walk far. One of my favorites is Saita Tavern in Plaka. After fueling up, you can complete a trifecta of Athens hills, by climbing up to the top of Lycabettus Hill where you'll finish the walk at a small church dedicated to Saint George. The top of the hill provides a totally different vantage point from which to marvel at Athen's splendor. If another walk doesn't appeal, you also have the option of taking the funicular (cable car) up.
Read more: The best of Athens with kids in one day (or two)
Afternoon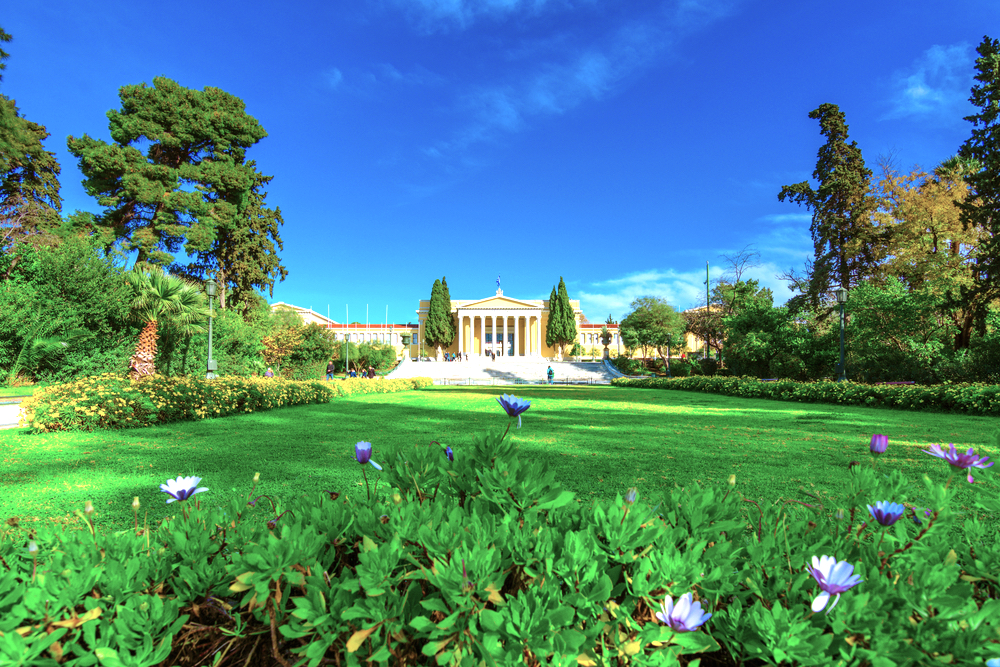 On the way down, be sure to stop for a coffee and snack (or a glass of wine, parents!) at the Dexameni café. Situated at the top of a steep staircase – which thankfully you'll be going down instead of up – the café is in a small square popular with locals. It's a great place to sit and watch Athenians visit with friends and family as they have for generations. And for the kids, there is also a lovely playground just in front of the square. After your break, just a few hundred meters away you'll find a small but precious interactive museum dedicated to Ancient Greek technology, the Kotsanas Museum. You'll be surprised to see the level of technology achieved by the ancient Greeks. The kids will also be delighted to get to test it out firsthand!
After, you might continue your Athens exploration on foot by walking to the National Garden and the Zappeio, a green oasis in the middle of the city center. It has a large collection of plants and lots of space for kids to roam and play.
For dinner, I suggest the Café Avissinia which combines Acropolis views with delicious traditional food all in the buzzing Monastiraki area.
Where to stay: Look for a hotel near Syntagma Square or in the Koukaki neighborhood
---
Day 2 – Athens by the sea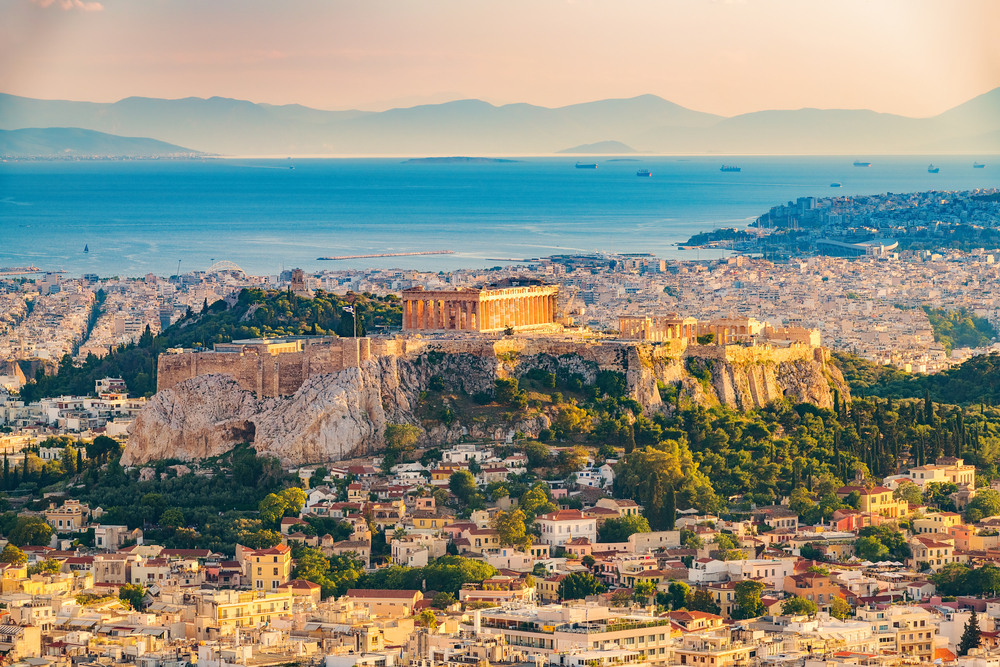 Morning
Athens' chaotic cityscape and pulsating urban atmosphere make it easy to forget that the city center is a mere 10 km from the sea. Because of this, a visit to the nearby coast is often overlooked by most travelers, though it should not be.
For your second day, I'd suggest to start by visiting the Stavros Niarchos Foundation Cultural Center. The program here changes frequently and there is always something great for the whole family. Additionally, the center's location right on the water and adjacency to a large park make it a lovely place to visit. You can have a pleasant stroll exploring the garden and it's collection of Mediterranean plants, enjoy the playgrounds, and in the summer months, the kids will love the water jets. Just remember to bring a change of clothes.
Next to the Center, you can find a couple of local fish tavernas. One of my favorites is "The Grandmother Elizabeth" for its simple yet delicious fare at very reasonable prices. If you want something a bit more upscale, just walk to the nearby Flisvos marina, where you have plenty of choices for a more exclusive lunch.
Afternoon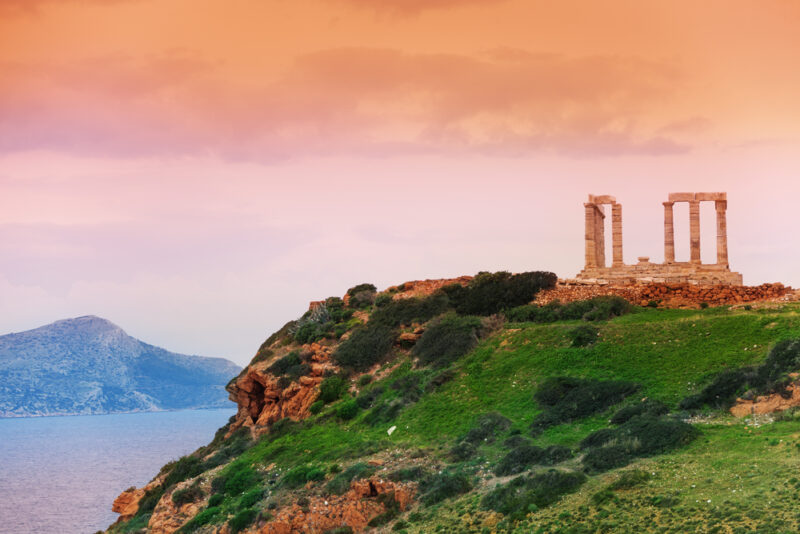 In the afternoon, you could have a private tour to discover the Athenian Riviera. If you have a 3 or 4 people, consider this option that offers a flat rate. The tour will visit nearby towns and beaches, a thermal lake, and eventually the Temple of Poseidon in Sounio, which you'll arrive at just in time for sunset.
For dinner, don't miss the chance for a seaside meal near the temple. But, if you want to get back to the city, you have countless options. One I always like is Oinopoleion Taverna.

Have an early night as tomorrow you'll be taking off for the islands!
---
Day 3: Santorini
Santorini needs no introduction! You'll depart by plane from Athens this morning and arrive in Santorini mid-morning.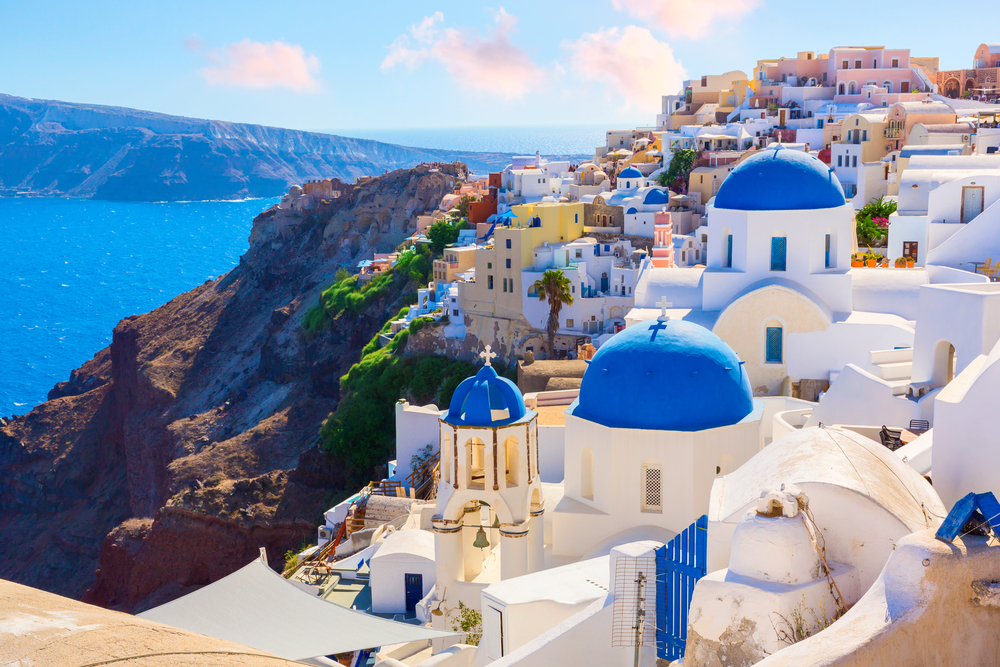 Morning
Start your day with an early flight from Athens to Santorini. While the ferry is more iconic, it takes 8 hours while the flight time is under 1 hour and can be found in advance for less than $50 – sometimes even under $10!
After arriving and dropping your luggage off at your hotel, start the day in Firá the capital village in the center of the island. Grab a snack in preparation for a light hike along the Caldera with sweeping views over the bay.
This is a leisurely walk which will take you through a number of charming villages. Remember that for most of the walk, you'll have no shade. A hat, sunscreen, and plenty of water are musts. From Fira to Oia takes about 2.5 hours
Read more: What to pack for Greece in spring
Starting from Fira, you'll follow along the Caldera rim first to Firostefani and then Imerovigli. You should stop in both for a wander and a look around. Imerovigli is the last place you'll be able to stop for lunch – check out Avocado for something fresh and light.
After lunch
Continue on your hike toward the picture-perfect town of Oia. It's the reason most people come to Santorini!
This part of the path takes you out of the villages and along a trail with various lovely churches that you can visit. Over the next two hours, you will continue to have fantastic views over the water the whole time. From Imerovigli, the path heads uphill for a bit until you reach the second church, the Chapel of the Assumption of the Virgin. This is the most demanding portion of the hike, but shouldn't be too bad.
Leaving the Chapel behind, you'll start heading downhill to town. While Oia is famous for sunsets, in the evening the crowds can be intense with hundreds of people lining up to take photos. You won't get that sunset shot, but it's better to arrive at this time in the afternoon instead for a more peaceful visit.
Oia is a nice town and is worth wandering around and exploring it's winding alleyways for a bit. Whenever you're ready to leave, you can take the public bus or a taxi back to Fira. A taxi will cost you about 30 euros but it's the fastest, simplest option to make the most of your one day on Santorini – especially so that you'll be on time for your next activity!
Once back at your hotel, hang out and take a much-deserved break if you have time. This evening you'll be going for a sunset cruise. You'll go on a traditional wooden sail boat and have the opportunity to take a refreshing dip in the waters. This is a popular activity, so it's best to reserve ahead. Most cruises last about 3 hours and you'll be picked up and dropped off at your hotel. The transfer should be included in the price.
After the cruise, it's time for dinner. Kapari Taverna in Fira is an excellent choice. While it doesn't have a caldera view, the atmosphere is very nice and the food is fantastic. Definitely order mezedes (small shared plates) and be sure to try the fava (Santorinian split peas puree) as well as a glass of Assirtiko, the local white wine.
Where to stay: Book a hotel or room in Fira for the night
---
Day 4: Santorini to Milos
Today, you'll spend the morning and lunch in Santorini before transferring by ferry to Milos. It's best to get going early to make sure you have time for everything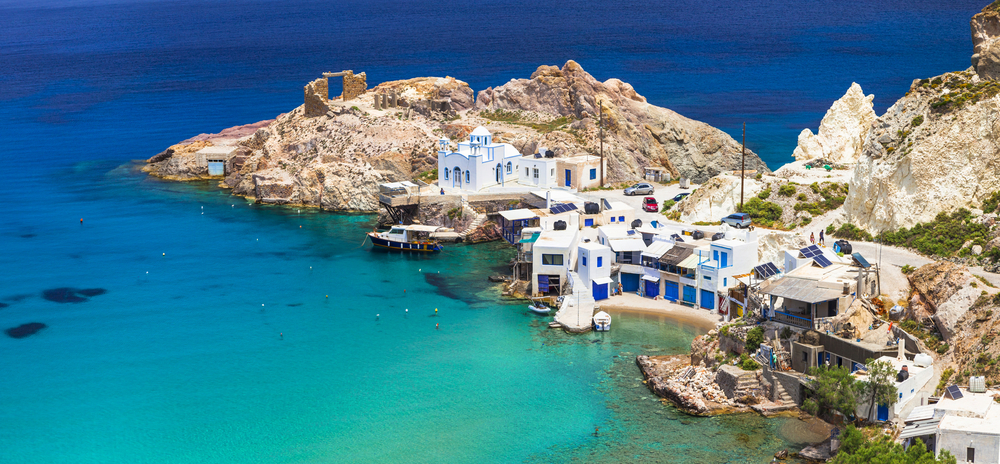 Morning
Start your day with a visit to the local Santorini archeological museum in Fira and then visit the stunning archeological site of Akrotiri. One ticket covers both sites and visiting them together will take you about 3 hours.

It is wonderful to check out the museum first to see the artifacts and then head to the archaeological site afterwards because this allows you to fully picture what the site would have been like in Antiquity. Akrotiri is really best visited with a guide as they will provide fascinating history and context that you would otherwise miss. Plan to spend about 40 minutes in the museum and 1.5 hours at the archaeological site. The museum and site are 20 minutes apart by car and you should take a taxi between them rather than the bus to avoid wasting time.
Afternoon
Grab a taxi from Akrotiri back to your hotel. You should check out and head straight to the port which is where you'll get the mid-afternoon ferry to Milos.
The port of Santorini is a bit out of the way and in an inconvenient spot. The road there can get very congested and lines are often long. You should plan to leave from Fira at least 2 hours before your ferry's departure time to make sure you don't miss it.
There are plenty of places around the port to grab a quick lunch, so eat here while you're waiting for the ferry. I'd recommend booking your ferry with Sea Jets. The journey to Milos will take 2.5-3 hours and costs 60 euros per person. It's a pleasant ride.
Evening
You'll arrive to Milos around 5 PM. You should plan to stay in Adamantas, which is right next to the port so that on arrival you'll be able to head to your hotel on foot. After check in, put on your swimsuits and then go for an evening swim at Lagada beach. It's not the most beautiful beach on the island, but it's a nice one and is super convenient to get to from town.
After your swim, it's time for dinner at Mikros Apoplous. Small cheese pies and a fresh salad with local cheese are very nice and typical appetizers, but for your mains you should order seafood. You're in the islands after all!
Where to say: Book a hotel in Adamantas for two nights
---
Day 5: Milos
Milos, like many of the Greek Islands, is characterized by intense volcanic activity. It's known for its countless stunning beaches and the spectacular colors of its land.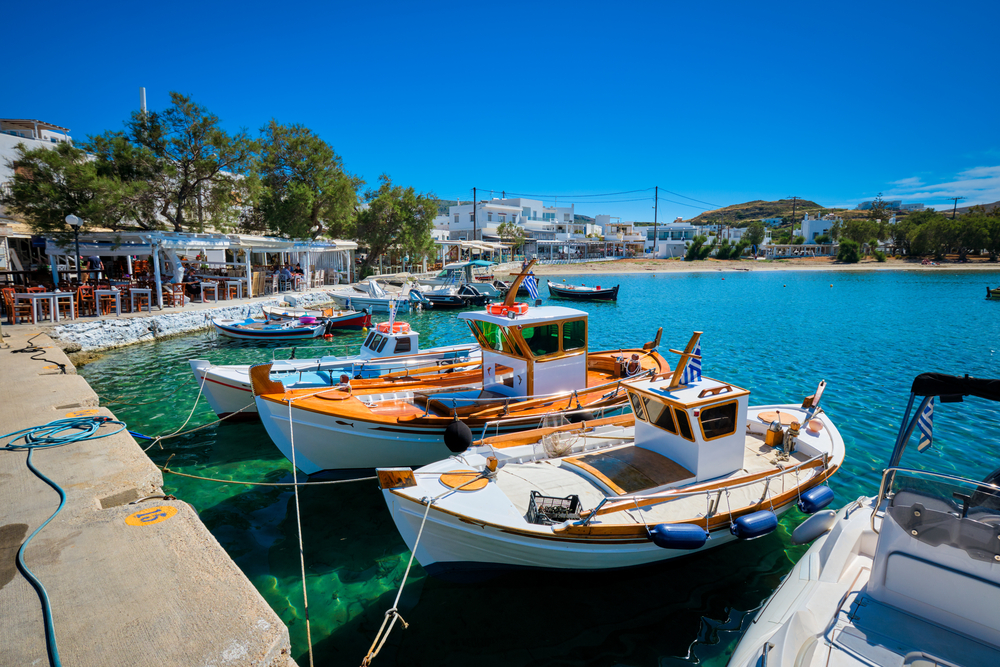 Morning
In Milos, it's best to stay in the port-side town of Adamantas, which is close to the ferry terminal and other convenient amenities.
Spend today exploring the northern beaches of the island, which are easiest to access if you have your own means of transportation. First thing in the morning, head over to the port to pick up a rental car, scooter, or motorbike for today's adventure.
The first stop is at Sarakiniko beach, which is one of the most famous beaches in all of Greece. It has a spectacular lunar landscape that is otherworldly. There's no shade here, so it's best to arrive earlier in the day and spend an hour or two swimming and snapping photos before it gets too hot. Whenever the temperature starts to rise, leave Sarakiniko behind and continue onward to Mytakas and Alogomandra beaches, followed by Kapros and its rock sculptures.
Afternoon
There are many little tavernas & beach cafes along the way from Mytakas to Kapros, so just stop for lunch whenever you're feeling hungry. There's one in particular that has fantastic sea views overlooking Alogomandra. You'll know it when you see it!
When you've finished exploring Kapros, keep going toward Pollonia, making stops at any beaches that pique your interest along the way. It should be early evening by now, so this will be your last chance for swimming. In Pollonia make your way to Yialos for an excellent seafood dinner. In my opinion this is the best restaurant on the island, so be sure to make a reservation ahead of time.
Pollonia is perfect for a post-dinner evening stroll, so take time to enjoy a walk along the seaside before getting back in your car (or scooter!) and returning to the hotel in Adamantas.
Where to stay: Adamantas
---
Day 6: Milos
Enjoy a day on the water sailing around the island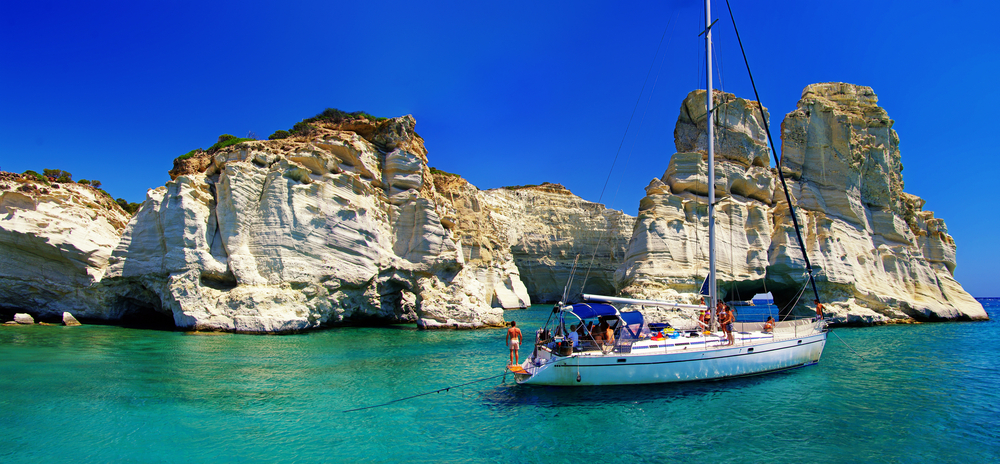 Morning & Afternoon
Get ready for an unforgettable all-day boat tour on a beautiful old wooden sailboat, Thalassitra. The tour takes you all around the island and allows you to see the full majesty and geological variety of Milos. The boat can accommodate 30-40 people, and it's usually quite full, but not unpleasantly so. There are plenty of other boat tours to choose from, ranging from catamarans to sailboats, and a mixture of group and private but Thalassitra is excellent.
A boat-trip is the perfect way to explore the southwestern part of Milos, which is largely inaccessible by car or on foot. One of the highlights of the tour is Kleftiko Bay, which is one of the most beautiful areas of the island and is only reachable by boat. Along the way, you'll make ample stops for swimming and snorkeling, and you'll have a delicious lunch served right on board. The tour departs from the port daily at 9:00 am and lasts 10 hours.
Evening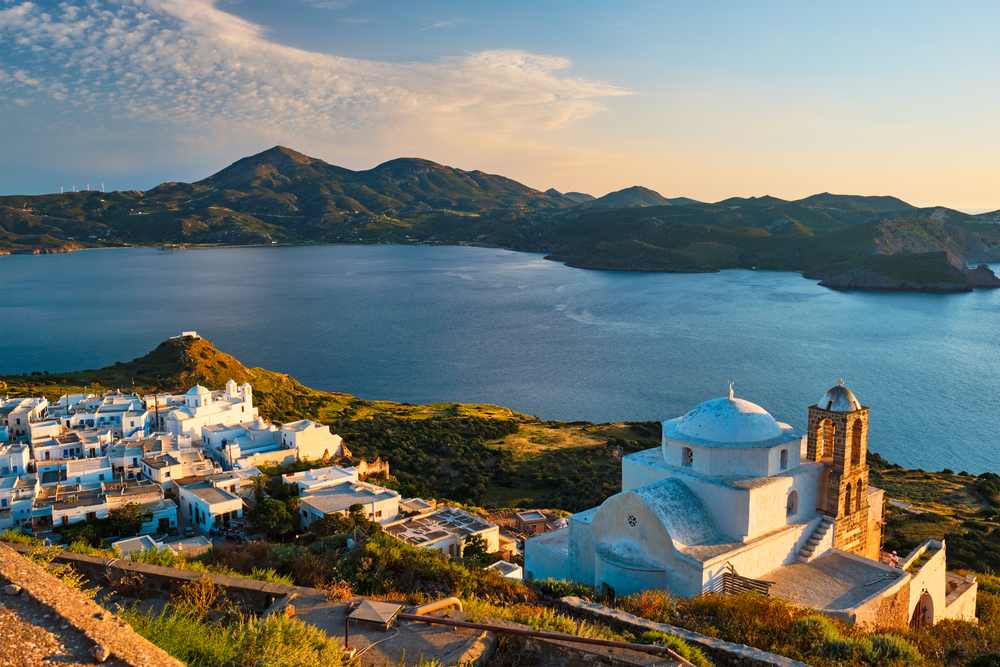 You should be arriving back to port around 7:00 pm, which is the perfect time for an evening stroll in the ancient village of Plaka, the most beautiful in Milos. To get to there from the port you can take a taxi or bus, which will take 10-15 minutes.
It will be approaching sunset by the time you get to the village, so start walking directly to Kastro Fortress for unbelievable sunset views. On the way up, you'll pass by a small chapel that's worth stopping at.
After watching the sunset, come back down to the village for dinner. Most of the restaurants here are very high quality, so you should just sit down at the first one that inspires you. Avli is a particularly good small, charming taverna.
After dinner, take a taxi back to your hotel. If you've still got the energy and would like a nightcap, Mikro Café is a nice bar with good music and lovely views over the port. There are some other pleasant bars in this area if you'd like to make a night of it.
Milos Family Ideas
The Thalassitra cruise that is already mentioned on day 6 is a very nice family activity. Everything is organized by the crew, the swimming spots are calm and protected, and the entire day is taken care of for you.
The Mining Museum of Milos (in the port town Adamantas) is a small, nice museum (1 hour visit avg.) to learn about the rocks and geologic composition of the island. You'll get interesting explanations for why the many beaches of the island and their rocks and sand are different colors. You can also find info about various self-guided geological walks that can be done.
A day trip to the tiny island of Kimolos is a very pleasant family excursion. You can visit the nice town of Chora and have a swim in some beautiful sandy beaches such as Prassa or Bonatsa. It's a day excursion and the ferry travel time takes less than half an hour each way. Ferries depart from the port of Pollonia on the Milos-Kimolos line with daily service.
Where to stay: Adamantas
---
Day 7: Milos to Sifnos
Sifnos is home to sandy beaches, incredible food, and the iconic Chrysopigi church. Popular with Greeks, Sifnos is still off most international tourists' radar – that's part of what makes it one of the best Greek islands to visit.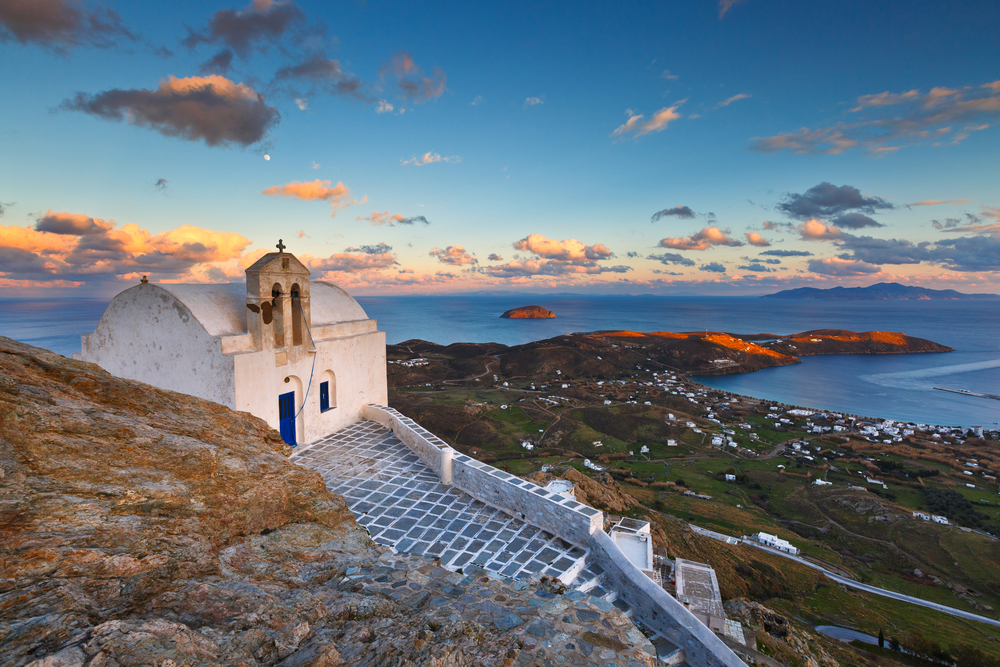 Morning
Catch a mid-morning ferry to Sifnos. In the summer there are 5 or 6 departures daily, which leave throughout the morning and then again in the afternoon. The number of daily departures decreases as you move out of high season, so it's always best to check the schedule. The high-speed ferries take about 40 minutes and are the best choice.
Plan to arrive to Sifnos around 11:00. Rent a car at the port, as this will give you freedom to explore the island. Elmar-Sifnos is one reputable company. While Sifnos does have a good public bus system, and you certainly can get around the island exclusively by bus, you'll lose lots of time and will be on a more restricted schedule. Some places will not be reachable by public transport. A car is best.
Once you've got your car, head to Artemonas village, which is where you should plan to stay. For lodging, Hotel Artemon is one good option. It is a traditional Greek style hotel with a fantastic taverna. In general, there's a good selection of hotels in the village, most of which are small (8-12 rooms) and family-run. You can also consider a vacation rental if you'd like more space.
Afternoon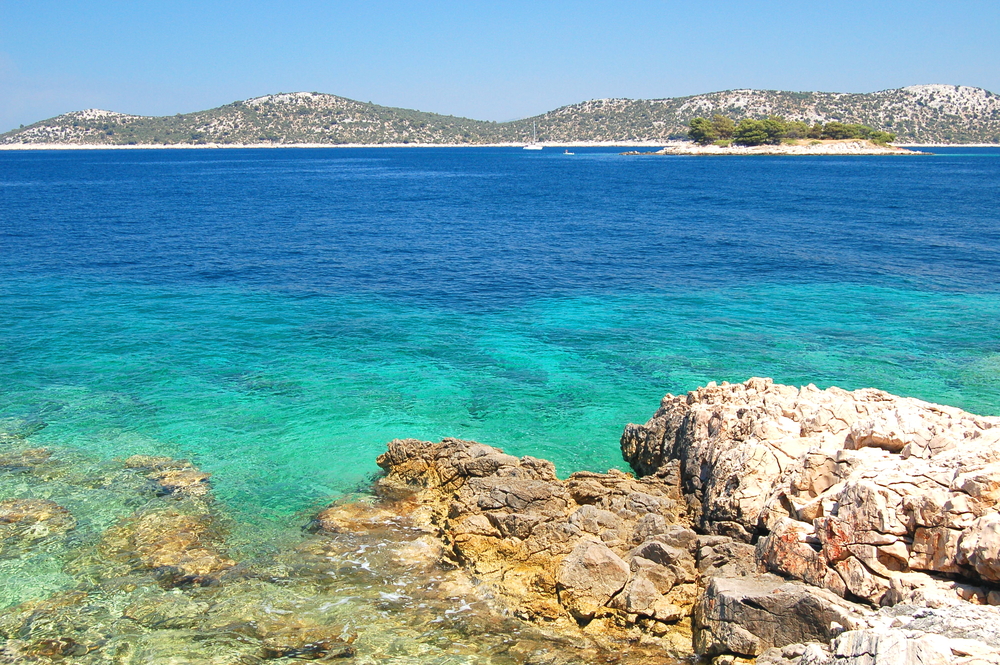 After checking in at your hotel, drop off your bags, put on your swimwear, and get ready to head to the beach. First up is the beautiful beach at Chrysopigi, where you can swim, relax in the sand, and pay a visit to the stunning Monastery of Chrysopigi. This is one of the most photographed places in all of Greece. Once you've seen it for yourself you will understand why! From the monastery, walk along a small bridge to reach the nearby church which sits on its own little island. After admiring the church, if you're up for it take the path down to the water and go for a swim along the rocks.
Once you've finished visiting the Monastery and church complex, it's time for lunch. Apokofto is an excellent small restaurant right next to the beach that serves traditional foods and extremely fresh fish (especially in summer). After a delicious lunch, head to Faros beach (on foot) for some more swimming and lounging. Faros can be reached from Chrysopigi via a lovely little path that takes about 20 minutes to walk. Leave your car and work off some of the calories from lunch. Spend a few more hours enjoying this beautiful beach and the crystal-clear water, grabbing a drink at one of the beachside tavernas, and relaxing. Whenever you're ready to go, take the path back to Chrysopigi to get the car and return to Artemonas.
Evening
After a day in the sun, relax at the hotel before a stroll. There's one main road through Artemonas and the early evening is a lovely time for a wander. Take your time and be sure to browse through the traditional shops and bakeries. They'll all be open until about 9:30 pm, which is when most Greeks will start thinking about dinner.
Speaking of dinner, tonight you should eat at Xryso which serves very traditional cuisine. The restaurant is in the courtyard of an old house and has a wonderful ambiance. From your table, you'll be able to see the vegetable garden where much of the restaurant's produce (your dinner!) comes from. A few dishes to try here are the chickpea soup (which is slowly cooked in a wooden oven), mastelo (lamb or goat baked in red wine), and kaperosalata (an onion and caper leaves spread).
Where to stay: Hotel Artemon or vacation rental
---
Day 8: Sifnos
Ancient ruins, beautiful beaches, and traditional ceramics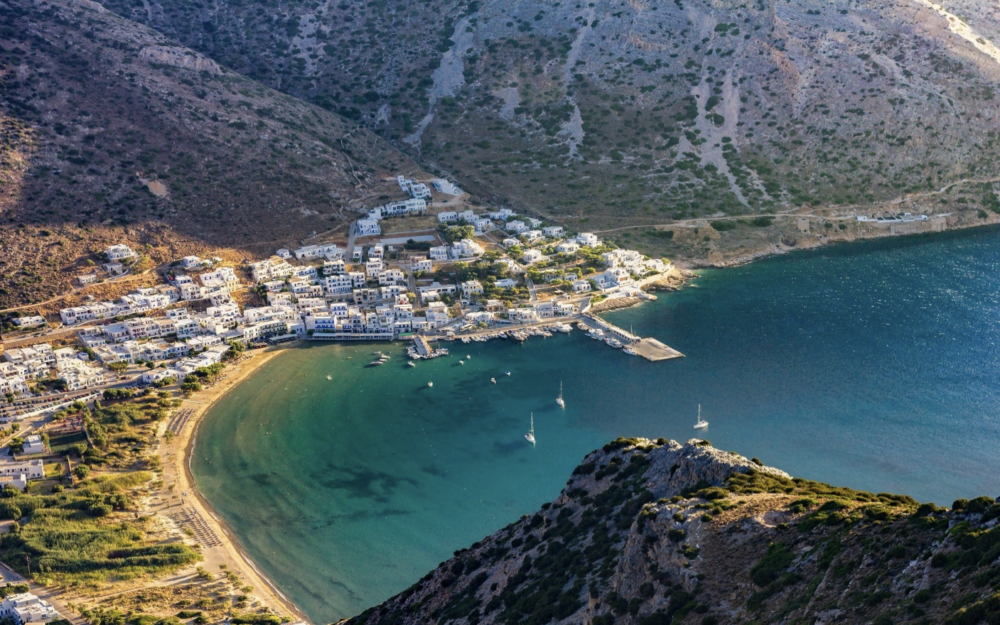 Morning
Have breakfast at your hotel and then hop in the car and head to the ancient Mycenean acropolis of Agios Andreas. Plan to spend about an hour here exploring the acropolis and visiting the museum to see the many artifacts found onsite. When you've finished at the acropolis, the nearby Church of St. Andrew is a lovely Cycladic church which is well worth a visit.
From here, head on to the gorgeous beach at Vathi Bay. Stretching for more than a kilometer, this is one of Sifnos' most beautiful beaches. While neighboring beaches can get quite wavy when it's windy, the protected waters of this cove are almost always perfectly calm. Whenever you're feeling hungry, you can have lunch right on the beach with your feet still in the sand at Tsikali. The food here is delicious and the scenery cannot be beaten. It's truly lovely. The restaurant also produces its own cheese, so be sure to get some.
Afternoon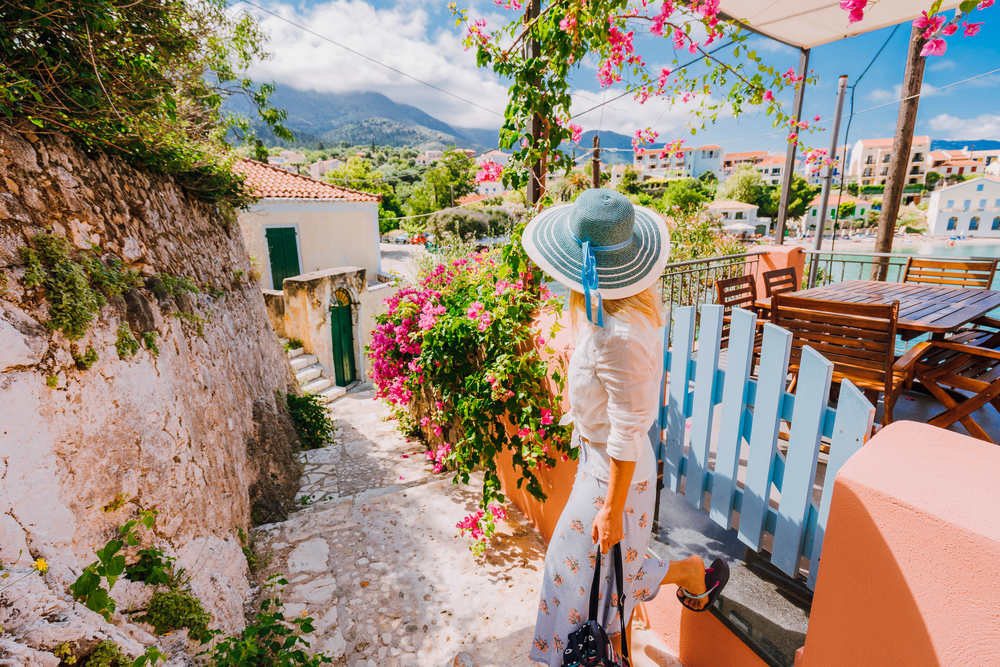 Sifnos is well-known for its quality ceramics production, so after lunch make your way to a traditional pottery workshop called Atsonios Ceramics, about 5 minutes from Vathi. Here you can view a demonstration and, if you're lucky, even create something yourself. The kiln used here is the oldest one on the island and is still entirely wood fired. Even if you don't get a chance to make something yourself, pottery fans will surely find something to bring home.
At this point, you have two options: either head back to the beach or return to Artemonas. If you go back to Artemonas, you'll have a couple of hours to relax at the hotel and enjoy the village. In the early evening, take a leisurely 15-minute walk to Apollonia, which is the heart of the island in the evenings. In Apollonia you'll find good shopping and restaurants, as well as bars and nightlife. The commercial area is found on one principal street which is usually filled with a veritable river of people. Locals and tourists alike come here to stroll, shop, and dine.
For dinner, consider Cayenne Restaurant. This is a more upscale spot which exclusively uses local ingredients but with innovative and modern twists. After dinner, you might have a drink or a cocktail at Botzi 93. Be sure to head up to the roof for fresh air and beautiful views.
Where to stay: Hotel Artemon or vacation rental
---
Day 9: Sifnos
Fishing villages, calm waters, and Medieval history in Kastro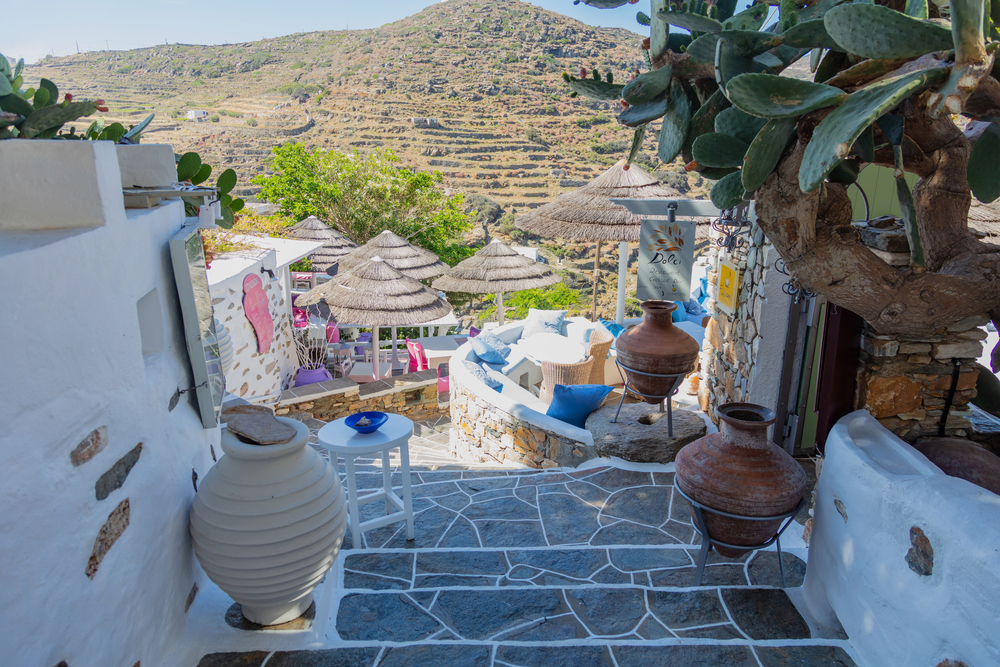 Morning
Start your day with a visit to the Agios Simeon Monastery and its stunning view. This is the second highest church on the island (and the highest one reachable by car) and has spectacular views over the surrounding waters. Enjoy the view, and then continue on to the small fishermen's village of Hersonissos and its fjord like bay. There's a small beach here where you can go for a swim. It's especially attractive on windy days as unlike nearby beaches, the sea here will remain calm.
Hersonissos is still an active fishing village, so you'll see boats coming and going with their catch. Adjacent to the beach is another nice ceramic workshop well worth checking out. There are a few nice tavernas right in town, so get lunch at one of them whenever you're hungry and done enjoying the beach.
Afternoon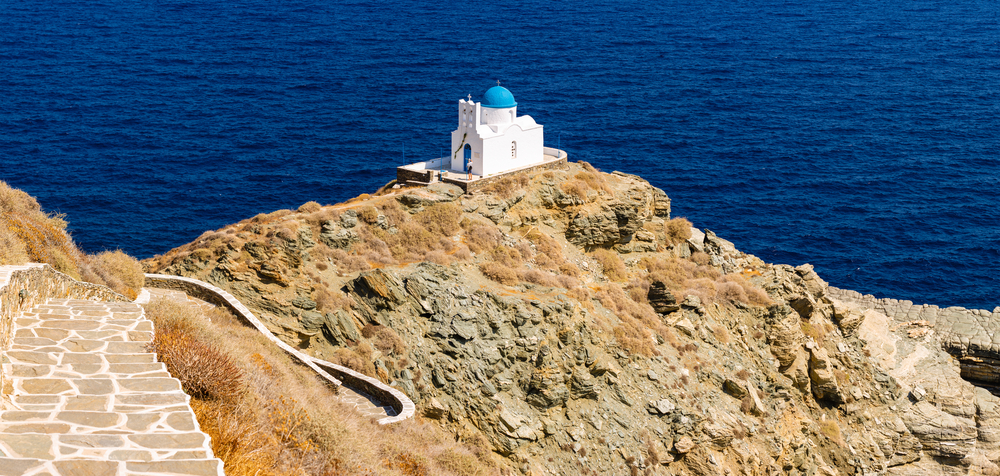 Drive back to Artemonas and get ready for a nice, easy hike. You'll go first to Poulati Rock (where you can also take a dip), before continuing along the shoreline and up to the medieval village of Kastro. In Kastro, you can enjoy an aperitif at Loggia which sits directly in front of the beautiful chapel of Epta Martyres.
Enjoy a casual late afternoon with a few drinks and a wander around Kastro, before meandering over to Seralia, which used to be Kastro's port.Here you can have a fantastic seafood dinner right next to the waves at Captain Sifakis. It's the perfect way to cap off your incredible Greece island hopping vacation!
Unfortunately, you're leaving tomorrow so after dinner it's time to pack your bags. In the morning you'll be catching a ferry back to Athens for your return flight home!
Where to stay: Hotel Artemon or vacation rental
Sifnos Family Ideas
Sifnos Horseback Riding – They offer short, accompanied rides for all levels (30 minutes) and suitable also for children and beginners. You go on a circular journey through the alleyways of the village of Katavati. For children over 12 with a bit of experience there is also a very nice 1,5 hr tour on one of the island's main hiking trails. You stop for a refreshment break in the courtyard of a small church situated in a low conifer forest. This activity is good for the mornings (not too late, due to the heat).
Family Farm visit wih a cooking lesson – This is a half-day activity. After a brief introduction, the meal planning starts. On a walk through the farmstead you´ll choose and pick the ingredients for your meal. Once back in the farmhouse you will start the preparing the ingredients before cooking them. The experience ends at the kitchen table where you'll get to enjoy the fruits of your labor. This is a perfect opportunity to learn about typical products of the island, their seasonality, and the simplicity of preparing amazing traditional Greek dishes.
Ceramic workshop – Sifnos is the island of the potters. Wherever you´ll go, every artisan will be glad to show their art and their creations. For children, there are special workshops where they can paint their own ceramics. After, the object (cups, salad bowls, plates, etc..) will be fired and become a unique souvenir of Sifnos you can bring home with you. It takes about 1.5/2 hours on average and is great for both children and adults.
Hiking – There are more than 100km of hiking trials. Some of them are perfectly suitable for families!
---
Day 10: Return to Athens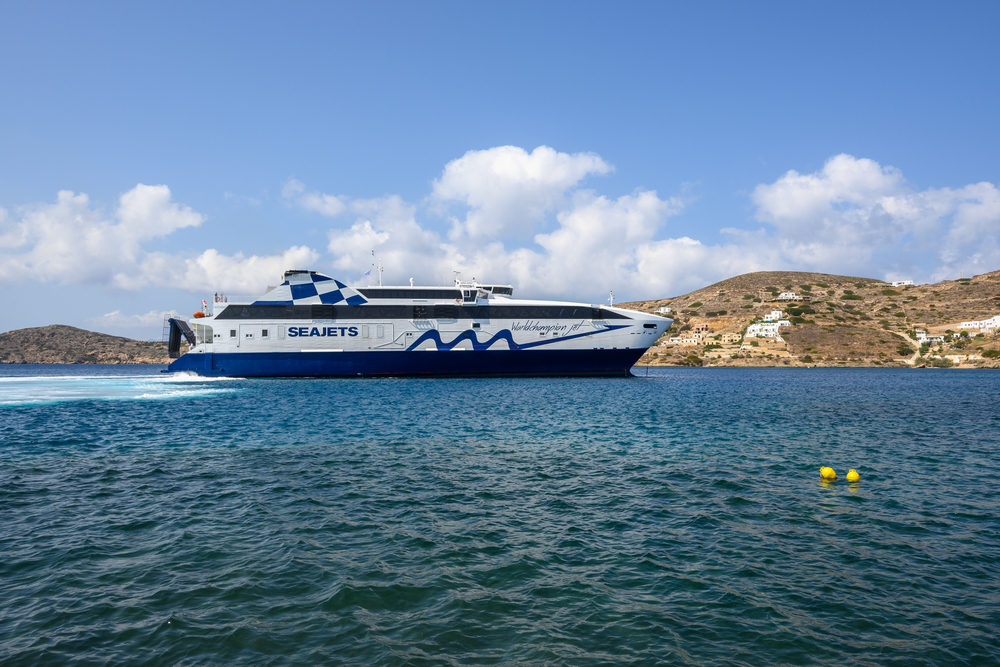 Morning
While today will be more about transportation than sightseeing, it's important to account for in planning your 10 day trip to Greece. You'll probably want to book one of the morning ferries from Sifnos to Athens. The trip should take around 2.5 hours, though allow plenty of time before your flight from Athens back home in case of delays. There is also a less expensive "slow ferry" that takes more than 5 hours, but I don't recommend that unless you are very prone to sea sickness; that is also a less common service and arrives at night. Note that there is no airport on Sifnos.
Afternoon
If you've taken a mid-morning ferry from Sifnos to Athens, you can choose from many small restaurants near the port to get lunch. For those with a later flight departing from the Athens airport, there's even the small Piraeus Museum within walking distance (and tickets are just a few Euros). Alternatively, the Hellenic Maritime Museum offers an interesting look at Greece's maritime history over thousands of years; it's a little bit of a longer walk, so consider how much luggage you have with you and how much time you have.
Allow at least 45 minutes to get from Piraeus Port to Athens airport if you're going by car. The most efficient option is to book a car service ahead of time with Welcome Pickups. They charge the same rate as a taxi and an English-speaking driver will be waiting for you! For a later flight, you even have the option to turn your ride into a sightseeing excursion.
---
Planning your 10 days in Greece itinerary
I hope this article has inspired you to go a little off the beaten path on your upcoming 10 day trip to Greece! If you need additional help planning your trip, book a call with Luca for help ironing out the details or to get even more ideas.
Be sure to read these articles to help you continue planning your Greece vacation:
This article was produced in partnership with Go Ask A Local. All opinions are my own.
Still planning? Pin this for later!