If your family is looking for a true getaway to disconnect from the outside world and reconnect to each other, Isla Bastimentos in Bocas del Toro, Panama is the place to be. We were thrilled when Bocas del Toro all-inclusive Al Natural Resort, one of the leading luxury eco-resorts on the island, invited us to be their guests to report back on its offerings for families. We've heard that it's one of the best Bocas del Toro all inclusive hotels! So come have a read and see if Al Natural Resort could be right for your next adventure vacation.
Wondering what to pack for your remote tropical island vacation? Don't forget these essentials!

Al Natural Resort setting
"Deserted tropical island" is the first description that comes to mind when Al Natural's boat drops you off at the dock after a 45 minute ride from Bocas town. We arrived in Bocas via shuttle van from Boquete, but some of our fellow guests arrived by private rental car or by plane (when we depart, we will fly from Bocas del Toro to Panama city). The helpful staff from Al Natural grabbed our bags (and kids) from the boat to get us situated before we headed to lunch.
Aside from the small collection of buildings that makes up Al Natural, this place is wild. It sits where the jungle spills over into the water, with occasional stretches of beach. And it is beautiful. There's no such thing as a "partial ocean view" here – when they talk about Bocas del Toro hotels on the water, they mean practically in the water. At the bungalows in the main section of the resort, just a thin rope serves as a barrier between your hammock and the horizon.
The paths winding through the resort are just sand, with some roots and leaves where nature has left them. No one here wears shoes – there's not much point, as they'd just be logged with sand. In fact, the entrance to each building has a little water basin to rinse your feet before ascending the stairs to avoid sandy messes everywhere (sometimes this kids didn't quite get that concept).
We heard so many species of birds and even saw little toads just hanging out on the jungle path at night, plus of course the absolutely insidious leaf cutter ants. Blessedly, we didn't see all that many mosquitos! We still recommend spraying your feet and legs liberally with a strong family-safe bug spray, just in case.
The buildings at Al Natural Resort are exactly what you might envision for a luxury eco resort, sitting up on stilts and topped with thatched roofs made of palm fronds. The main area of the resort consists of the dining room with a game room above (plus a crow's nest at the very top!), a small building with all sorts of gear available to borrow, several kayaks and beach chairs. If you follow the sandy paths to either side, there are bungalows of all sizes to meet the needs of different guests but all built in a consistent style that integrates beautifully into the surrounding jungle landscape.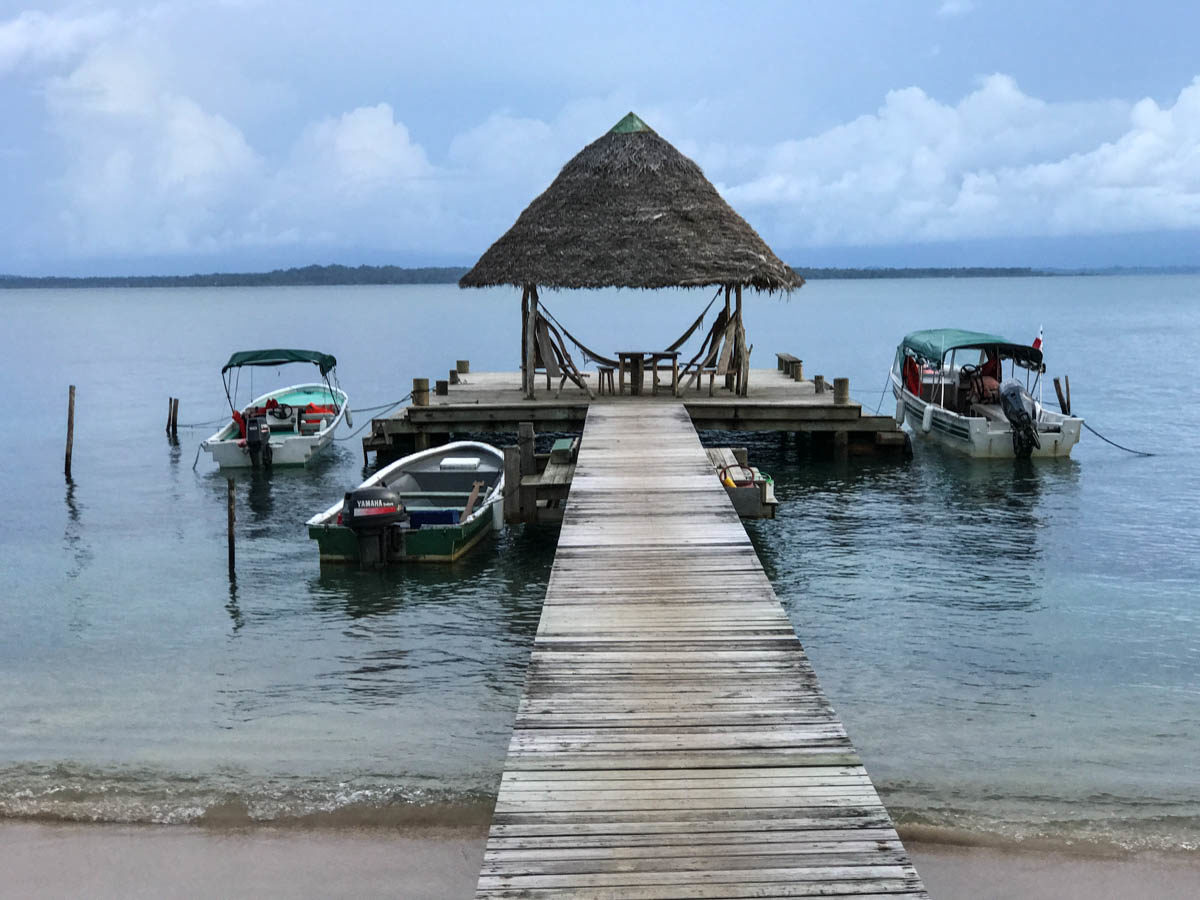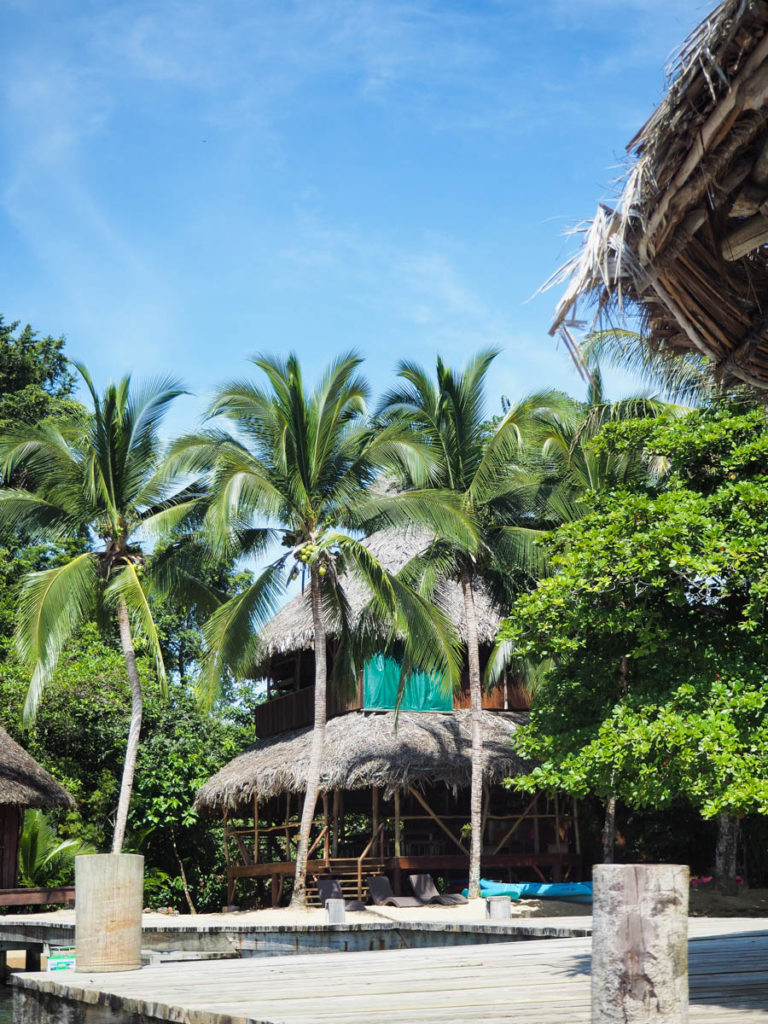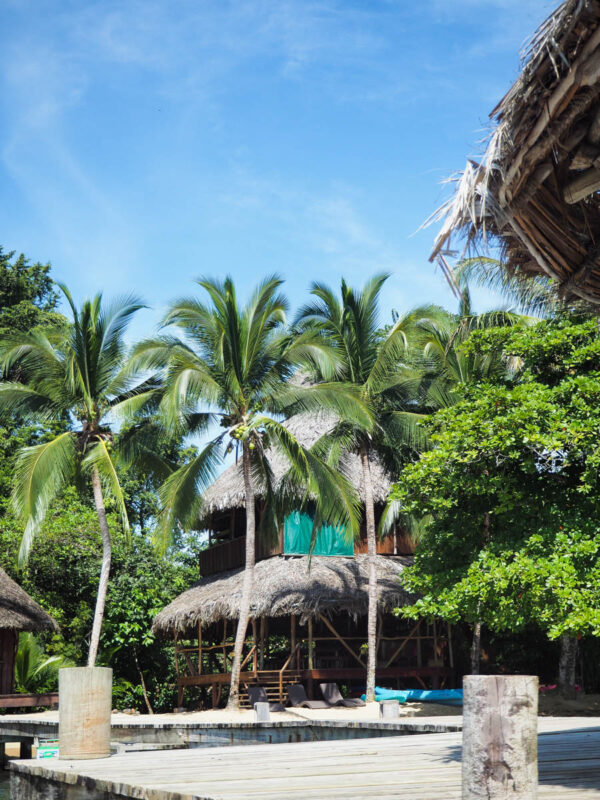 The food at Al Natural Resort
In a word, the food at Al Natural Resort is exceptional. From what we hear, it beats all of the other Bocas del Toro accommodation choices when it comes to cuisine. A typical breakfast spread includes bread, jam, cheese, tropical fruits, cereals, juice, milk, your choice of eggs (made to order, but I prefer scrambled with sautéed vegetables) or pancakes and some seriously good coffee. I mean it.
The lunch menu changes daily, but always includes salad, a side dish and a main course. Some of our entrees have included pasta with homemade sauce, quesadillas and black beans, and falafel with hummus. While guests tend to come and go for breakfast depending on what activities they have planned for the day (and how early they were awoken by the sun), the family-style lunch is served at 1pm and it's a great opportunity for new friends to debrief the morning's excursions.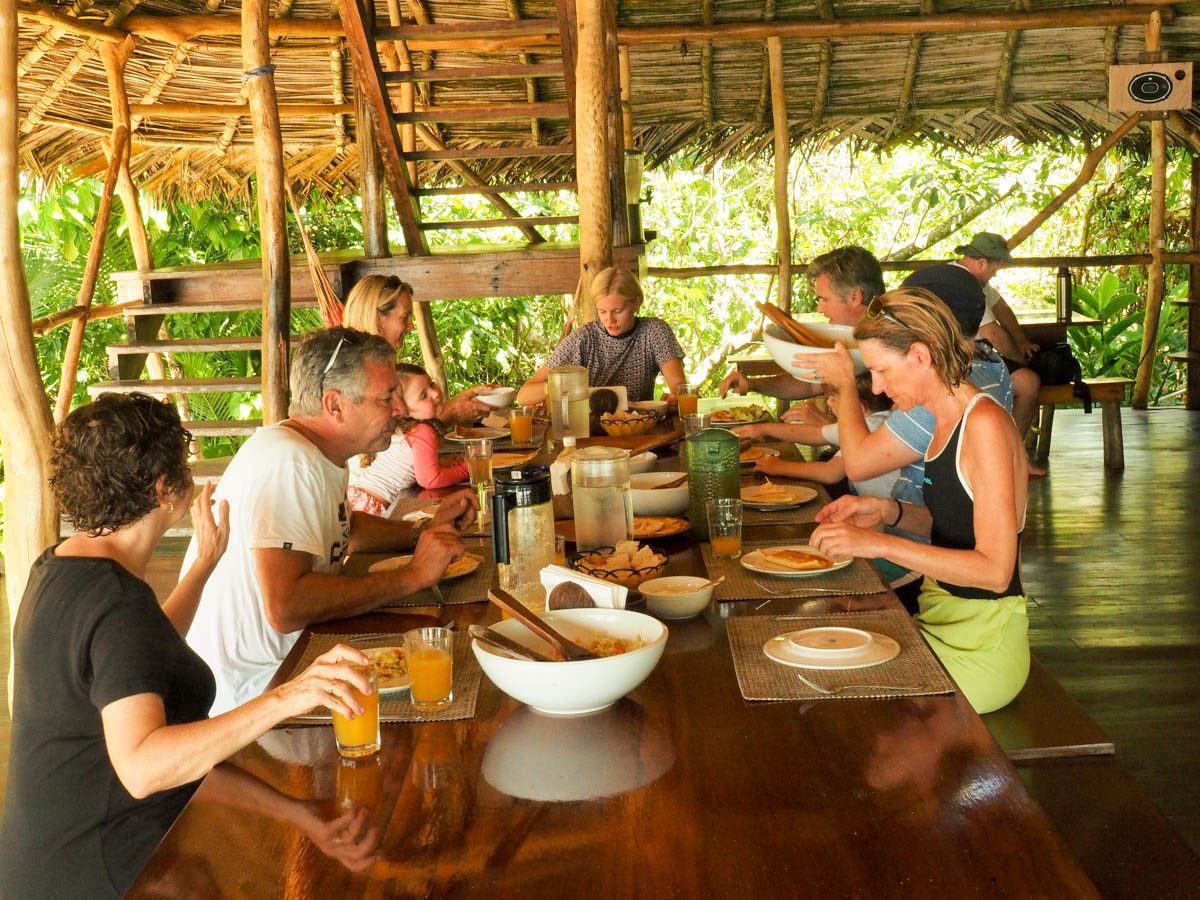 We always enjoyed the coffee break at 5pm, with milk and biscuits (sometimes even chocolate ones!) for the kids. The day is winding down, and most people sit about and chat in their swimsuits and coverups before returning to the bungalows or La Residencia to clean up for dinner. It's a lovely, relaxed time of day as the activities are over and no one is in a rush.
Dinner is a more luxurious affair, with the dining room dimly lit and music playing. And this is where the food really shines as well. Adults are offered a choice of red or white wine and a three course meal, with the entree always based on whatever local fish the team has caught. The flavor profiles match the island setting – my favorite dinner started with a cucumber and coconut soup, followed by barracuda in a coconut milk sauce and finally pineapple flambe topped with toasted coconut shavings.
By the way, the coconuts are everywhere. They literally fall to the ground in a stiff wind. If you ask the staff nicely, they'll pluck one from a tree in front of the dining room, whack off the top and give you a straw. Perfectly refreshing after a swim or a turn in one of the kayaks! Keep your eyes open at night for the family of Panamanian Night Monkeys who come by to say 'hi' and snag some bananas.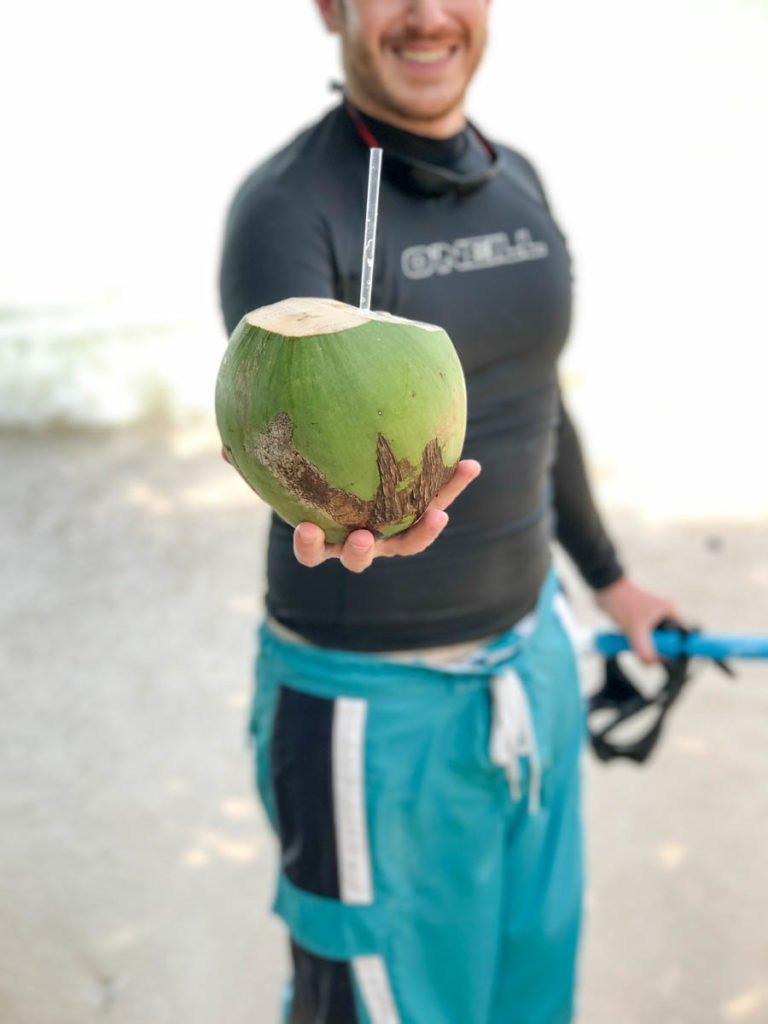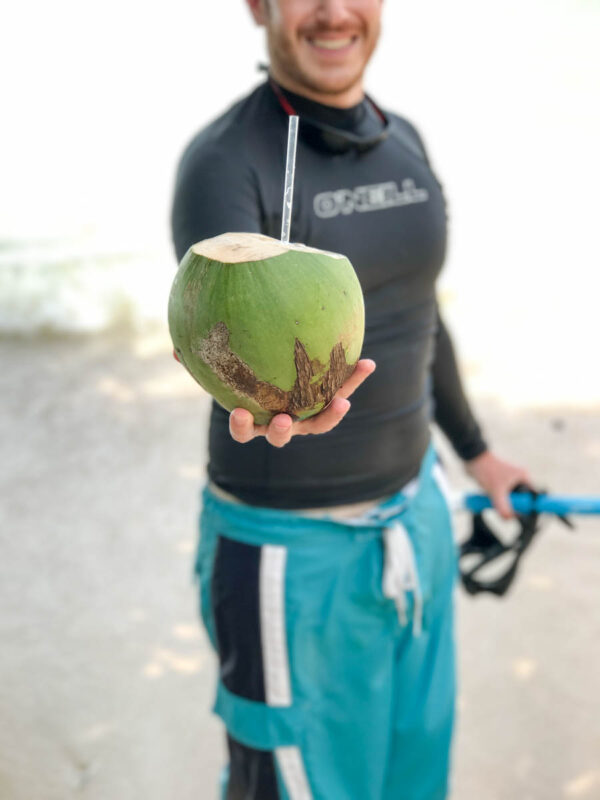 Our crew has a few different dietary needs and the kitchen at Al Natural never missed a beat. For starters, our family doesn't eat shellfish. If a shellfish item was on the dinner menu, they prepared a gourmet vegetarian alternative just for us. And then there are the kids. These kids are just not the adventurous eaters we wish they were unfortunately.
Thankfully, their needs were always met for meals at Al Natural. We were always asked whether they preferred chicken or fish for dinner, and for lunches they were generally offered a simpler version of the standard menu (cheese quesadilla instead of cheese and tomato, or plain pasta rather than pasta with tomato sauce). In a pinch, I made them good old PB&J sandwiches with supplies from the kitchen. As a treat on our last night, we let them order a milkshake from the bar (not included in the standard rate). Needless to say, they were happy to see some sweet comfort food!
What to do in Bocas del Toro, Panama
Most people choose to spend their vacation in Bocas del Toro for two reasons: the feeling of being in an isolated, tropical paradise and the plethora of outdoor activities at your fingertips (or at least within a short boat ride). Al Natural definitely delivers on this front! You'll never wonder what to do in Bocas del Toro when you stay at Al Natural.
For starters, Al Natural offers both single and double kayaks and snorkel gear free for guests' use in the main area of the resort. We went kayaking at least once per day in the (mostly) calm waters near the resort. We were pleased to figure out that all four of us fit nicely in a double kayak, with a kid in each footwell. Jacob and I even used a single kayak to "commute" one day between the dining room and La Residencia. We also spent plenty of time splashing in the shallow waters in front of the resort and relaxing in the hammocks at the end of the dock.
We also borrowed their snorkel gear for our excursion to Coral Cay. We saw one child-sized mask mixed in with the gear that would have fit Jacob, but we're traveling with our own tot sets (check out our recommendations), as we don't know about availability in different parts of the world. During our snorkel trip, we saw many species of hard corals including branching, purple tubes and brain plus a few types of fish.
Unfortunately for my left leg, the most prevalent sea creatures we encountered were jellyfish! We had hoped to snorkel in Zapatillas Cay, with its abundant sea life and pristine white sand beaches but visibility in the water during our visit was just too poor. If you go to Bocas del Toro, definitely make sure to see Zapatillas! Check out these great underwater photography tips next time you go snorkeling.
Our 6yo has been asking to go fishing for over a year, and we were excited to make that dream come true at Al Natural. We spent an afternoon out trolling near Coral Cay, and he and I caught three (small) fish in total! Not too shabby for his first time out. We were extremely pleased to find infant and child life vests available in the closet of the dive shop. There's only one of each of the three smaller sizes, but it's unlikely that there would be so many young children at the resort at any given time.
For the more adventurous, Al Natural is the home of Zapatillas Dive Center – it's the only dive center located in Parque Nacional Marino Isla Bastimentos. The dive master on site can guide your group to many different Bocas del Toro diving sites nearby. Our friends at the resort who came expressly for the diving told us that they saw lion fish, many different corals, all types of tropical fish and even a nurse shark. Check out this complete guide to Scuba diving in Panama.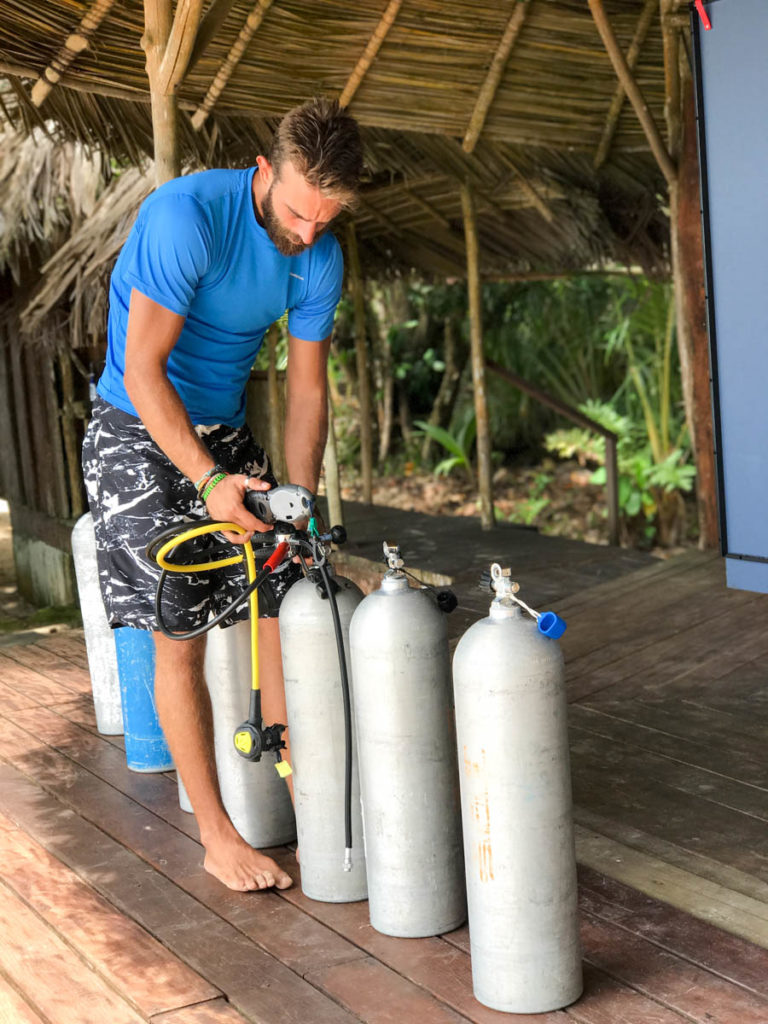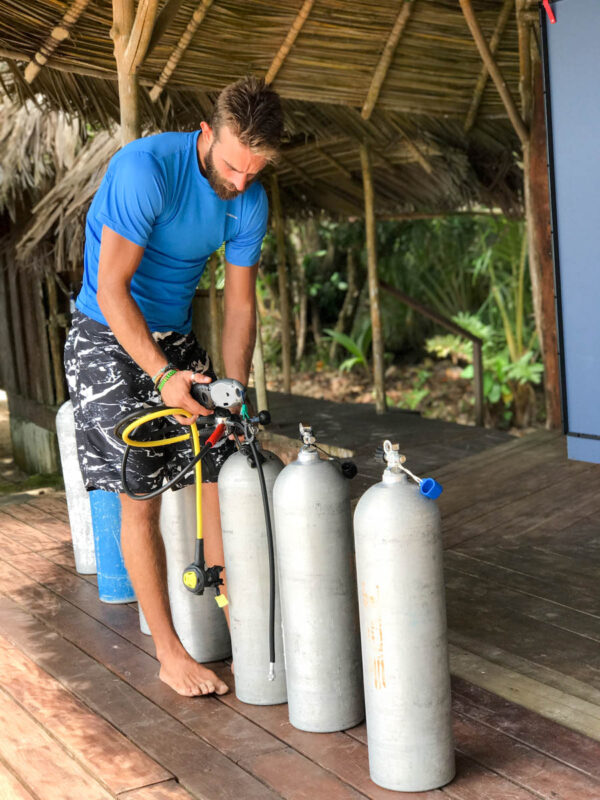 There are SO many things to do in Bocas del Toro. Another great option if you've had your fill of water sports and beach time is to visit the local Salt Creek native community in Isla Bastimentos. The community offers many different tours of their own, ranging from jungle trekking to learning about medicinal plants to visiting a bat cave. While we didn't get a chance to explore those options, we met many members of the community who work at Al Natural and they are all extremely kind and welcoming. We had some great conversations with many of the indigenous peoples, talking about our kids, life on the island, and even their thoughts on the impact of tourism and their community's interactions with tourists and resorts.
In all honesty, we often feel odd being "waited on" at resorts and other places in the hospitality industry – after all, we're healthy and capable people with relatively modest expectations. I worried that the interactions with workers from the native community might feel exploitative, but the reality on the ground is complex. The employees at Al Natural are treated with kindness and respect, and everyone we met seemed to happy to talk and joke around with us.
On our third day there an enormous rain storm largely flooded the area in front of a house where a number of the employees live, which happens to be right behind La Residencia where we were staying. We were very concerned about how the residents would be able to access their home and stay there in safely (with standing water surrounding it) but we were heartened to see that they had moved into the enormous apartment upstairs from us. From everything we witnessed, the Salt Creek employees at Al Natural are treated better than many hotel workers we've met in the United States.
Check out these other great ideas for things to do out of Bocas Town
Bocas del Toro resort rooms at Al Natural
Al Natural Resort offers two different options for your Bocas del Toro accommodation. The main section of the resort consists of traditional open-air bungalows. The other option, roughly ten minutes away on foot (or six minutes by kayak!) is the beautiful, modern La Residencia.
The bungalows at Al Natural are one feature that sets it apart from other resorts in the area. They offer a rustic simplicity for travelers who really want to disconnect – no TVs, no WiFi, no phone service. Oh, and in most cases not even a full set of walls! But that's ok, because each bungalow is extremely private and the open side faces toward the Caribbean. Instead of waking up to the sight of a generic white hotel room wall, you'll wake up with the waves and sea birds at your doorstep. Each bungalow has a generous terrace with its own hammock for lazy afternoons, and the comfortable beds are all fitted with mosquito nets just in case.
Despite some heavy storms during our visit, we didn't hear any reports of substantial leaking into the bungalows. Just in case you want to decrease the early morning sunlight or ward off inclement weather, the front of each bungalow has a set of heavy curtains that can be closed off. Bungalows come in a variety of different configurations: a large one bedroom with a king bed and two twin beds, a three bedroom with a king bed and two full beds, a two-story bungalow with a king bed upstairs and twin beds downstairs, and more.
Most bungalows have a full, private bath; there's also a pair of smaller bungalows that are connected to each other by a shared bathroom, which would be an ideal configuration for parents traveling with older kids. A word of warning to those with young children: to minimize the barriers between guests and nature, there's no formal railing at the edge of the balconies; the thin cordon is enough of a reminder for adults, but extra caution should be taken if you plan to visit with babies or toddlers. An advantage of staying in the bungalows is the close proximity to the dining room and the dock.
Click here to see all the options.
If you consider a few days without creature comforts to be more torture than vacation then check out the beautiful new option at Al Natural, La Residencia. It features walls on all sides, though the entire front of the structure and the upper half of the side wall is a combination of windows and screens – you'll still see and hear the full effect of sleeping in the middle of the oceanside jungle, but without creatures potentially sneaking into your room when you're not looking.
The one bedroom lofts feature a bedroom with a king bed and a ceiling fan and another king bed with ceiling fan in the great room. We gave the kids the bedroom in the hopes that the darker space would encourage them to sleep a little later – no such luck! 6:30 am wake up for all!
Other features of the loft include a full bathroom and generous closet and shelf space and a small kitchenette. In all honesty, we weren't sure how useful the kitchenette would be; after all, everything has to be brought over by boat from Isla Colon and guests at La Residencia still take part in the excellent all-inclusive dining plan at Al Natural Resort.
We were absolutely thrilled to have a refrigerator to keep our water bottles ice cold. La Residencia also has a generous seating area that includes a dining table for four and a balcony (completely with a fairly kid-safe railing) featuring a hammock and lounge chair. We were happy to stay at La Residencia with our city kids, for whom life on a remote tropical island was completely and utterly foreign.
Note: The water in the sinks, as with most remote locations, is not potable. Al Natural provides jugs of water for drinking, but if you need more than what's provided you can check out one of these excellent water bottles with integrated filtration.
The only challenge to staying at La Residencia with young children is the ten minute walk to the dining room and dock. The half of the path closer to La Residencia is not extremely well defined, but parts of it are over a boardwalk belonging to a neighboring resort. The half of the path closer to Al Natural Resort is all sand in the jungle but is very well defined and (usually) easy to traverse.
First thing in the morning it's a fun adventure, but late at night in a storm when there are no lights anywhere to be seen it can be scary for young children and parts of the path are very narrow due to recent erosion. Our 3yo needed to be carried to and from dinner every evening and for some other meals. The upside of the night walks? We saw some great wildlife, including an enormous blue crab and several statue-still toads all right along the path. After all, you're walking right through the jungle!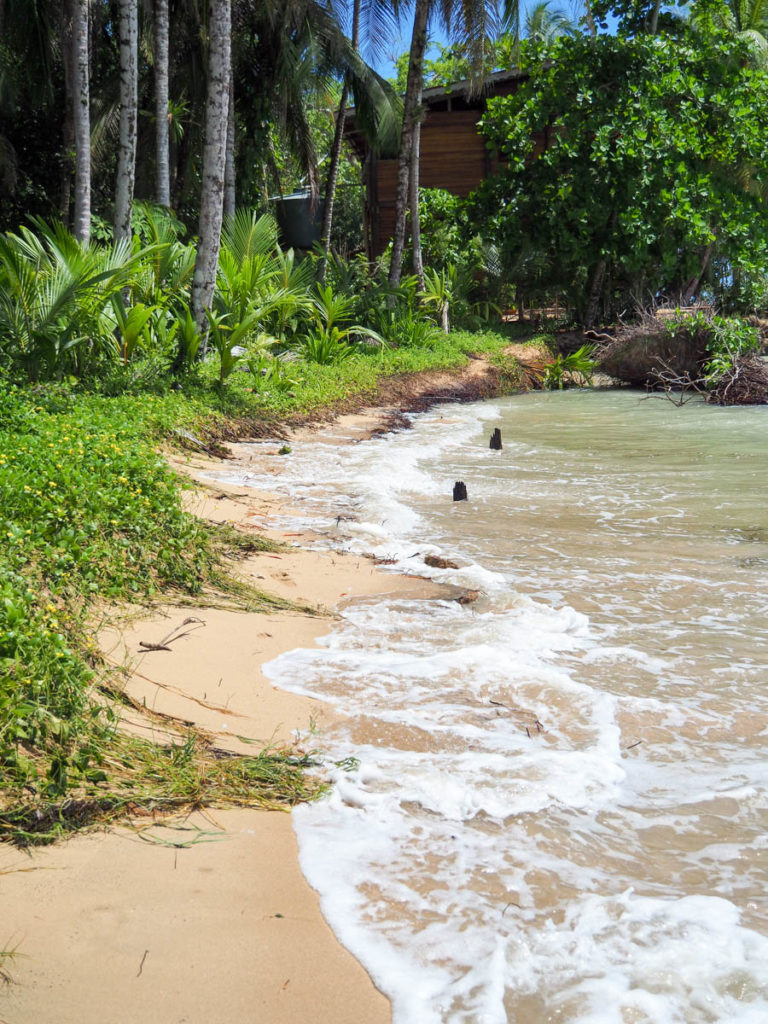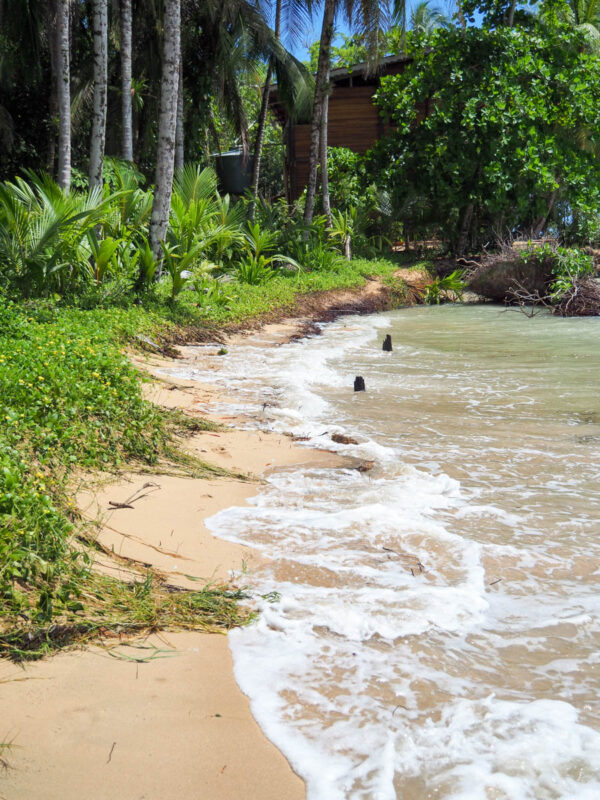 Who should visit Al Natural Resort
Al Natural Resort is not a big place, capping out around 35-40 guests in the busiest time of year. When we visited in October, the absolute slowest time of year, there were at most 11 guests at the resort at any given time (most of the time there were 9 of us, and when we left there was a lucky couple remaining who had the whole place to themselves!). With such an intimate setting, a big part of your experience can be based on how cool the other guests are!
We're happy to report that, likely due to its rustic facilities, Al Natural Resort attracts guests who aren't high maintenance and looking for every detail to be perfect. All of the guests we met were laid-back, well-traveled folks who were looking to explore the natural beauty of the area… just like us. It also felt a bit like a G8 summit at dinnertime, with conversations occurring simultaneously in English, French, Spanish and German. It was a great opportunity for me to practice my linguistic skills and make some wonderful friends along the way.
Looking for more ideas for visiting Panama? Check out our complete guide!
If you love nature and being disconnected from the modern world, a visit to Al Natural could be right up your alley. Most of the visitors are couples coming for a romantic getaway (sorry to disrupt you, guys!) and we also met a wonderful family traveling with their teenage daughter.
It would also be great for families with older kids. Our daughter was almost 3.5yo at the time of our visit and I'd say that's probably the minimum ideal age. This is definitely a case of knowing your own kids and what the would enjoy and what level of challenge is right for them. An adventurous 5yo might like the experience much more than an 8yo who prefers more conventional experiences. And the same is true for adults. Overall, we had a great time at Al Natural – and it also challenged us to grow into the experience. We will definitely recommend a visit to the adventurous travelers in our life!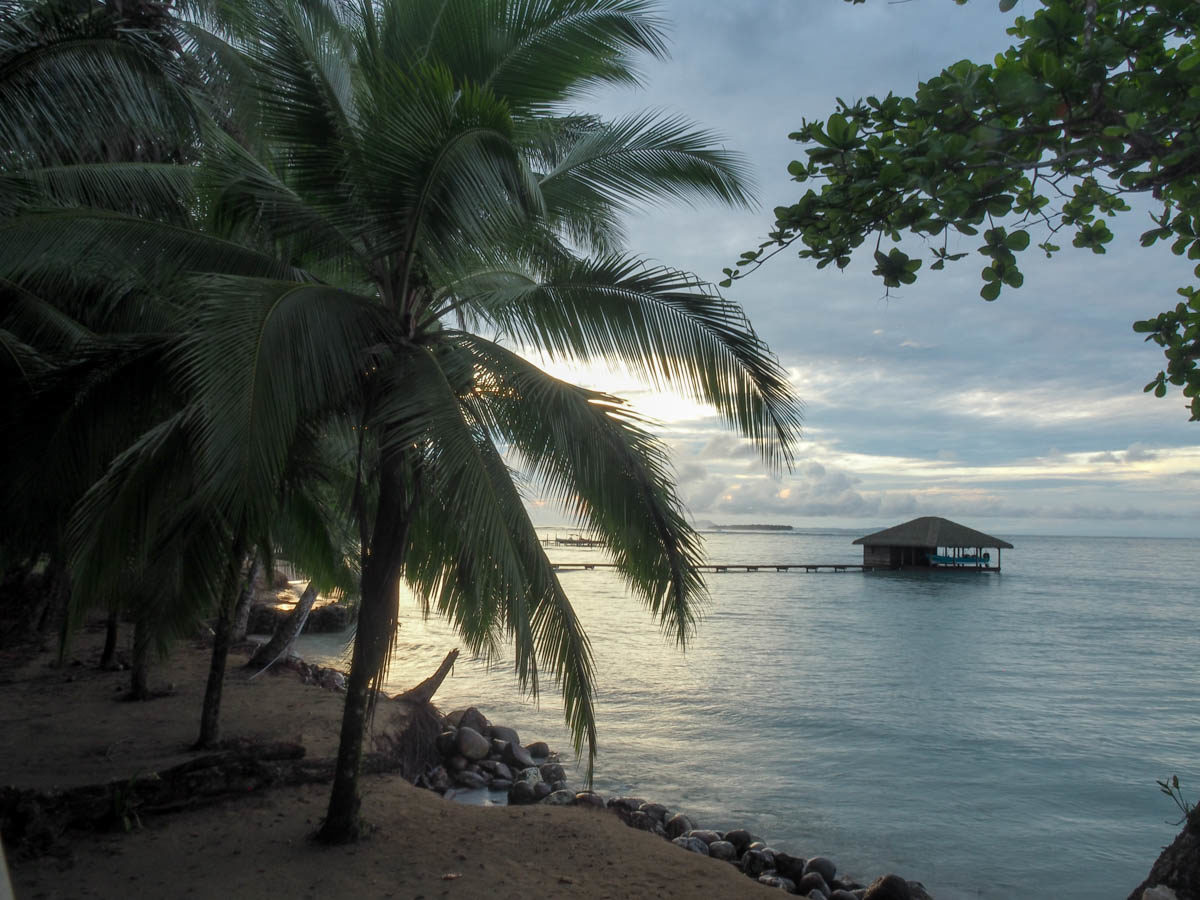 Looking for more ideas for visiting Panama? Check out these other posts!
Use the interactive map to find vacation rentals and hotels in Isla Bastimentos, Bocas del Toro
---
Getting to Bocas del Toro
How you get to Bocas del Toro depends on your point of origin. If you're coming from Panama City or from San Jose, Costa Rica you can easy get a flight into the teeny tiny Bocas del Toro airport on Isla Colon. In many ways this is the most convenient option, as you can then hop on the already-scheduled daily boat that Al Natural Resort runs from Bocas Town to Isla Bastimentos.
We actually walked with two kids, a stroller, and tons of stuff between Al Natural's office and the airport and even at our glacial pace it was only a 15 minute walk (albeit not through a very scenic area). We flew Air Panama from Bocas del Toro to Panama City at the end of our visit for less than $100 per person – check flight prices now.
If you're coming from Boquete (as we did) your only option is ground transportation, as there are no longer direct flights between Boquete and Bocas del Toro. There are several shuttle van services that will take you on the trip, and we were happy enough with Hello Panama's transfer service. The price is very reasonable at $30 per adult and $20 per child and they arrive earlier than the other shuttle option; however, generally you have to meet at Hello Panama's office in downtown Boquete at 7:30am. Since we were a party of four with two little kids, Hello Panama was kind enough to pick us up at our hotel in Boquete at 7am – it was an early morning, but easier than loading our stuff in a taxi to get into town ourselves!
The other Boquete to Bocas del Toro shuttle is Panama Shuttles. Our hotel in Boquete recommended them, as they pick up at your hotel and offer great service, but their departure is just a little bit later and would have been too late for Al Natural's boat to the resort. Both shuttle options include the water taxi from Almirante to Bocas Town. No matter which service you choose, keep your eyes open for some gorgeous scenery as you go through Panama's mountainous north and eventually drop to the coast.
To get from Puerto Viejo, Costa Rica to Bocas del Toro, the easiest option is to use a service that handles the journey's legs all in one ticket, thought that isn't the cheapest option. Caribe Shuttle charges $33, which includes your Bocas del Toro water taxi, van service to the border, a guide for the border crossing, and drop-off at your hotel in Costa Rica.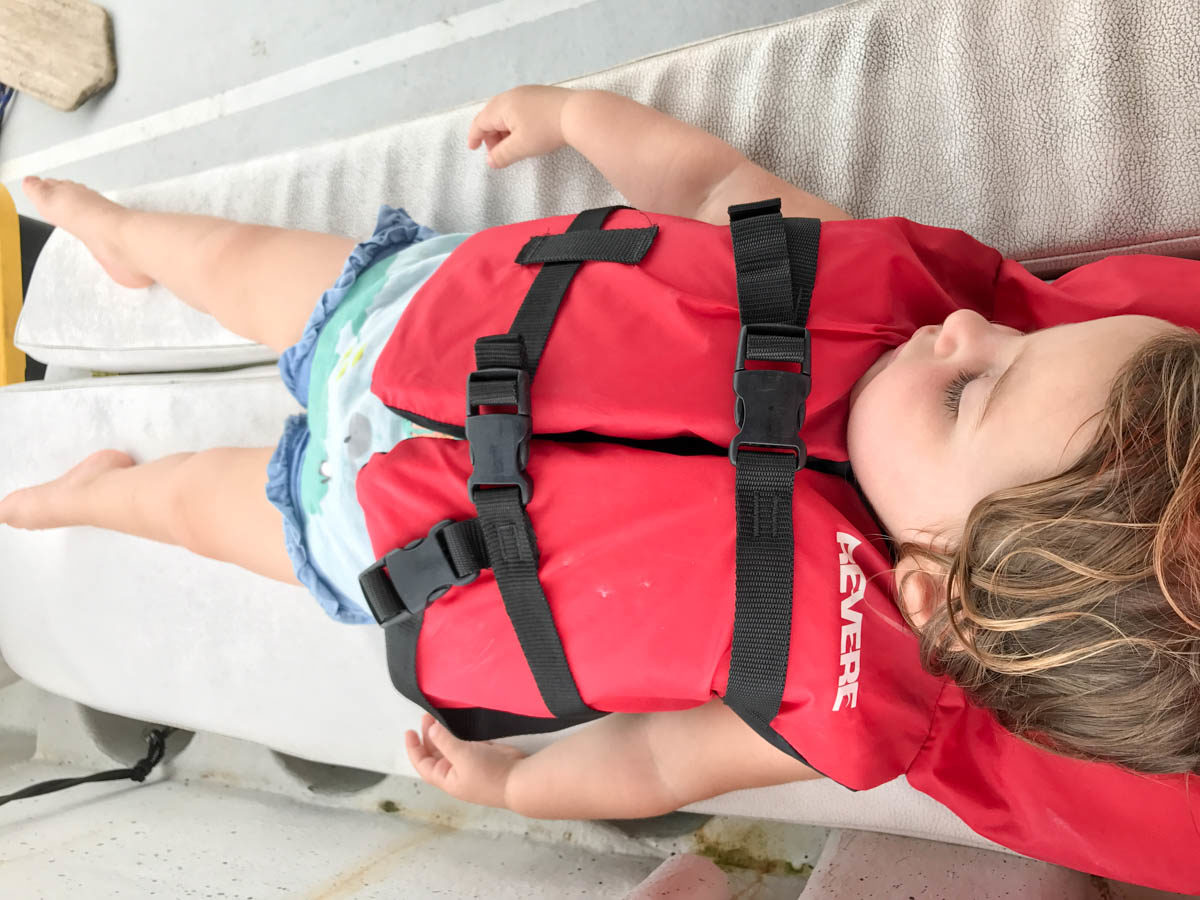 Many thanks to Al Natural for hosting two nights of our stay; all opinions are my own.