The Muckross estate formed the original core of Killarney National Park and today it is one of the top attractions in the area. There is truly something for everyone! A Victorian mansion with expansive gardens, open lake-side grounds for picnicking and playing, a working farm, weavers, a Medieval abbey and even jaunting cart rides. You can easily spend a full day taking in all of the sites at Muckross with kids. There is so much to do that we actually visited on two separate days since we were staying so close. Read on below to see what our family recommends.
Read the rest of our Ireland with Kids trip report or get more Europe travel inspiration
Use the interactive map to find vacation rentals and hotels in Muckross
---
Traditional Muckross Farm
The farm was a highlight for us all! It's laid out in a loop so you won't miss anything. Your kids (and you) will love seeing the 1930s farms of different sizes, each complete with its own animals. There are even costumed interpreters sharing stories and traditional scones and butter produced right there on the farm. In the back there's a sweet little petting zoo and even a bouncy castle. We saw a horse, donkeys, sheep, goats, pigs, chickens and more. Pay no mind to the goat hanging out on the picnic table… apparently that's what real farm animals do. The whole property smells of peat because each of the farmhouses around the loop burns it for warmth, as is tradition.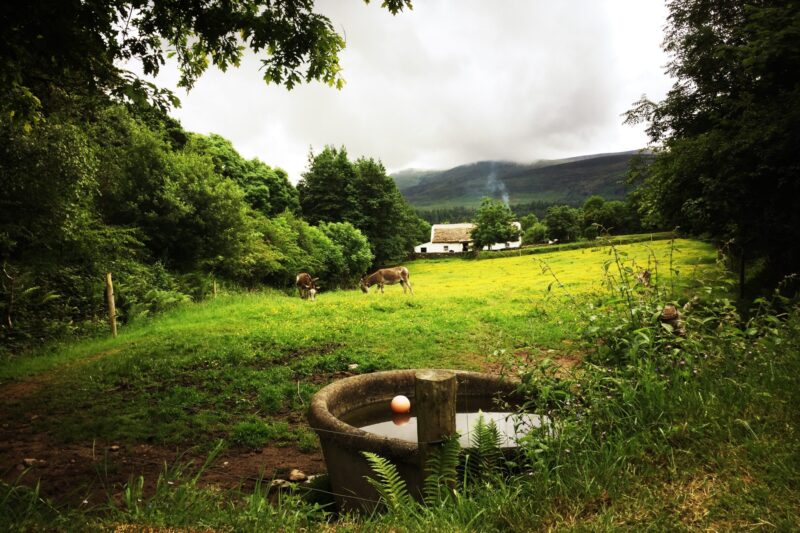 Close to the end are a few craftsmen shops, including a blacksmith and a carpenter. Jacob got to practice churning butter and he thought the blacksmith tools were so cool. There's even a little playground next to the shops, though the rain was coming down hard on us by that point so we skipped it and headed for lunch at the on-site cafe. Good food and lots of choices for even the pickiest preschoolers!
Some of the distances between sites are long, so take advantage of the free shuttle running the loop if you see it going by (very helpful when it started raining on us). This is a great time to wear rain boots if you brought them – the moderate rain could have been a drag, but instead it was just more fun for the kids. Wear rain boots (or sturdy sneakers) to Muckross farm regardless of what you think the weather will be.
Jaunting Cart Ride to Muckross Abbey and Torc Waterfall
Next up on our list of favorite activities was the jaunting cart ride. You can catch a cart right in front of the mansion and the route is up to your family. Torc Waterfall is a lovely and popular destination, but we had been the day before – if you don't plan to go separately, definitely take the opportunity! Since we wanted to go somewhere new to us, our driver took us out to Muckross Abbey. The abbey was originally established in 1448, though parts have subsequently been destroyed and rebuilt. Overall the walls pretty well-preserved and the whole setting is gorgeous. The horses go pretty fast, so bring a jacket and cuddle up with the kids, though our driver offered us blankets as well. Even my less-adventurous child had a blast watching the world whizz by from the well-protected confines of the cart.
Mucros Weaving
The weavers here are well-known throughout Ireland for their quality workmanship. We watched some of the weavers at work in the basement of the house at the end of our tour, and then after a fine lunch at the Garden Restaurant we wandered into the shop. Oh my! We all had a grand time checking out their products that are woven on-site and each of us chose something to take home – even lovely soft kid-sized scarves scored from the sale table.
Grounds – Muckross Gardens and Muckross Lake
No matter what you do during your day at Muckross with kids, take some time to enjoy the huge grassy lawn with gentle hills. You'll see both locals and tourists enjoying the lakefront mountain views as they picnic. We ate on the steps due to dampness of the grass, but the the kids went a little wild and it was all good. It's free to wander/run around Muckross gardens and the lawn in front of Muckross Lake, and a great way to experience Muckross with kids.
Muckross House
If you're visiting as a group of adults or with teens, the house itself may be the star of the show. Construction was completed in 1843 and the decoration is all from that period. The children's rooms were especially interesting, with toys and other personal effects on display that you don't normally see in historic homes. We also liked seeing the basement kitchen, with some of the original "appliances" on view.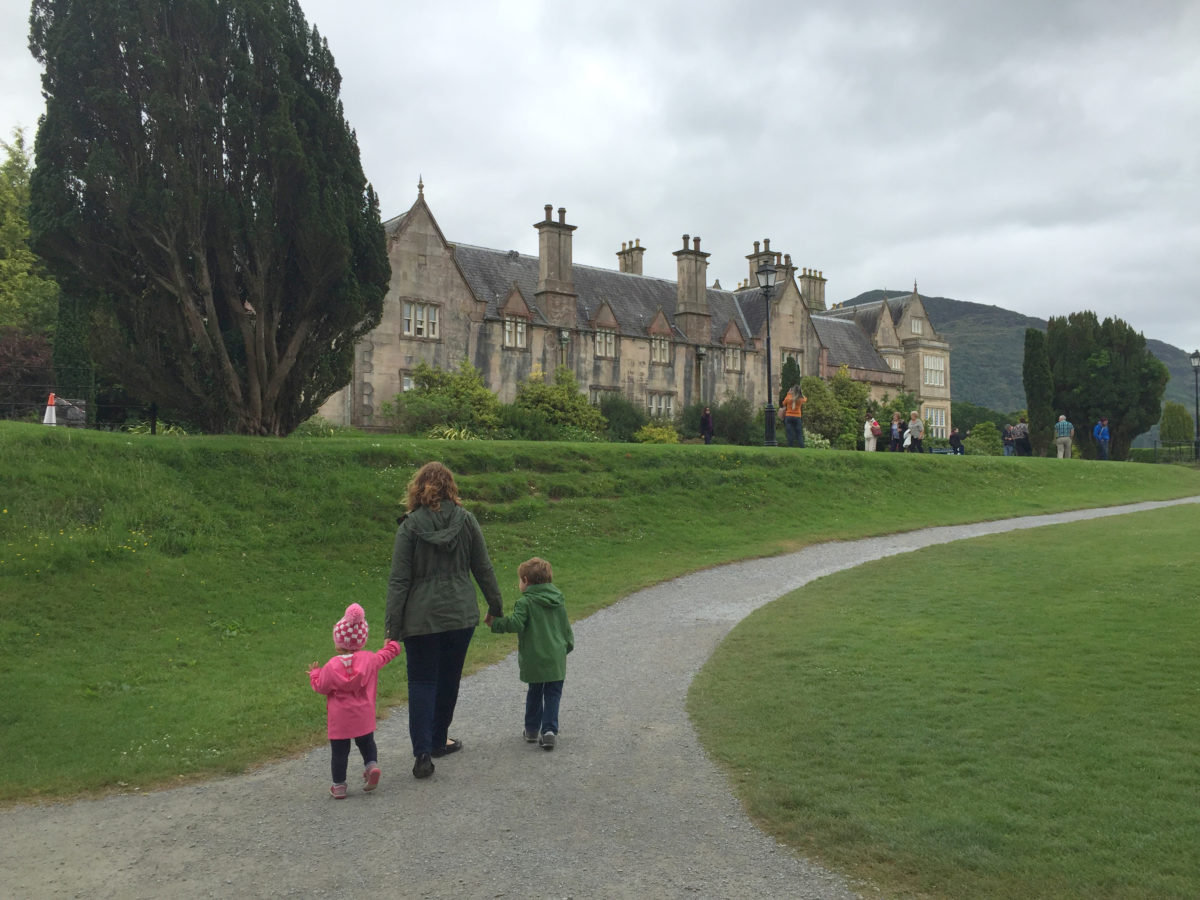 That said, the only way to visit the house's interior is on a guided group tour. The tour is rather long and very detailed; it's also stroller-free. At ages 2 and 4.5, our kids just weren't having it! Thankfully we had one Tula baby carrier with us, but Shoshana was too antsy to stay in it so we swapped the kids and I ended up with Jacob riding on my back while Shoshana flailed and complained in Ronnie's arms. A few parts of the tour engaged our kids, but even on their best day it would not be a good fit for them. Visiting Muckross House with kids wasn't great for us. There may be other kids who are more interested in the subject or just more patient for whom the tour would be enjoyable!

Want to see the rest of our Ireland with Kids trip report?
Links