A reflective note several years later: you know how sometimes you do something that seems cool at the time, and then after you think about it more you wonder WHY on Earth you did it? That's how we feel about taking our kids on the Gap of Dunloe bike ride a few years later. The switchbacks on the descent were, in retrospect, terrifying. We recommend this ride for experienced, confident cyclists and would not take our kids on it again now knowing the risks. Every traveler has a different risk tolerance but don't say you weren't warned.
Staying for a week in Killarney was the highlight of our time in Ireland. There are so many fun things to do in Killarney with kids, all offering the opportunity to step away from our typical routines in the US. And now we get to talk about one of the coolest things we did in Ireland (or possibly anywhere else), our Gap of Dunloe cycle trip. Many will follow!
Read the rest of our Ireland with Kids trip report or get more Europe travel inspiration
Ronnie and I both love biking, though I would never describe us as "serious cyclists". No, we like to cruise down the beach path in LA for 6 miles and then turn around and bike the 6 miles back. Every now and then we'll do the somewhat hilly Ballona Creek trail. But our excursion to the Gap of Dunloe (Dún Lóich) and back was like none other. The basic route was a one-hour boat ride followed by a 15+ mile bike ride. Check out this map of the Gap of Dunloe cycle route.
Use the interactive map to find vacation rentals and hotels in Killarney
---
Prep: Killarney bike rental
The day started with a fitting at O'Sullivan's Cycles in Killarney (we rented from their Muckross Road location, very close to our lodging and the point of embarkation for the boat trip). O'Sullivan's is a very reputable Killarney bike rental shop and they can provide a wide range of equipment for your crew's needs. Our plan was for Shoshana to ride on a rear-mounted seat on my bike and for Ronnie to pull Jacob in a single trailer.
When we arrived, our gear was all set and just needed seat adjustments. Except that I had been set up with a bike whose frame looked like a beach cruiser, with wide-set handlebars. We knew the ride would be intense, so I tried things out in the parking lot to make sure I'd feel comfortable. In that moment, I was so glad to be a vocal advocate for myself – I felt that I could barely maneuver the bike safely and had no idea how I could possibly make it through the ride on that bike. The manager switched me into a more traditional hybrid and also switched Ronnie's single trailer to a double to accommodate both kids. Double bonus for me!!!! With the adjustments made, we set off on the lovely flat road to meet the boat at Ross Castle in Killarney National Park. In general, cycling in Killarney is fairly easy thanks to the flat ground in and around town.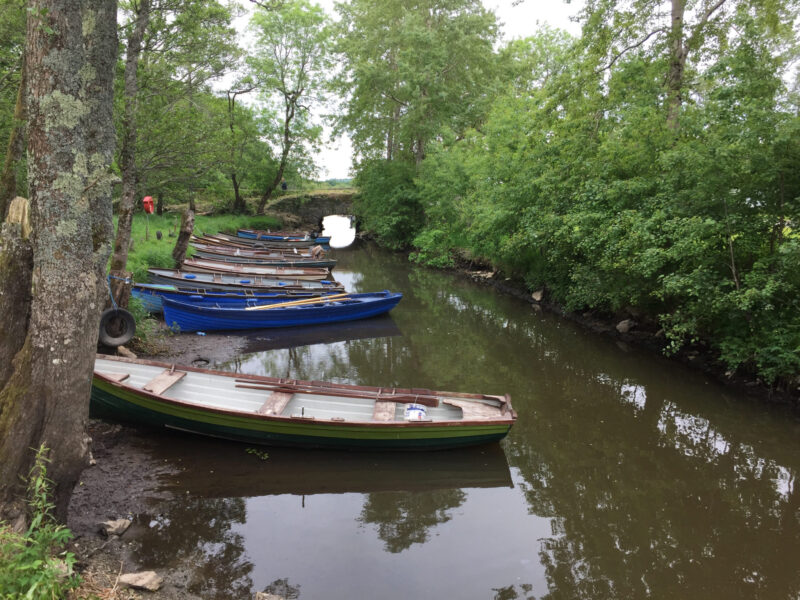 Boat ride through Killarney National Park
There are multiple companies that run the boat trips and ours was a pleasant experience. Be advised that they did not have a life vest that was appropriately sized for our petite 2yo. I don't know about other companies, but it's worth checking in advance. Other than fighting Shoshana to keep on her oversized life vest, the trip through the lakes of the park was breathtaking. We went through three lakes, under storybook bridges and even had to disembark and hoof it on a path through a narrow section while a few of the men helped Captain Don (and his four-legged sidekick Buddy) guide the boat. Eventually our boat trip concluded on the far southern end of the park, where we enjoyed a picnic by the water and steeled ourselves for the ride ahead.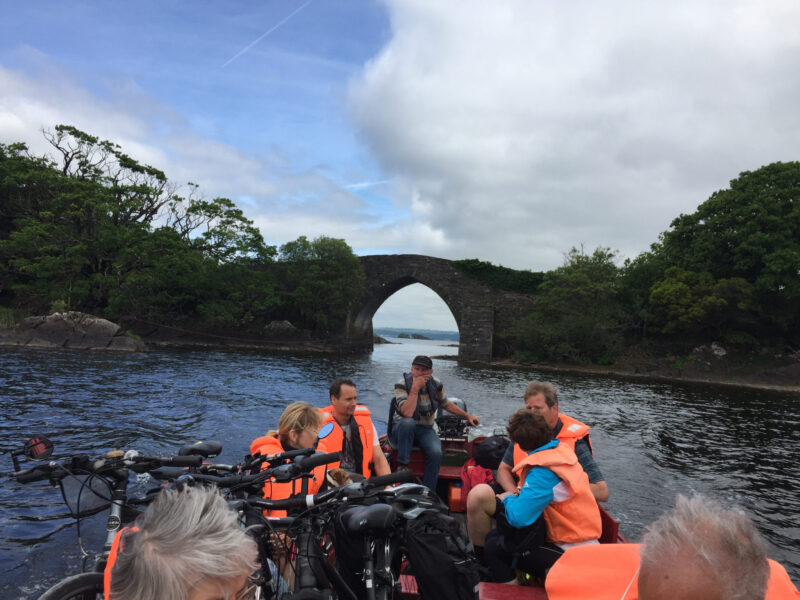 Gap of Dunloe bike ride
As it turned out, the ride required more fortitude than we could have imagined. The first leg was a mild grade that I handled easily, but poor Ronnie was towing over 80lbs of kids, trailer and panniers. One of the pannier straps kept getting stuck in his wheel, which led to huge frustration but also a new friendship. The Good Samaritan lived just outside the park boundaries and was hiking the Gap of Dunloe in preparation for his third journey on El Camino De Santiago, but was casually familiar with bike repair. By the time everything was properly arranged, he had helped Ronnie three times!
The good news about having bike trouble in the farthest corner of a park in a beautiful place is that you get to savor the views. The spring flowers were in full bloom and the sheep were around every corner (sometimes hanging out on the road). Fortunately car traffic in that area is limited to the few residents, so we had no concerns about riding on the road. Once we got to the top of the mild grade section (which lasted a few miles and rose perhaps a thousand feet), we saw the real challenge of the ride: another 2000 feet of elevation gain on switchbacks going up a mountain.
Reminder: Ronnie's bike had 80lbs attached to it. I rode a bit here and there, but for the most part the we walked up the mountain chatting with our new friend while the kids napped in the trailer. This part of the trip could be described as walking the Gap of Dunloe! My husband is a CHAMP. He earned his stripes as a pack mule that day for sure. The reward at the top made the challenge worthwhile. See for yourself.
What goes up must come down. WHEEEEEEEEE! We flew down the mountain and around switchbacks, stopping often for pictures of the remarkable landscape. This section of the ride does start to have some car traffic, so be mindful around the sharp curves. The majority of the descent lasted around 20 minutes (with my brakes squealing all the way) and then we landed just outside a little cafe and… horses?
It turns out that the other way to see the Gap is in a horse-drawn cart. We had seen a few as we descended but didn't realize that we'd see a dozen just hanging out on the side of the road at the bottom. The kids were getting a little restless so we didn't get them out to stop, but we've heard that Kate Kearney's Cottage is a wonderful place to stop for a snack. Once Ronnie and the kids caught up with me, we regrouped and headed out to ride back to town, mostly on low-traffic country roads through rolling hills.
There were long stretches where we saw no cars or perhaps one every five minutes, though the last part of the ride held a few tricky parts along a narrow, high traffic road; however, I suspect we may have gone off-course at some point. While I wasn't especially worried about that section, Ronnie isn't as experienced with cycling as I am and he was hauling precious cargo; I could tell that his nerves were getting frayed. When we saw that opportunity to hop on a path into the park we gladly took it and rode in peace the rest of the way back to the bike shop. Overall despite a few challenging moments, the Gap of Dunloe cycle was one of our favorite activities in Killarney.

Reward on tap
The best part about renting from O'Sullivan's on Muckross Road? It's next door to Killarney Brewing Company! Ronnie's a big beer fan and always loves to try local brews when we travel. He rated each beer from Killarney Brewing Company "outstanding" (he favored the Blonde Ale, I prefered the Extra Stout) and had a great chat with the owners while I wandered the gift shop and the kids (partially) destroyed the very sophisticated sound system/ate a snack. Fortunately the guys didn't mind the intrusion and my hero husband got his reward after a long day in the saddle.
Caveat Emptor
I'm not sure this ride would be feasible with school-age kids who need to be on their own bikes, and a tandem could be challenging on the ride down full of steep switchbacks. However, O'Sullivan's Killarney bike rental shop recommends a few other routes that have more limited elevation changes and could be great for a family ride.
Want to see the rest of our Ireland with Kids trip report?
Links
We're always looking for more places to cycle with the kids. Tell us your favorites!