Dublin is the beginning of most visits to Ireland for one simple reason: it has the biggest airport in the country, and therefore receives most of the international flights. As I mentioned in our trip report, one factor that helped our decision to visit Ireland was the newly-launched non-stop service from LAX. While Dublin wasn't the focus of our visit to Ireland with kids, it made a great starting point for our trip. We only spent two nights in this charming city, but if we'd had more time a third night would have been even better. Read on for some great ideas on activities to do in Dublin with kids.
Read the rest of our Ireland with Kids trip report or get more Europe travel inspiration
We've arrived!
June finally rolled around and we were on our way! Our flight there was a red-eye, which has its pros and cons. The benefit is that there is less time for the kids to be bored, but the challenge is that no one sleeps especially well or long enough. Overall, the kids did great and it was the first time Shoshana watched a movie for more than five minutes without asking me to un-pause it. Yay! As you can see, they even got some rest.
By the time we landed in Dublin, got our rental car and drove to our Airbnb apartment it was mid-afternoon. We were greeted by one of the most charming vacation rental hosts we've ever had, a single young man in his 20s. Let's say that while he was sweet and helpful, the apartment wasn't quite what we had expected – it was newly acquired and the facelift wasn't quite (picture a spare washing machine hanging out in the living room).
The other minor complication was that our kind host had gone to the local Mothercare shop and explained that he needed a small crib to use for guests in the apartment, but when we arrived in the master bedroom we saw before us a Moses basket and several teeny tiny little sheets. For an almost two year old. Ronnie is a kind soul and told him we'd make it work; I am a practical woman and suggested that he'd be better off exchanging it for a travel cot and showed him which one to buy on the Mothercare website.
Needless to say we were relieved to see that the living room sofa was actually a daybed that opened up to full size. A few strategically placed pillows later, Shoshana was in big bed heaven! Jacob was also a very happy camper, with his own bedroom and full-sized bed. While we had to work a little that night to convince Shosh that it really was bedtime and that really was her bed, everything worked out well in the end and we were reminded of the importance of flexibility.
We're fortunate that we didn't run into any bad weather during our time in Dublin. But if you happen upon a rainy day in Dublin, try out these kid-friendly indoor activities!
Looking for a special place to stay near Dublin? How about a castle!
Want to see our best tips for how to handle time zone changes with kids? Click to find out!
Use the interactive map to find vacation rentals and hotels in Dublin
---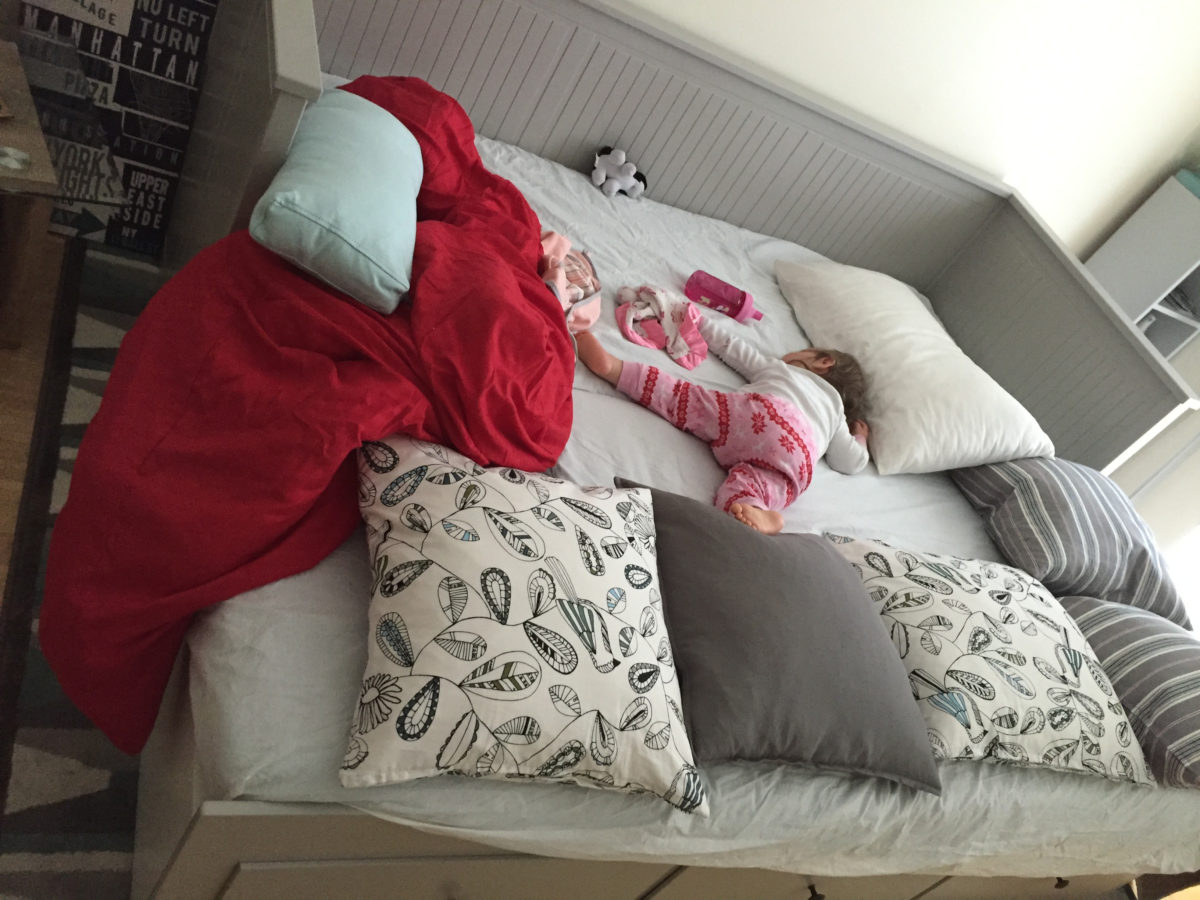 A grand evening in Dublin with kids
In addition to the beautiful weather, another reason to visit Ireland in June is the bountiful daylight, with sunsets after 9pm. To adjust as quickly as possible we headed out for a stroll to find some dinner and soak in the ambiance. Though it's certainly a city, Dublin is a far cry from Los Angeles – smaller, much older buildings, open spaces, pedestrians everywhere. We wandered down to the tourist-heavy Temple Bar area and found ourselves a classic dinner: fish and chips.
It would be an understatement to say that I ate a lot of fish and chips during our time in Ireland (we do not eat pork or shellfish and I also don't eat red meat, so pickings were sometimes slim). We managed to get some food into the kids while plotting out our activities for the next day. On our way back to the apartment, we made the all-important grocery stop so that we'd be set for a quick breakfast in the morning. Don't forget to bring a packable, re-usable grocery bag! Perfect for bringing food back to your apartment and then packing a picnic lunch. We often used the bread bag to pack our sandwiches for the day if there were no storage bags provided in the apartment.
Pro tip: If you're visiting Dublin with kids, bring a single stroller. You'll see that on every international trip we've taken, even with two kids. First, it makes life much easier when lugging the stroller down the jetway in its gate check bag. Second, cars in other countries are much smaller and we have to fit luggage too. Third, and most important, in many cities and towns the shops and restaurants just aren't built to accommodate huge strollers. During our walk to dinner, the little one fell asleep; since our ride was pretty narrow, we were able to park it next to us on the patio and let her rest until the food came. We've always managed just fine with a carrier to transport Shoshana when necessary.
Exploring Dublin with kids
After we all slept like babies, it was time for the real fun to begin. Our sister-in-law Abby and brother-in-law Zack had given us the low-down on touring the Guinness Storehouse, which was just around the corner from our apartment. The main area has a great self-guided tour to learn about the brewing process, though it is definitely geared more to adults than kids. However, upstairs there are sections dedicated to the trains and boats used to transport Guinness through history and the some the company's cheeky advertising over the decades. These areas completely won over the kids!
Want to skip all the wondering and planning? Get the perfect 10 Ireland itinerary, ready for you go book from start to finish.
Behold the crown jewel of the Guinness Storehouse:
But grown-ups need some fun too, so we headed to the Guinness Academy to learn how to pour the perfect pint. We were initially disheartened to walk up and see a huge line, but the manager saw us with the kids and immediately ushered us into an empty Academy room in the back rather than making us wait. Talk about kid-friendly! Within five minutes the rest of the "class" had arrived and the lesson began. We learned all the secrets to pouring the perfect pint (hint: it's all about angle and timing) and then got to enjoy our beers while we headed up to Gravity Bar to take in gorgeous panoramic views of the city.
After lunch at the Storehouse, it was time to head out for our stroll to the other side of Dublin for a visit to Trinity College and its world-famous library. Naturally, Jacob fell asleep on the way there and slept through nearly our entire visit. I'd highly recommend the tour – tickets were only a few Euro but our engaging tour guide, a recent graduate, really made the history of the school come alive and provided wonderful context. After the tour we were able to visit the library, "The Long Room", which is even more spectacular in person than in pictures. Fun fact: within each row, books are arranged with the largest on bottom and the smallest on top. Head downstairs to see the famous Book of Kells, a 9th century illustrated gospel. If your kids love their local library, a visit to Trinity offers a great sense of perspective!
Looking for a fun twist on the usual tourist route? Check out this great Dublin scavenger hunt!
Once we finished touring, we took advantage of the perfect weather and the grassy quad of the College to give the kids some freedom. Shoshana quickly befriended an Italian girl and they played and shared snacks like old friends. Once the girls dispersed, it was time for us to start thinking about dinner – between Ronnie and the kids, someone is always planning their next meal. We strolled back to the popular Temple Bar area and found a friendly Italian restaurant where we felt confident that our picky kids would leave with full bellies.
Visiting without the kiddies? Check out this awesome grown-up itinerary to see all the best of Dublin in two days.
More importantly, it was just a few doors down from The Parliament Hotel's Legends Bar, where we learned that we'd be able to catch some music on the early side since it was a Sunday evening. The musicians were young Dubliners and they brought amazing energy to the evening. It was our favorite live music performance of the whole trip! Enjoy a snippet here:
And now I'll explain the origin of this post's title, Music and Milk Snacks. Our strategy for keeping the kids happy while we enjoyed adult beverages and live music revolved around milk. A tall glass of cold milk, a warm mug, or even a bowl of ice cream – and no complaints from the kids! For the duration of our trip, Jacob asked nearly every night after dinner to go for "music and milk snacks". It worked out perfectly for our family – most nights music started at 9pm, which is the same time that kids are technically supposed to be out of pubs. We usually stayed until 9:30 and got the kids to bed by 10 or 10:30, which is a typical vacation schedule for our family.
Want to see the rest of our Ireland with Kids trip report?
Links
Next stop: an unexpected stop at the Rock of Cashel en route County Kerry
Have you visited Dublin with kids? What were your favorite experiences?