Do you need to bring a car seat when traveling? Whether or not to bring a child's car seat for travel and how to fly with an airplane car seat without going crazy are always burning questions for family travelers. We've been through these issues traveling with a car seat many times with our own children over the years – including travels through six continents with newborns through grade schoolers.
In this post we'll try to address the most common questions about car seats and travel that we hear when parents are planning a big trip with little kids. We'll show you how to travel with a car seat, how to find the best travel car seat for your needs and our best hacks to make traveling with your child's portable car seat for travel easier!
Why flying with a car seat is your best choice
Let me start by acknowledging the top reason why some parents elect not to bring their children's car seats when they travel: convenience. Lugging a child safety seat, especially a bulky toddler car seat, through airports and across continents just isn't as much fun as not taking it, right? (Not nearly as much hassle if you have a lightweight car seat for travel, of course – keep reading for the best carseat for travel for your family.)
Now that we have that out of the way, there are so many reasons why you should bring your child's portable car seat for travel.
Safety on the airplane
According to the FAA, children under 40lbs are safest in an approved restraint (though they're wrong about forward-facing at 20lbs!). There are loads of FAA approved car seat choices that are lightweight and easy to use – check out our recommendations below for the best car seats for airplanes. There are two times when it's critical to have babies and small toddlers properly restrained: during take-off and landing (in case of abrupt actions) and during in-flight turbulence.
There have been enough viral videos over the last few years showing just how rough turbulence can be, and we've had some terrible trans-oceanic flights with our own kids when we've been glad to have them properly strapped in. If the coffee pots need to be tied down, your kids do too! A parent's arms aren't strong enough to hold a 2yo in heavy turbulence, making him a projectile – a risk to the child and the other passengers. Flying with a car seat is the best way to keep your child safe in the air and on the runway.
Even if the child has a seat, the FAA has been clear that standard airplane seat belts alone won't keep a child under 40lbs properly restrained. What should you do for lighter toddlers? The CARES harness could be a good solution. It adds shoulder straps to a standard airplane seatbelt. It's rated for 22-40lbs, though real-world feedback from other parents indicates that it fits best beginning at 30lbs. Smaller kids run the risk of "submarining", or sliding down under the lap belt.
Pro tip: A booster seat can't be used on the plane, but your child can take it as his carry on! An "FAA approved booster seat" likely refers to a combination seat like this one that we love, sometimes called a booster car seat with harness. These can be used only in harness mode on a plane.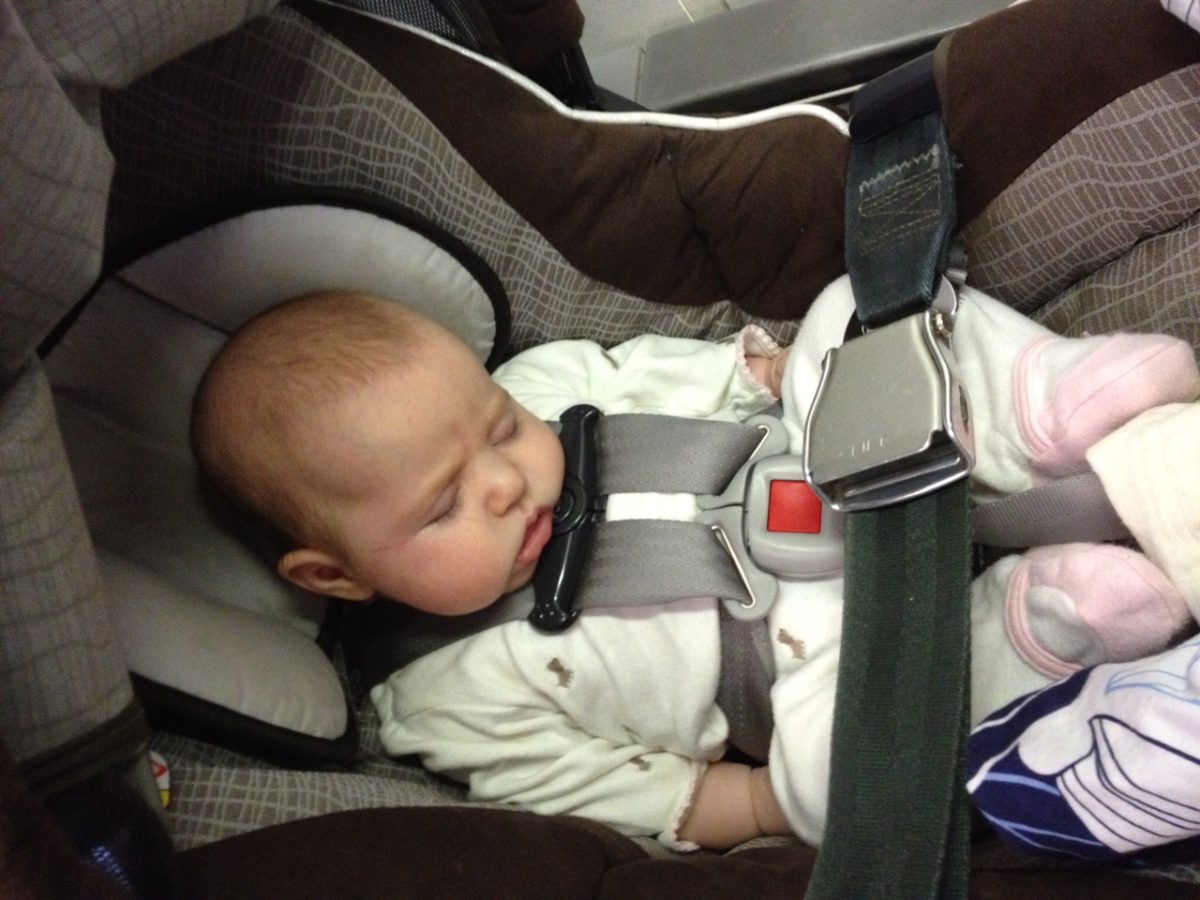 A word about checking car seats on a plane: it's not recommended for several reasons – read all about the risks here. Have you ever had a suitcase damaged by baggage handlers? I have! But at least it wasn't a life-saving device.
I've seen videos of car seats, even those that were gate checked, being tossed around during the loading and unloading process. There may be no visible signs of damage when you get your car seat back, but there could still be undetectable stresses to the material that would diminish the seat's ability to protect your child in a serious accident.
My children have been in a major car accident that left both cars totaled and I'm grateful that they were in car seats that had not been compromised in any way – they both walked away without a scratch or a bruise. The car seats, however, had to be trashed and replaced. They're a "single use" item in the sense that once they've borne the stresses of an impact, they can't be relied on to do it a second time.
The other potential problem with checking a car seat is loss; most of us have had suitcases lost by airlines as well. What should you do if your car seat is misplaced by the airline? First, make sure to file a claim before you leave the airport. Second, if you're traveling with two adults leave one at the airport with the kids and send the other in a taxi or rental car to the closest store to buy a new seat.
Traveling with a car seat offers comfort on the airplane
Do you sleep well on long-haul flights? Me neither. But our kids have generally slept better than us thanks to traveling with a car seat! Especially when installed rear-facing, kids get a much more comfortable ride than the rest of us. Young ones can even prop their tablets against the seat back for their own in-flight entertainment system.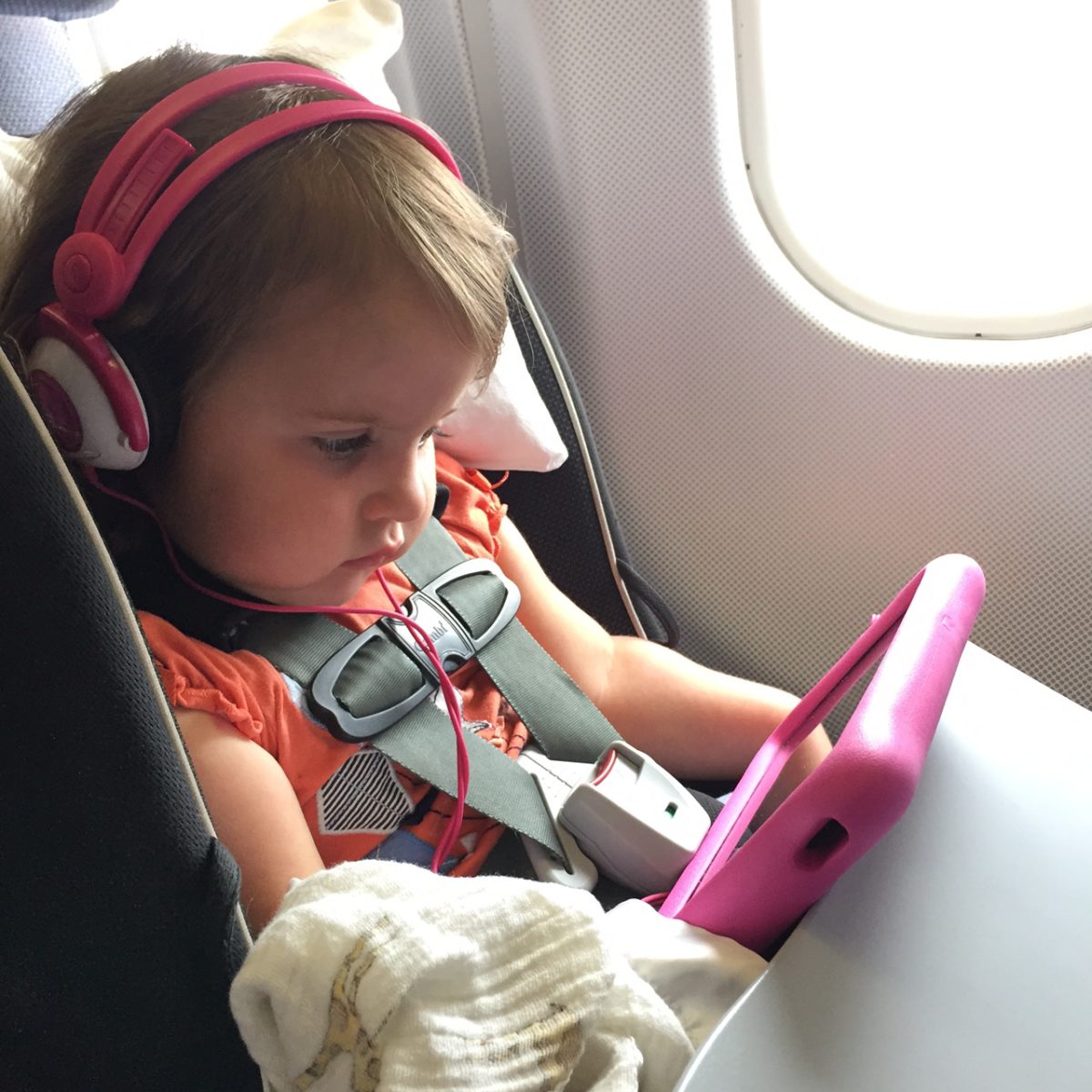 Safety on the ground
Once you arrive at your destination, your child will need a car seat or booster seat if you plan to ride in a car. Can't you just rent a car seat? It's not ideal. You have no way of knowing the history of the car seat you'll be provided: Was it in a supposedly-minor accident that could have left it compromised? Were the straps washed in a way contrary to manufacturer instructions?
There's also no way to ensure that the seat provided will be one that you think is appropriate for your child's age and development. A car rental company may say that they have a seat for your 18mo baby, and that could be a forward-facing only combination seat.
You'd potentially be left in a lurch if you realize that the American Academy of Pediatrics recommends rear-facing until 2yo at a minimum, but ideally as old as 4yo. Even worse, some of the bargain-priced seats that rental car companies stock may be outgrown early and there may be no seat available that fits your child.
Special note on car seats in Australia: Australia only permits seats that are approved by Australia or New Zealand, even for short term visitors. Enforcement isn't uniform across the country, but we've heard that it is enforced in Victoria (Melbourne) and New South Wales (Sydney) even if your seat is considered perfectly safe in the US or Europe. For this reason, we decided to rent seats for our epic road trip from Melbourne to Sydney.
The seats were dirty when the rental company initially tried to give them to us, so I insisted that they at least wipe the crusty food off. They offered to install the seats, but were about to put the convertible car seat in before I had a chance to adjust the harness height – good thing I was paying attention! Though the staff are supposedly trained on how to install the seats, they were not able to install either the convertible or the high-back booster safely so I did it myself. If you ever have to rent seats, please make sure to adjust them appropriately and either install yourself or closely inspect the installation if someone else does it! Read more about traveling with car seats in Australia.
---
How to transport your car seat through the airport
How do you travel with a car seat?
One of the biggest reasons parents don't like to bring a travelling car seat on the plane is the hassle of getting through the airport. Look, it's definitely more of a hassle than not lugging a seat through the airport. But there are a few great options for how to take a car seat through the airport and how to fly with a car seat that will make your life easier.
Infant car seat + travel system stroller (or specialty travel stroller)
If you plan to bring your infant car seat, an easy solution is to bring a matching stroller that allows you to clip the seat in directly. You can transport the car seat that way around the airport, and if you plan to take taxis at your destination you may opt to bring the car seat around with you since there won't be much extra hassle. Here are some of the best travel systems that work well for families on the move:
The most drool-worthy of these for jetsetting families is surely the Mountain Buggy Nano Protect travel system. The Mountain Buggy Protect car seat weighs in at just 8lbs, while the Nano stroller weighs only 13lbs and can fold up to the size of carry-on luggage and fit in the overhead bin. That's a huge time saver considering that we've sometimes waited for 45 minutes at the end of the jetway for our gate checked stroller, or worse haven't received it until the baggage claim area.
Does the Mountain Buggy Nano stroller sound great, but you already have your own infant seat to use? The Nano also offers the option to use an included belt to secure any infant car seat to it! You can even use the strap to secure a small/medium size travel toddler car seat. It we were going back to the beginning of our stroller buying days and this was available, you can be sure we'd own it. Check prices for the Mountain Buggy Nano stroller here.
If you buy a Nano, one of the best hacks we've seen is to clip on these backpack straps to make carrying it even easier!
Use your regular stroller as a trolley
Our favorite strategy for transporting car seats through the airport is to use the stroller! There are a few different configurations and it depends in part on the stroller and car seat you have.
If you're bringing a small car seat like an infant car seat or my beloved Combi Coccoro car seat as your airplane car seat and your stroller has a big basket with good access, you can try tucking the car seat underneath! We've done this many times with our Baby Jogger Versa (now the Baby Jogger City Premier) and it would be a great strategy if you have the Uppababy Vista or Uppababy Cruz.
If you have a short, lightweight travel car seat (check out our recommendations below for portable car seats for travel) you can also extend the canopy of your stroller and rest it on top with the car seat upside down. I'd only recommend this trick if your stroller has a big canopy like the Baby Jogger line or the Uppababy line (I've done it with our G-Luxe). Obviously this configuration can be more precarious than the basket, but it does the trick for getting through the airport.
Pro tip: If you're doing this with a lightweight convertible car seat like the Combi Coccoro convertible car seat or the Cosco Scenera, try looping the attached top tether strap around the stroller handle bar for extra stability.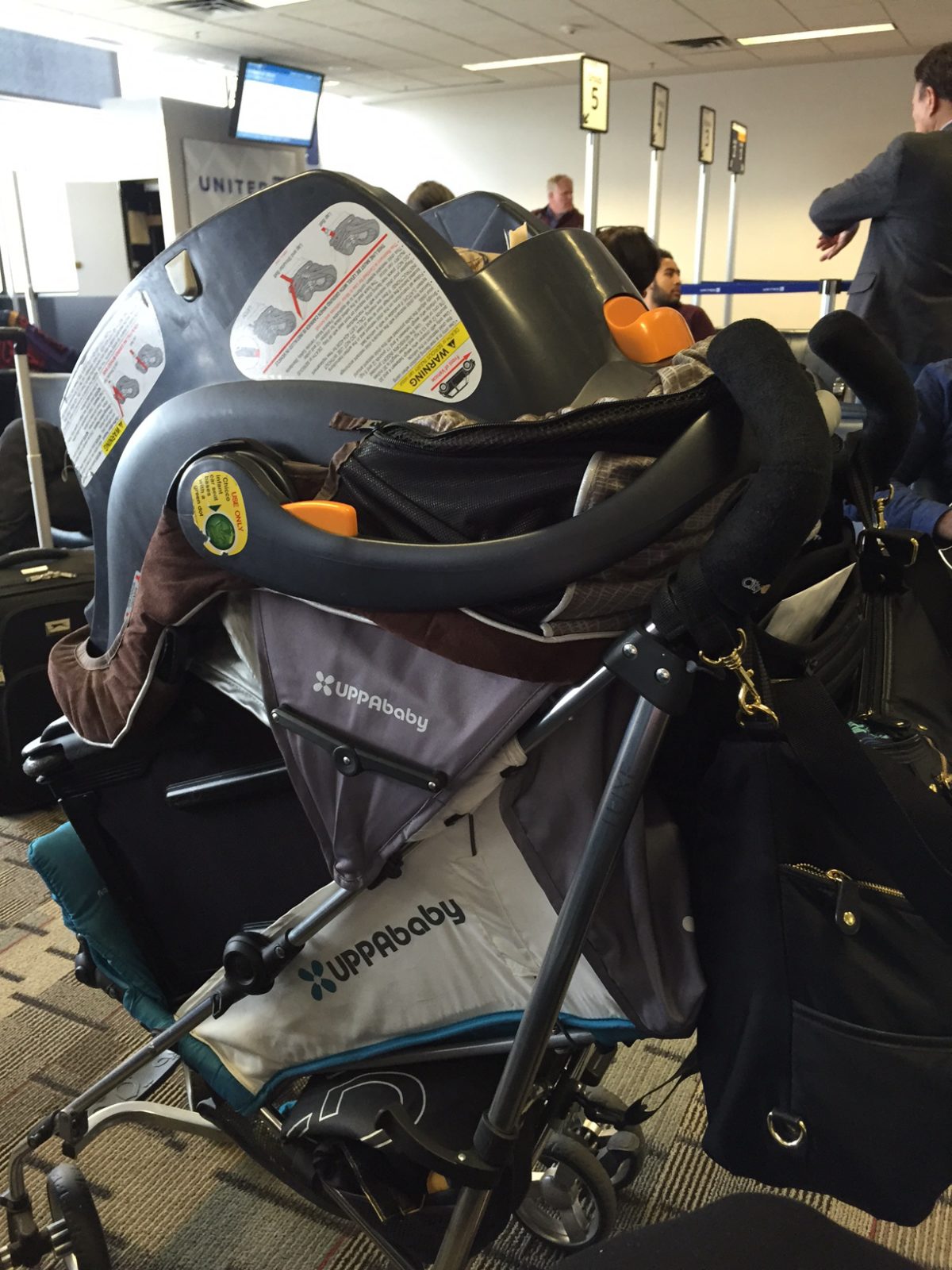 The easiest place to put a car seat when traveling through the airport is in the stroller seat itself. We do that very often, typically with the stroller seat reclined fully, and then we pile our carry on bags in the car seat. The kids either walk or ride in our Tula carrier (we started with the standard size, but have now upgraded to toddler size). The Mountain Buggy Nano can be a great choice for this strategy thanks to its built-in strap for attaching car seats.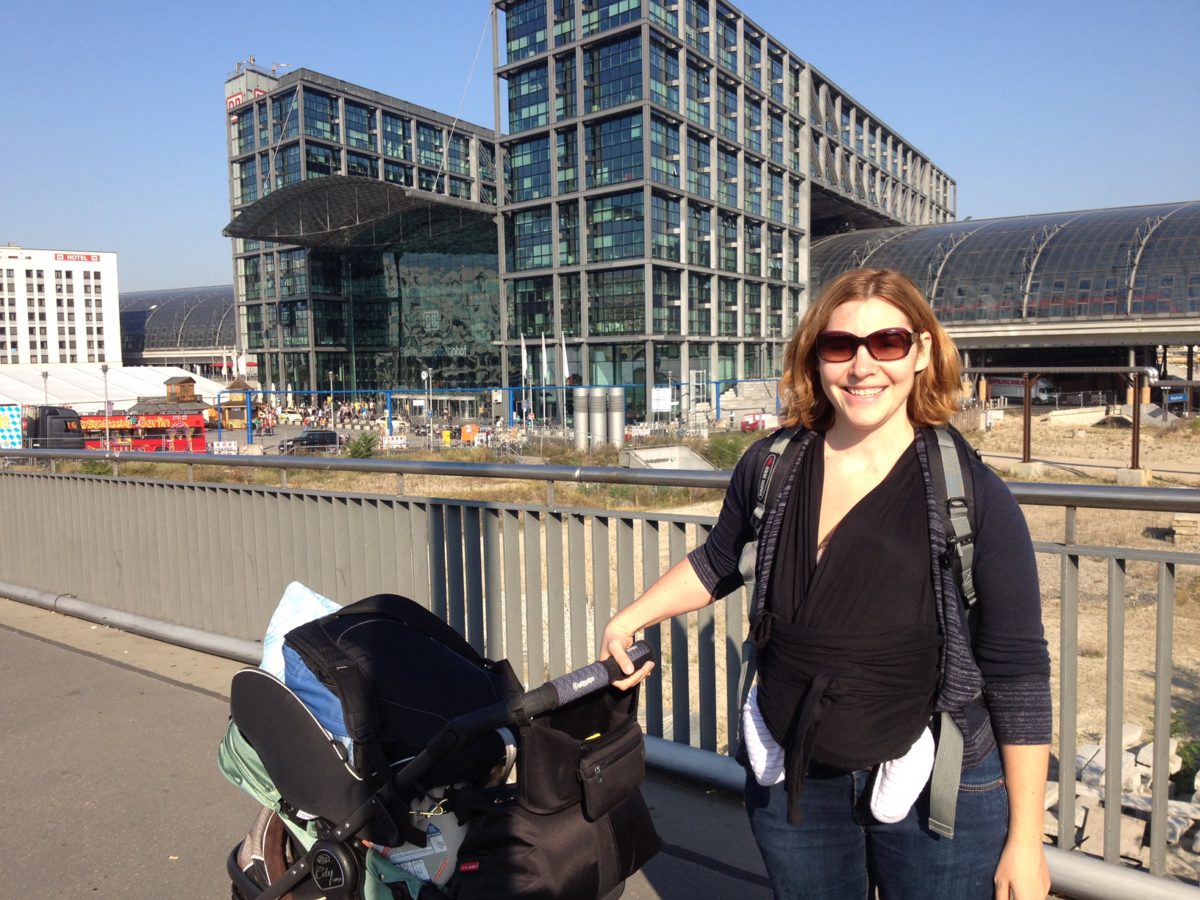 Car seat transporter accessories
Read more info on how to get your car seat through the airport
If you don't mind buying another accessory, there are a few accessories you can buy to ease the burden of transporting your stroller through the airport.
Car seat travel cart
A car seat travel cart (sometimes called a "car seat dolly") can be a great help for getting through the airport. These carts essentially add wheels to your seat so that you can pull it along like wheeled luggage – all while your child is riding comfortably! You can even wheel it straight down the aisle of the airplane and then fold the car seat cart to stow in the overhead bin. These designs are supposedly universal which means that they'll probably fit your car seat, but they'll also require a few straps to be secure. The Britax car seat travel cart is especially popular.
Car seat strap
Instead of turning your car seat into stroller, you could attach it to your wheeled suitcase! This option is much less expensive and takes up much less space, but it won't work for backpackers. There are a few different strap designs but they all work with the same concept. One time we even used bungee cords to do the same thing (though I can't say that option worked as well as I'd hoped). Check it out here.
Standard rolling luggage cart
If you'd rather not buy a specialized product, you can always just take the car seat on a standard folding luggage cart. They're affordable and you can find lightweight models, but please don't try to let your child ride along through the airport.
Car seat backpack with wheels
One final option is to buy a car seat backpack with wheels. It's still not ideal to check your car seat in one of these bags, as they really only protect from cosmetic damage rather than structural damage or loss. That said, they give you several different options to make it through the airport in one piece!
---
How to install a car seat on an airplane and how to fly with a car seat
In many ways, installing your car seat on an airplane is much easier than in a car! Just thread the airplane seatbelt through the belt path of the car seat and tighten as much as possible. It may be a little easier to install with the armrest up and then put it back down (as is required for take-off and landing). However, there are a few potential pitfalls to be aware of:
-For some car seats with a long, complicated belt path, you may need a seatbelt extender. We've flown with five different car seats and never needed one.
-For some car seats, you may need to twist the seatbelt one time when you put it through the belt path so that the buckle doesn't get stuck against hard plastic when you try to open it.
-If the buckle is pushing on the back of your forward-facing kid, try padding it with a sweatshirt. You can also try looping the seatbelt around the arm of the airplane seat to adjust the length.
-If your baby in an infant seat is messing with the buckle (#btdt), try flipping it so the buckle opens down toward the feet.
-Make sure your car seat has "approved for aircraft use" or similar verbiage on the label.
-Some airlines have seat width limits, but all of our travel car seat suggestions above should fit between the armrests just fine.
---
Do you need a travel car seat when traveling? Everything other than flying with a car seat
Taking a taxi with a car seat
Just because local car seat laws don't require kids to be in a car seat, that doesn't change the laws of physics. Kids need to be in a rear-facing car seat until at least 2, a forward-facing car seat until at least 4 and a booster seat until they can pass the 5-step test (usually 9 at the youngest).
You can book a taxi or car service equipped with a car seat or bring your own seat (which will likely save you money and time, as you can take any nearby taxi rather than waiting a special one to arrive). There are a few great options for taking a taxi with a car seat, depending on the age of your child. You can read more of our reviews of the best options for a portable car seat for taxi rides below, but here are our basic recommendations:
Infants – Any infant seat will do, just make sure you know how to install without the base by locking the seatbelt or using a seatbelt locking clip. This infant car seat is downright revolutionary and worth considering if you're still shopping for an infant seat and plan to travel often.
Age 1-2 – This is a challenging age! There are a few specialty options like a folding car seat for taxi rides (Wayb Pico in the US, Urban Kanga in Europe), but otherwise the best car seats for taxis are lightweight convertible car seats like you'll find below. Even better, stick to public transit or find a car service that offers car seats. Curious about the Wayb Pico? We have a complete expert review for you to read!
Age 3-5 – You're in luck! You don't have to take a taxi with a child seat, instead you can pick up the Ride Safer Delight vest (pictured below on the left). It's a game-changer for overseas travel and taxi rides alike; check out our Ride Safer travel vest review.
Age 5+ – The best taxi booster seat around is the bubble bum (on the right in the picture below). It deflates to a very small size, but when inflated it offers a consistently good belt fit – in any car, and for any size child within the limits (minimum 40lbs). Many parents wrongly assume that their elementary school age children don't need to ride in a booster seat in a taxi or when traveling, but most kids don't fit properly in an adult seatbelt until age 10-12. You can read our full review of the bubblebum or check prices here.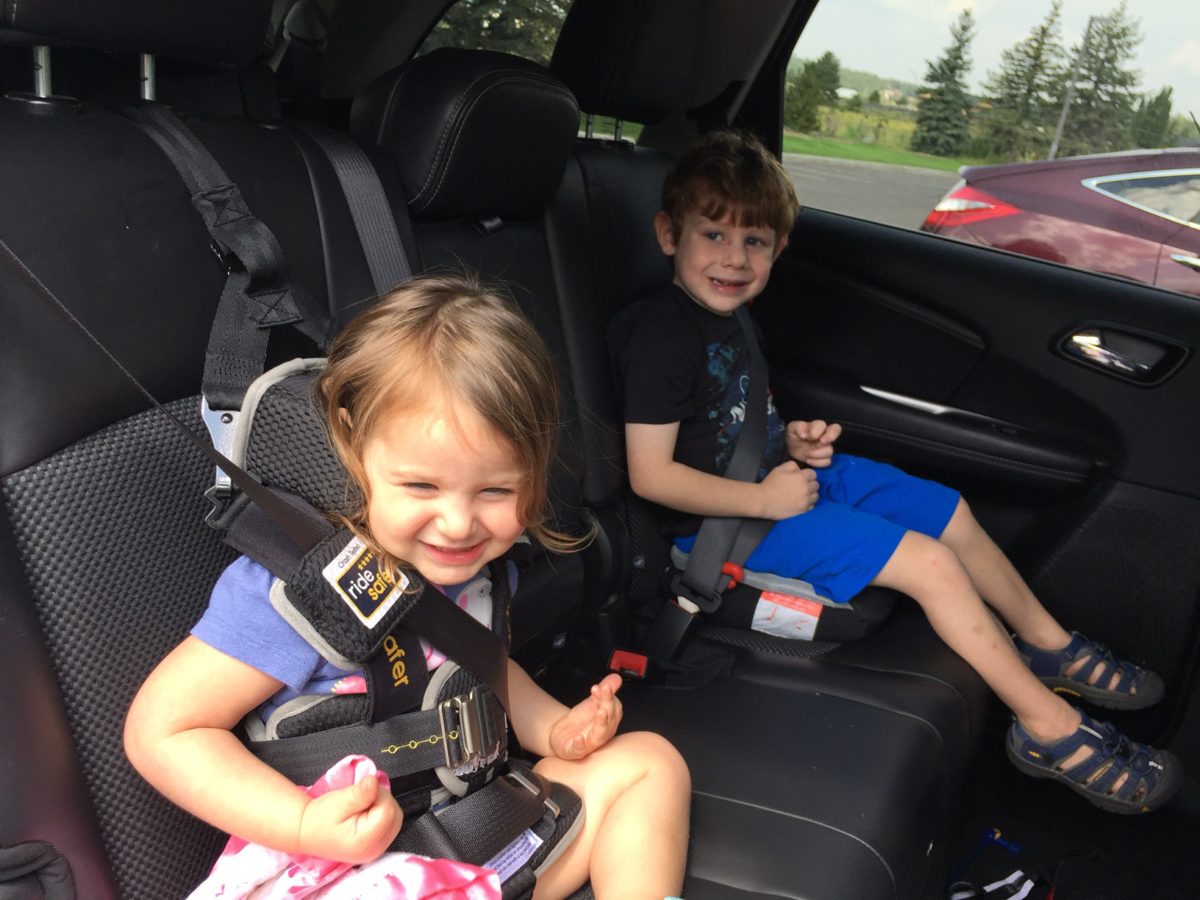 Do you need to bring a car seat for train travel?
No! Children on trains don't need car seats, and there are no seat belts so at best you can store it on the luggage rack (which we've done). That said, if you will be flying and your child is under 40lbs or you plan to take a taxi at any point… bring the seat.
What about taking baby on the bus?
If your ground transportation revolves around buses and you don't plan to take any taxis, you might be able to get away without car seats! Buses have a few safety advantages over passenger cars: they're big, so they fare better in a collision; city buses tend to drive very slowly (though that's not true of long-distance buses); and they are often built with compartmentalization in mind to prevent passengers from flying around. If you're taking long-distance buses and you think (or can confirm) that they'll have seat belts, taking a car seat for babies and toddlers is probably a good idea.
Bringing travel car seats on a cruise ship
Cruises can present unique challenges when it comes to baby gear due to the extremely limited storage space in state rooms. If you don't plan to disembark during your voyage or will remain within walking distance of the ports, you can probably leave the car seats at home and just enjoy you time at sea!
If you'll need your car seat before or after the cruise you can always request that your seats be stored in the cargo hold so that they don't occupy the precious closet space in your room. Cruise ship beds are often propped up high enough to allow luggage underneath, so some of the compact car seats we recommend below may fit underneath (or at least most of the way, with just the base sticking out).
Some large group excursions will use tour buses, in which case you probably don't need to bring car seats (see the bus discussion above); however, if you plan to rent a car, take a taxi or go in a van for an excursion you'll want to pick a portable car seat for travel from the list below.
Planning a road trip instead of a flight? Check out these extra-comfortable booster seats and car seats for long drives.
Do you need to bring a car seat when traveling? Pin this chart for later to help you decide!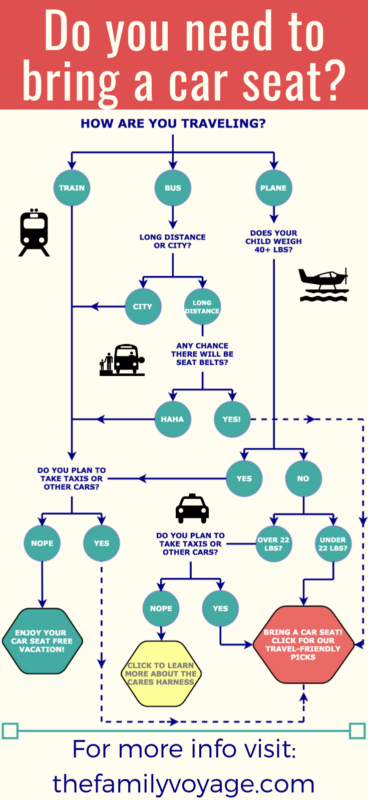 Quick picks: Best travel car seat by age
Ok, so you've decided to bring a car seat on your trip. Which one should you bring? Here are my top choices for the best portable car seat for travel at each stage:
There are a lot of factors that play into whether or not you bring a car seat on your trip, how you transport it, and which car seat to bring. Keep reading to find all of that information (and much more!) in this comprehensive guide.
But if you're just here to pick the best travel carseat for your family, start by checking out our favorites for each age group. Want more info? We have full reviews of all of these best car seats for travel and other portable car seats in our round-up of the best travel car seats. Remember: the best car seat for travel is the one that fits your child and that you actually use when you're out in the world.
We've traveled with nearly a dozen different car seats over the years, and these are our favorites. The only one we haven't personally used is the Doona, which sadly came out after our kids had outgrown infant car seats.
Birth – 1yo

Doona infant car seat/stroller
combination
Miracle car seat has wheels that pop out so you only need one piece of gear for your baby!
Check prices
1yo – 3yo

Combi Coccoro convertible
car seat
Our favorite car seat ever! Light and compact, great for birth to 3yo rear facing and 4yo forward facing.
Check prices
3yo – 5yo

Evenflo Maestro combination
car seat
Lightweight forward-facing harness and highback booster seat. Could last most kids from 3yo to 9yo.
Check prices
4yo – 6yo

Ride Safer Delight travel vest
Car seat alternative under 2lbs but still passes crash tests.
Check prices
5yo+

Bubblebum booster seat
Ultra-light inflatable booster seat that fits most kids from 5-8yo.
Check prices
Good news: nearly every seat sold in the US is an FAA-approved car seat! Just remember that you can't use a booster seat (or the Ride Safer Delight vest) on an airplane.
Read more
You'll find an in-depth breakdown of what to look for, reviews and recommendations in these articles:
–The best travel car seats for 1 year olds
–The best travel car seats for 2 year olds
–The best travel car seats for 3 year olds
–The best travel car seats for 4 year olds
–The best travel car seats for 5 year olds
–The best booster seats for travel
Airplane car seats & travel – wrapping up
Anyone who has traveled with a young child before knows that you have to accept bringing along some extra gear. Just as you wouldn't consider car seats optional when driving around at home, you shouldn't consider them optional on the move. Hopefully some of these suggestions while make travel with car seats easier for your family. Please leave any questions below!
Pin it for later!