Upon arriving in Western Australia we were excited to explore the natural wonders that this stunning region has to offer. We were based in Perth for our first couple of days at a beautiful and spacious home through HomeExchange. Some of the best places to explore are rather remote and require some advanced planning and extensive driving. Since I didn't feel like driving several hundred miles each way, we decided to explore the area with Travel Western Australia on their Pinnacles Magic tour as one of our day trips from Perth. It was a great way to do a Perth Pinnacles tour and to see much more in between! Definitely take a look if you're interested in Perth day tours – it's one of the best things to do in Perth with kids, since they can see so many fun sites in one day.
Get more resources to plan your complete Australia itinerary.

Exploring with Travel Western Australia on day trips from Perth
We arrived at 7:00am at the YHA hostel for our pickup. The YHA is a nice launching point for the tour as they have restrooms inside and easy affordable ($17 for the day, less if you reserve online in advance through Wilson's) parking across the street. We were promptly greeted by our guide Ron at 7:15am and loaded in the van ready to go within ten minutes.
We picked Travel Western Australia because they offer intimate sizes for their tours. With only 20 people on the bus, we had more of an opportunity to ask questions of our guide and to get to know our fellow travelers. The van was spacious and comfortable. Given that it is generally hot in the area, Ron runs the air conditioning full blast. Pillows and blankets are provided to help make travelers feel comfortable (and our kids definitely took advantage of them). Throughout the day we had water, fruits, biscuits and candies available to snack on. At one point the entire candy container ended up with our kids – thankfully no one in our diverse group seemed to mind.
Check out this epic guide to visiting Western Australia with kids!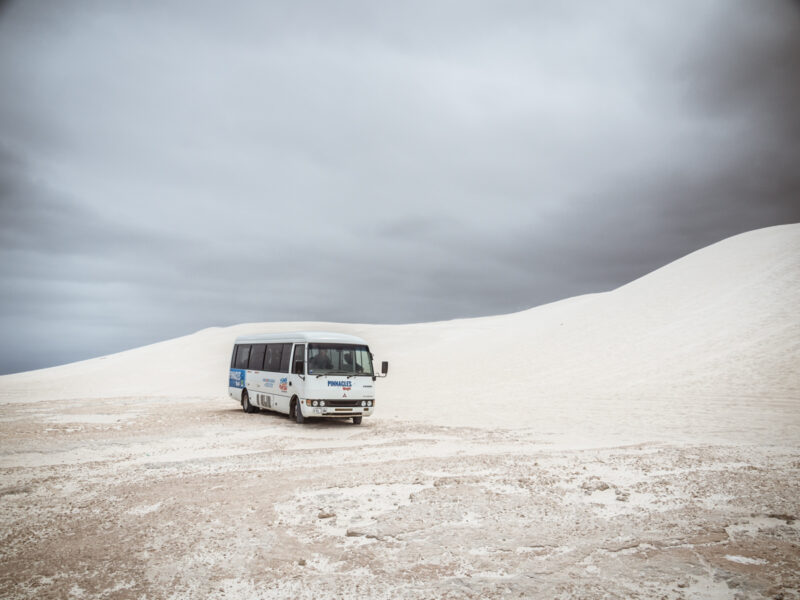 The tour covers a broad swath of territory. With little ones we were appreciative that the outbound leg of the tour was broken down into 45 minute driving segments. It made it more manageable for everyone on board and there were frequent opportunities for snacks and bathroom breaks.
Things to do in Yanchep National Park
For our first stop we visited Yanchep National Park, huge huge sprawling lush green park with much to explore. The park houses a koala breeding program, though these cute furry friends are not native to WA. They were brought to the park in order to bolster the national population. The layout of the koala area allows you to see these marvelous creatures up close. We were even lucky enough to see one of them climb a tree during a brief spurt of activity!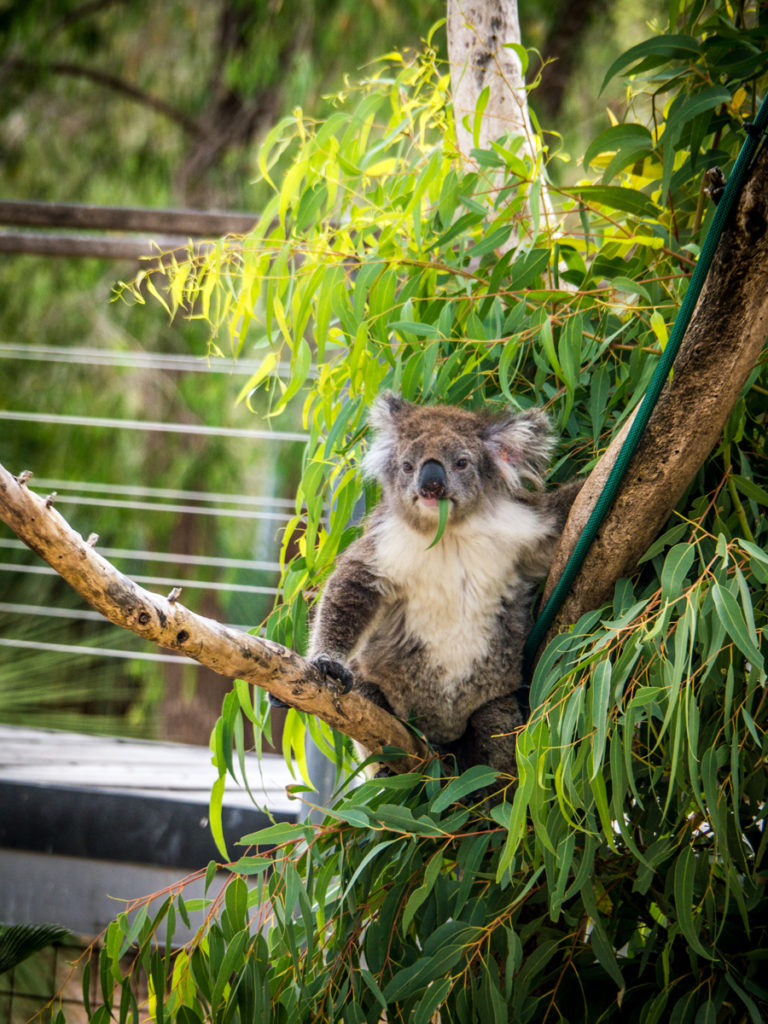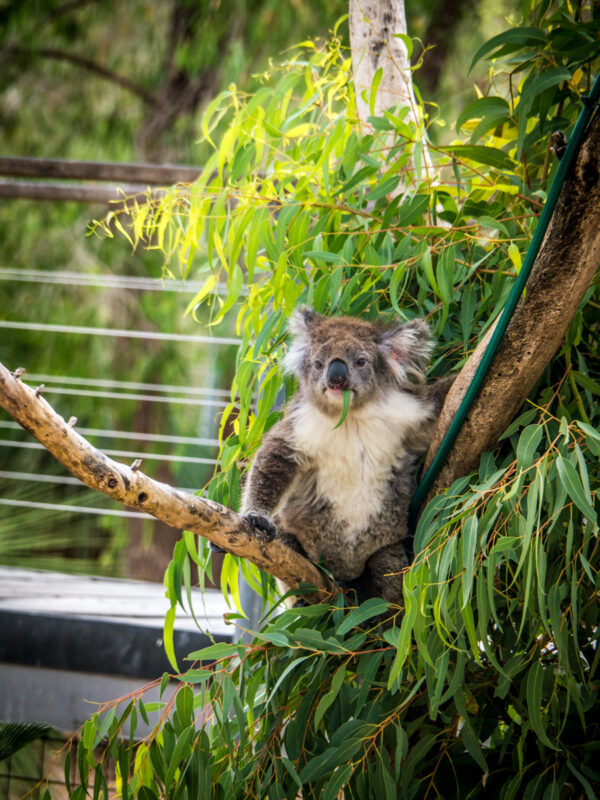 The next area we explored was the Aboriginal discovery center. Our guide Ron explained how the local Aboriginal community uses their natural surroundings to survive. We learned about how the grass tree's leaves are used to build shelter, its seeds are used as a knife and the flower shoot is used as a torch.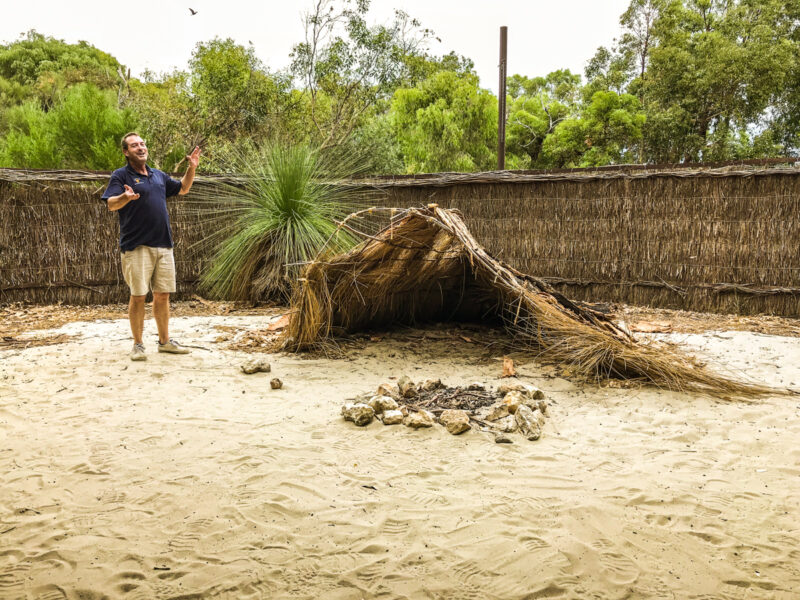 After our time at the Aboriginal discovery center, we walked around the park and saw kangaroos hoping all over the place. Our kids loved seeing these wild animals. We even saw a mommy kangaroo feeding her baby kangaroo in the pouch, which was really very special for all of us even though we'd already seen many kangaroos in Australia. The park also has a beautiful lake, though we were warned to steer clear of the bushes around the lake as they provide a home for the venomous snakes that inhabit the region. Luckily we didn't spot any of those!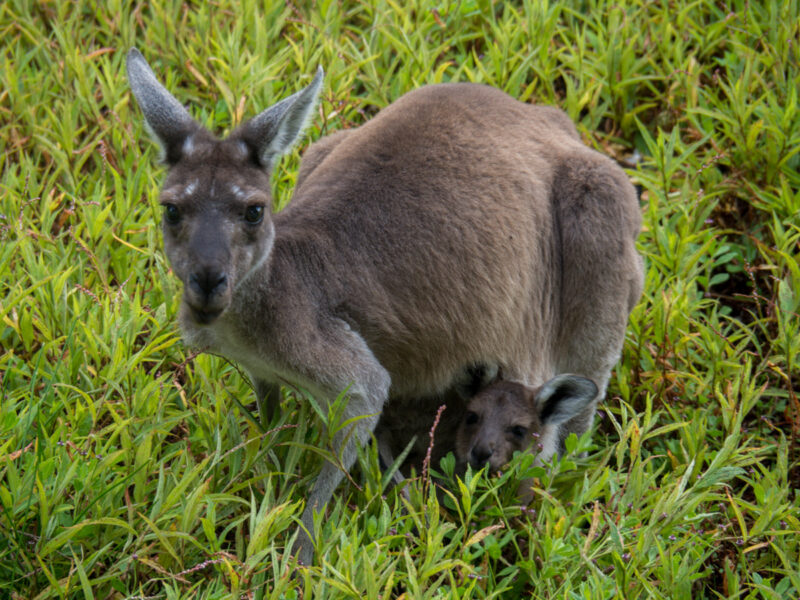 Before returning to the bus, we enjoyed a delicious "Bush Tucker" spread at the picnic area in the park. Our meal included bread, crackers, a wide selection of unique local jams and chutneys, cheeses, coffee, cocoa – and for the more adventurous, kangaroo and emu meat! We loved the bush tomato and Illawarra plum. With our stomachs full (ample vegetarian food for us!), we headed back to the bus for the next portion of our journey.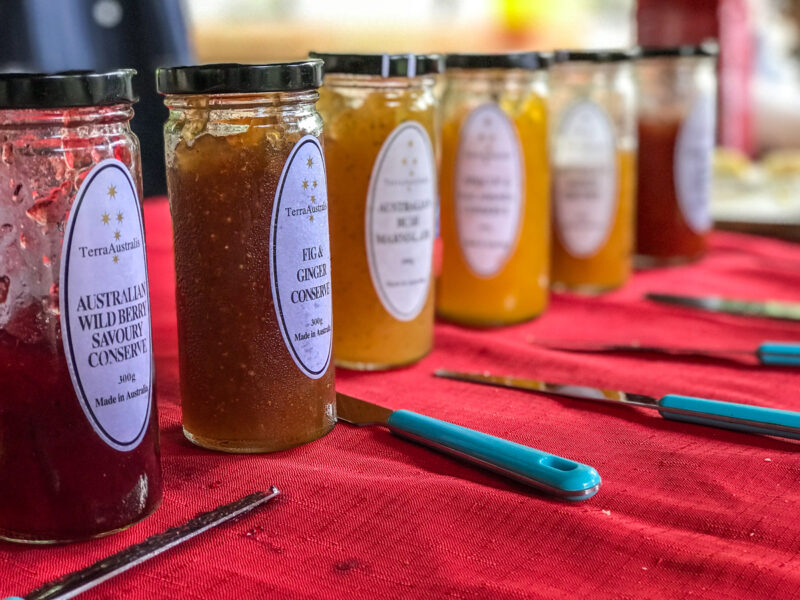 An interesting note on kangaroo meat: it is widely considered a much more sustainable meat than other options like cow for several reasons. First, kangaroo have a simpler digestive system and thus "emit" fewer greenhouse gases than their bovine counterparts. Second, kangaroos are everywhere in so many parts of Australia and do not need to be actively bred or farmed in controlled environments but their population continues to grow (and in some farming areas they are essentially considered a pest since they like to graze on crops).
Use the interactive map to find vacation rentals and hotels near Yanchep National Park
---
Surf's up: sandboarding in Lancelin
After another 45 minutes drive, we arrived at the town of Lancelin, home of the incredible Lancelin sand dunes. Ron provided everyone with a quick tutorial for how to do sand boarding, a new and somewhat daunting experience for our normally adrenaline-shy crew. We waxed up our boards and climbed up the sand hill. Once at the top, you are treated to an amazing view of the expansive sand dunes spreading out toward the Indian Ocean. The kids were a bit hesitant about riding the boards down the dunes, but they eventually joined us on the boards and we all loved the ride down the hill with the wind whipping against our faces. We must have taken ten trips up and down the hill! Who knew you could go sandboarding so close to Perth? Check out these other outdoor adventures near Perth!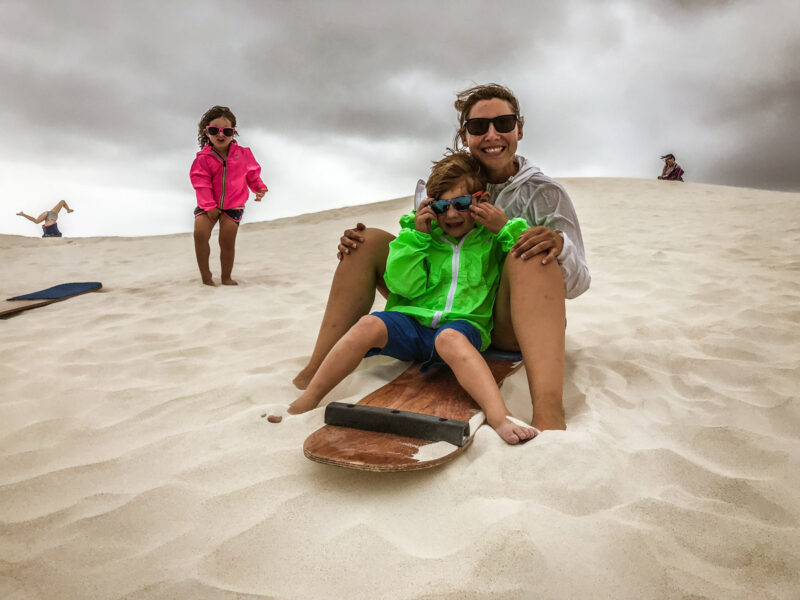 The sand dunes were definitely a highlight for our family. We recommend wearing sunglasses and even a bandana over your face to prevent sand from getting into your mouth or eyes. High SPF sunscreen (check out our favorite here) is also recommended, as the Aussie sun is strong and the sand is extremely reflective.
All of that dune-trekking helped work up quite an appetite, so we drove to a nearby park for a picnic lunch. At lunch the kids got to run around the park and played with the balls that were provided kindly by Travel Western Australia. There was also a playground with various climbing areas and swings that the kids enjoyed. The day of our tour was unusually cold, but on warmer days you can venture down to the beach for a quick swim. After running around, we were ready to eat. Ron prepared a nice spread of salad, chicken wraps, pork fried rice, chocolate cake, and cold drinks. On warmer days, ice cream is served for dessert but we enjoyed some premium chocolate instead – no complaints on our end!
Use the interactive map to find vacation rentals and hotels in Lancelin here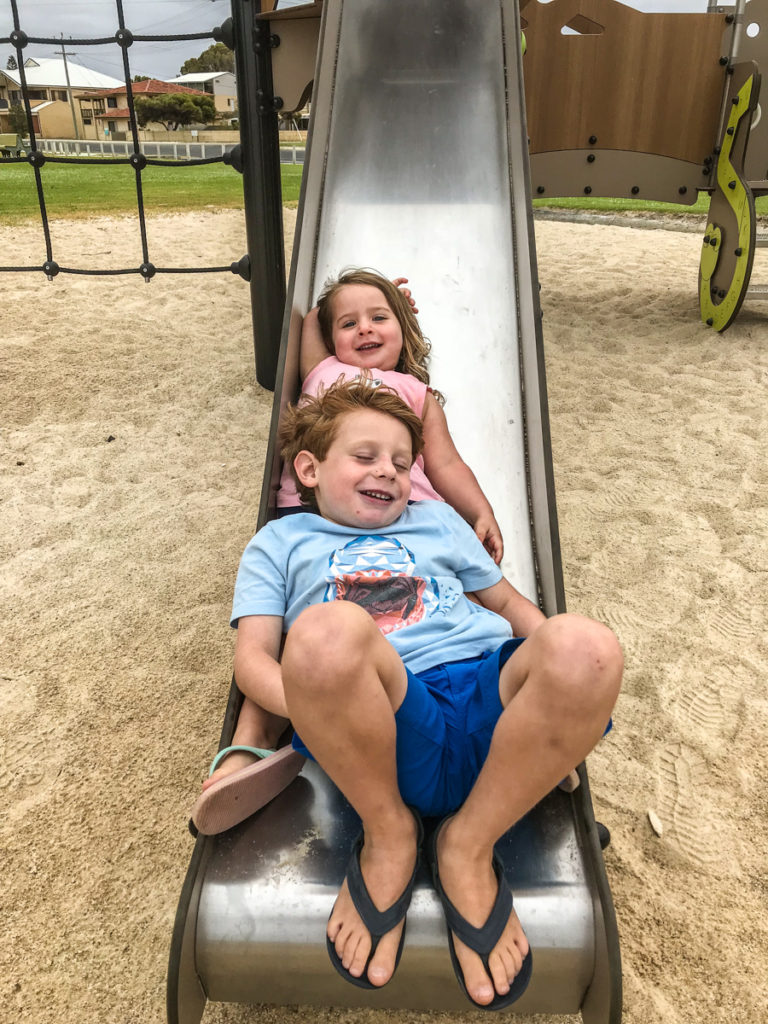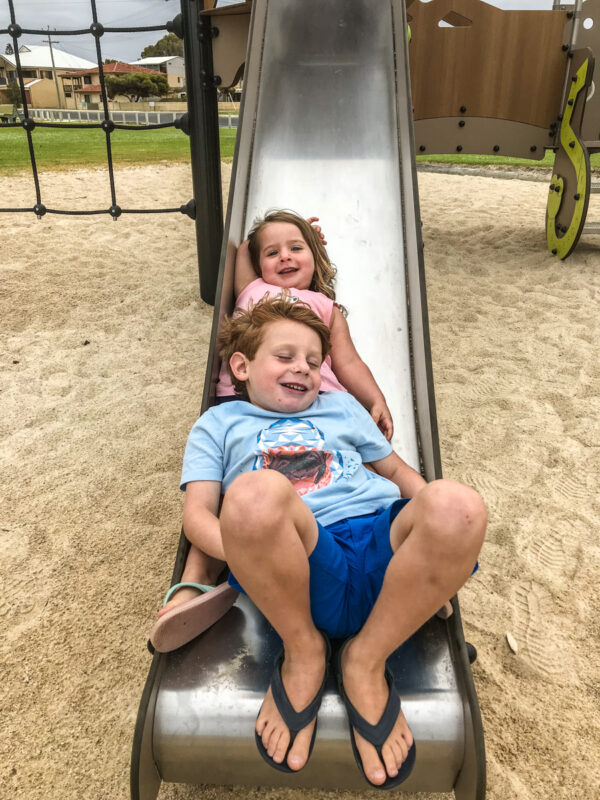 Explore the Pinnacles desert, Western Australia
For the grand finale, we boarded the bus and headed to Pinnacles National Park. Upon arrival, Ron provided us with a brief overview of the park and instructions to meet back at the bus in an hour. Pinnacles is easily one of the most fascinating Australian National parks we have ever visited. The park is comprised of stone monuments that look as though they spontaneously erupted up from the ground. The formations actually were once trees that formed a forest. The forest burned down years ago, leaving behind barren trunks that were eventually encapsulated by wind-blown sand and rain-deposited limestone. Eventually, the sand and limestone fully covered the remnants of the trees, leaving the incredible sight we see today of grey rock formations surrounded by brilliant yellow sand.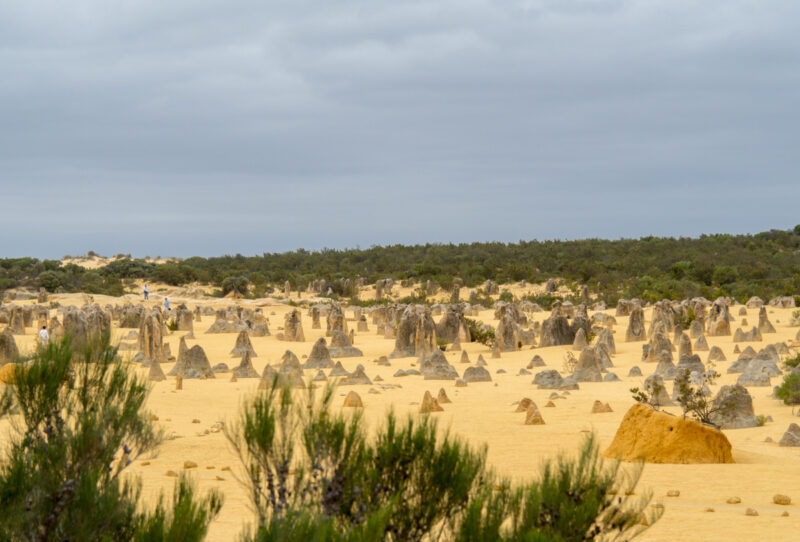 The paths around the park are clearly marked and easy to walk with kids. We were fortunate that the weather was unseasonably cool. On a hot day, we would recommend bringing plenty of water, hats and sunscreen. The kids loved running barefoot in the soft yellow sand, playing hide and seek among the Pinnacles and sizing themselves up next to the rock formations.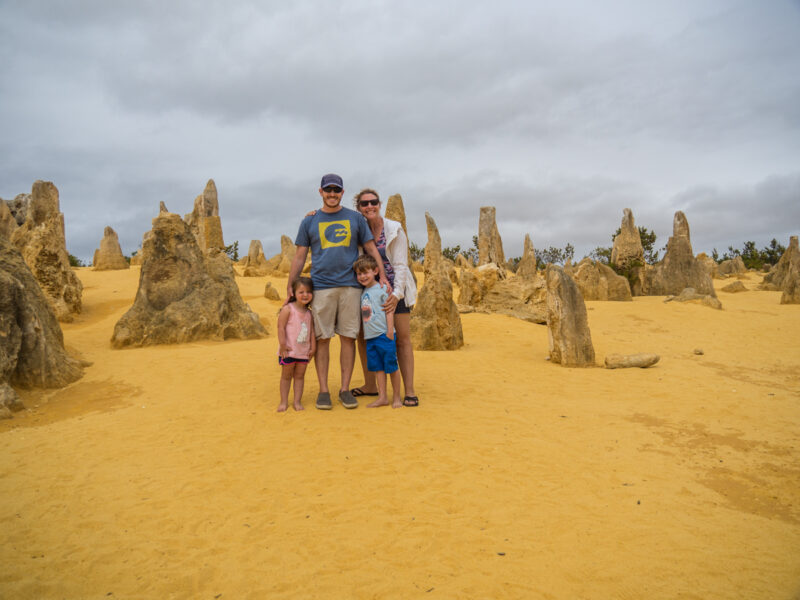 As we arrived back at the bus, Ron had kindly setup an afternoon snack of fresh fruit, local cake and drinks. There is a visitors center with additional information. Unfortunately, we did not have time to visit but recommend you check it out if your schedule allows. By the time we boarded the bus, the kids were exhausted and so were we. It was an incredible (and low-stress) day exploring WA with Travel Western Australia.
Book your Pinnacles Magic day trip with Travel Western Australia today!
And when you get back to town, make sure to stroll around and check out the awesome Perth street art – it was a really pleasant surprise for our family!
Spending more time in WA? Check out these cool things to do in Darwin!
Use the interactive map to find vacation rentals and hotels near Pinnacles desert, Western Australia here
What to bring for your Travel Western Australia day trip from Perth
High quality, high SPF sunscreen
Sunglasses
Bandana or Buff (to cover your mouth during sandboarding and use as additional sun protection at the Pinnacles)
Hat
Comfortable shoes – there's not a ton of walking and it's all flat (most people remove their shoes for sand boarding). Comfortable flip flops like these are perfect!
Reusable water bottle or Camelbak (Ron provides a large dispenser to refill your personal water bottle, so don't worry about bringing a ton)
Camera (even better if it's a rugged model like this one, to stand up to blowing sand in Lancelin)
Thanks to Travel Western Australia for hosting our family; all opinions are our own.