We all know that the laws of physics don't change when you travel to a different country or ride in a taxi or fly abroad. That means that the only safe way for a child to ride in a car is in an approved, age-appropriate restraint. We've certainly spent our fair share of time lugging car seats through airports, which is why we're "delighted" (see what I did there?) to introduce the Safe Traffic Systems Ride Safer Delight travel vest to your family. The Ride Safer travel vest is a great choice for preschoolers for travel, taxi rides in the city or even three-across situations at home. We even spent a full year using the Ridesafer vest as we traveled around the world. Read on for our complete Ride Safer travel vest review! (Once you're ready to order, you can get it here at a discount using coupon BESTPRICE).
What is the Ride Safer travel vest and who is it for?
The Delight travel vest is a booster seat alternative for kids who are at least 3 years old and at least 30lbs – that's a true minimum, and continue reading for my personal size recommendations after extensive use. It meets or exceeds all crash test requirements and Federal Motor Vehicle Safety Standards for harness restraints, meaning the Ride Safer travel vest is legal throughout the US. It is still a booster seat, allowing much more mobility than a harnessed seat, so you'll have to use your judgement regarding your young child's maturity and ability to stay in the proper position for the whole car ride.
There's also an optional top tether that, in practice, should be used whenever possible to limit head excursion in an accident; that should also help to keep younger riders from reaching for a toy or slumping when asleep (even more so than a traditional booster seat).
We originally tested the Ridesafer travel vest for Jacob, who is 5.5yo, 40lbs and 41" – perfectly in range for the size small vest (size large is also available, but I expect that we'll have several years in the small). He practiced some short rides at home in a high-back booster, so he knew the rules about staying in position and followed them.
When we left for our family's year-long trip around the world, we faced a major dilemma. Our daughter was 3 years and 4 months old and weighed in at 35lbs. She was also below-average in height. We strongly considered bringing our favorite travel convertible car seat for her to use on the trip, but in the end decided that it just wasn't practical. We opted to bring the Ride Safer travel vest for her and this amazing booster seat for Jacob (check out our full review). The combination worked well overall, but read on for the highs and lows of using the Ride Safer Delight nearly every day for a year.
Not ready for the Ride Safer yet? Choose the best convertible car seats for travel for your family.
How to put on the Ridesafer vest for kids
The first time you put the Ridesafer Delight travel vest car seat on your kid, you'll see a few different parts and you'll need to make some adjustments. The components included in the box are the vest, a sometimes-optional crotch strap, the optional-but-highly-recommended top tether and the truly optional headrest. The headrest is mostly necessary if you think your child will fall asleep on a long ride and needs extra support (in reality, we did not find it helpful).
Putting the vest on is pretty intuitive: open the buckle very sturdy Velcro panel in the front, have your child slip his arms in. Fasten the Velcro so that it's snug but not uncomfortable and then do the same with the buckle – there's no way that vest is coming undone on its own! To get the length right, turn your child around and open the Velcro on the crossing straps on his back. Adjust the vest until the bottom flap on the front is resting on top of his thighs (since it will hold the lap portion of the seatbelt in the proper position), then refasten the Velcro.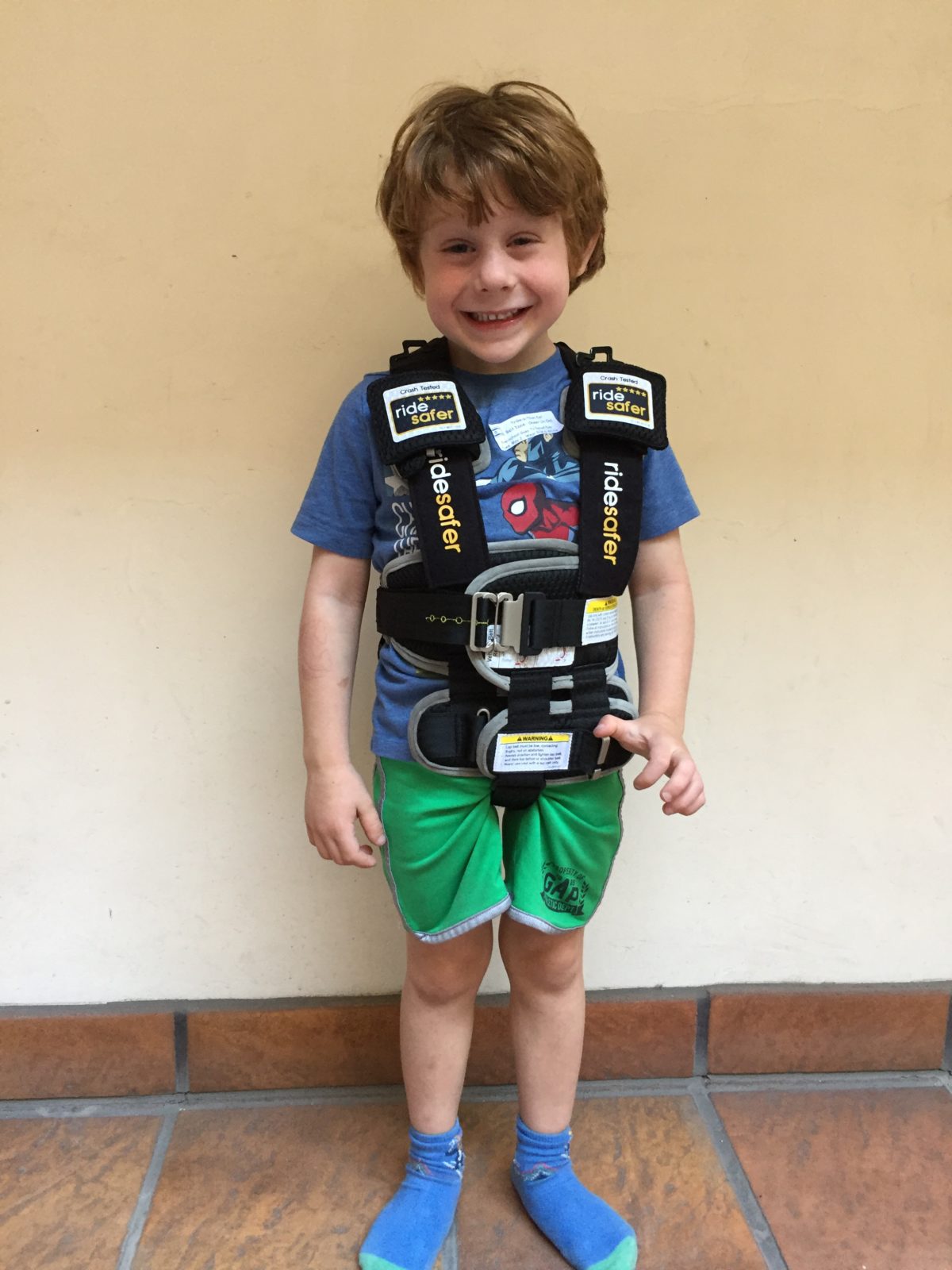 The final step is to the thread the Y-shaped crotch strap through the two slots on the back of the vest on the bottom (one on each side), then pull between the legs and fasten snugly through the slot at the bottom of the front. While the crotch strap is technically optional, it's important for preventing younger riders from "submarining" (sliding down and out of the vest).
The crotch strap was almost too short for Jacob at 41", though its use is not required so this isn't a huge concern. We generally opted to use the crotch strap for Shoshana, as she's at the lower end of the size range. You can see a hands-on demo of fitting the Ride Safer Delight vest below:
How to use the Ride Safer vest in the car
Due to our tight schedules and cars full of car seats, we didn't get a chance to practice using the vest at home. Oops! I did spend some time familiarizing myself with the manual (conveniently tucked inside the tummy panel label), the parts and their connections at home and I suggest that other parents do the same to avoid kids growing impatient. If you're taking a taxi, I'd also recommend having your kid already wearing the vest when it pulls up to avoid an impatient driver!
Here are the basic steps to install the Ride Safer vest:
Put the vest on the child, making sure that the lower panel is over the tops of the thighs
Have child sit in the car and fasten seatbelt as normal
Feed the lap belt through both metal guides in the lap panel of the vest, then pull snug across the lap
Open the Velcro shoulder pad on the side where the should belt crosses and feed the shoulder belt through that metal guide, then pull snug and close the shoulder pad

Attach the optional

but highly recommended

top tether to the shoulder straps using the two metal hooks (above the pads), then attach the other end to the car's top tether point and pull the tail to remove slack
Impressions of the Ride Safer Delight vest
Bottom-line upfront: we liked it enough to take it with us for a full year of travel. Yes, its that much of a game-changer. Get yours today and save $8 with coupon BESTPRICE.
Now for my full thoughts: The Ride Safer Delight vest is an awesome product that really delivers on its promise to make traveling with preschoolers and older kids easier without compromising safety. We took it to Europe without ever testing it at home, which was a risk for sure, but I figured it out pretty quickly. Jacob barely complained during any of our car rides, though he's generally pretty easygoing about car seat safety and is accustomed to riding in a forward-facing harness most of the time at home.
When we used it during our gap year trip, it was perfect for taxi rides in the cities because I could just roll it up and put it in our day bag. We also used it for some very long road trip stretches, and found it to be solid overall. There were times when she slumped more than we would have liked when sleeping, and early in the trip the shoulder straps seemed a hair too long for her; however, a little gap at the shoulders isn't necessarily a concern. In our long-term testing, Shoshana never complained about comfort despite some drives of 6 hours in a single day.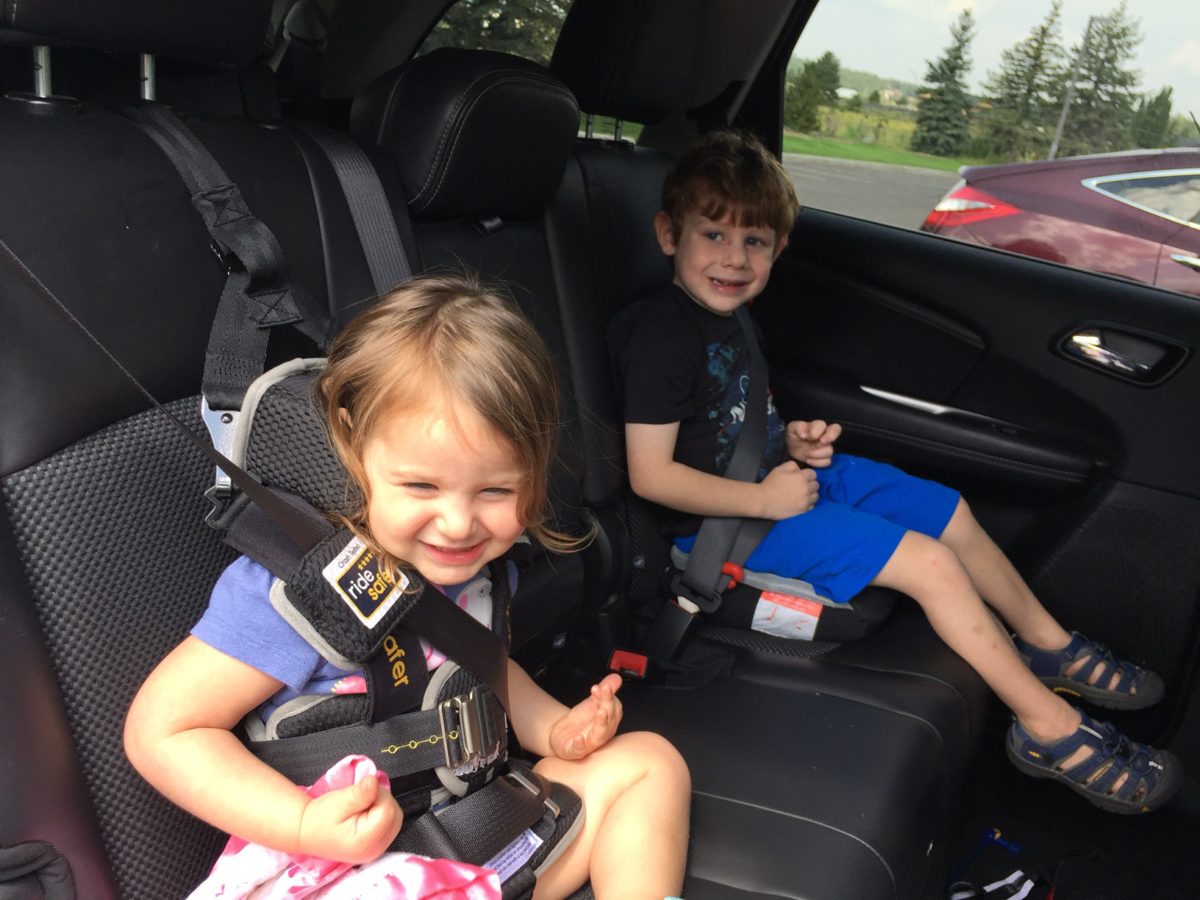 Overall we're very satisfied with our decision to bring the Ride Safer Delight rather than our usual travel car seat and we stand by our recommendation for its use on children 3.5yo and up who are mature enough to follow the rules of booster riding in situations like ours where traveling light is the only practical solution. It's very popular for families who are considering renting a car in Mexico and don't want to bring a huge car seat.
So it's a great alternative to a booster seat for taxi riders living in major cities or families on extended trips at age 3 – especially when many families would otherwise allow their children to ride unrestrained – but I'd hold out until closer to 4yo for daily use or more "normal" trips if you can. If you need a different solution for traveling with a car seat, click here for more recommendations.
What we like:
-Feels very well made
-Design has multiple fail-safe mechanisms
-Extremely compact (takes up less than half of Jacob's preschool-sized backpack)
-Easy to use, takes less than 3min to put on the vest and get the seatbelt in place (assuming your kid is a willing participant)
-More torso support than a backless booster, avoids booster rider slumping when asleep
-Adjustable sizing so it can last for several years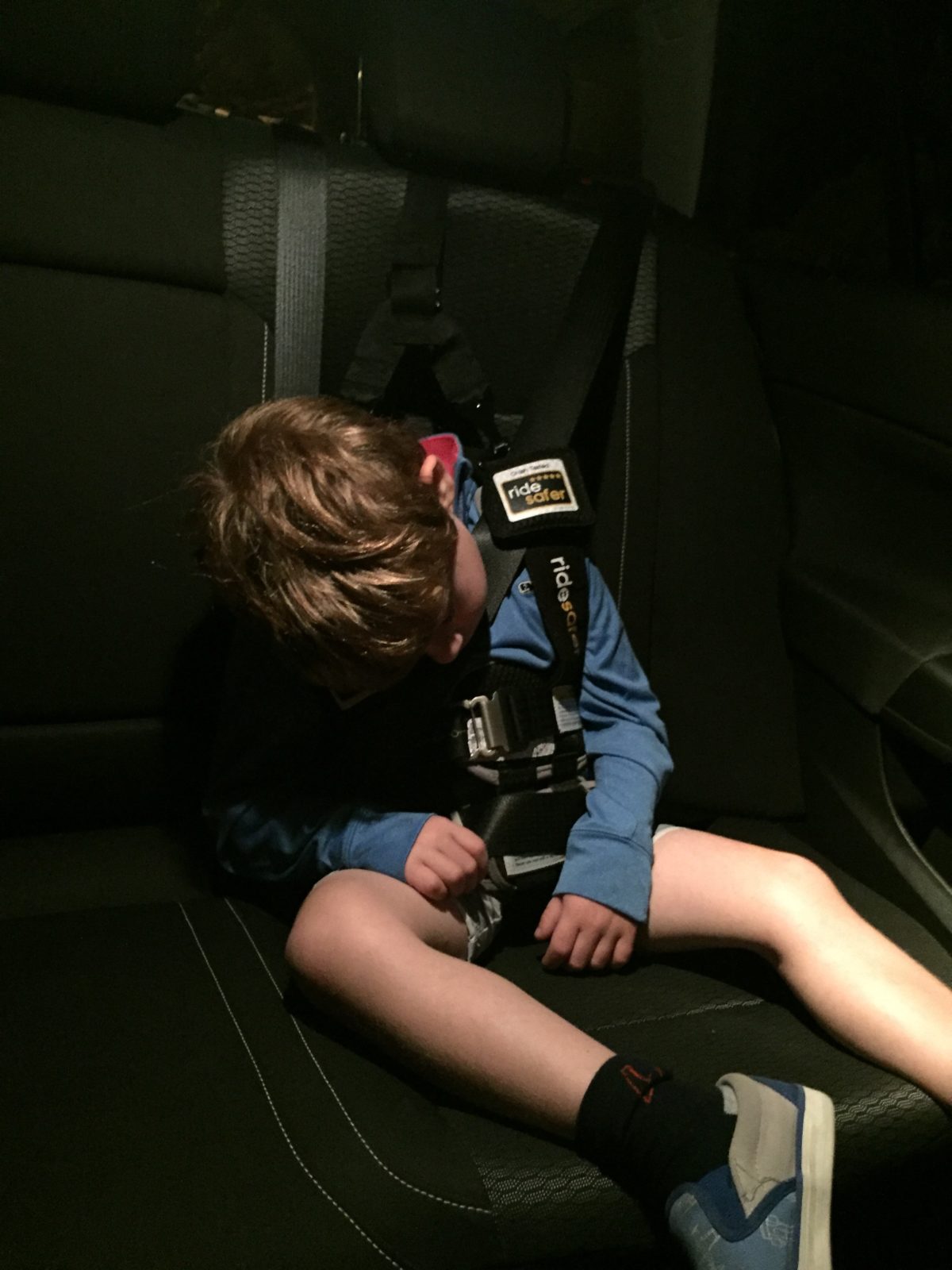 What we don't love:
-Can take some practice and tweaking to get the fit of the car seat vest just right
-Crotch strap is almost too short for Jacob at 41", though its use is not required
-Fit on kids at the bottom end of the stated range isn't great
-Getting the vest on the kid and then the kid in the car can get to be tiresome if you're doing it several times per day, every day, for a whole year
-Lots of parts to keep track of (for a city family using the vest in a taxi, you can leave the headrest at home and save tons of space)
-The optional headrest seems more trouble than it's worth and takes up valuable luggage space; it won't travel with us again
-Not permitted to use on an airplane, so for a child under 40lbs you'd need to buy a CARES harness to make the airplane seatbelt safe
-The included carry bag lets the vest flop around rather than compressing to a compact shape – I recommend basically anything else (medium wetbag, medium packing cube, or mesh stuff sack). For our Europe trip, I slid it into the front elasticized pocket of my new travel backpack (it buckles shut, so I wasn't afraid that it would slide out).
Final Thoughts on the Ride Safer Delight
As you can see from my impressions above, there is room for small changes or additional features; however, our impression is overwhelmingly positive. I was especially pleased that, when used with the top tether, the Delight prevented slumping out of position while sleeping; if we had just brought a booster seat, he would have been in an unsafe position. Moving from two car seats to one on our trip to Europe was a game-changer, and carrying no bulky carseats at all on our gap year was absolutely epic. I honestly don't know how we could have managed without the Ride Safer travel vest.
While the Ride Safer Delight vest is a little pricey for an item most families will use only occasionally, if your family travels often with preschoolers or young school age children I can't recommend it enough. It would be a fantastic choice for car-free families with kids ages 3 and up as well, as you can easily shove it in your purse or backpack for unexpected taxi rides. After extensive use, we'd give a general recommendation of 3.5yo for average size kids and 4yo for smaller size kids.
We feel confident that the Ride Safer offers a safe alternative to either lugging a huge car seat around a city or relying on an unfamiliar car/driver to maybe offer car seats. Ready to buy your own Ride Safer Delight? Get it directly from Safe Ride 4 Kids for amazing customer service and fast, free shipping – use coupon BESTPRICE to save $8 on your Ride Safer vest! You can also purchase the Ride Safer Delight on Amazon with Prime shipping – use coupon SR4KAMAZ for $6 off.
Not sure what car seat to bring for travel? Read our comprehensive guide to travel with car seats
Our friends at Safe Ride 4 Kids sent me a Ride Safer Delight travel vest for kids to review; all opinions are my own.
Do you think the Ride Safer travel vest is right for your family? Why (or why not)?