Ahhh Paris… the city of love, the city of lights and the city of chic women's clothing. When you're packing for Paris, nearly every woman wants to channel the image of the impeccably dressed locals offering two cheek kisses over a glass of red wine at a bistro.
But how do you decide what to pack for Paris when you're trying to contend with miles of walking every day? Let's not forget that the weather in Paris, France in May can be… temperamental. In this guide we'll help you translate Paris everyday fashion into a capsule wardrobe that fits the needs of a traveler and the weather. We'll help you figure out what to wear in Paris in May and what not to wear in Paris.
Ready to get packing for Paris?
Paris everyday fashion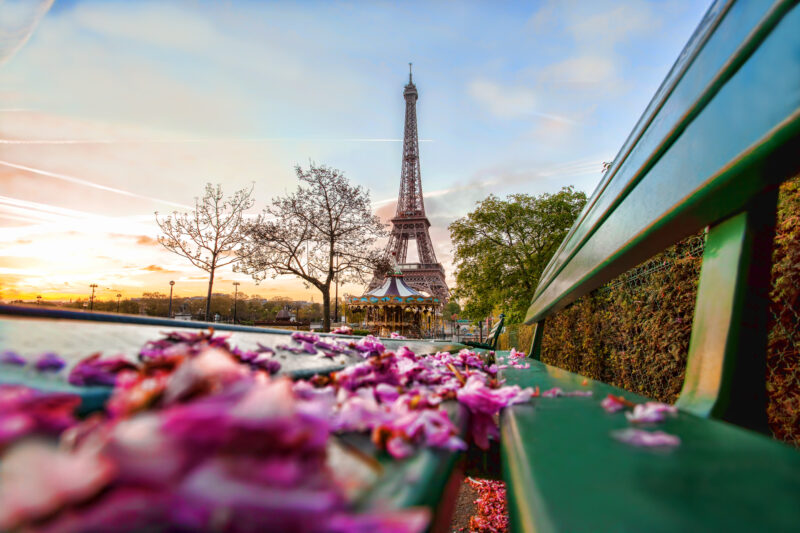 So what do people wear in Paris? Clothes, just like you and me. But what you'll observe walking down the street is something in between Paris Fashion Week and the striped shirt/beret/red lipstick cliche of the movies. Paris everyday fashion can best be described as effortlessly put-together, with a healthy dose of simple sophistication.
The most important rule for how to dress in Paris is to look tidy. That puts athletic wear at the top of the list of what not to wear in Paris (unless, you know, you're spending your vacation going for a run or going to the gym – more power to you!). You'll see some sneakers out there on the streets, but they won't be Asics running shoes.
Likewise you won't see leggings, but you might see something like these that are a step up. When you're packing for Paris, you might want to leave the logo t-shirts at home too and instead opt for tops that use pattern or texture to add interest.
All that said, you don't have to look at how people dress in Paris and copy them exactly. If you want to wear your hoodie with OLD NAVY emblazoned on the front no one's going to kick you out of the Louvre and take away your Métro card. But you'll definitely stick out as a tourist -one who isn't trying to adapt to Parisian culture, at that – and it's unlikely to earn you many local friends.
Still planning your trip? Check out this awesome in-depth guide from the Paris experts!
What is the weather like in Paris in May?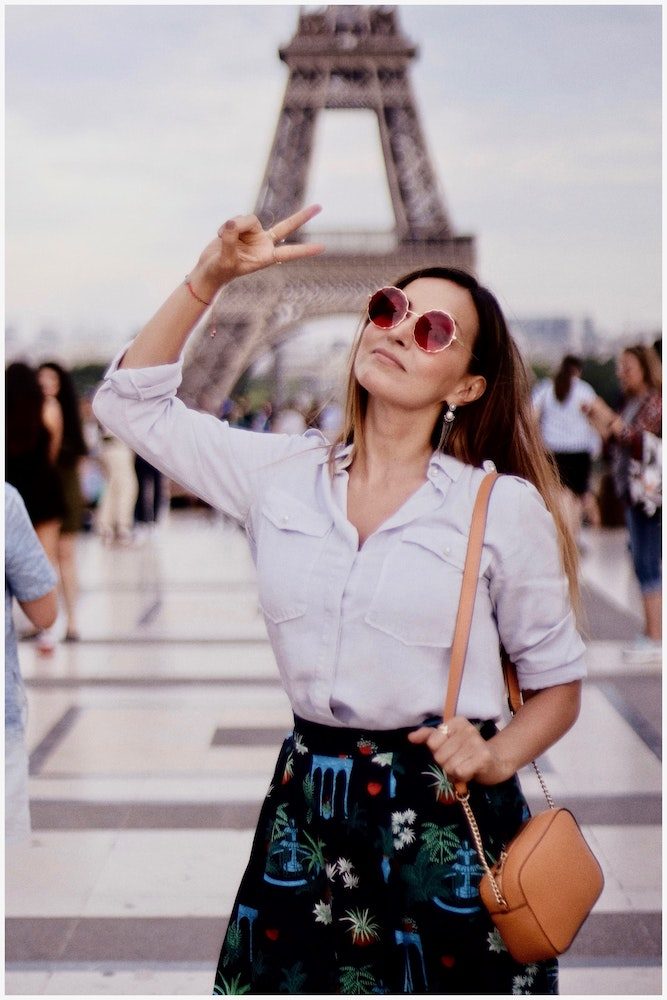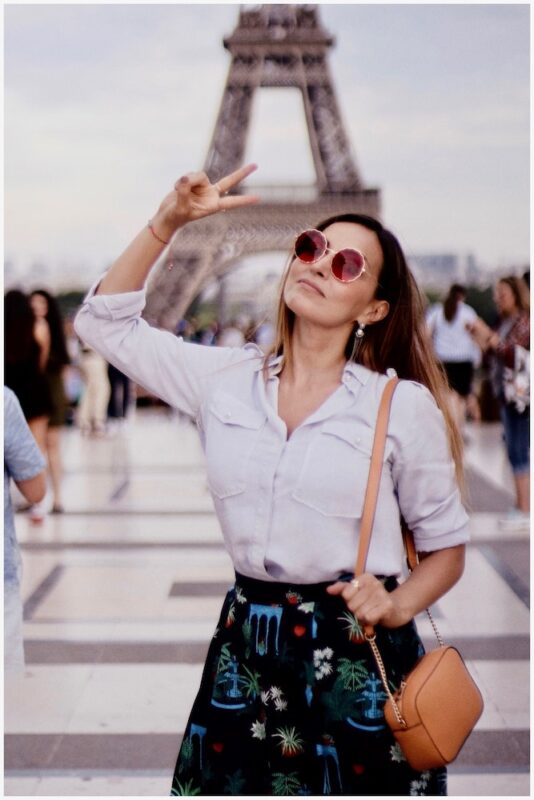 Spring is definitely a season of transition in Paris. As you can see, temperatures quickly warm up in May. But May happens to be one of the rainiest months in Paris! Don't let that dissuade you, just keep to our packing list below and come prepared.
| | | |
| --- | --- | --- |
| April | 62F / 46F | 8 days of rain |
| May | 68F / 52F | 9 days of rain |
| June | 74F / 57F | 8 days of rain |
Best walking shoes for Paris
While we may have a vision of fashionable Parisian women walking around everywhere in high heels, that's not as common as the stereotype suggests. Between cobblestone streets, staircases for le Métro and long distance to walk around the city, it just isn't practical – especially for visitors who want to spend the whole day exploring.
A better choice is to bring a stylish walking shoes for Europe. The good news is that you can probably get away with just one pair of walking shoes for Paris in spring.
For comfort and versatility, I recommend a slip-on sneaker. I'm partial to the TOMS Avalon. It offers plenty of support (unlike dainty ballet flats) and a smart casual style that will transition easily between a day of museum hopping and dinner in all but the fanciest restaurants. The black leather option is neutral enough to work with all of your clothing, but has a little bit of texture to make it interesting.
They also come in a lovely rose gold if you want to lighten up your look. If you want a little pop of color and your feet are medium or narrow, this is another good option that I've tried. Pssst… they pair perfectly with these socks, which are great at keeping stinky feet at bay.
What to wear in Paris in May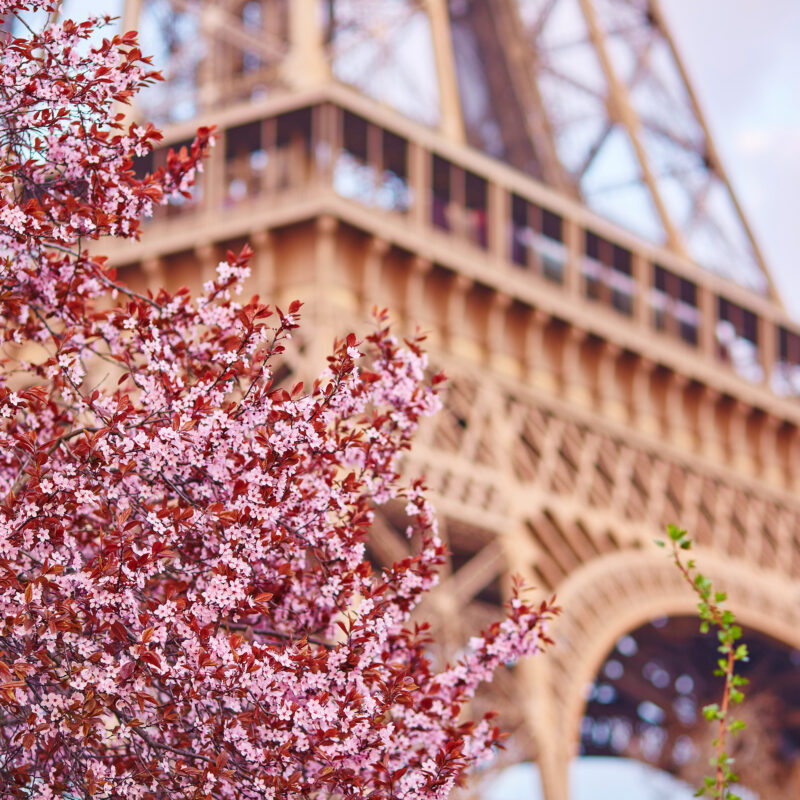 I love putting together a travel capsule wardrobe. The idea is simple: make sure everything you bring mixes and matches so you don't have any clothes that you can only wear with one other piece..
You'll want to find a color palette that is easy to work with and also pay attention to fits the work together. Clothes in Paris in spring are easy in that regard because neutrals are so popular! Black, white, navy, gray, ivory, camel… all year long you'll see them everywhere, paired smartly with beautiful, vibrant pops of color. Look for patterns and textures to add interest. I definitely recommend adding a scarf to your travel capsule wardrobe for Paris, but you might as well go shopping for one while you're there!
I've used black as a dominant neutral in this spring capsule wardrobe for Paris, but if that's not your most flattering color you can always swap for grey, navy or brown and adjust the colors of other items accordingly.
Since the weather can vary, you'll want to bring a light jacket that works with all of your outfit possibilities.
What to pack for Paris in May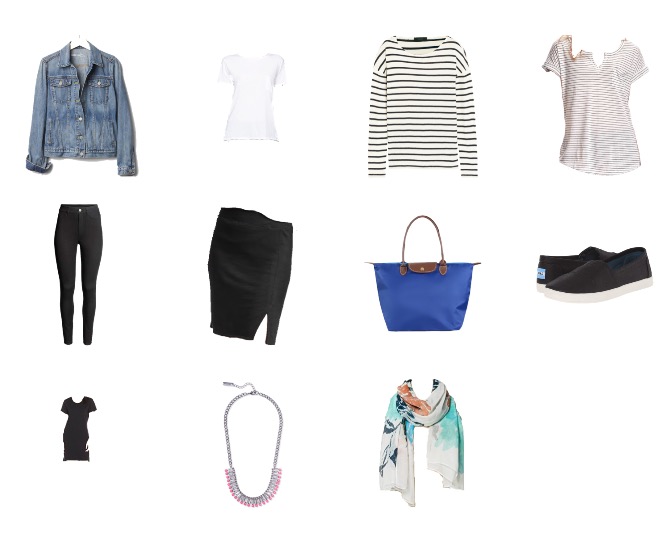 –short sleeve white tee
–short sleeve stripe tee
–long sleeve stripe tee
–black jeans
–black skirt
–black dress
–denim jacket
–slip-on sneakers
–patterned scarf
–interesting necklace
–colorful tote
That's a total of seven pieces of clothing and four accessories for five days (a 10 piece travel wardrobe, plus one pair of shoes). Not bad! If you're traveling for a few weeks, 13 pieces of clothing would be a great amount. For me that might be six tops, four bottoms, an outer layer and two dresses- but the details depend on the weather and your personal style.
While I tend to lean toward neutrals and basics, you could definitely mix up your outfits with a lovely printed blouse! A top like this one made of synthetic will travel well and still pairs nicely with a range of solid bottoms.
Parisian women often go for small purses rather than large purses, but you'll see lots of these foldable nylon totes in all colors wherever you go in the city. As a tourist, you'll probably be roaming around the city from early morning until late at night and might not get a chance to stop back at your hotel or Airbnb. You need a roomy (but still chic) place to stash your extra layer, water bottle, camera, guide book and other essentials for a day of sightseeing.
Read more: what to pack for Paris in fall
Paris outfits for spring
See how all of these pieces work together for a great selection of Paris outfits to wear in the spring: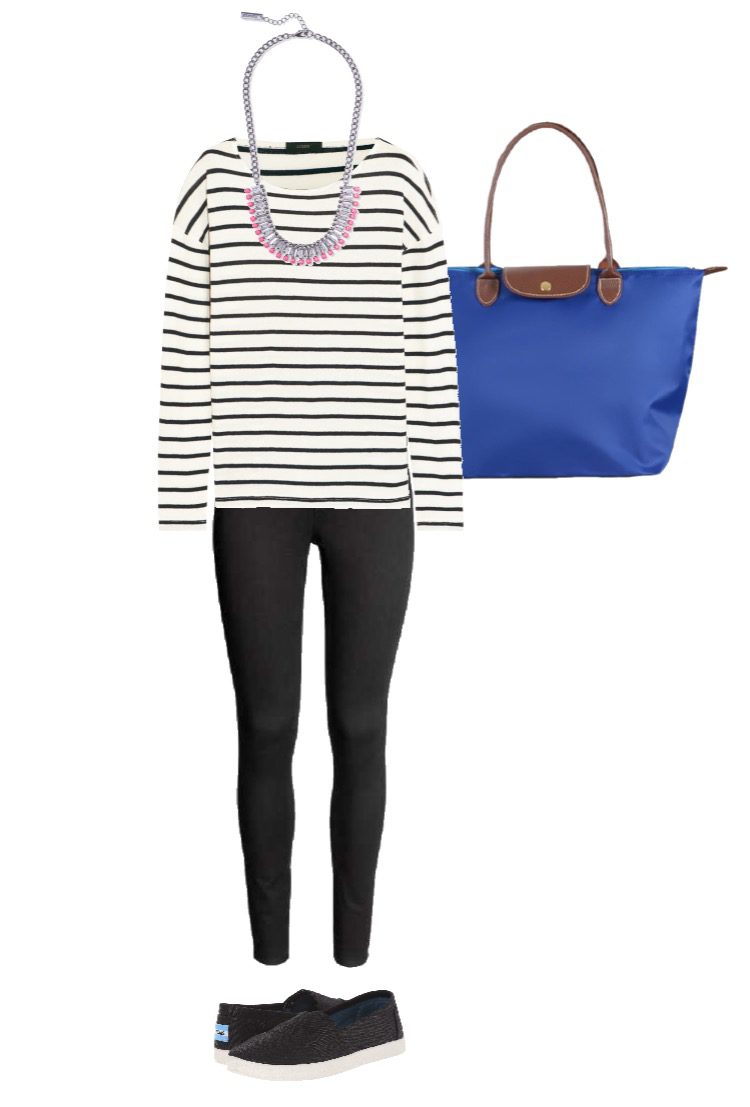 What to bring to Paris beyond the clothes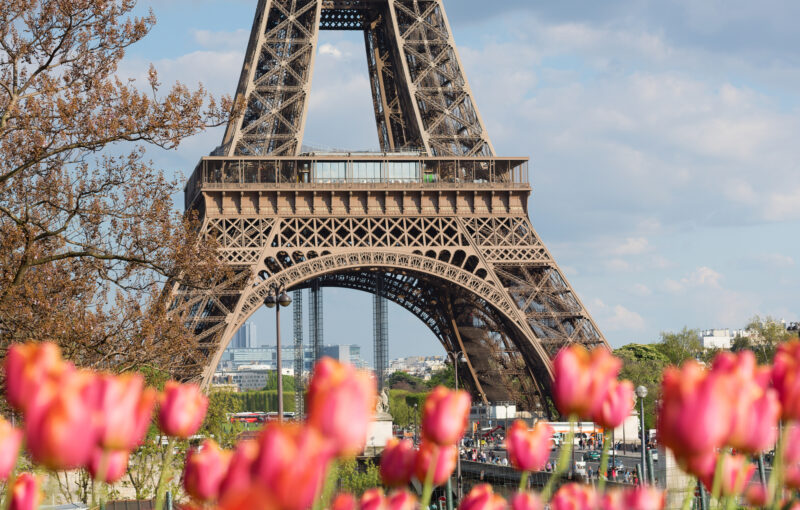 Paris Museum Pass
If you plan to hit several of the top Paris tourist attractions, you'll find the Paris Museum Pass a great value! We used ours on our first trip to Paris and it was extremely easy – you just get a punch on the physical pass when you enter the museum. Since your admission is already covered, you even get to skip the regular admission lines which is a huge time saver at places like the Louvre (which requires a timed reservation now, even with the Pass). We opted for the 2 day pass, but the 4 and 6 day passes represent excellent value for a longer visit! You can see the full list of sites included in the full description here.
Travel umbrella
When it comes to visiting Paris in spring, "may the odds be ever in your favor", as they say. You'll most likely experience at least a little bit of rain, as we did on the day we chose to walk the length of the Champs Elysee. C'est la vie.
But come prepared with a travel umbrella that's built to withstand the wind please. Just trust me on this. The latest innovation in umbrellas (yes, there's innovation in umbrella design) are these genius ones that collapse with the wet part on the inside so that they don't drip everywhere. Amazing! Click to get more info on how they work.
France power adapter
What power adapter do you need for France? If your needs are simple, you might be able to get by with these cheap Europe plug adapters.
After bringing tons of them with us for years, we've come up with a better strategy! These days we have this high-quality global power adapter. It accepts plugs from anywhere and converts them to plugs for any destination. To meet modern needs, it has two USB-A plugs and three USB-C plugs in addition to a traditional three-prong outlet. It's even my daily power adapter at home since it can simultaneously charge two phones, two smart watches, my extra USB power pack and my laptop! I can't recommend it enough.
When you're deciding what to bring to France, make sure to put it on your list!
By the same token, we always find that our phones are running low on battery after a full day of Waze, TripAdvisor, photography and more. We love this compact external battery pack because it plugs directly into our phones – no cables necessary! We always make sure to bring at least one with us (note: most airlines now require battery packs to be in your carry-on luggage, not your checked bag).
France SIM card
Want to use your American cell phone in Paris? It's easy! As long as your phone is unlocked, just use a paperclip to pop your SIM card out and replace it with this one. We used it in several European countries without issue (make sure to turn roaming ON once it's in if you want to switch countries).
The card includes 10 GB of data, 1000 texts and 120 minutes of talk time – plenty for a few weeks of travel. By default the card is active for two weeks, but if you plan to be in Europe longer you can just register it online and even purchase top ups! Unlike some cheaper Europe SIM cards, Orange even allows tethering – so you can potentially purchase just one card for your group and then share the pool of data. Check prices here.
Lightweight travel camera
Want to capture memories of the Eiffel Tower lighting up from across the Seine or the cars zooming around the Arc de Triomphe? If you want something that's a big step up in quality from your smartphone, check out a "bridge camera". You'll get lots of manual controls (only if you want them) and tons of zoom in a compact, affordable package. Just make sure to bring a big memory card and a spare battery!
France guide books
When you're planning your travels, be sure to check out a comprehensive travel guide or two for building your itinerary. Check out these top picks, which you can buy in paperback or Kindle eBook format depending on how light you want to travel:
Organize your luggage
Make sure to grab a set of packing cubes to stay organized on your trip. Use the biggest one for clothing, the middle size for intimates and jewelry and the smallest to consolidate charging cables and other electronics accessories. EBags also makes a great flat-pack toiletry kit that hangs conveniently in your hotel bathroom to keep the counter uncluttered while still giving you access to your necessities.
Read more
–What to wear in Paris in fall
–Renting a Car in France: 18 Tips You Need To Know
–Best things to do in Paris with kids
–Learning how to make crepes and friends in Paris
–Top 10 things to do in France with kids
–D-Day sites of Normandy with kids
Still packing? Pin this for later!