The Israeli food scene has absolutely exploded in the last decade, bringing together an intoxicating fusion of traditional European Jewish foods, Middle Eastern specialties and exotic flavors brought home by globe-trotting Israelis. You could go out for dinner every night while you're in Israel and never eat the same thing twice! Check out this list of traditional food in Israel – and a few non-traditional ones too – that you should look out for on your next trip.
Quick picks: Israeli food you HAVE to try
If you eat nothing else in Israel, try these traditional Israeli food staples
Hummus
Falafel
Limonana
Halva
Pro tip: Tipping in Israel isn't as big of a deal as it is in the US. At restaurants, it's normal to leave 10-15% depending on the quality of the service.
Typical Israeli drinks
Tea nana
As in many countries in the region, you'll often find a cup of sweet, hot mint tea (tea nana) served up after dinner – like a cozy, comforting blanket wrapped around your overstuffed stomach.
Limonana
On a hot day, nothing beats the refreshing flavor of a tall icy glass of limonana, fresh lemonade spiked with mint. You'll find it on the menu at nearly every café and restaurant in Israel.
Iced Aroma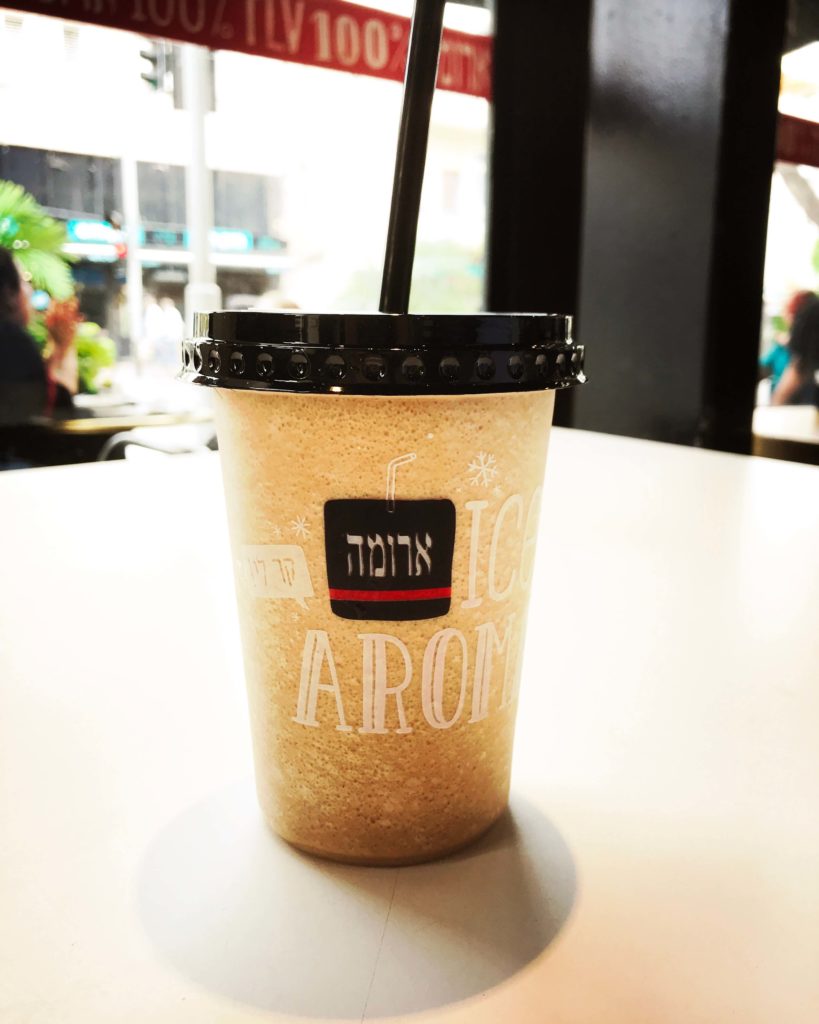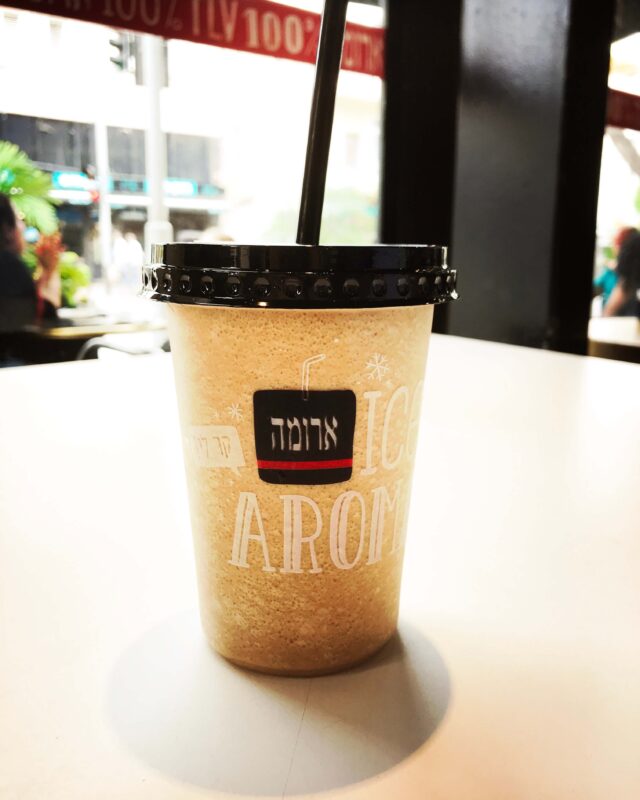 Cafe Aroma is almost as ubiquitous in Israel as Starbucks is in America. You'll find one on nearly every street corner and rest area around the country, and come summer their signature "iced aroma" (similar to a Frappuccino) is so popular that it's advertised on placards on the sidewalk. To make life even better, each cup is served with a tiny chocolate bar. Order it up regular or "lite", small (katan) or large (gadol) – just make sure to grab one on your way to the beach.
Read more: 50+ must-read tips before you visit Israel
Nescafé
For as much as Israelis drink coffee, the "gourmet coffee culture" hasn't really hit Israel. Especially in homes, you're much more likely to be served Nescafé instant coffee than brewed coffee. If you stay long enough, you might even develop an appreciation for this kind like it did.
Israeli wine
Israeli wine, on the other hand, can get pretty darn fancy. Wineries dot the Judean Hills between Jerusalem and Tel Aviv and are scattered throughout the Golan region – we even visited one in the Negev Desert! Try Tzora Vineyards in the center or Assaf Winery up north. Check out more great Jerusalem day trip ideas.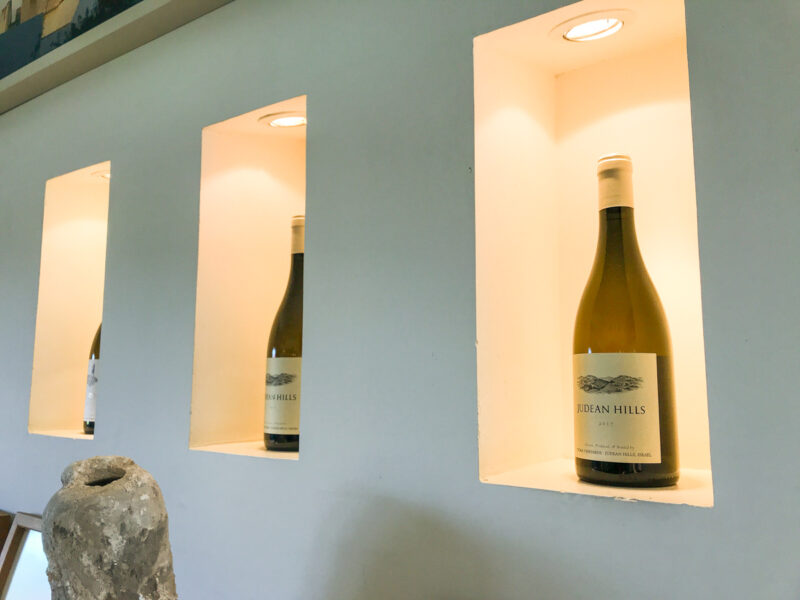 Snacks and sweets in Israel
Bamba
Remember a few years ago when the British pediatricians "discovered" that giving kids small servings of peanuts in babyhood results in fewer peanut allergies? You can thank the Israeli snack food Bamba – fluffy corn puffs coated in peanut butter parser – for that! Grab some at am:pm or test it out at home before you go if you want to try some food from Israel.
Bisli
Bamba's crunchier, savory cousin Bisli is harder to find in stores outside of Israel and it's admittedly more of an acquired taste. Our kids like barbecue and onion flavors, but there are a few others for you to sample when you're in Israel.
Bureka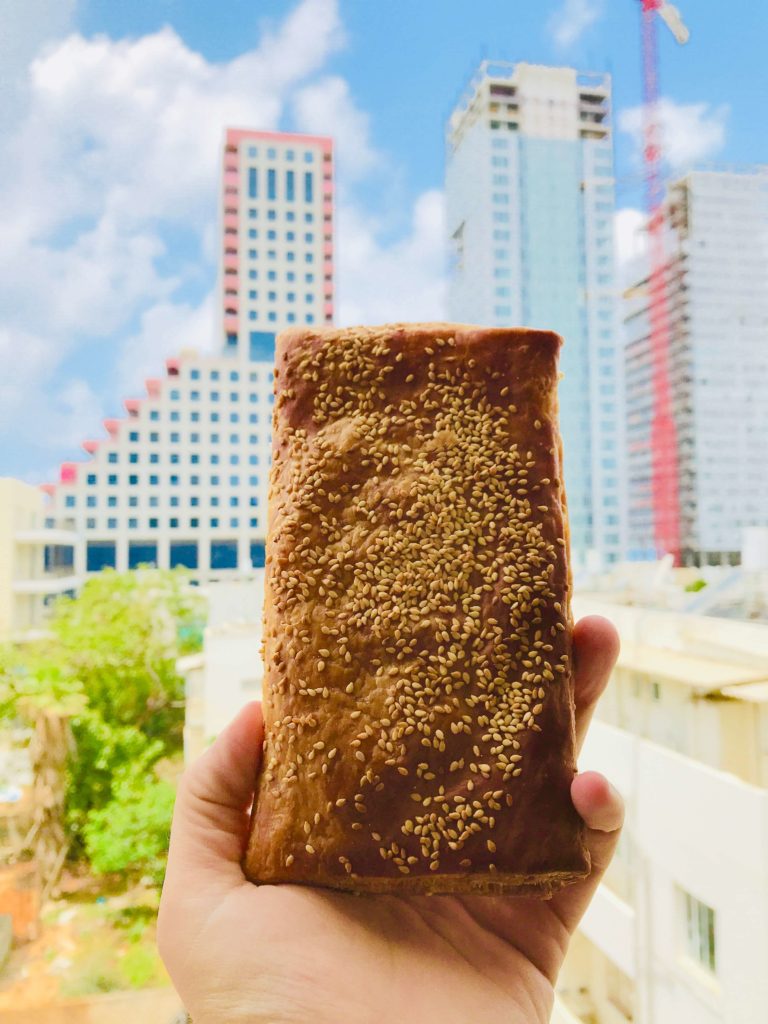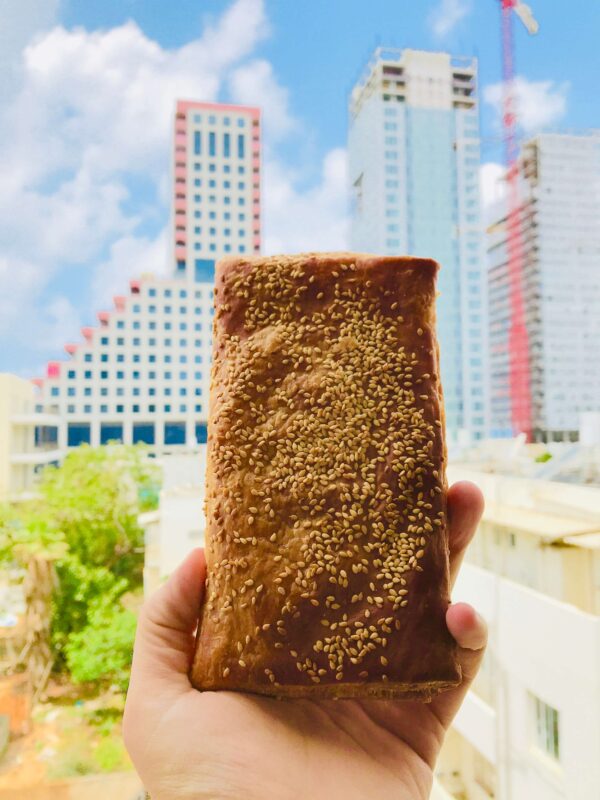 You'll find burekas disguised under different names throughout Eastern Europe, the eastern Mediterranean and the Middle East. It's a fluffy pastry made from phyllo dough and stuffed with… almost anything. Cheese burekas stuffed with feta are the most common, but you'll often find potato or even pizza varieties. These make a great breakfast, lunch or snack and you'll find them at most bakeries and cafes in Israel.
Lafa (or bagel) with za'atar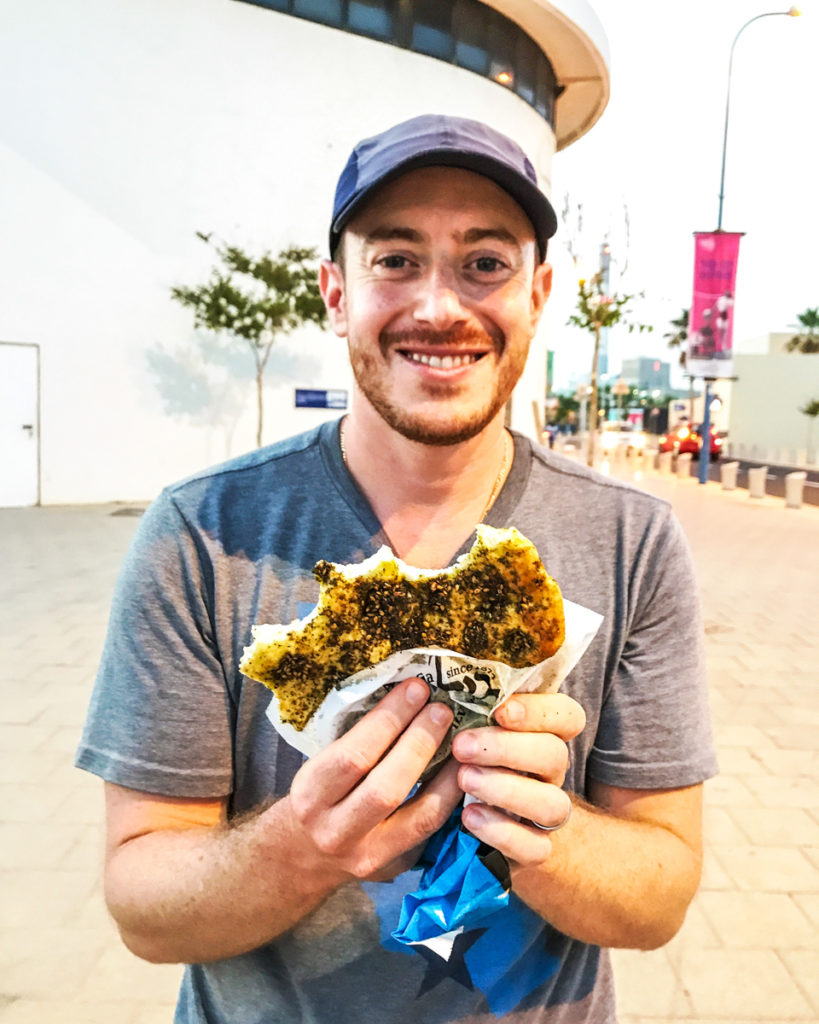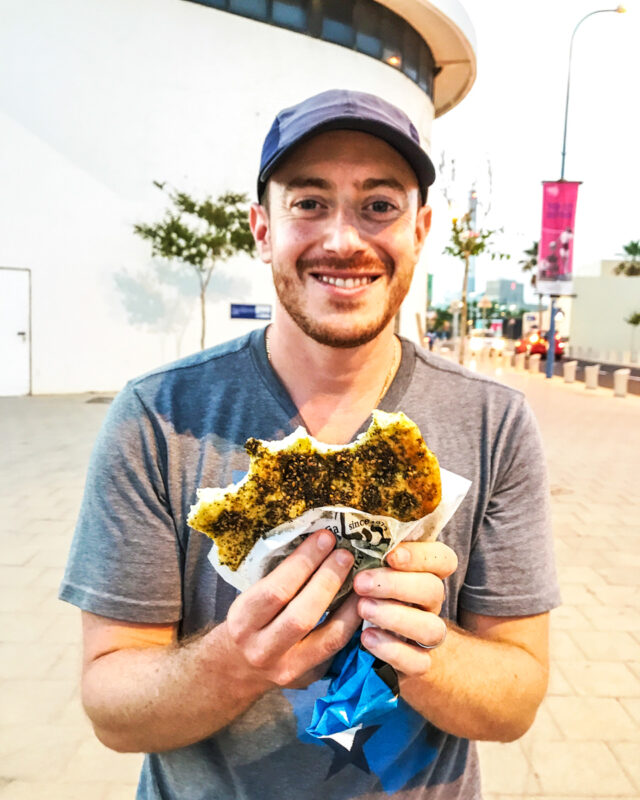 Many typical foods in Israel share lineage with other Middle Eastern cuisines, and the bread department is no exception. One of our favorite snacks in Israel is warm fluffy lafa topped with olive oil and fragrant, tangy za'atar, a mix of spices including oregano, thyme, savory and more.
You can get this fan favorite at chains like Abulafia, at open-air markets like Machne Yehuda in Jerusalem or Shuk HaCarmel in a Tel Aviv and even at an occasional sidewalk vendors. (It's not as good as the real-deal za'atar you find in Israel, but this one that you can get online is a decent substitute.)
Ruggalah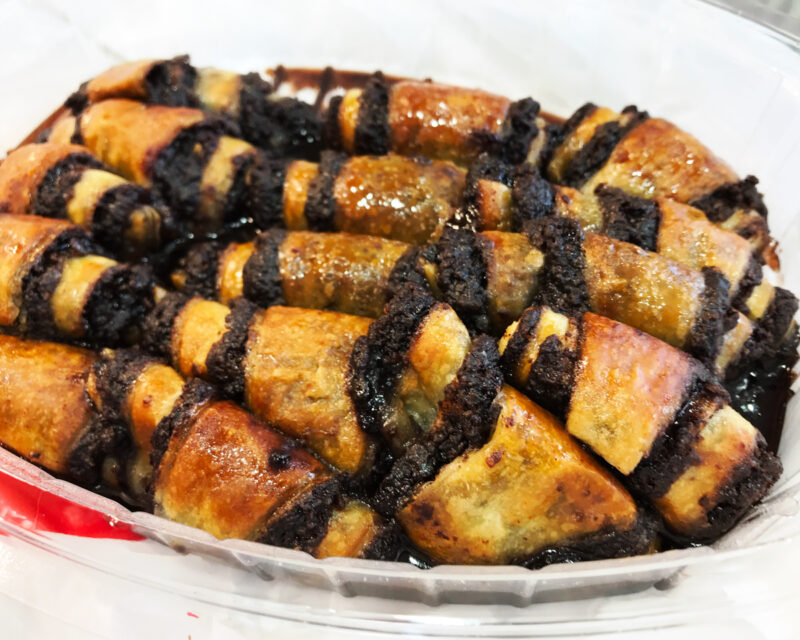 While ruggalah's origin is in Europe, it's done best in Israel. The single-bite cookie-cake combinations with layers of chocolate rolled throughout the middle are one of the foods you have to try in Israel! Where can you find the best ruggalah in Israel? There's no doubt in our minds that it's at Marzipan in Jerusalem – check out their original location outside of Mahne Yehuda (open late late except on Friday) or their newer location on Emek Refaim in the German Colony.
Find the best places to stay in Jerusalem – neighborhood by neighborhood
Kanafe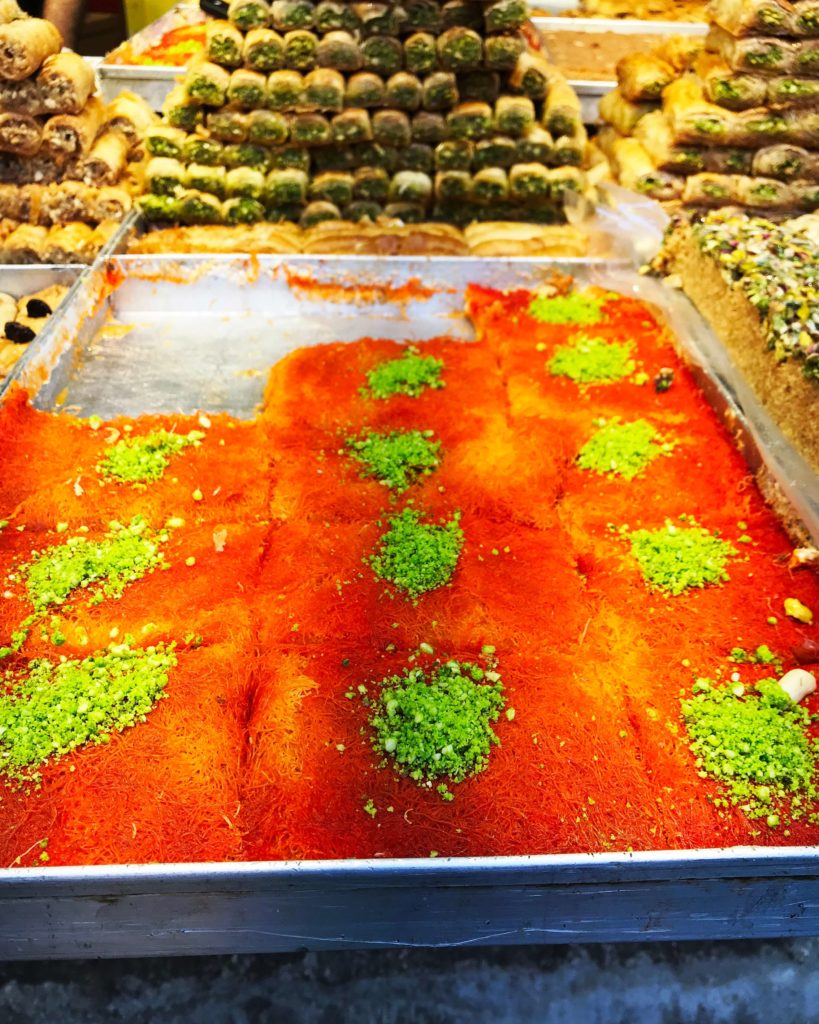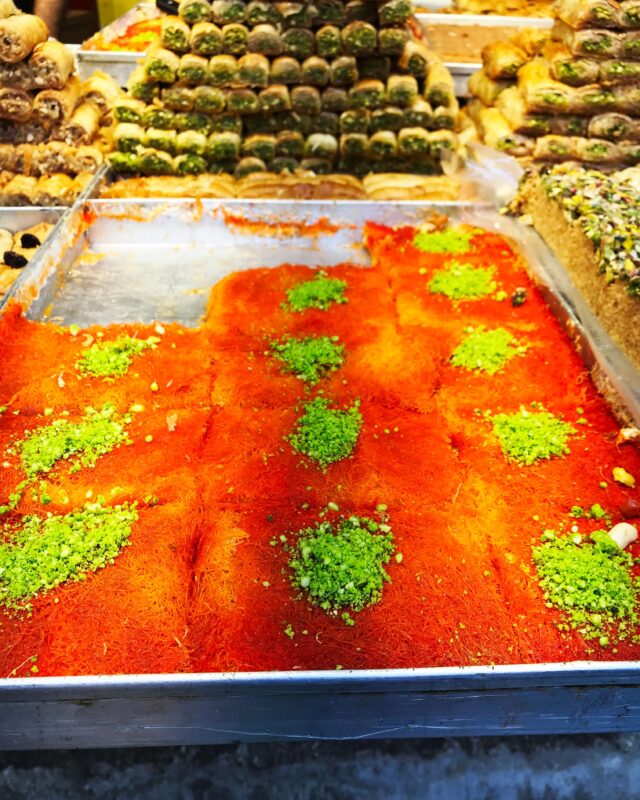 I had never heard of kanafe until the first time Ronnie and I visited Israel together, but it turns out he's a glutton for the stuff. It is a layered dessert that includes sweet custard-like cheese and crispy orange noodles on top. You'll find kanafe served especially in Israeli Arab villages like Abu Gosh (also famous for its hummus and falafel, as you'll read below).
Halva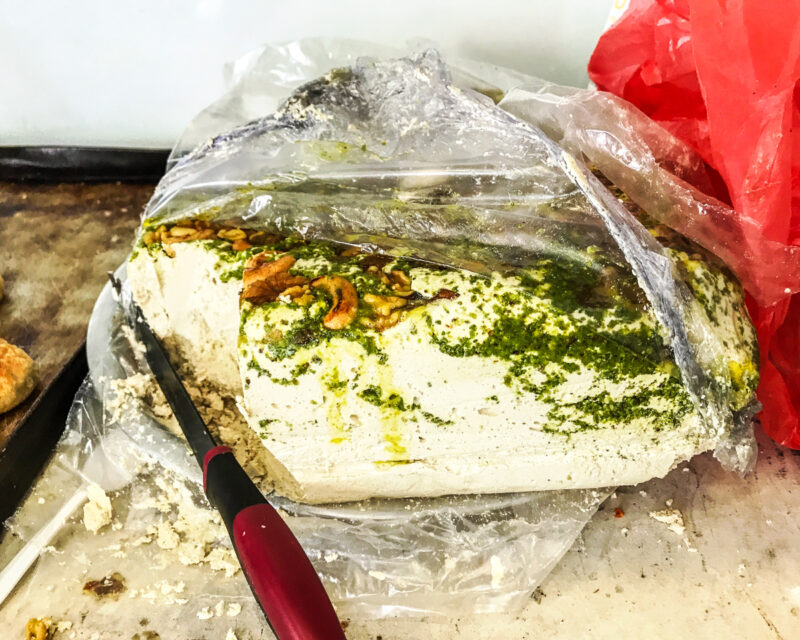 For a totally different flavor and texture profile, bite into a decadent slice of halva, a loaf made of sweetened sesame paste that melts in your mouth. It has a distinctive sesame flavor but can also come with different options added in some places like Halva King (which has stands in markets all around the center of Israel). Fortunately if you're buying it at a stand you can get as large or as small of a piece as you'd like to try (perhaps put together your own halva tasting flight?). It's quite rich, so try to moderate yourself!
Read more: Your complete 10-day Israel itinerary for first-time visitors
"Real" Israeli food
Hummus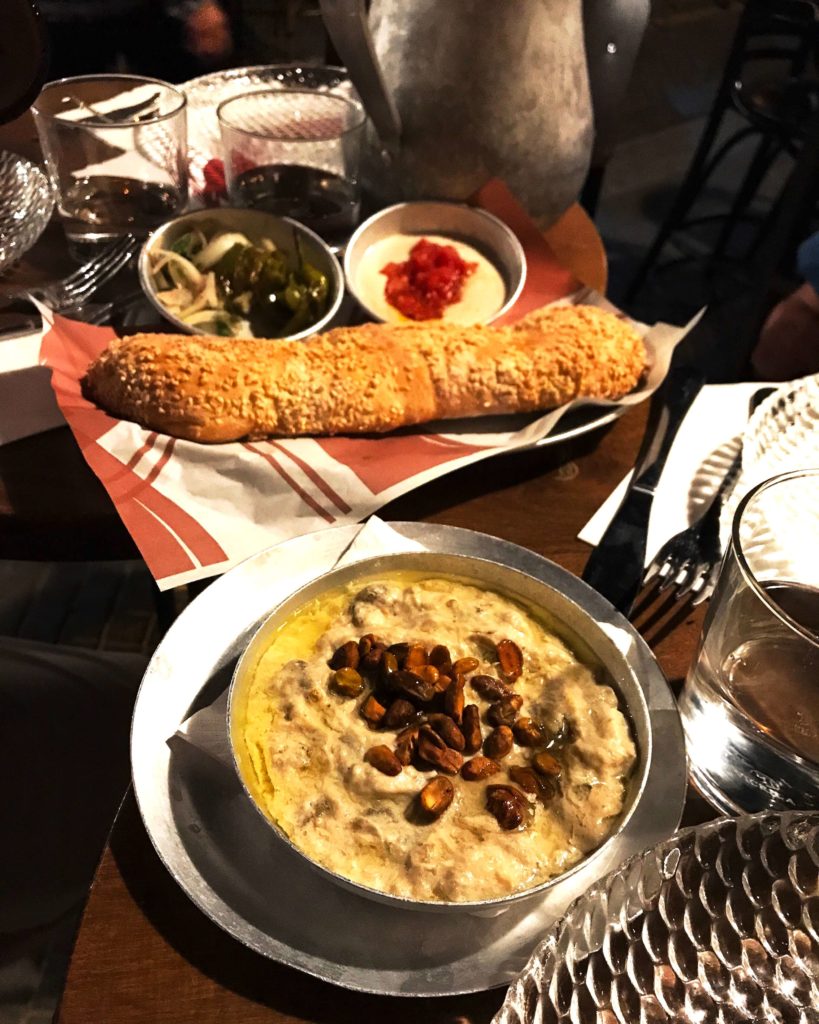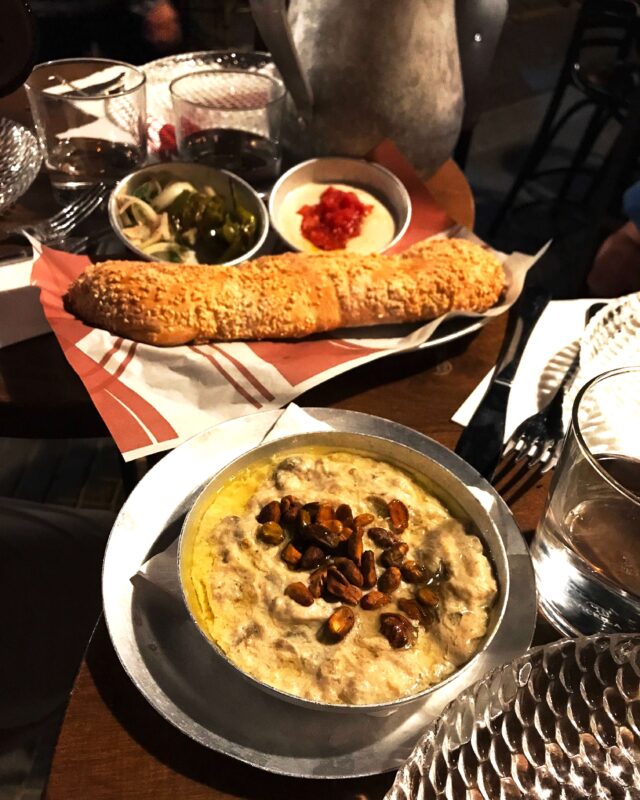 Hummus is such a typical food in Israel that it was the butt of a feature-length joke in "You Don't Mess with the Zohan". There are more variations of this tahini-spiked chickpea purée than you might imagine – from a simple one topped with toasted pine nuts, beef or sautéed mushrooms to hummus foul moudamas with fava beans to warm, mouthwatering messabecha served up at Abu Hassan in Yafo. No matter which style you prefer, hummus may just be the classic Israeli food!
If you're road-tripping in northern Israel, look out for Rak Hummus ("only hummus"), a great lunch spot where locals go for tasty, cheap, filling hummus and its variants – don't mind that it's next to a gas station! Yes, hummus is a typical lunch in Israel, not just a dip or a side dish.
You'll also find store-bought hummus on nearly every Israeli dinner table to eat with pita, salad, chicken or pretty much any other food.
Falafel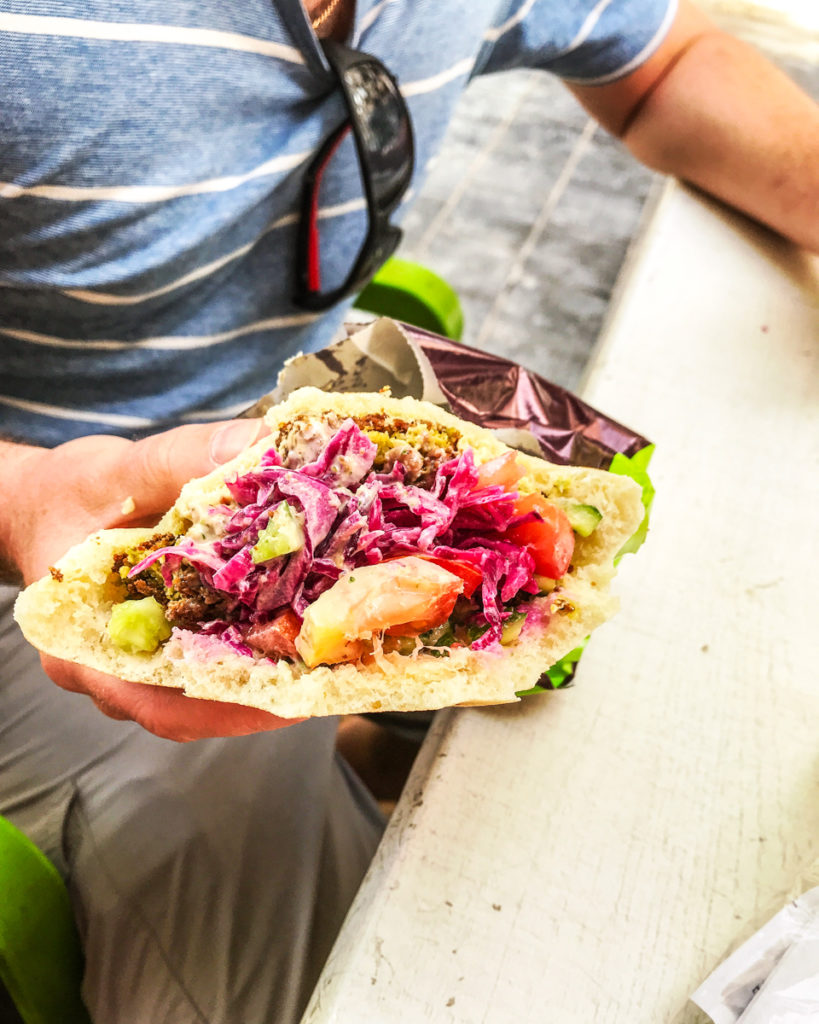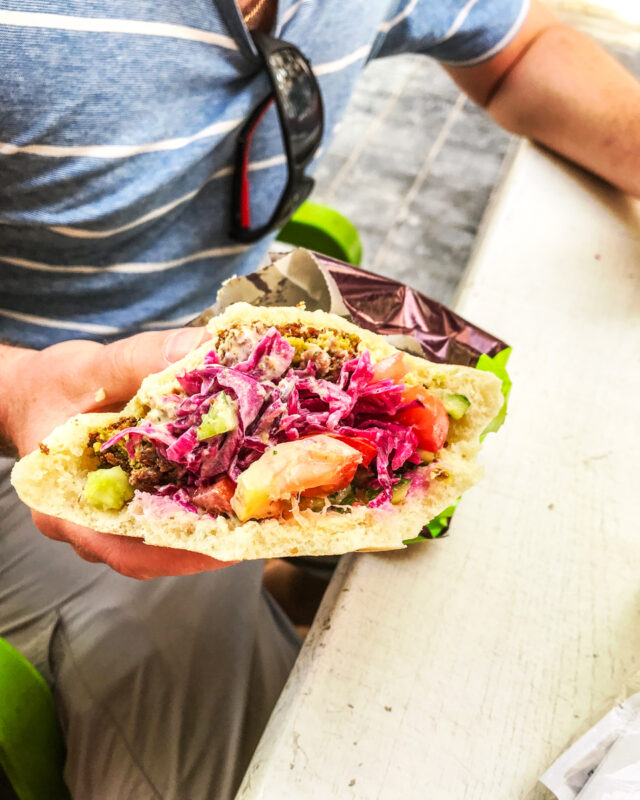 Chickpeas seem pretty ubiquitous, so it's no surprise that falafel makes it on the list of famous food in Israel. You can't visit Israel without eating falafel at least once (unless you have a sesame allergy, in which case I'm very sorry). You can have it served up in a platter with fries, hummus and tehina on the side or inside a pita with toppings ranging from spicy schug to crunchy cabbage to crispy hot fries (yes, fries in the pita). Most places will either ask what you want inside or offer a self-serve topping bar.
Everyone has a place they swear serves the best falafel in Israel. The good news is that you can get excellent falafel without going off the beaten path! Check out Moshiko in Jerusalem (on Ben Yehuda Street) or Falafel Gabay in Tel Aviv (on Bograshov Street, just a few blocks from the beach).
Sabich
What's popular food in Israel today? Young Israelis are shunning their parents' falafel and instead opting for Iraqi sabich! Sabich mixes together diced hard-boiled egg, roasted eggplant, tomato, cucumber and more, tops them with tangy tehina and stuffs the whole thing in a fresh-baked pita. What's not to love? There are new sabich stands cropping up all over Israel each week. If you feel inspired like Ronnie did, you can make it at home win the recipe from this excellent cookbook.
Want to experience all the best food spots in Tel Aviv? Check out this Israeli street food tour!
Salatim
"Salatim" is just plural for "salads" but they're an extremely common way to start a meal in Israel, either at a restaurant or someone's home. You'll often find chopped salad of tomatoes, cucumbers and bell pepper, a beet-based dip, hummus, babaganouch or a similar eggplant salad and many more choices. Some traditional Israeli restaurants like Benny HaDag in the Tel Aviv port and The Old Man and the Sea in the Jaffa port serve up a dozen different salads, each in a tiny dish, at the beginning of each meal. If you're vegetarian or prefer a light meal, you can often just pay for the salatim and forgo the entree.
Schnitzel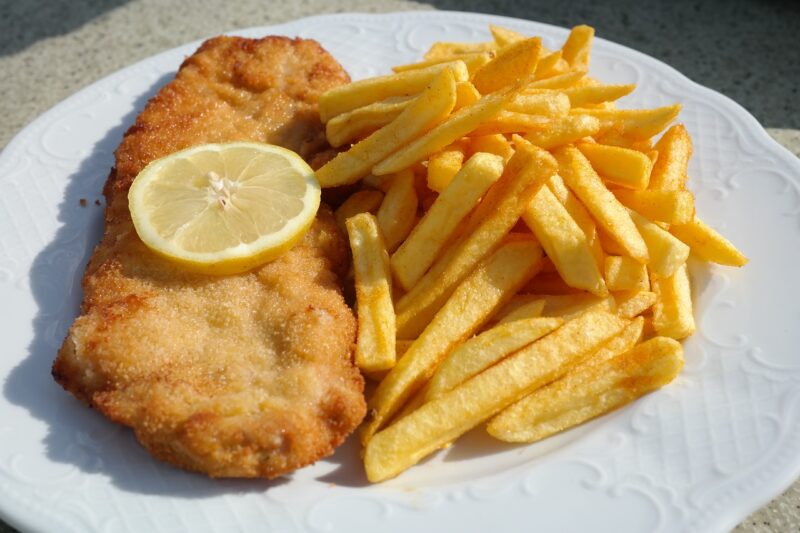 A very typical Israeli food – especially for those with more "selective palettes" – is schnitzel, meat that has been breaded and then either baked or fried. While you'll find it served in Central Europe made from a wide variety of meats, in Israel it's usually made from chicken breast. Our kids have eaten schnitzel at dozens of restaurants in Israel, where it a a kids meal staple… but the best is always the one that's been made at home with love by a savta.
Shawarma
You'll find shawarma served throughout the Middle East and often in Israel it's served in the same restaurants and stands as falafel and hummus. This shaved meat could be chicken, lamb or beef so be sure to ask in advance if you're particular. It's often served with a side of fries or sometimes in a pita with toppings like a falafel sandwich.
Shakshuka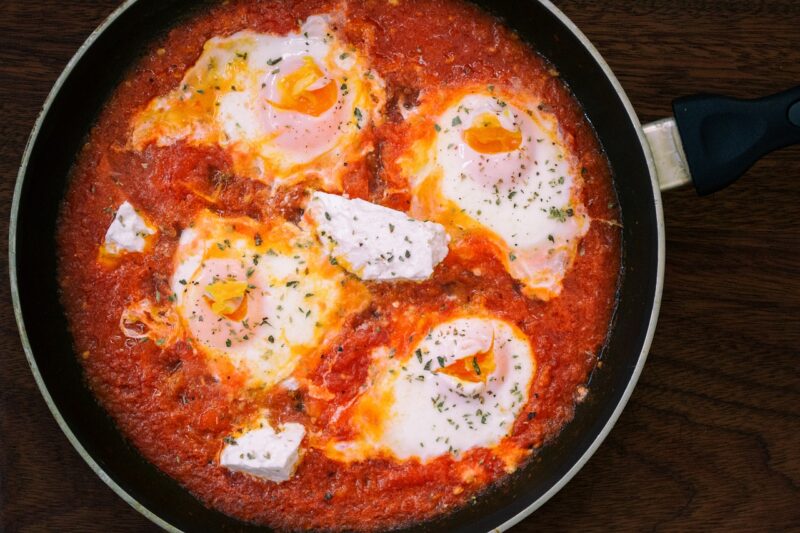 If you like eggs, you'll probably love shakshuka – a baked dish of eggs (yolks in tact) and zesty tomato sauce. Shakshuka makes a great breakfast food, especially if you're serving a large crew. You'll find it at many dairy restaurants in Israel that specialize in breakfast, especially on the weekend. If you want to make it for your next brunch, check out the recipe in here.
Dive deeper into Israel's diverse culture and food scene with this tour!
Israeli breakfast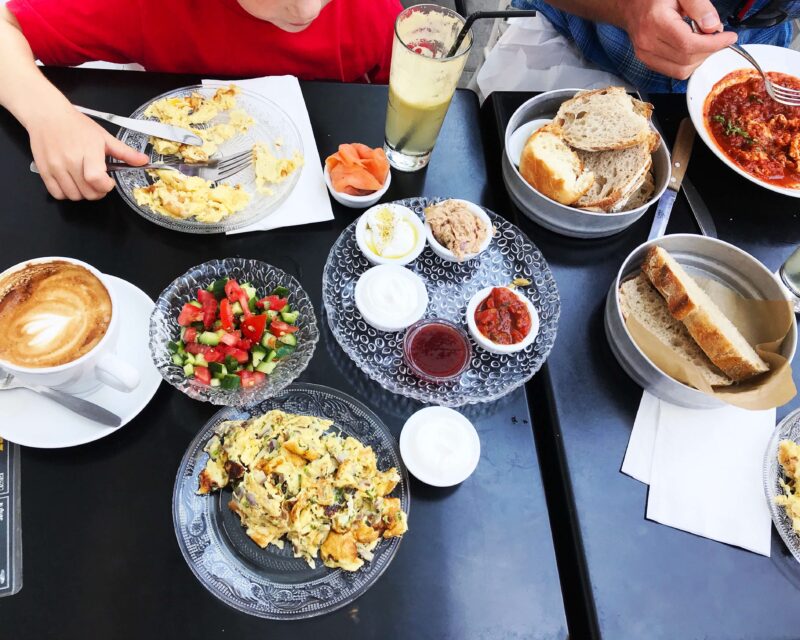 I've saved my favorite traditional Israeli food for last, the Israeli breakfast. Like so much of the world, breakfast in Israel is mostly a savory affair. And much like the aforementioned salatim, you'll be spoiled for choice by a typical Israeli breakfast – a good spread will often include breads, several cheeses, eggs (sometime hard-boiled, sometimes scrambled), fresh vegetables like tomato, bell pepper and cucumber, tuna or another type of fish, yogurt and even some fruit top it all off. What's not to love?
While we usually prefer to stay in rental or HomeExchange apartments, sometimes we'll stay for a few nights in a hotel just to indulge in the breakfast. If you time it right, your hearty Israeli breakfast can and then an afternoon bureka will tide you over until dinner! In Tel Aviv you can get an awesome spread at Adraba with plenty to share. In the north, don't miss our favorite place to stay – which happens to serve up a killer Israeli breakfast.
What about eating vegetarian or vegan in Israel?
Israel is a fantastic place to eat vegetarian or vegan food for so many reasons! First, there are many vegans and vegetarians in Israel so awareness is high in the cities (especially Tel Aviv). Second, Jewish dietary laws forbid the mixing of meat and dairy so restaurant staff are knowledgeable and accustomed to questions about ingredients (and many restaurants only serve meat or dairy, making it easier to sift through the choices). Third, there are many wonderful, nutritious plant-based options that are still considered typical of Israeli food – meaning you don't have to miss out on the cultural experience of eating local food.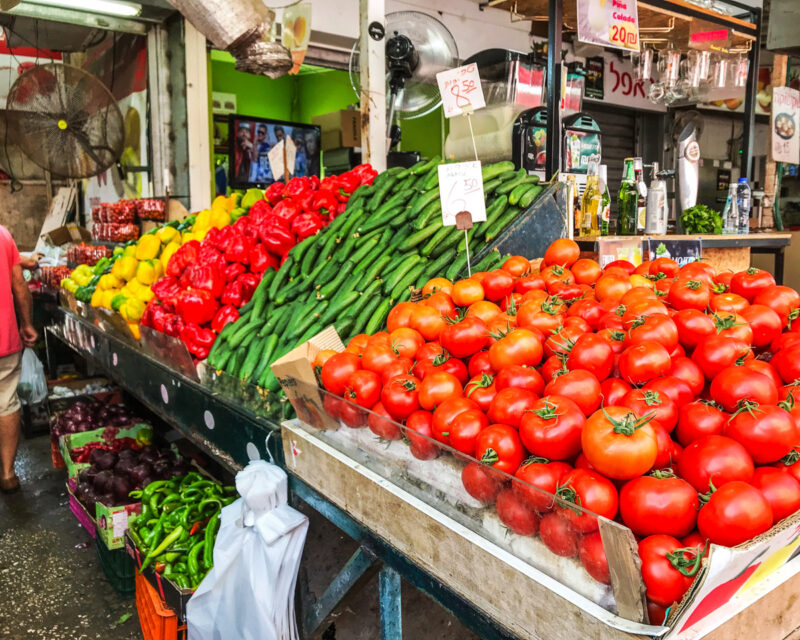 Here are some great options for vegan food in Israel:
–Falafel
-Hummus
-Salatim
-Israeli breakfast (specify vegan options like avocado toast without egg, one of the latest popular Israeli foods)
-Lafa with za'atar
-Halva
-Limonana
If you eat a vegetarian diet (including eggs and dairy) here are some more wonderful Israeli dishes to try:
–Burekas
-Shakshuka
-Israeli breakfast (sometimes served with fish)
-Sabich
-Kanafe
-Iced Aroma
Read more: What to pack for Israel season-by-season
Cooking Israeli cuisine on your own
If you love traditional Israeli food but can't make it all the way across the world at the first sign of a craving, the good news is that many dishes aren't too hard to make on your own. Dishes like sabich, shakshuka an schnitzel particularly lend themselves to cooking at home. Check out these great Israeli cookbooks to get your started – these are personal recommendations from Ronnie and my brother, so they should serve you well as you learn to prepare Israeli cuisine!
Easy Israel food choices for kids
Visiting Israel with kids? There are plenty of kid-friendly choices everywhere you look! Ours never say no to schnitzel im chips with limonana for dinner.
When we go to a falafel place for lunch, we usually opt for the plate option for the kids. They'll get a few falafel balls, hummus, pita and pickles (or other toppings) but all separate rather than mixed together in a sandwich. When you're 4 years old, these things matter.
Plan your trip to Israel
Use the interactive map to find vacation rentals and hotels in Israel
---
Money-saving travel resources:
–Find the cheapest flights on Skyscanner
–Book your discounted rental car on RentalCars.com
–Compare travel insurance options
–4 simple hacks to save more money on booking.com

Check out these helpful articles to plan your upcoming trip to Israel:
–The perfect 10 day Israel itinerary
–3 days in Jerusalem itinerary
–2 days in Tel Aviv itinerary
–Where to stay in Israel
–50 things to know before you visit Israel
–What to pack for Israel in each season
–When is the best time of year to go to Israel?
–10+ must-read tips for renting a car in Israel
–20 foods you have to try in Israel
–25+ best books about Israel
–Where to stay in Jerusalem
–What to do in Jerusalem on Shabbat
–Israel with kids: the complete guide
–Visiting Jerusalem with kids
–Visiting Tel Aviv with kids
–Best day trips from Tel Aviv
–Best day trips from Jerusalem
–Your Israel itinerary for (more or less) 10 days
Pin it for later!