Israel is an amazing country – and one that brings with it a lot of unknowns for first-time visitors. I've visited eight times and learned a thing or two along the way. There are so many things to know before going to Israel!
We hope these tips for traveling to Israel will demystify the experience a little and leave you open to be amazed, surprised and excited by what you find. A trip to Israel is truly a dream come true for many people so our goal is to make your experience unforgettable.
---
Before you start planning your trip to Israel…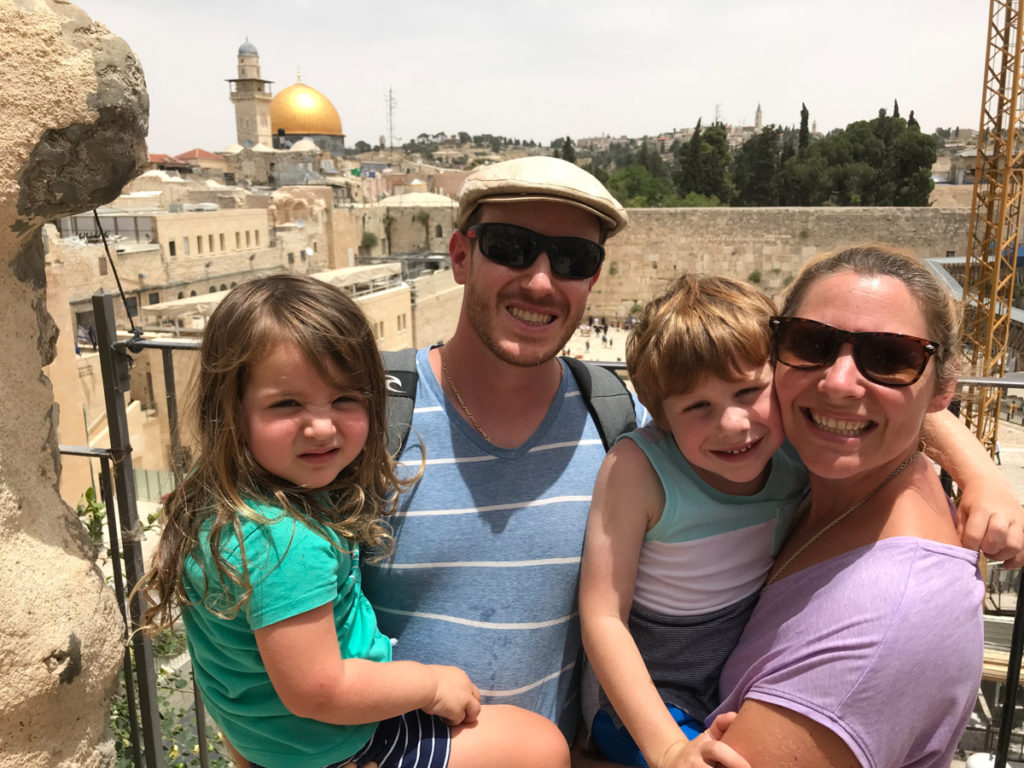 There are a few things to know before traveling to Israel that could make your plans a non-starter, so read these closely!
Check to ensure your passport/citizenship allows going to Israel. If you're planning travel to Israel from the US and you carry a US passport, you'll be allowed to enter the country on a three-month tourist visa that's granted upon arrival. Most countries don't require a visa in advance, but be sure to check your country's requirements if you aren't from North America. Use this official link for information and to apply for a visa for Israel if you need one.
Make sure your passport has at least 6 months of validity from the date you plan to leave Israel. You may be denied entry if you're planning a May visit and your passport expires in August, for example. That would be the worst way to start a trip to Israel!
There are no specific COVID entry requirements for Israel as of early 2023. You can check this website for additional details and updates. As of this writing, restrictions only apply if you actually test positive for COVID. There is no vaccination requirement to enter Israel.
Book a photoshoot
We always love to book a photoshoot when we're traveling. As a mom, it's tough to get in the photos since I'm always behind the camera. We use Flytographer to capture our memories. You can get $25 off your shoot by booking with this link or using code FAMILYVOYAGE.
---
Is Israel safe to visit?


It's safe. Don't believe the hype you see in the news, Israel is generally a safe country to visit. Just use street smarts and tune into the news. Stay on the tourist path and you should be fine to travel in Israel. The US State Department advises that travel within Israel itself is fine, albeit with a dose of extra caution in Jerusalem's Old City. As with any place you're visiting at home or abroad, it's important to keep up on what's happening in the news. Ynetnews is the English version of the the country's top newspaper, Yedioth Ahronoth. This isn't to say that "Is it safe to travel to Israel?" is universally answered with a "yes" but barring a major outbreak of hostility you'll be fine.
Soldiers are a part of daily life. From age 18 through 20 or 21 most Israelis serve in the army. You will see soldiers throughout your time in Israel. Don't be nervous, they are young adults who happen to be wearing a uniform. The guns you see out in the street are there because soldiers are required to keep tabs on them (or have them behind multiple locks) at all times. Apart from these requirements, there isn't much of a "gun culture" and there are stiff restrictions on private gun ownership in Israel.
There is more to the country than the geopolitical situation. This is perhaps the most important of our Israel travel tips. While the geopolitical situation is very real and cannot be ignored, it is not the identity of Israel. Israel is home to an innovative tech sector, world-renowned agriculture and incredible diversity. Explore Israel with open eyes and don't be afraid to connect with the people. If you view your trip to Israel only through the lens of conflict, you'll miss out on so much more!
The water is just as safe to drink as in any other developed country. Unless posted otherwise, the water throughout Israel is safe to drink. If you are traveling to more remote areas double-check with your accommodation or the National Park service.
Airport security can be intense… or it can be nothing. I think most travelers have heard about that friend of a friend's second cousin who was detained for four hours at the Tel Aviv airport. Yes, it happens. But it's far from the norm. In the US, everyone is forced to take off their shoes, unpack their bags and may be subjected to random pat-downs (it once happened to me when bringing coffee back from Hawaii on a domestic flight).
The approach in Israel is different. Rather than applying broad security measures to everyone, they apply deep security measures to those who arouse suspicion. Guards are trained to read microscopic changes in facial expressions as people answer (seemingly) random questions. Certain passport stamps will definitely increase the likelihood of additional screening and questioning.
It's not better or worse, it's just different. It's never been a lengthy process for us, and sometimes faster than in the US where it seems like there's a new and arbitrary rule every week. On the other hand, I know a guy who did get detained for hours due to a wide range of passport stamps he had accumulated from "unfriendly" countries through business travel. It didn't help that he became aggressive when questioned about the stamps (as he told me).
Israel doesn't stamp passports anymore. And they haven't for quite a few years! There are enough other countries who don't like seeing Israeli stamps that they don't do it. Instead they give you a little blue card that fits perfectly in your passport and shows your grainy photo, date of entry, passport number etc. Try not to lose it since that's your only proof that you're legally in the country, but we've never been asked for it. You may need to use it for VAT refund or to avoid VAT at hotels. You do not need to present it to exit, but upon leaving you'll be given a matching pink card.
Important note if you plan to travel elsewhere in the region: Israel doesn't stamp passports anymore. But if you use an overland crossing into Jordan (let's say for a day trip to Petra), Jordan will stamp your passport. It'll be pretty obvious which country is on the other side of that border! It's not clear to what extent that Jordanian passport stamp could cause you problems in the future, so if you're concerned then it might be worth flying from Israel to Jordan (unless your passport is nearing expiration).
Use the interactive map to find vacation rentals and hotels in Israel
---
---
Practical details for your trip to Israel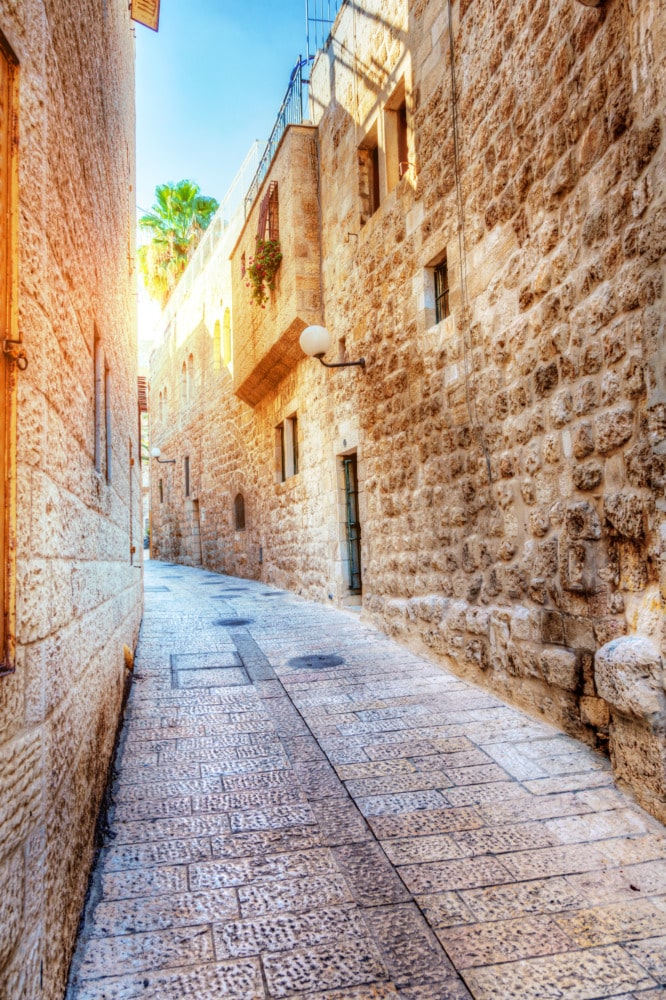 Israel has its own time zone, IST. It's 2 hours ahead of UTC from late October to late March and 3 hours ahead of UTC the rest of the year. The winter is referred to as Israel Standard Time while the summer is referred to as either Israel Summer Time or Israel Daylight Time.
Israel's currency is the shekel, which is divided into agorot. The exchange rate for the last few years has been pretty stable around 3-4 shekels (sometimes abbreviated ILS, sometimes NIS for "new Israeli shekels") per $1 US. There are 100 agorot per shekel. Prepare for your pockets to be heavy – Israel uses coins all the way through 10 shekels!
Israel uses a standard European plug adapter. When you visit Israel you can either bring a bunch of these or switch over to this consolidated solution for charging all of your devices wherever you go. I just bought one and it's working out great!
Israel is a fairly expensive country. Whether you're visiting Israel for the first time or the fifteenth time, be prepared to pay prices similar to the US for food and accommodations, while some durable goods may be much more expensive (particularly if they're imported). Israel has been struggling with inflation along with the rest of the world, and the cost of living for Israelis is a huge struggle in the cities.
---
What to bring to Israel
What to pack is one of the most common things to know before visiting Israel that I'm asked about!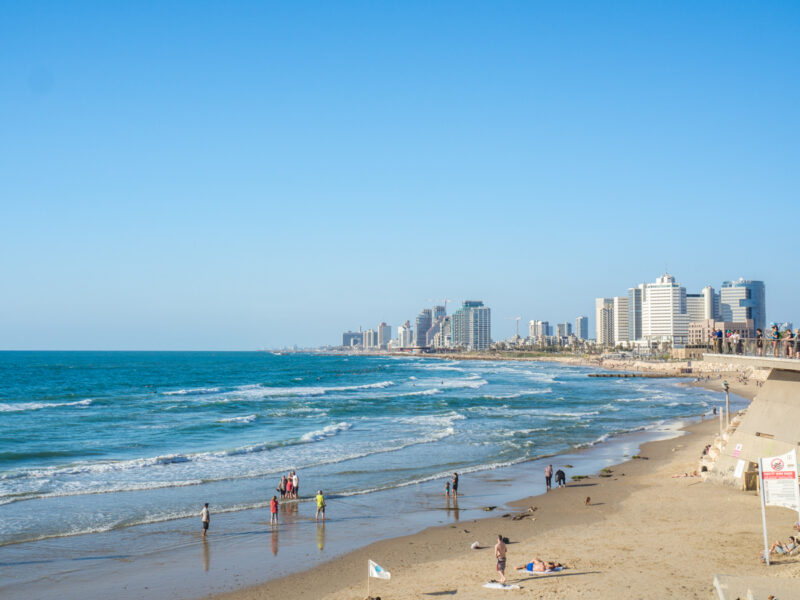 Don't forget your swimsuit. Israel has some phenomenal beaches and benefits from the warm Mediterranean waters. Make time to go to the beach and relax if you're visiting April to October. During other times of the year, you might still want to go float in the Dead Sea.
Dress modestly (in some places). At religious sites (including the Western Wall and the Temple Mount) and when walking through extremely religious neighborhoods, try to dress modestly out of respect for those communities – and so that you don't get harassed. Yes, there are reports of women being spat on (or worse) for visiting an ultra-orthodox neighborhood without fully covering themselves – ankle to wrist to collarbone.
There are plenty of microclimates to confuse your packing list. When packing for Israel, take note of what time of year you're traveling. During the summer the country is hot everywhere during the day, but the desert and the north can experience cool temperatures at night even during the summer. During winter the whole country can be pretty chilly – we've seen snow on the palm trees in Jerusalem. While Tel Aviv is known for being humid, Jerusalem is higher and drier.
Pack your bags! Check out our season-by-season guide for what to bring to Israel.
Get your currency from the airport ATM instead of bringing it. Banks in the US don't exactly specialize in shekels and agorot. You can use credit cards nearly everywhere when you visit Israel, but for a little cash just use the ATM in the baggage claim at the airport when you begin your trip to Israel.
---
Food in Israel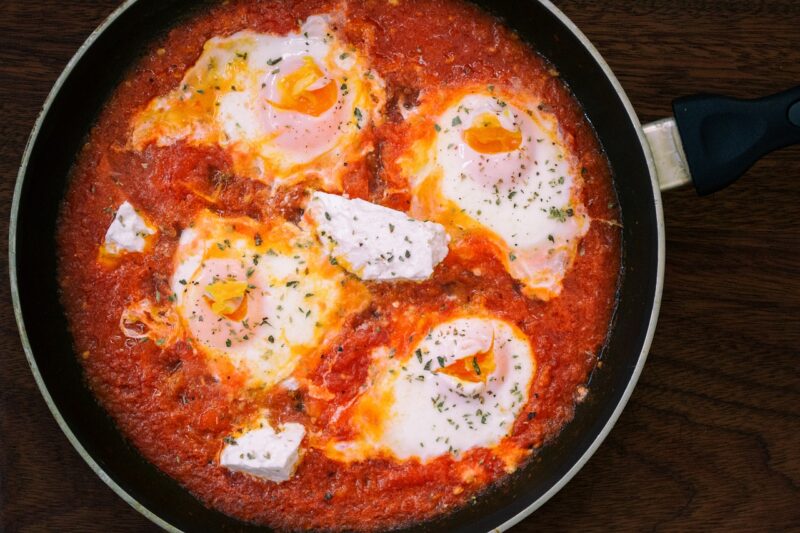 The food is so good. Israel is a nation of immigrants and you can sample some of the best, most diverse cuisine in the world. You'll find options covering every budget from fine dining to street food. Just come prepared to eat, and to eat well.
Did somebody say wine? Israel produces some outstanding wine, and you can go tasting at wineries around the Judean Hills, in the Golan or even in the desert on your Israel trip.
Israeli breakfast is a thing. If you're a breakfast person, then you're gonna love Israel. Delicious fresh vegetables, cheeses, eggs and bread are served up in homes, hotels, kibbutz dining halls and restaurants throughout the country – at least on weekends. So good. Make sure you try shakshuka at least once! This egg and tomato dish is one of my favorites.
You may have to pick between sabich and falafel. There's a great debate over which is the best Israeli street food. Sabich is a traditional Iraqi breakfast sandwich with cut up hard boiled egg, potato and roasted eggplant in a pita; modern versions now add salads and are served at lunchtime. Falafel balls are deep fried chickpeas served in pita with salads. Both make for a excellent, fast, cheap lunches.
Druze food is amazing. The northern part of Israel is home to many Druze people. The Druze religion is unique unto itself although it is a derivative of Islam. They are incredible people and their restaurants have some of the best food in all of Israel. If you're far north, check out Al Sultan in Ma'asade (and potentially laugh as your phone alternates between thinking it's in Israel, Syria and Lebanon).
There's a strong cafe culture. Throughout Israel cafes are abundant and wonderful. If you like good coffee or a cup of tea make sure to stop for a break. Whether in Aroma, Caffit or one of the many independents in hipster neighborhoods, you'll find Israelis sipping at all hours.
Limonana just might be the world's most refreshing drink for a hot day. At most restaurants you can cool off with a glass or carafe of this deliciously refreshing drink made from lemonade and fresh mint.
Kosher food is ubiquitous. The majority of food you will purchase at grocery stores is classified as kosher – meaning that it is certified by religious authorities to conform to Jewish dietary laws. The most prominent rules are that milk and meat cannot be consumed in the same meal (or from the same dishes, even at different meals) and certain foods like pork and shellfish are off limits.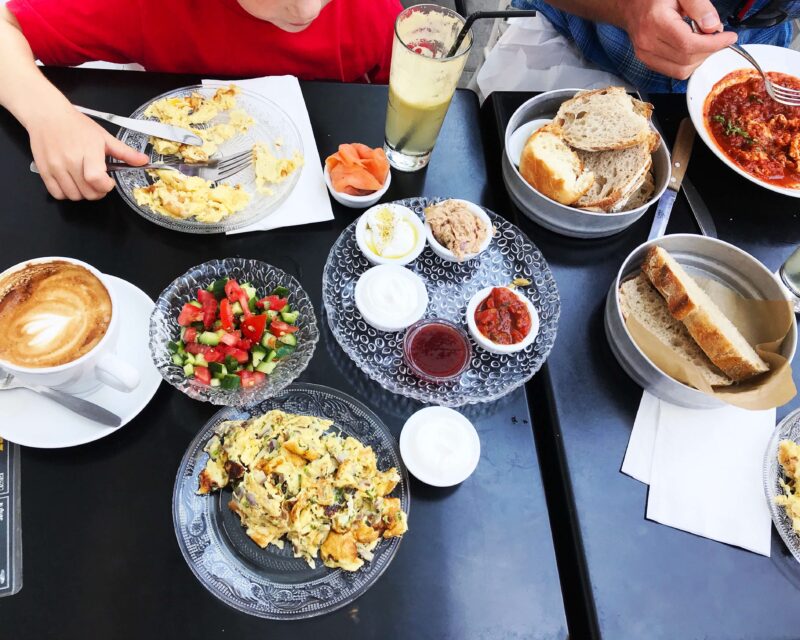 But not all restaurants are kosher. Kosher restaurants exist throughout Israel and are closed from Friday afternoon through Saturday evening. Don't expect to eat cheeseburgers or pork chops at these restaurants, as both types of food are forbidden under Jewish dietary laws. These restaurants have a certificate that says all food prepared at the restaurant are prepared following kosher laws. Buuuuut… there are non-kosher restaurants throughout Israel as well. In fact, you'll find some of flagrantly non-kosher restaurants in Tel Aviv ranging from high-brow foodie establishments to run-of-the-mill places that might be trying to thumb their noses at the country's often-overbearing religious authorities.
Israel will give your sweet tooth a run for its money. Thanks to the melting pot that is Israel, you can try sweets from all over the world. My personal favorites? Kanafe – an Arab pastry made with noodle-like pastry soaked in syrup and layered with cheese. Rugelach – a rolled cake-like cookie made with chocolate and cinnamon. Halva – a sesame-based Arab dessert made with tahini paste, you can find it at any major outdoor market.
You should tip in restaurants. Tipping isn't as generous as in the US, but 10-15% is a typical amount to tip in restaurants in Israel. Cash tips are preferred when you visit Israel.
Want to learn more about food in Israel? Check out these 20 foods you can't miss!
---
Israeli culture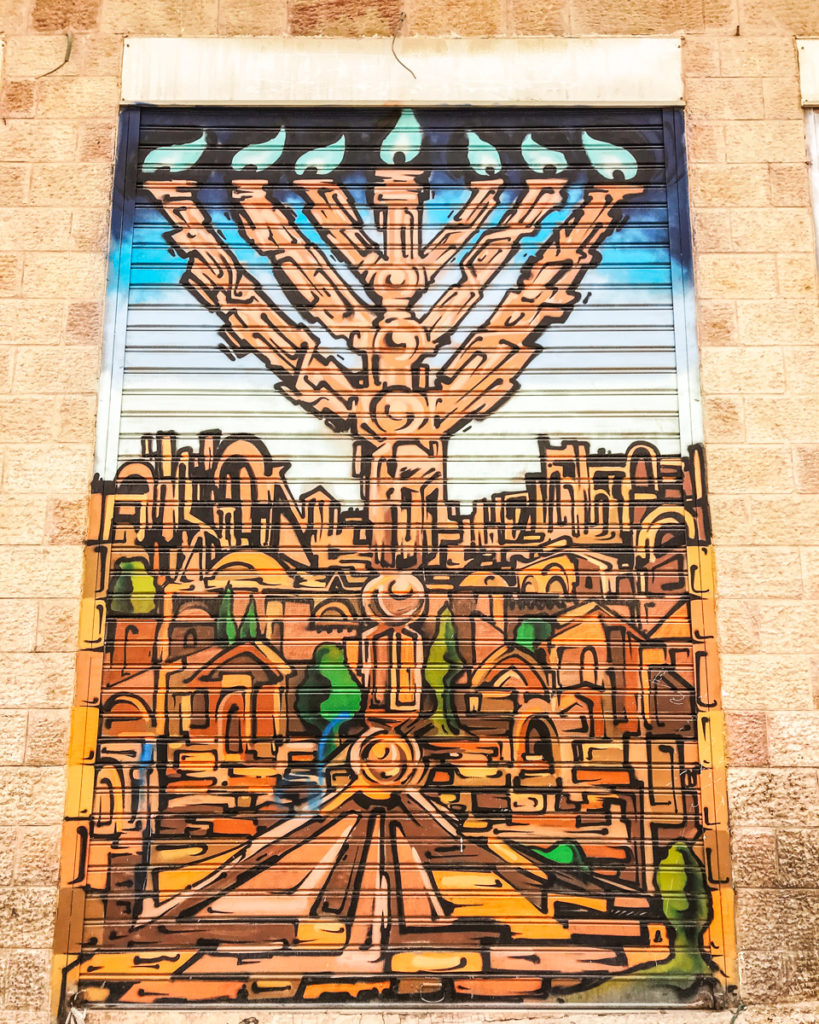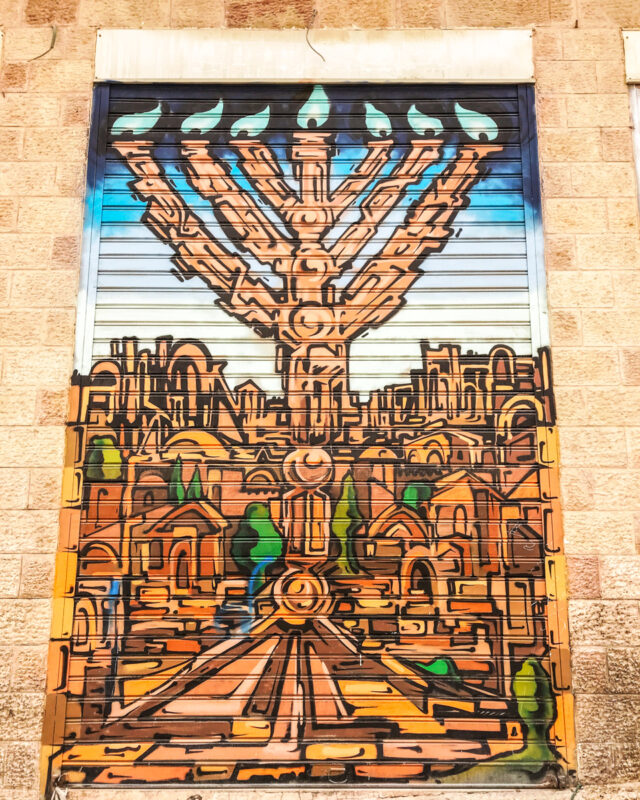 Israelis are friendlyish. Most people you will when you visit Israel meet are going to be friendly and willing to help you if you have a question or are lost, so don't be afraid to ask. At the same time, Israelis are known for being direct to the point of blunt. One of our most important travel tips for Israel? Don't be offended, and remember that it's ok to be assertive (like when you're in line to get on the bus). You'll fit right in!
Most Israelis speak English extremely well. Don't worry if Hebrew or Arabic isn't quite up to snuff. Nearly all Israelis speak English (well) and they'd rather practice their English with you than listen to you try to remember everything you'd forgotten since fourth grade Hebrew school. You'll have no problem traveling in Israel even with English as your only language.
Most Israelis aren't religious (at least, not in the stereotypical way). Yes, 75% of Israelis are Jewish. But two-thirds of them self-report that they aren't religious! What does that mean from a practical perspective? Throughout the country you'll see that most Israelis are dressed in typical 21st century clothing and will drive on any day of the week. But you'll also find that Friday night is often reserved for family (or friends) dinner at someone's home. Nearly all Israeli Jews attend a Passover seder, fast on Yom Kippur, don't eat pork… and never go to synagogue.
Some businesses are closed for Shabbat. Don't plan on any major outings to shops or restaurants during the Jewish sabbath (Friday evening through Saturday evening), especially in Jerusalem. In Tel Aviv you will find more places open on Shabbat – and most of the city at the beach during the warmer months. Fortunately there are still plenty of cultural institutions and outdoor activities available all weekend!
There are so many Jewish holidays. Because Israel is a Jewish state, many attractions close during Jewish holidays. Check the calendar to plan your visit outside these periods (unless you are going specifically to celebrate the holiday). Accommodations will book up faster during these periods – see the point above about most Israelis being secular – and are also much more expensive. Passover and Sukkot are wonderful times to travel to Israel (hello, shoulder season), but those are also weeks when secular Israelis take their kids on excursions around the country. Wondering when's the best time to visit Israel? Find out here.
---
Getting around Israel travel tips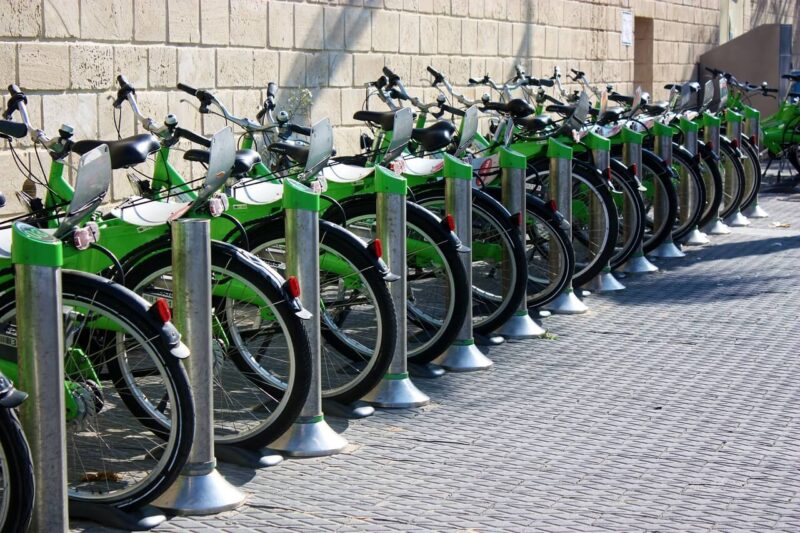 It's easy to fly to Israel. Tel Aviv's Ben Gurion airport is accessible from all major cities throughout North America and Europe. Flight prices vary depending on the season, but you can check here for the best flight deals on travel to Israel.
Driving in Israel is pretty easy these days. The roads are top quality and well maintained. Leading GPS app Waze was designed in Israel and will help you breeze through even the most confusing city roads. Most rental cars are European models with all of the modern conveniences. If you'll have kids with you, make sure to read all about how to travel with car seats.
You don't need an International Driving Permit. As long as you aren't staying longer than a year, an International Driving Permit isn't required in Israel. (Nor is an International Drivers License, which isn't a real thing – just an internet scam.)
Don't feel like renting a car? That's ok too. Israel is well-connected on the ground bus and train systems (though not on Shabbat, Friday night to Saturday night). There are also plenty of taxis, Ubers and ride share vans (sherutim) to go around. Note that taxi drivers do not expect a tip, though "rounding up" is nice.
Electric bikes and scooters are everywhere. Especially in the metropolis of Tel Aviv, you will see tons of people whizzing around on electric scooters and bikes. Feel free to rent your own and give it a go! If that's too speedy for you, pick up a free bike to explore the city for a few hours!
Don't be surprised if your rental car ends up pricier than you thought. You just booked your car and you are bragging to all of your friends that you're only paying $9 a day. You show up to Tel Aviv airport and find that your rental company charges a required insurance daily fee of $20+ a day. This happens to every tourist. Check with your rental company in advance to see how much they charge for mandatory insurance to avoid unwanted heart palpitations (but sorry, you won't be able to avoid the fees!). Check rental car prices here.
It's really not that big of a country. You can drive from the Red Sea to the Lebanon border in just over six hours when you visit Israel. The country's relatively small size means you can see more and do more in less time when you're traveling to Israel.
Are you thinking about renting a car in Israel? Read these 10 important tips first!
---
There are so many things to do in Israel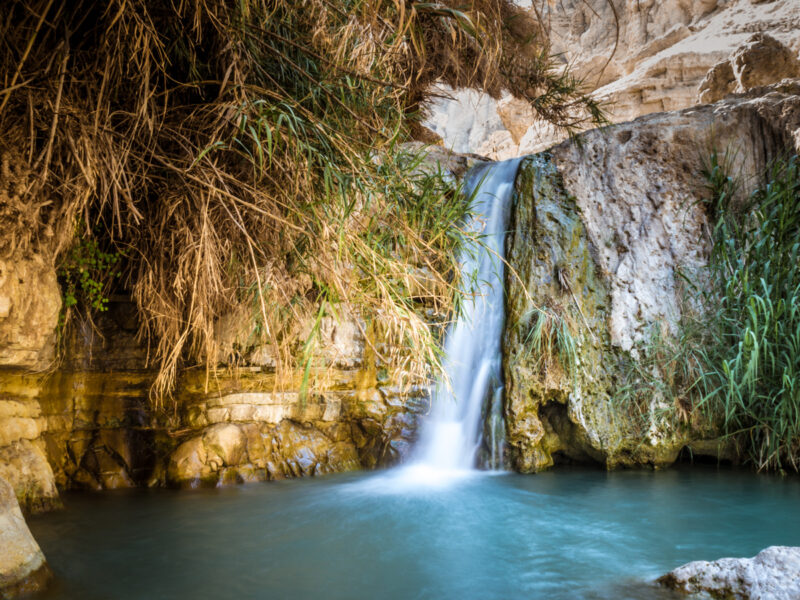 It's an everything destination. Beach days, mountain hikes, world-class cities and incredible scenery… Israel has it all.
Jerusalem is a complicated city and it's worth exploring. You'll want to devote a full day to the ancient city, which is made up of four quarters: the Jewish quarter, Christian quarter, Muslim quarter and Armenian quarter. Even if you aren't booking Israel tour packages, you'll want to book a guided tour to provide context for the history, culture, and geopolitical situation. Be sure to allow some time exploring the modern city as well when you visit Jerusalem!
The north is couples-travel heaven. Whether you're into waterfall hikes, wine tasting or just cozying up in your secluded cabin, you won't regret a few peaceful days of together time. Check out these awesome tzimmers and romantic inns perfect for love-birds – we enjoyed a few during our kid-free trips to Israel!
You won't want to miss the National Parks. With over 60 destinations ranging from famous sites of antiquity to a stalactite cave, Israel's national parks will give you an amazing perspective on the country's unique environment and history. Purchase a Green Pass when you're there to visit several parks at a discount!
You can snorkel through a protected marine reserve. If you make it all the way to the southern tip of Israel, the city of Eilat has some stellar snorkeling at Coral Beach – it's even included on that discounted Green Pass.
There's a lot more to Jerusalem than the religious sites. While the Old City is worth a visit, the rest of the Jerusalem area also offers outstanding hiking, museums, outdoor markets and fun communal spaces. Allow time to explore Jerusalem beyond the Old City.
Matkot is something of a past-time in Israel. Before you hit the beach, purchase a matkot set. What is it? Think of it like paddle ball on the beach. You'll hear the distinctive ping ping allllll weekend along the coast. Try it! You'll fit right in… though you'll have to practice for years to make it to the level of the expert 20-somethings who've been playing for their whole lives.
Israel is home to the world's largest erosion crater. At the very northern tip of Israel's Negev desert you'll find Makhtesh Ramon, a massive crater formed by multiple erosion processes over hundreds of millions of years. It's also home to wonderful walking paths, fascinating wildlife and a can't-miss visitors center.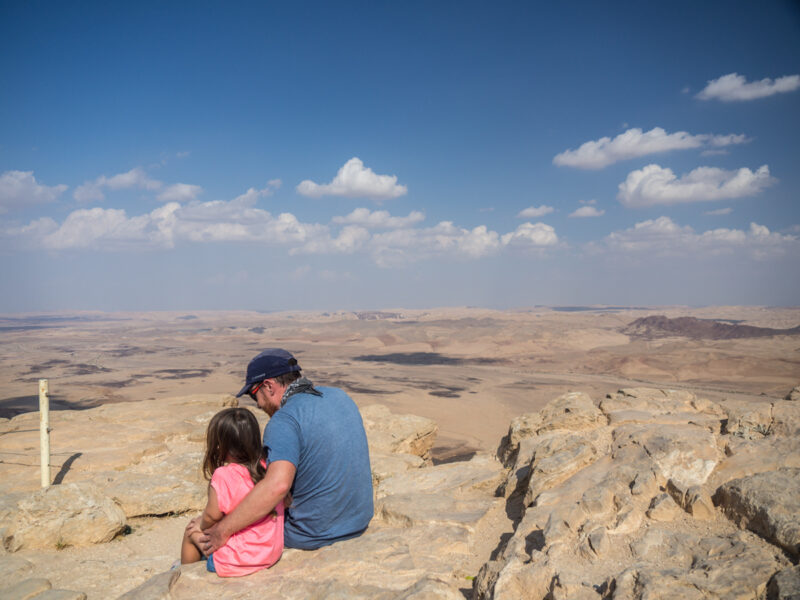 There are four distinct environments – and you should try to see them all. Throughout Israel you can experience deserts, beaches, mountains and urban environments – many of them in a single day if you're really ambitious. Part of Israel's appeal as a travel destination is that you have so much to explore in such a compact country.
You can float on water. Looking to relax and detox your skin? Head to the Dead Sea, straddling the Israel-Jordan border east of Jerusalem, and you'll feel weightless as you float across the salty water. The Dead Sea mud is famous for its skin-friendly minerals and sold at a premium all over the world. Looking to indulge a little? Book a spa treatment while you're there! Find out more about visiting the Dead Sea and other great day trips from Jerusalem.
Want to get up close with Roman ruins? Yes, the Romans did conquer the Holy Land and they left behind some incredible ruins well worth exploring. The ancient sea port of Caesarea makes a great stop along the coast and is an easy day trip from Tel Aviv. Check out these other great day trips from Tel Aviv!
Walk a street from Biblical times. Thanks to a rich tradition of archeological excavation, Israel has uncovered fascinating glimpses into ancient history. Sign up for a Kotel tunnel tour and wind down a narrow passageway into a different era.
The Holy Land is holy for Christians too. – Ever wanted to see the room where the last supper took place? The street where Jesus carried the cross? Or perhaps Jesus' tomb? All of these locations are in Jerusalem and can be visited in one (very busy) day.
You'll find one of the most recognizable mosques in the world. The Dome of the Rock is the most visible site across the Jerusalem skyline with its Golden Dome. Built on the grounds of where the Second Temple once stood, this site is one of the most important sites in the world for Muslims. Non-Muslims are not permitted to enter the building, though all are welcome to visit the complex at certain restricted times. Check the tourism site to see when visitors are allowed.
The kibbutz system has changed a lot but you can still get a taste of it. When Israel was emerging as a soon-to-be nation it created an economy built on socialist communities called Kibbutzim. The kibbutz movement grew over time to include everything from agriculture to industry and members' daily life revolves around collectivism – including things as personal as raising children communally. Today, as Israel has moved towards a free market economy, kibbutzim are a shadow of their previous incarnations. You can still get a taste of kibbutz life by staying at one or even volunteering at one.
If you're looking for a bit of a thrill, try rafting down the Jordan River. The river that separates Israel from its neighbor is a fun place to try out some rapids. Check out these great options.
Israel is part of the great bird migratory pattern. If you love seeing a diverse set of birds then you should head to northern Israel and visit the Hula Nature Reserve. Twice every year the marshes and lakes at Hula are teeming with birds of all kinds. Try to spot a water buffalo or a capybara too!
Markets are for tourists and locals alike. Jerusalem and Tel Aviv both have major open air markets called 'the shuk'. Here you can sample fresh produce, sweets, bargain for a shirt or backgammon board, or sip a refreshing fresh juice – shoulder-to-shoulder with locals (especially on Friday when everyone is shopping for Shabbat dinner). Visiting a shuk is a must if you are traveling to Israel. The famous shuk in Jerusalem is Mahane Yehuda, and it's been transformed over the past years to include a vibrant night scene with pop up restaurants and pubs.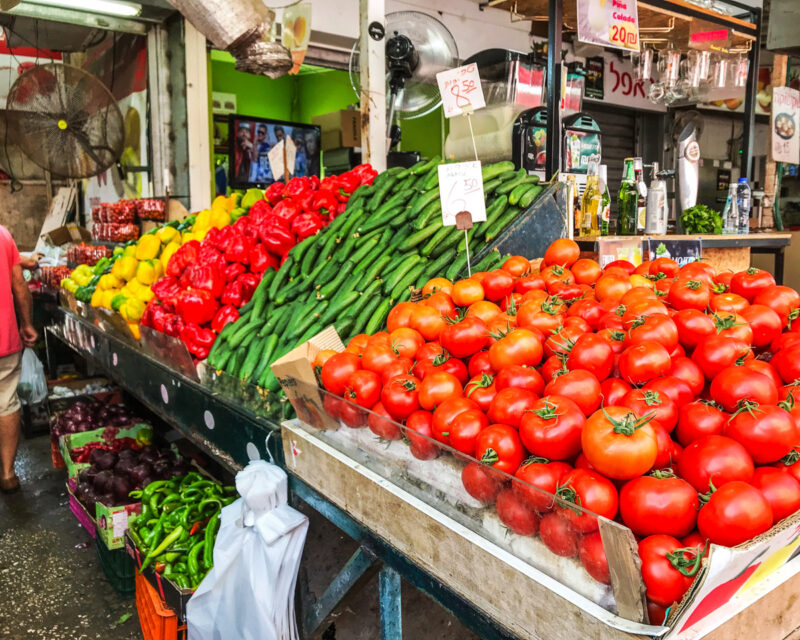 ---
FAQs for your trip to Israel
Is it safe to travel to Israel?
Yes, most of Israel is safe to visit. That said, there are sometime security situations that arise so it's always prudent to keep an eye on the news – as with anywhere you travel.
What's the best time to visit Israel?
My favorite times of year to visit Israel are Spring and Fall, but here's a detailed breakdown of the best time of year to visit Israel.
How many days do you need to see Israel?
If you've never been to Israel before, I recommend a 10 day trip to Israel to see the country's highlights.
---
Plan your travel to Israel
I hope these traveling to Israel tips have helped you feel prepared for the journey of a lifetime!
Money-saving travel resources:
–Find the cheapest flights on Skyscanner
–Book your discounted rental car on RentalCars.com
–Compare travel insurance options
–4 simple hacks to save more money on booking.com

Check out these helpful articles to plan your upcoming trip to Israel:
–The perfect 10 day Israel itinerary
–3 days in Jerusalem itinerary
–2 days in Tel Aviv itinerary
–Where to stay in Israel
–50 things to know before you visit Israel
–What to pack for Israel in each season
–When is the best time of year to go to Israel?
–10+ must-read tips for renting a car in Israel
–20 foods you have to try in Israel
–25+ best books about Israel
–Where to stay in Jerusalem
–What to do in Jerusalem on Shabbat
–Israel with kids: the complete guide
–Visiting Jerusalem with kids
–Visiting Tel Aviv with kids
–Best day trips from Tel Aviv
–Best day trips from Jerusalem
–Your Israel itinerary for (more or less) 10 days
Pin this article to come back to it later!