Despite years of international travel with our kids, somehow we'd never made it across the border to Mexico. I can't exactly tell you why, except that maybe we had an inclination that it was just for people who wanted to sit around at a resort all day doing nothing. Obviously that has its appeal sometimes, but we've always viewed travel as an opportunity to explore the world.
When I floated the idea of visiting Playa del Carmen with kids for my "big birthday", there was a little bit of shoulder shrugging. But after three years of (unintentionally) staying within the USA, visiting the nearby Yucatan Peninsula seemed like a good way to dip our toes back into the tranquil, blue international waters.
Having just returned, I'm already planning a potential return next winter. Our Playa del Carmen family vacation was supremely enjoyable, but also full of a rich diversity of experiences. The Cancun airport is also extremely convenient for arrivals from nearly anywhere in the US, so it was some of the easiest international travel we've done.
Playa del Carmen for Families
In this article I'll share some of our favorite family-friendly activities in Playa del Carmen (plus a few that are on our radar for the future) and suggestions for where to stay and what to bring with you. While I can't pinpoint exactly why we didn't go sooner, I can promise you that we'll be back to the Riviera Maya with kids!
Playa del Carmen kid-friendly resorts
There are hundreds of choices for kid-friendly resorts in Playa del Carmen, with the most popular options being all-inclusive resorts. Here are some of the best family hotels in Playa del Carmen:
Mahekal Beach Resort review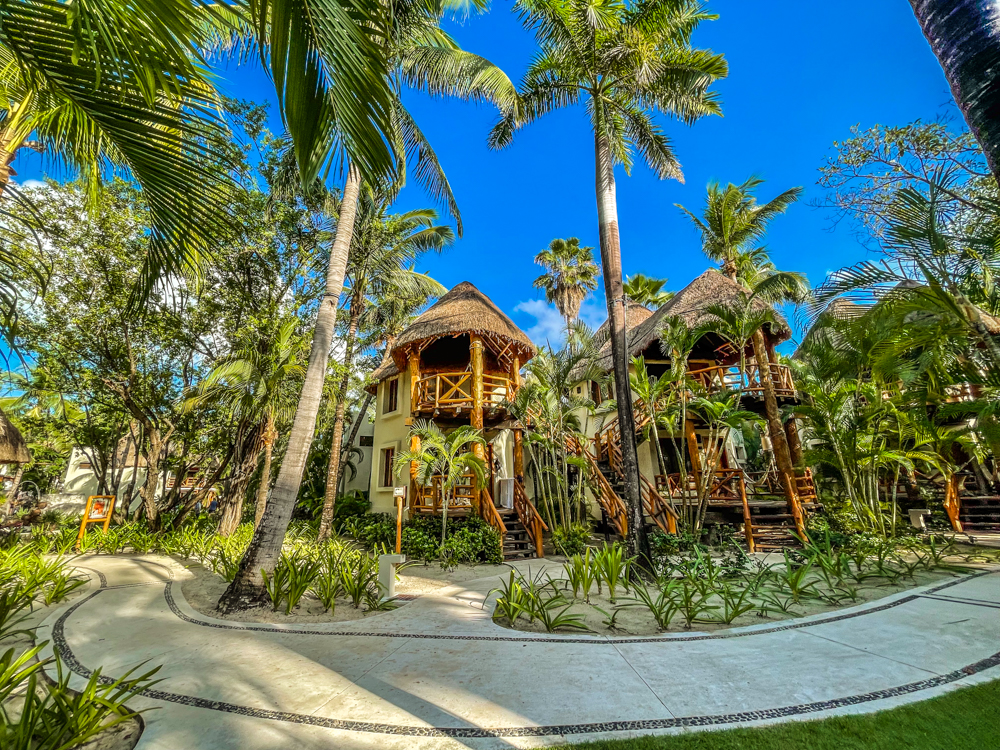 We searched long and hard before selecting Mahekal Beach Resort but it was worth taking our time – the whole family loved it! Mahekal is different than many others in that it's a small resort comprised of traditional palapa-style buildings with one or two rooms in each, and the buildings are dispersed through the lush grounds. Despite its tranquil, secluded feeling Mahekal is conveniently located within the center of Playa del Carmen. You can read all about it in my in-depth Mahekal Beach Resort review.
The resort has three beautifully-landscaped pools and three delicious restaurants, plus a lively bar with a game room. We loved stopping by after dinner to listen to live music while playing ping pong and shuffle board. Except for the spa and boutique, all of the other common buildings are completely open-air.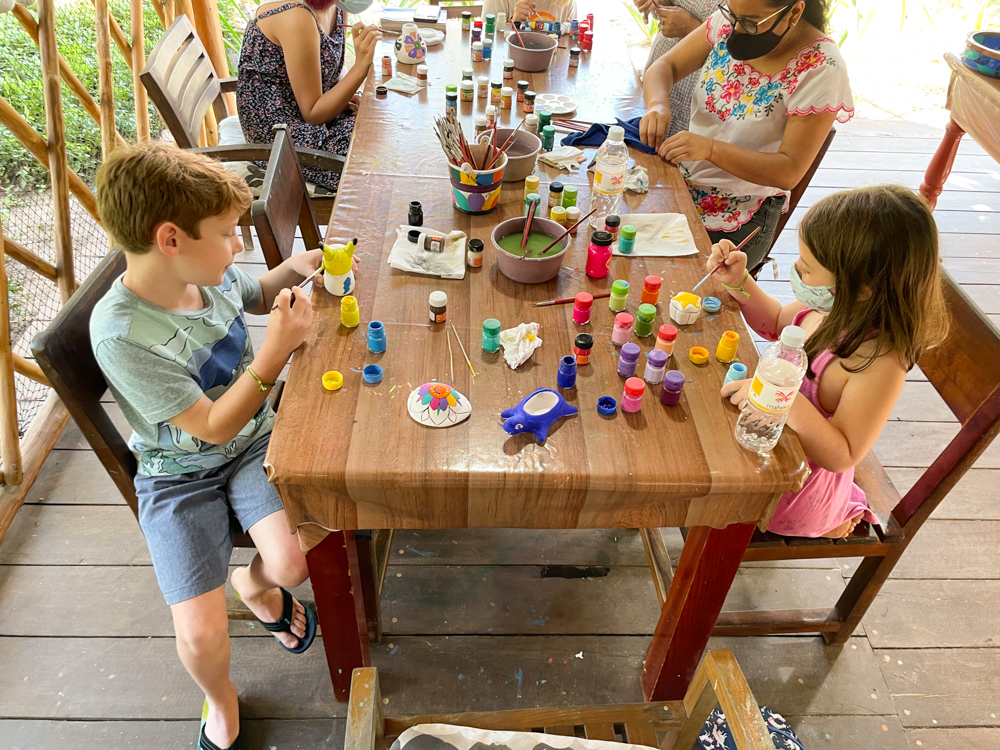 Unlike many resorts, there's no kids club at Mahekal Resort. There is a studio for doing traditional Mayan pottery painting, and some parents let their school age children spend a few hours there with the lovely ladies who run it. Our kids also loved the ice cream shop right around the corner from our room. We found plenty of things to do with kids in Playa del Carmen.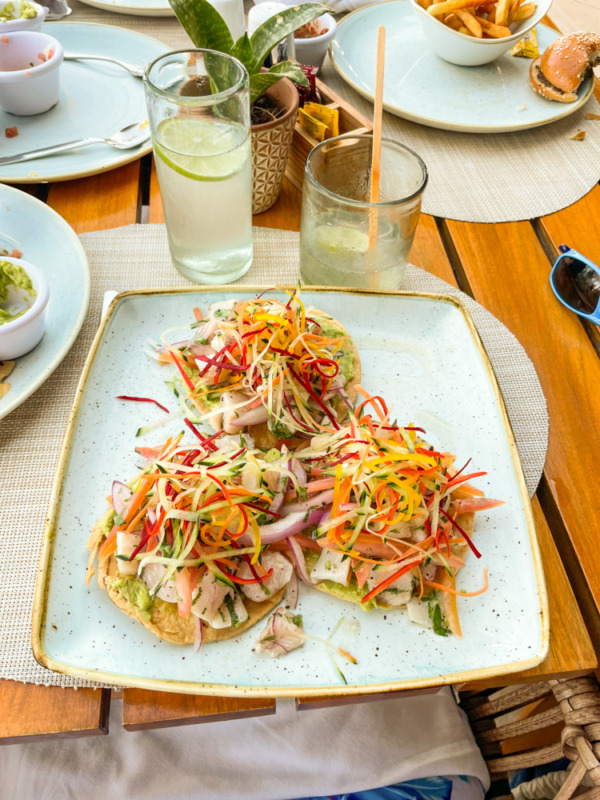 Everything service-oriented at Mahekal was far beyond our expectations. The food was top-notch, whether buffet or a la carte. Staff were all extremely warm and didn't mind helping us along with our Spanish practice.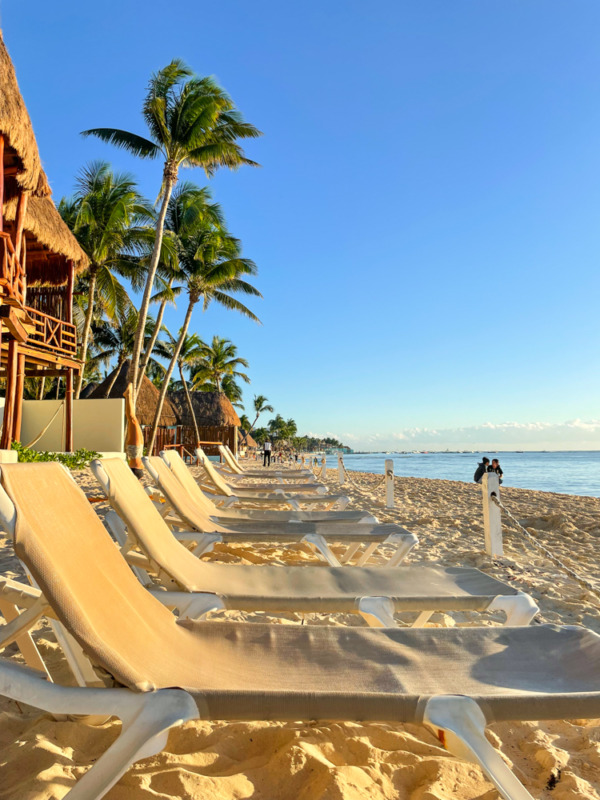 Overall I'd describe everything about Mahekal as relaxed. The one a la carte dinner option requires dinner reservations, but just a day in advance sufficed. In the morning I could swing through Fuego Restaurant and grab a coffee on the way to watch sunrise on the beach while everyone else slept in. There were always deck chairs available. You can walk the resort end to end in five minutes, so if someone needed another book by the pool or wanted to change in the middle of dinner it was no big deal.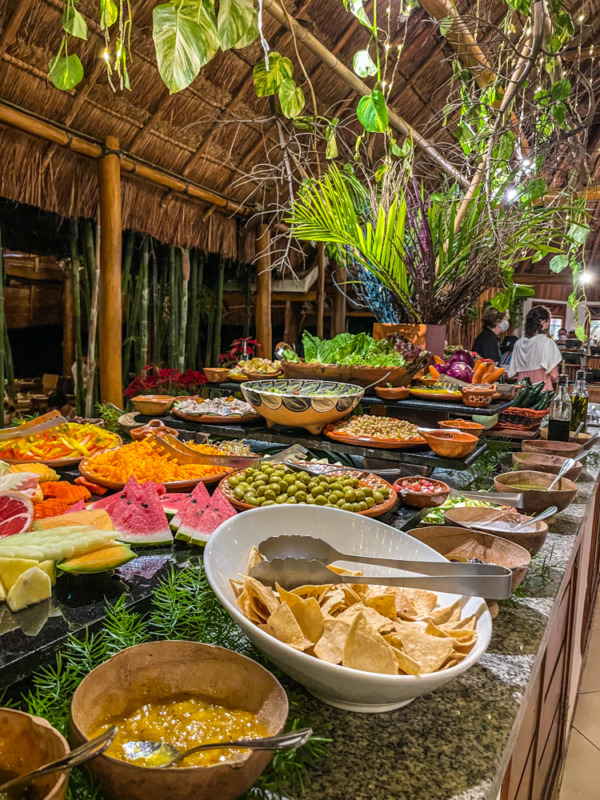 We opted for the breakfast + dinner package, and I'd recommend the same for other families. That gives you the flexibility to try out local restaurants (which we didn't do but plan to in the future), go on a day trip that includes lunch or even have a huge breakfast and then just grab a small snack poolside in the afternoon. Pretty much all of the food is Mayan/Mexican, with a few American-style additions to the "kids' corner" nightly buffet.
While I'm tempted to try out a few different family-friendly all-inclusive resorts in Playa del Carmen, that'll be a hard sell for the rest of the family after our incredible stay at Mahekal!
Gran Velas Riviera Maya
If you're looking for a more traditional luxury all-inclusive in Riviera Maya, I've heard great things about Gran Velas Riviera Maya just up the road. It's a gorgeous all-suite all-inclusive resort. It's a great choice if you want a Playa del Carmen resort with a kids club – there's even a separate teen club! There are eight restaurants to choose from and an enormous pool just steps from the stunning beachfront.
Hotel Xcaret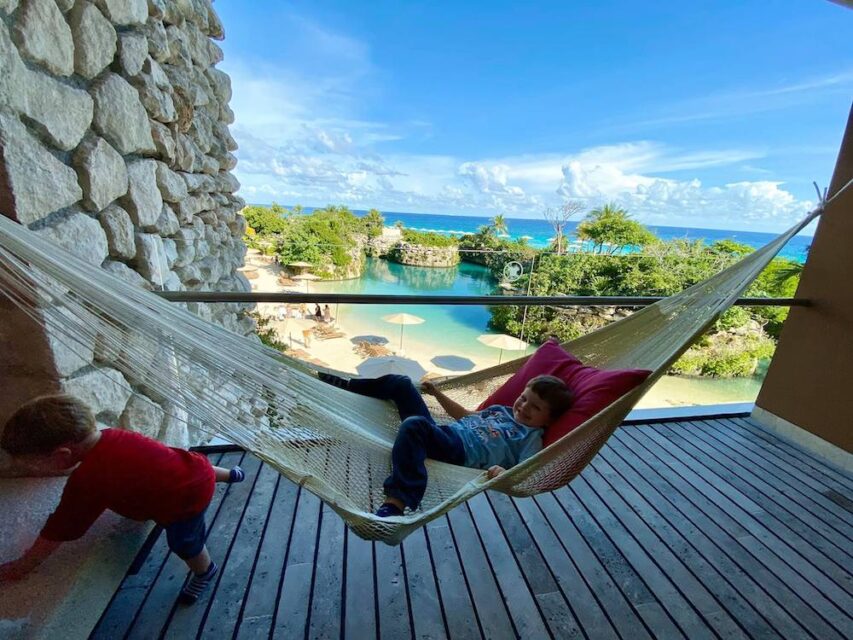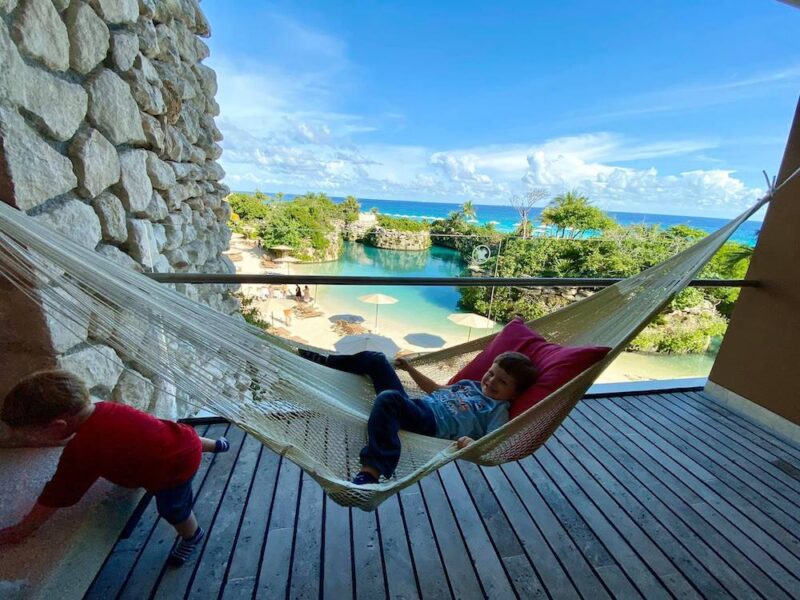 Do you want a more adventurous stay? Hotel Xcaret includes not only your accommodations and all food, but also admission to all Xcaret parks every day (including the day you check out). That's a huge value! The hotel itself is top-notch and offers tons of great amenities. You can read our friend Jordan's in-depth Hotel Xcaret with kids review and find out our best Xcaret Park tips.
The Fives Beach Hotel and Residences
Families who want a little more space to stretch out without stretching their budgets will love The Fives Beach Hotel and Residences. Our friends were staying there while we were at Mahekal and they had an amazing experience as well. There's plenty of beach and pool to go around, while the rooms are all suites or one to three bedroom condo-style accommodations including kitchens. It's a fantastic option if you're visiting Playa del Carmen with a toddler or baby and want the flexibility to put them to bed while you enjoy a drink on your balcony.
---
Things to do with Kids in Playa del Carmen: Getting Around
The first thing to know about transportation is that Playa del Carmen is about 45 minutes from the Cancun airport. Roads are fine, though sometimes there's construction or traffic heading out of Cancun.
Once you're in Playa del Carmen, if you're staying in a central location it's easy to walk to most locations or take an inexpensive taxi around town. Most rides within Playa del Carmen will cost under $10. It's critical that you bring car seats with you – even within town some of the drivers are aggressive and the drives felt harrowing. Read everything you need to know about car seats in Mexico. Other options including taking local buses or colectivos (shared taxi vans), but for a whole family you may not save very much money with these options.
There are two competing philosophies for visitors to Riviera Maya: some intend to spend all (or most) of their time hanging out at their resort and the adjacent beach, while others want to get out and explore the region. We sought a balance between the two, and that governed our transportation choices.
If you're mostly interested in staying close to your home base, taking taxis now and then will get the job done. If you want to explore further like visiting Mayan ruins or cenotes, you can either rent a car or book tours for those experiences.
We opted to rent a car half way through our time in Playa del Carmen, which was perfect for balancing resort r&r with some of the adventures below (and our Yucatan road trip that followed). There are several major rental car agencies in Playa del Carmen, so it's easy to pick up a car when you need it.
Be sure to read these tips for renting a car in Mexico to ensure a smooth experience
For families planning to get out and about every day, it might make the most sense to rent a car at the Cancun airport when you land. If not, you can do as we did and take a pre-arranged shuttle from Cancun to Playa del Carmen – surprisingly, transfer services are cheaper than taxis in addition to being more comfortable.
---
What to bring to Playa del Carmen with Kids
Here are a few essentials for your Mexico family packing list:
Read more: Your essential Mexico packing list
---
Must-read Playa del Carmen travel tips
We learned a lot during our trip to Playa del Carmen! Here are a few tips to get your started:
If you plan to go on a few adventures, try to alternate those days with relaxing days at the beach or pool.
That said… choose excursions you want to prioritize in case someone doesn't feel well or there's a hitch and you have to change plans (#BTDT).
Even if your resort has amazing food, get out and try some local spots. Keep reading for a whole list!
Sunscreen + rash guards = happy vacay.
You'll need many more pesos than you think, but oddly some local ATMs only disperse dollars.
Don't be afraid. Really. Scary things happen all over the world, including in our own back yards, but Playa del Carmen is a very safe place overall. I wouldn't go trolling around to bars late at night, but beyond those limited circumstances it feels safer than most major cities in the US.
---
Best things to do in Playa del Carmen with Kids
What is there to do in Playa del Carmen for kids? More than you can imagine! From relaxation to adventure, Playa del Carmen has something for every family. There are even some great Playa del Carmen day trips that you should consider to see more of the Yucatan Peninsula.
Explore Playa del Carmen beaches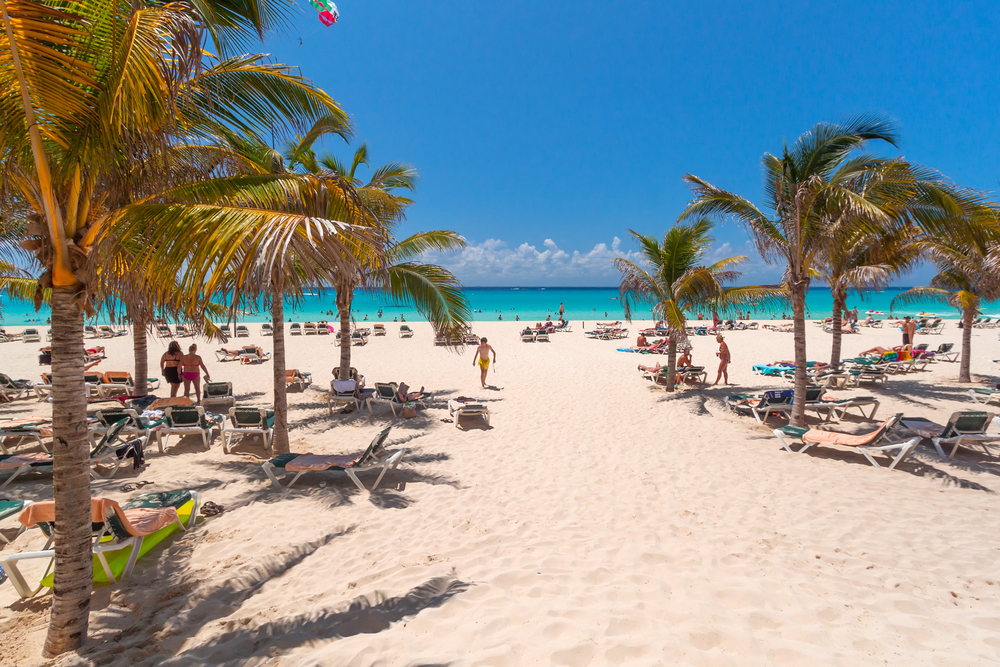 Playa del Carmen is blessed with soft sand and turquoise waters perfect for splashing. It's always a favorite activity in Playa del Carmen for kids! The area's beaches are all public, but access to those beaches may be controlled. Some of the nicest beaches in Playa del Carmen are:
Playacar Beach – South of the Ultramar ferry terminal, you should be able to enter the gate if you tell the guard you want to see the Mayan ruins
Parque Fundadores – Behind the huge Portal Maya arch, you'll find a lively scene but tons of sand with easy access… just don't expect solitude here
Playa Coco – On the north end of Playa del Carmen at The Reef, try to go toward the north end away from the boats
Know that beach quality does vary through the area, due to a combination of erosion, development and popularity. In addition, the area faces sargassum challenges in some seasons and resorts are generally the ones keeping the beaches clear of it.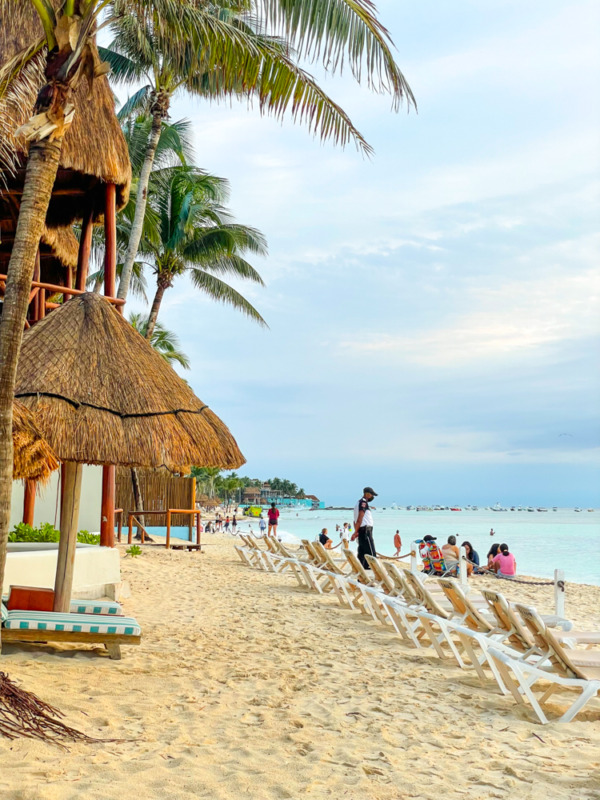 In the photo immediately above, you can see that beach at our amazing resort at 7:40am when I went out to catch the sunrise, and I think this is pretty typical of many beaches in Playa del Carmen. There's a private area cordoned off for resort guests, then a fairly narrow strip of sand before the sea. In the distance you can spot a big green truck collecting sargassum. To orient you, the blue wall in the distance is Las Hijas Beach Club; on its other side (accessible from the end of Calle Flamingo) is Coco Beach.
---
Playa del Carmen activities for families: Do a photo shoot
There's no better souvenir for your family trip to Playa del Carmen than family photos! We had an amazing experience with Ana from Flytographer. It was easy to book our session and she came right to the resort to meet us. We booked the 60 minute session, which gave us plenty of time for the kids to relax and get into the swing of things. You can even save $25 on your own Playa del Carmen photographer session.
Ana has two young kids of her own so she was great at drawing them out. We got so many great photos of the whole family as well as all of us in different pairings.
As the mom and resident photographer in our family, I almost always find myself behind the camera. I cherish opportunities like our Playa del Carmen photo shoot when I get to be in the photos with our family!
Read more: Tips for Amazing Mexico Family Photos
---
Spend the day at Xcaret Park
The most highly rated thing to do in Playa del Carmen for families is Xcaret Park, Even if you aren't staying at Hotel Xcaret, I strongly recommend spending a day exploring Xcaret Park. It's one of the best theme parks in the world and will give your entire family a fun-filled taste of Yucatan wildlife, Mayan culture and outdoor adventures. It can be a little overwhelming to make the most of your time, so be sure to read our top Xcaret tips and tricks.
Some can't-miss activities include exploring the multi-level aviary, swimming in the underground river, seeing hundreds of teeny tiny baby turtles and watching the evening show. Trust me, you won't want to skip Xcaret!
If you're like us, you'll end the day feeling eager to return to explore the group's parks like Xenses and Xel-Há. My children rate it as one of the best things to do with kids in Playa del Carmen and I'm inclined to agree!
---
Visit Mayan ruins near Playa del Carmen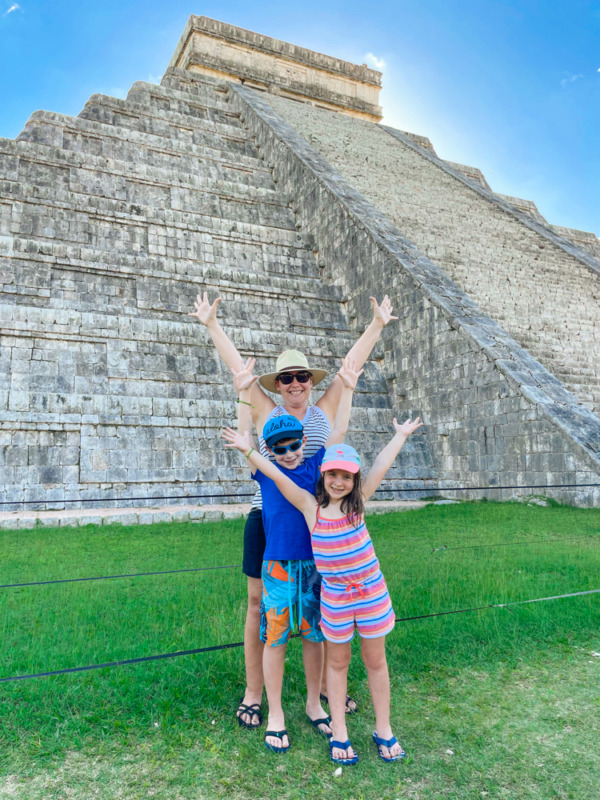 The entire Yucatan Peninsula seems to be overflowing with Mayan ruins. Some are more interesting or impressive than others, but you'd kind of have to go out of your way to visit and not see some of these millennia-old testaments to human ingenuity and dedication. You can find small ruins in Playacar, Xcaret Park, on Cozumel and basically everywhere in between.
For the most impressive Mayan ruins near Playa del Carmen, choose one of these day trips:
Tulum – Closest major Mayan ruins with a stunning setting and great beach below. Gets extremely hot and crowded. 1 hour from Playa del Carmen.
Coba – Mayan ruins in the jungle where you are still permitted to (carefully!) climb the main structure. 1.5 hours from Playa del Carmen.
Ek Balam – Least-touristy Mayan ruins and you can still explore all the nooks and crannies. This is at the top of our list to visit next time! 2 hours from Playa del Carmen.
Chichen Itza – Most famous Mayan ruins in the Yucatan Peninsula. Impressive, but also very crowded. 2.5 hours from Playa del Carmen.
You can read all the details about which Mayan ruins in the Yucatán Peninsula to visit.
If you'd rather not drive yourself, check out these excellent tours:
---
Swim in a cenote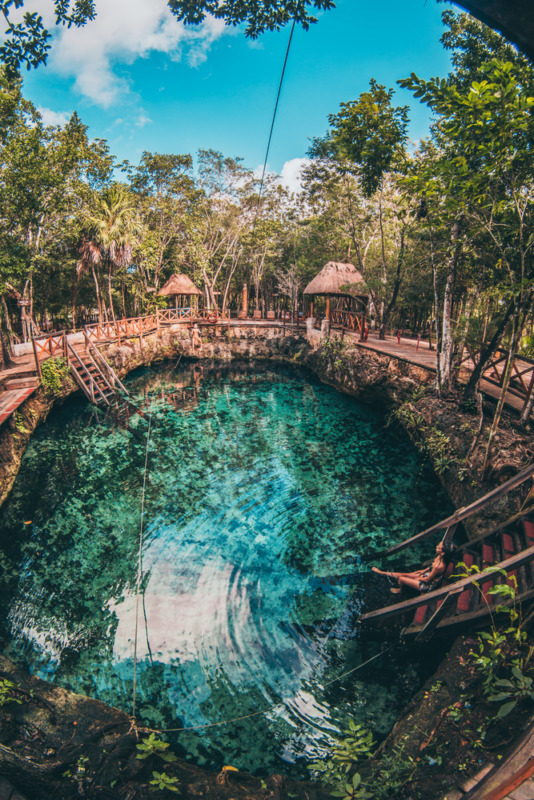 The Yucatan Peninsula is full of these stunning, unique swimming holes. What is a cenote? It's a limestone sinkhole permanently filled with water. Some have roofs that have collapsed, making them either fully or partially open while others are still fully enclosed.
Swimming in a cenote was one of our favorite Mexico family activities and we can't wait to do it again! While our family opted to visit a cenote during our time in Valladolid since we were road tripping the Yucatan Peninsula, there are some excellent cenotes near Playa del Carmen. You'll need to rent a car or take a taxi to get to any of them, but it's a great opportunity to get out and explore some of the less developed areas of Quintana Roo.
Check out some of the best cenotes near Playa del Carmen for families:
Cenote Azul – Best Playa del Carmen cenote for toddlers and little kids since it's completely open and very shallow. 25 minutes from Playa del Carmen.
Cenote Zacil-Ha (featured above) – Excellent cenote for kids near Tulum, offering zip line, ledge jumping and more. 1 hour from Playa del Carmen and perfect to combine with a visit to Mayan ruins at Coba or Tulum.
Gran Cenote – This is the one I really want to visit next time! One of the best cenotes for snorkeling near Playa del Carmen, a good cenote for teens or older kids with a sense of adventure. 1 hour from Playa del Carmen and perfect to combine with a visit to Mayan ruins at Coba or Tulum (or Cenote Zacil-Ha).
---
Take a day trip to Cozumel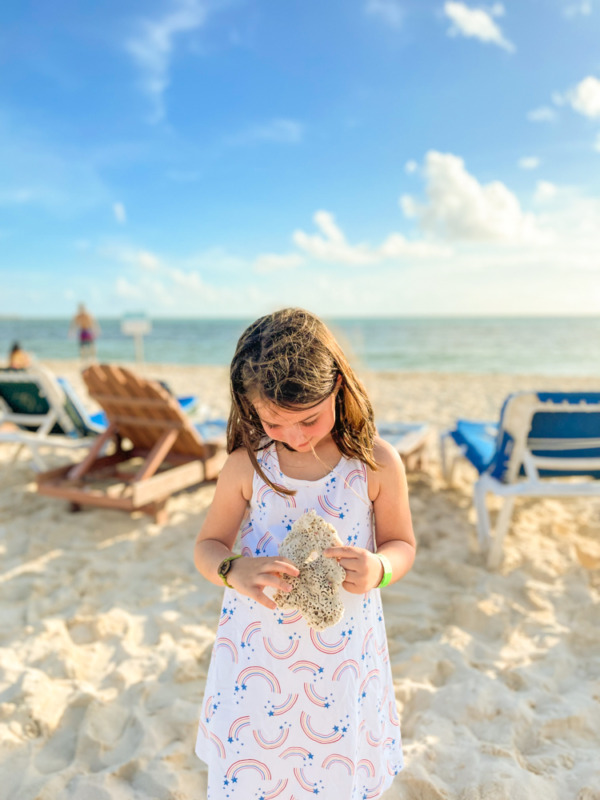 For a taste of what Playa del Carmen was before the development of the last few decades, hop the quick and easy ferry for a day trip to Cozumel. The island is visible from the beaches of Playa del Carmen and once you're there (and get out of the main plaza) it feels like a completely different world.
There are quite a few activities to choose from once you're on Cozumel with kids. We opted to hire a taxi for the day to take us to Punta Sur, an eco park on the far side of the island. While it wasn't a great place to snorkel with kids (which is how it had been billed to us), it was a perfect remote tropical paradise. It was completely uncrowded despite being just a few days before Christmas, the busiest time of year in Riviera Maya.
Next time we visit we'll book this snorkeling tour to take advantage of some of the best snorkeling in Mexico!
---
Stroll along Avenida Quinta
5th Avenue or "la Quinta" is one of the most popular Play del Carmen attractions. It's a good way to pass an hour or two after you've cleaned up from the day's activities and before you're ready for dinner. There are souvenir shops, occasional street performers, cafes, restaurants and more. Toward the south end there are even plenty of international stores and luxury brands.
You'll definitely want to stop by Chez Céline for some pastries (near Calle 32) and stop to take in some of the unique sites and sounds. There are fun statues and street art sprinkled throughout.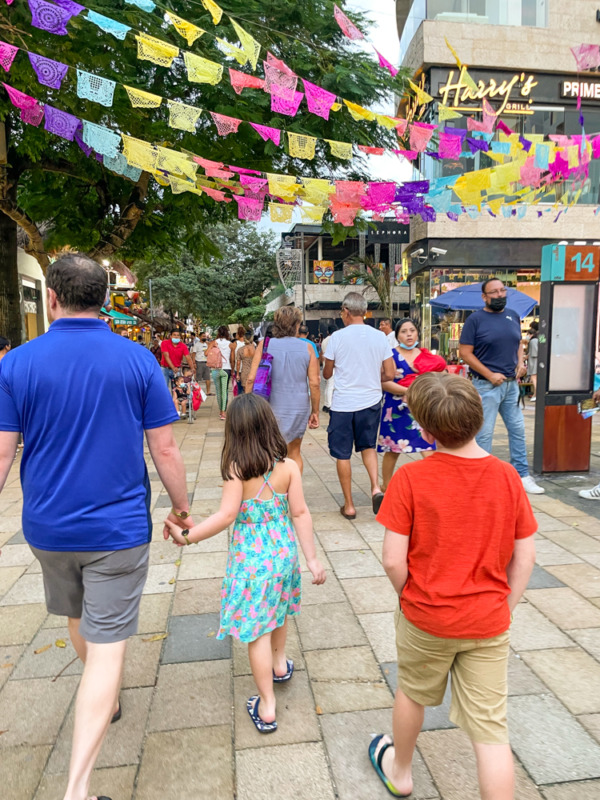 The crowds were pretty intense over winter break especially later in the evening, so our kids had their fill after about 45 minutes. If your family doesn't like big crowds, go while it's light out. The street extends for 5 miles, so don't expect to walk all of it with your kids – just go for a taste.
---
Tour Rio Secreto's underground world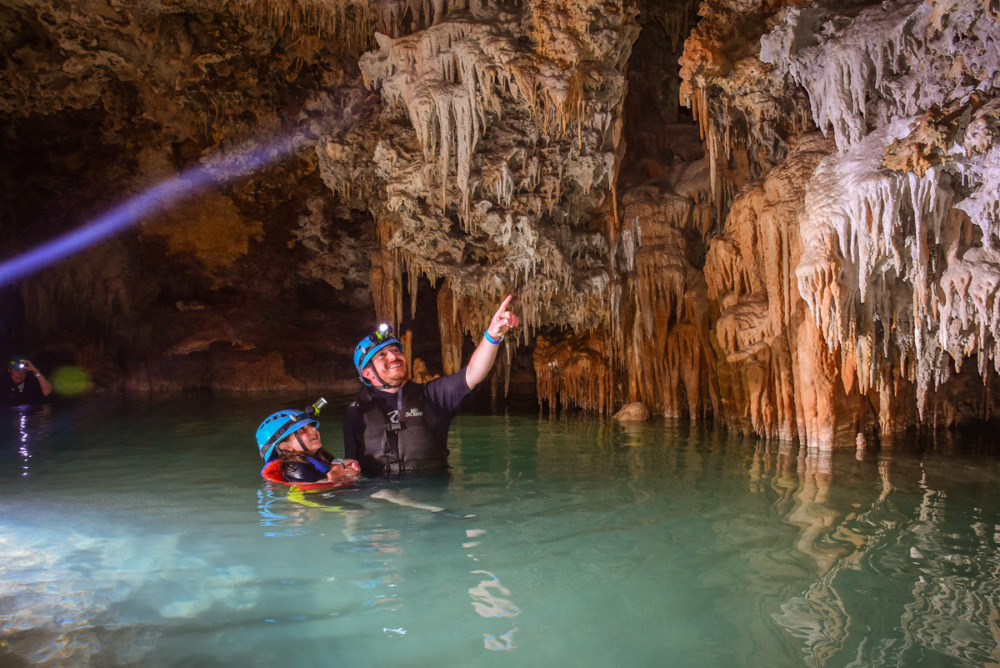 We took this incredible tour during our December 2022 return to Riviera Maya, and it's the perfect activity near Playa del Carmen for those visiting with teens or tweens! Rio Secreto is an underground cave system with a series of rivers running through it. The ceiling is fossilized coral from the period when the entire Peninsula was actually part of the sea, and you're surrounded by stalactites and stalagmites as you walk and swim your way around.
You can drive yourself or arrange for pickup in Playa del Carmen for a small additional cost. The price includes lunch, all the gear you need for the day and an excellent guide. The only additional cost is the photo package, which I think is worth buying.
The minimum age for Rio Secreto is 4 years old, but I recommend that kids be at least 6. Our kids did fairly well at 8 and 11 but still needed some physical assistance at times and occasionally got a little spooked – the water feels chilly at first, the only light is from your headlamps and there are even bats flying around in some places if you're lucky enough to see them. Having one parent for each kid at those ages was very helpful, and it would have been tricky if we'd had another young child with us. Everyone needs to be able to walk over slightly technical terrain and unafraid of the water.
Read more: Things to do in Cancun: Family Excursions Worth Booking
---
Relax poolside at a resort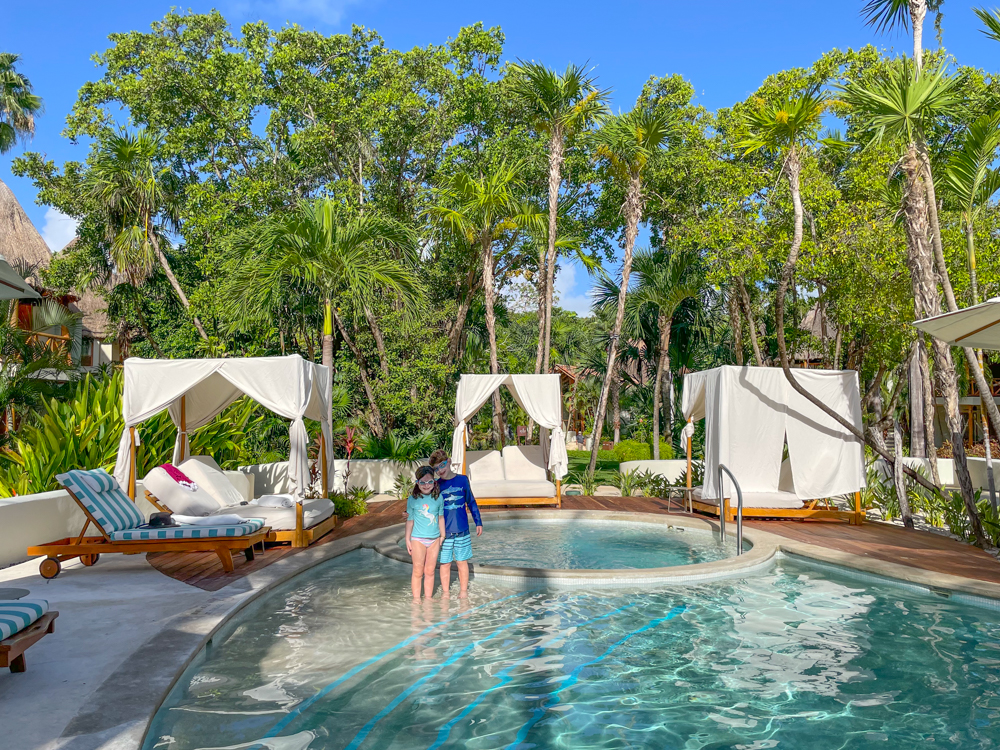 Most families choose to stay at one of the gorgeous Playa del Carmen all-inclusive family friendly resorts along the coast, and we were in that camp too. While beach days are fun, our family finds them a lot more work than days spent lounging by the pool. Fortunately, there's plenty of opportunity for both!
We enjoyed plenty of much-deserved time relaxing by the stunning pool at our resort reading books and sipping drinks while the kids frolicked in the water in front of us. We adults even hopped in ourselves sometimes during our Playa del Carmen family vacation.
While many resorts in the area are extremely crowded (especially during the holidays), we never had any issues at Mahekal Beach Resort. There were usually a few other guests in our favorite pool but we were always able to score deck chairs even without claiming them at 6am.
Not in love with your hotel pool or curious to try something else? You can snag a Resort Pass for one of these local resorts too!
---
Family-friendly restaurants in Playa del Carmen
Are you looking for the best places to eat in Playa del Carmen with kids? Reader Heather M has spent a lot of time visiting with her kiddo and tells us these are the best restaurants in Playa del Carmen for kids that we should check out next time:
La Perla or La Carbonería – These two restaurants (up the street from Mahekal on 38th) have the same owners and similar menus. The food is truly local and very good.
Trujillo's – Best salmon ever. Nice restaurant but relaxed, bringing a kid isn't a problem. Next to La Perla and La Carbonería.
La Cueva del Chango – Great for breakfast or lunch.
Que Huevos – Perfect for breakfast or brunch, but go early for the espresso horchata since they do run out.
Aguachiles – Very good tuna tostadas and good options for kids. The best location is on 34 north of the stadium.
Aldea Corazón – Hidden gem along the strip at 5th and 14th, with a cenote and waterfall in the back
Carlota – Delicious croissants, pancakes and yogurt parfaits
Ah Cacao – Great for a chocolate fix or gifts
In addition, check out these cheap kid-friendly restaurants in Playa del Carmen:
El Fogon – Amazing tacos
El Pirata – Delicious ceviche
Nativo – Hearty smoothies for breakfast or snack
Yes, we're hungry. And yes, we'll be back.
---
Playa del Carmen with kids FAQs
Is Playa del Carmen safe for families?
Yes, Playa del Carmen is safe for families. Take the usual precautions out in public that you would in any crowded place and use one of these to keep everyone feeling healthy.
Is Cancun or Playa del Carmen better for families?
It depends on what kind of vacation you want. While Cancun is known for huge resorts with water slides and kids clubs, Playa del Carmen is a little quieter and is closer to a wide variety of activities. Both are great choices for families!
Is it safe to walk around Playa del Carmen at night?
Yes, just make sure you take the usual precautions that you would when walking around anywhere at night. Don't flash valuables. Be aware of your surroundings.
Can you swim in the water in Playa del Carmen?
Yes, you can absolutely swim in the water in Playa del Carmen and it's lovely. The entire island of Cozumel acts as a breakwater.
---
Mapping your Playa del Carmen family vacation
Now that you're ready to put together your family's must-do list of Playa del Carmen activities, use the map below to get your bearings and see how it'll all come together.
---
Planning your family trip to Playa del Carmen
Don't miss these articles as you continue planning your family vacations in Playa del Carmen: