There's nothing more epic than a family road trip to explore the National Parks of the Colorado Plateau! The vast expanses of protected land, fascinating (and varied) geology and boundless hiking trails will make you feel truly disconnected from the daily grind.
Visiting southern Utah's Bryce Canyon National Park with kids is no exception. Its unique geology offers formations you can't see anywhere else, while the compact size makes it an easy park to explore even if you've got a packed itinerary.
Since most families will be visiting as part of a broader trip, I've put together my best suggestions for how to spend one day in Bryce Canyon with kids. You may not get to everything, but you'll get a great taste for what the park is all about. Read on to find out where to stay near Bryce Canyon, what to bring with you to make sure everyone is comfortable and cared for, the best easy hikes in Bryce Canyon National Park and more.
Quick facts about Bryce Canyon for kids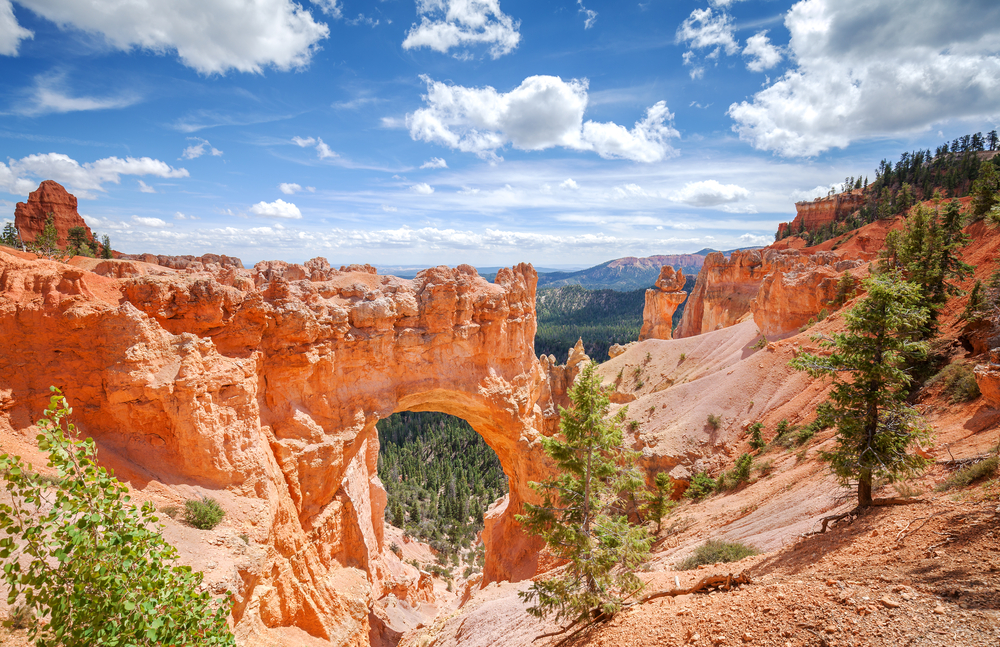 Before we get started, here are some quick facts about Bryce Canyon National Park to give context to your visit.
Bryce Canyon was formed by rocks deposited by the ancient Lake Claron that were subsequently uplifted and then eroded and weathered – here's a detailed explanation (the process is similar to what created the Twelve Apostles we visited in Australia)
It is the ancestral home of the Fremont, Anasazi and Paiute communities
Bryce Canyon National Park covers almost 36,000 acres making it (by far) the smallest of Utah's five National Parks
The park was established as a National Park in 1928
Read more: What to do in Capitol Reef National Park with kids
Where to stay near Bryce Canyon National Park
There are plenty of great places to stay near Bryce Canyon National Park. Staying at the Bryce Canyon Lodge in the Park is popular but it books up quickly. The closest towns are Bryce (5 minutes), Tropic (15-20 minutes) and Cannonville (25-30 minutes). I probably wouldn't go out of my way to stay in Cannonville unless the closer towns are full or I wanted to spend some time exploring nearby Grand Staircase-Escalante National Monument. Click here to see places to stay in all three.
Where to stay in Bryce
Where to stay in Tropic
How to get to Bryce Canyon National Park and how to get around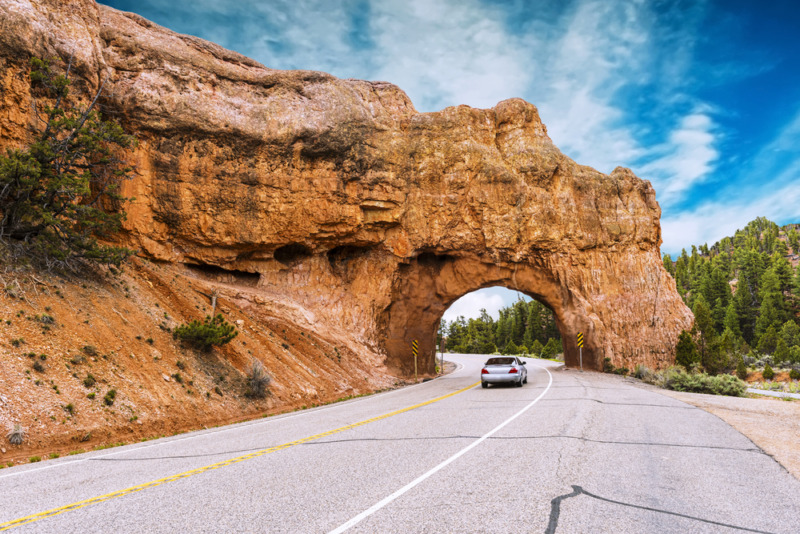 If you're visiting Bryce Canyon April through October, you can choose to drive a passenger car around the park or take the free park shuttle. The shuttle makes stops at all of the major trailheads and viewpoints in the Amphitheater area of the park. The full loop around the Amphitheater on the shuttle takes just under an hour, with buses running every 15 minutes.
Given the extreme crowding in all National Parks these days, I recommend staying and parking at Ruby's Inn and giving yourself a stress-free day at the park! Alternatively, you may be able to find parking at the visitors center if you arrive early enough.
If you're visiting outside of the busy season, you will drive around Bryce Canyon National Park. The driving is easy enough and also gives you the flexibility to bring a serious cooler with plenty of water, snacks and lunch.
Want to get more helpful travel tips like this? Sign up for our email list!
What to bring to Bryce Canyon National Park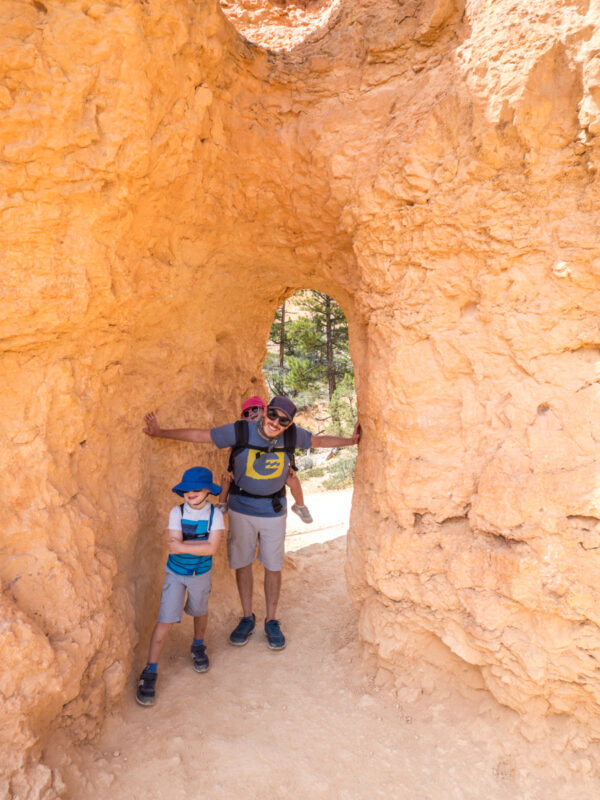 As with any hiking expedition, it's critical that you're prepared when you hit the trail.
Bring this gear with you for your day hikes:
-Hydration backpack ( his | hers | kids )
–Camera with zoom lens
-Snacks
–Sunscreen
–SPF lip balm
Recommended clothing for hiking in Bryce Canyon National Park:
-Lightweight hiking pants ( his | hers | kids)
-Multiple layers – tank/short sleeve plus long sleeves for sun protection and warmth
-Hat – Sunday Afternoons has amazing options for the whole family
-Bandana or other neck protection (we love these!)
-Packable rain jacket July – September ( his | hers | boy | girl )
-Hiking shoes – for most trails, running shoes or even trail runners will suffice (good tread is handy for steeper trails like Navajo Loop)
Of course, don't forget to grab a National Parks pass to save on admission to hundreds of federal lands!
If you'll be taking a road trip around southern Utah, I always suggest throwing a few extra gallon jugs of water in the trunk of your car (even better if you have a hard-sided cooler and some ice packs). The region is incredibly remote and running out of water is the last concern you want to think about! You can fill up at the Visitors Center in Bryce Canyon, but it never hurts to have extra with you.
Check out these awesome gifts for National Parks lovers!
What to do in one day in Bryce Canyon National Park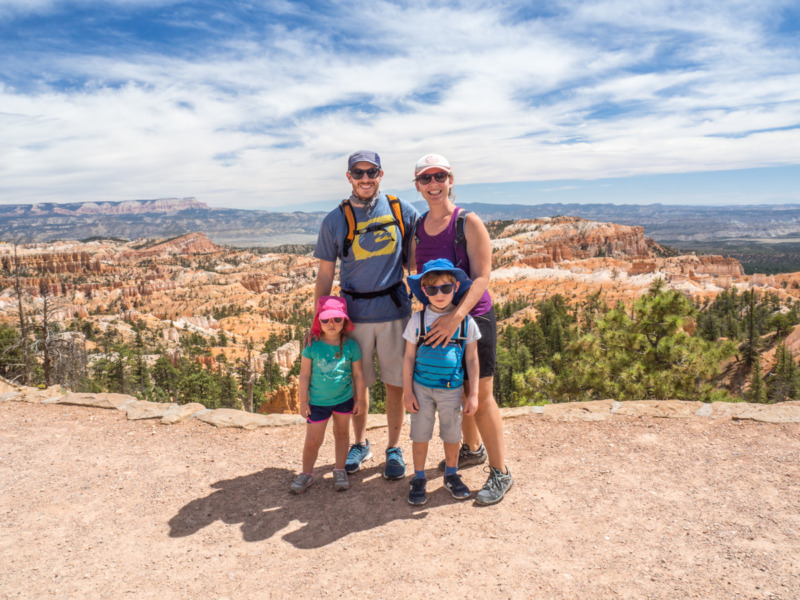 While you can always plan more time in a National Park, spending one day will allow you to hit the most popular things to do in Bryce Canyon National Park without rushing through.
Stop at the Bryce Canyon visitors center
We love starting our national park visits at the visitor centers! They're the perfect place to get oriented. Start your day off at the Bryce Canyon visitors center. It's a beautiful facility with great exhibits on the geology, ecology and history of the land.
If you have time, head to the theater for the ~30 minute park movie. It'll help you and your kids understand what you're about to see and experience! (Also, it's air conditioned… in case you're visiting in summer like we did.)
While you're there, be sure to pick up a map and a Junior Ranger book. You might even be able to get some insider tips from the Park Ranger! The visitors center at Bryce Canyon is also the ideal spot for a restroom break and a water bottle refill before you go explore.
Take in awe-inspiring Bryce Canyon viewpoints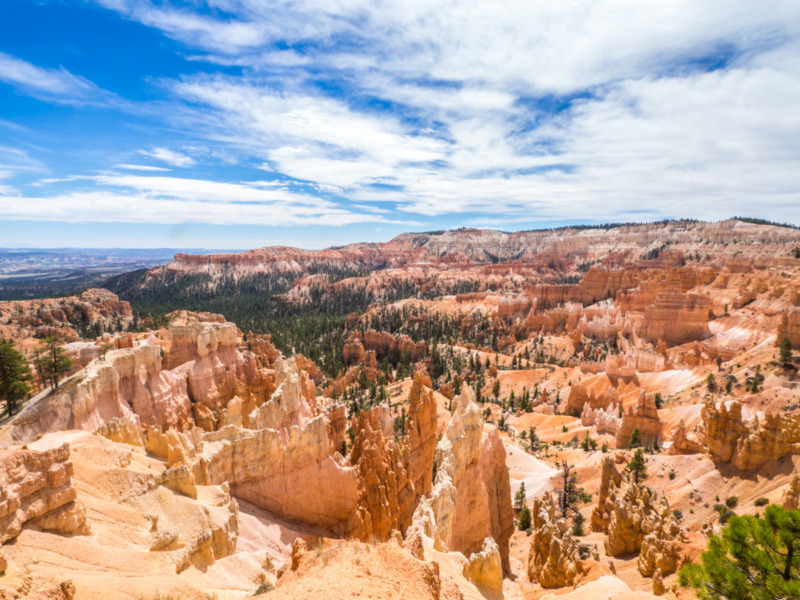 If you're wondering what to see in Bryce Canyon in one day, you absolutely won't want to miss the stunning view points all around the Amphitheater area. Sunrise Point and Sunset Point are both extremely popular (more on those below), as are Bryce Point and Inspiration Point.
It's really Bryce's stunning geology that makes it a remarkable place to visit. The towering sandstone hoodoos are its defining feature and you can see them all around… even if you're not a hiker.
Try out one of the best hikes in Bryce Canyon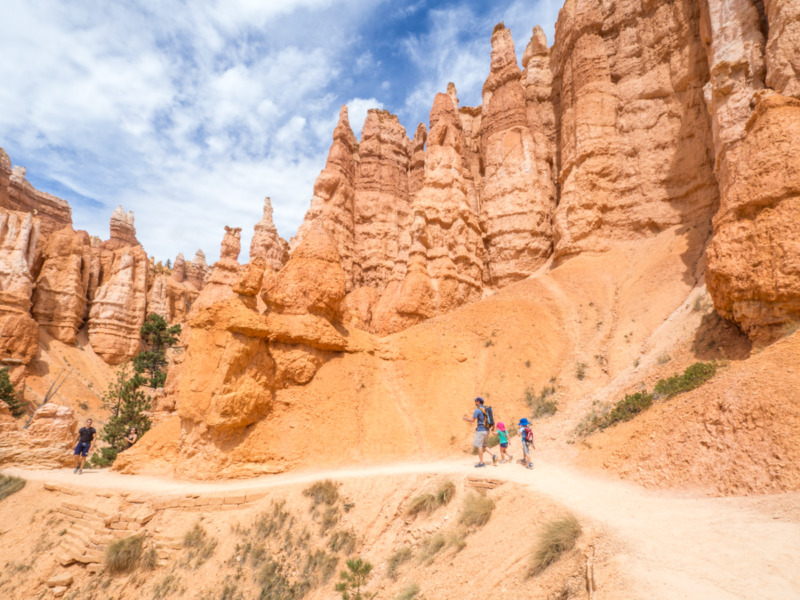 One of my favorite things about visiting Bryce Canyon with kids is that you don't have to be accomplished hikers to catch all of the Bryce Canyon must-see spots!
If you're visiting Bryce Canyon with a toddler or younger or would otherwise benefit from an accessible trail, check out the Rim Trail. It's completely paved and almost uniformly flat from Sunrise Point to Sunset Point (about 1 mile). How long that takes you really depends on your crew. A newer walker on her first "hike" could spend a leisurely hour toddling along, while those who treat it as a stroller-friendly hike in Bryce Canyon can knock it out in about 20 minutes if it's not crowded.
If you have older kids with some hiking experience or feel comfortable with your young child in a carrier, I recommend some combination of Queen's Garden and/or Navajo Loop (pictured above). We did them as one long hike, which was fine for our experienced 6 year old but required that his little sister ride in the carrier part of the time.
The Queen's Garden section is, in my opinion, excellent "bang for your buck". It's about one mile out (and another mile back) and takes you down through the park's iconic hoodoos. There's a decent elevation change for such a short hike at 320 ft.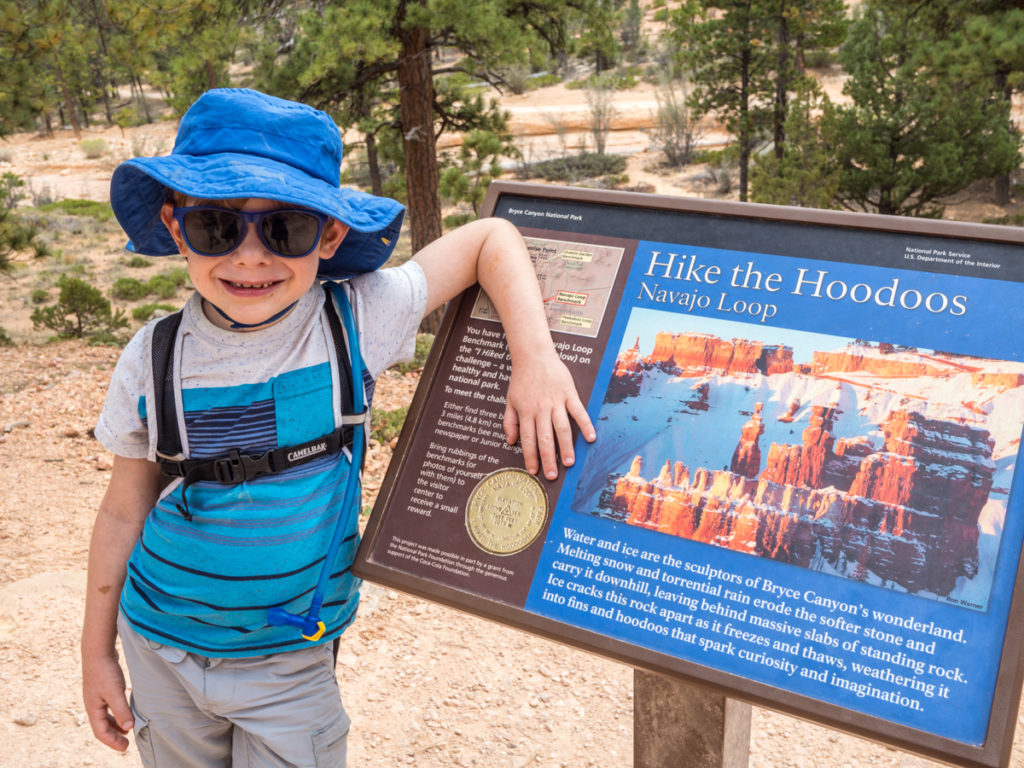 If I'm being completely honest, I think the Navajo Loop on its own would be pretty miserable for a family trip to Bryce Canyon. It's just 1.3 miles in total but covers a whopping 550 ft of elevation. We ascended the Wall Street side of the trail (open only during the warmer months) and it was a monstrous workout.
When you combine Queen's Garden and Navajo Loop, typically beginning at Sunrise Point, the total distance is 2.9 miles and you'll eventually cover 600 ft of elevation change. But you'll feel a real sense of accomplishment and see the best that Bryce Canyon has to offer from otherworldly hoodoos to towering pines. To cool down and complete the full loop, walk the final mile from Sunset Point to Sunrise Point along the paved Rim Trail as noted above. Completing the combined trail will even earn you (and your kids) the "Hike the Hoodoos!" reward.
Want to get more helpful travel tips like this? Sign up for our email list!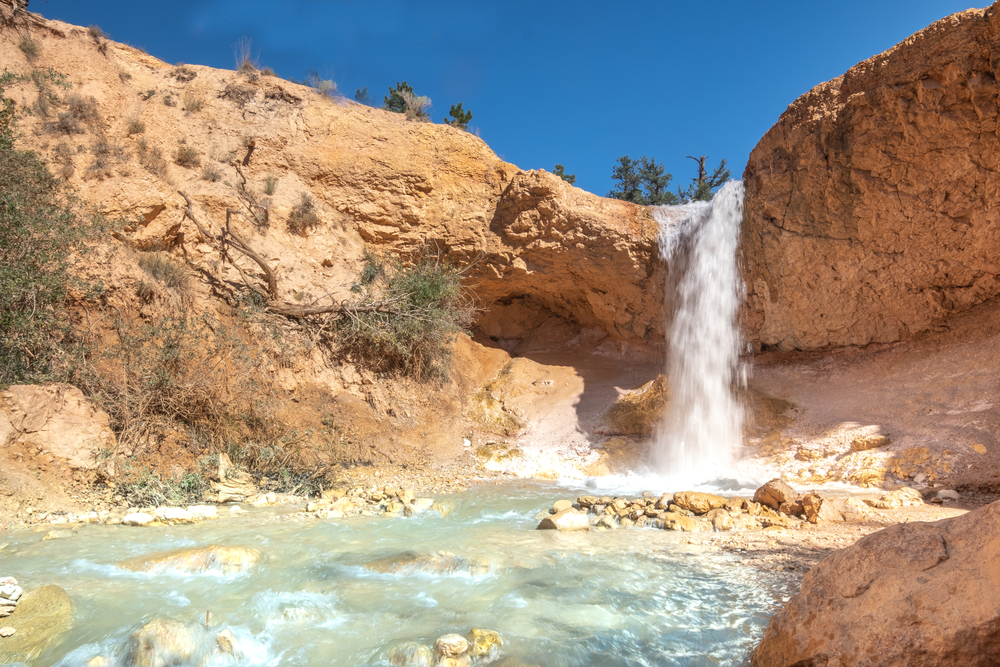 Another popular option for families is Mossy Cave thanks to its short distance and low elevation gain – it's just under a mile and only covers 300 ft. It's perfect for hot days because hikers are permitted to take a dip in the water. Be mindful that the trail gets extremely busy and parking can be a challenge (park rangers suggest arriving before 10am or after 6pm, so if you really want to hike Mossy Cave you may want to head over and try for parking before hitting the Visitors Center).
Complete the Bryce Canyon Junior Ranger program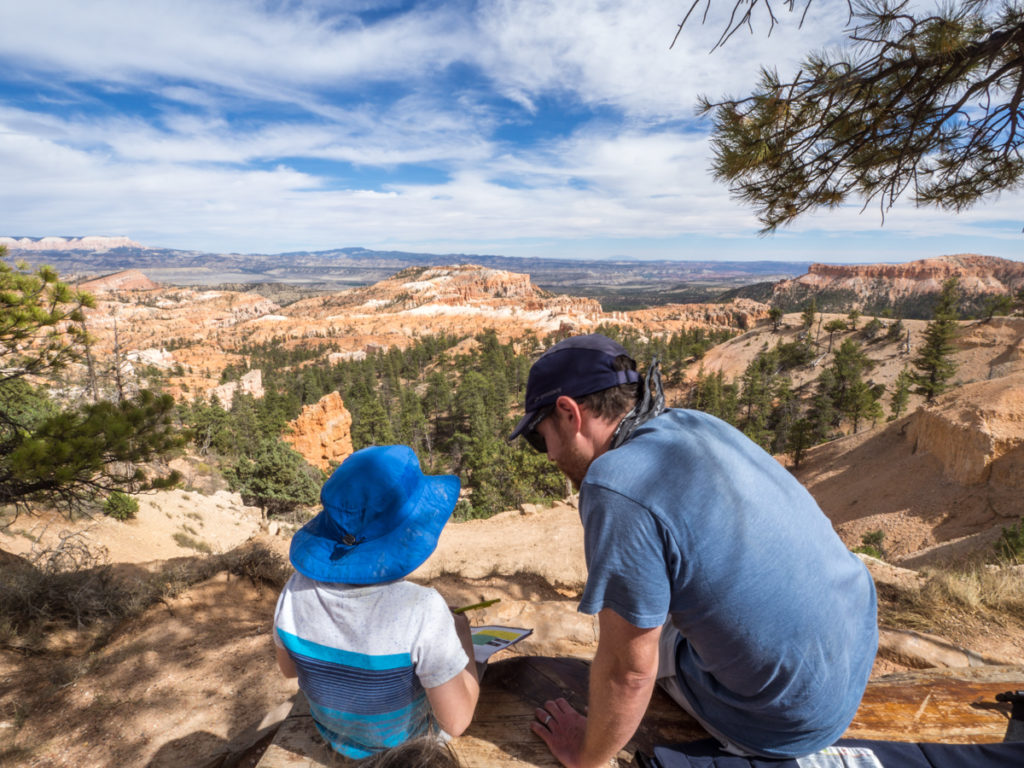 This wouldn't be a complete guide to what to do in Bryce Canyon with kids without recommending the excellent Junior Ranger program. You can grab a copy from the visitors center when you enter the park (or print it at home if you don't plan to stop in the morning).
The Bryce Canyon Junior Ranger field book is especially lovely – it's full of beautiful watercolor illustrations and goes in-depth on the park's geology, ecology and human history. Your child will complete as many activities as their age (a 5 year old just needs to do 5 activities). I recommend taking a peek through before you begin your day so that you have a sense of which ones will be ideal for your family. There are loads of choices!
The Junior Ranger program is also a great way to stay engaged while you rest your weary legs and have a snack after completing a long hike. You've earned it!
Be sure to allow enough time to return your booklet to the visitors center and have your child sworn in as an official Bryce Canyon Junior Ranger. The visitors center is open until 8pm in summer but closes as early as 4:30pm in winter.
Go horseback riding in Bryce Canyon National Park (or nearby)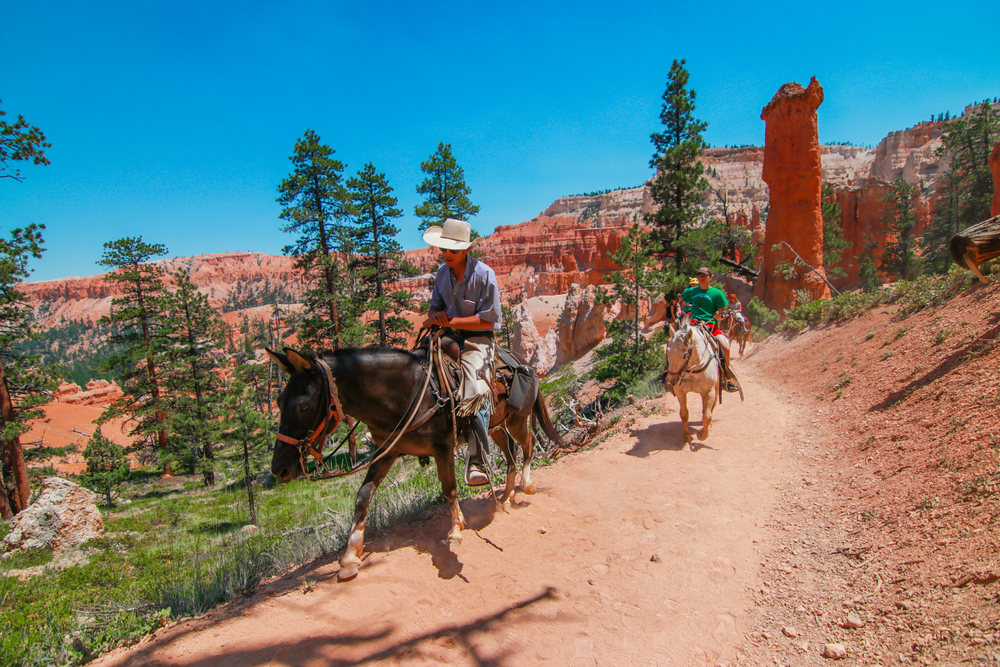 One thing we wished we'd done during our trip to southern Utah was horseback riding. Unfortunately most companies have a minimum age of 6 or 7, and our younger kiddo was just 4 at the time. You can coordinate horseback riding within the park through Bryce Canyon Lodge or you can take the opportunity to explore one of the many other protected lands in the region on horseback. We'll look forward to booking this experience next time we're in the area!
Bryce Canyon National Park FAQs
Is Bryce Canyon kid friendly?
Absolutely! Even if you're visiting with young children or don't want to do a lot of hiking, there's plenty to do as a family at Bryce Canyon National Park.
What should I not miss in Bryce Canyon?
If you have time for nothing else, be sure to stop at Bryce Point. In my humble opinion, it's the most beautiful view in Bryce Canyon National Park because you can see the vastness of the entire amphitheater section.
How far apart are Zion and Bryce?
Zion National Park and Bryce Canyon National Park are about 90 minutes apart.
Can you do Zion and Bryce in one day?
Can you? Yes.

Should you? Heck no.

Plan to spend at least one full day in Bryce Canyon (if you're feeling leisurely you could spend 1.5 days in the park and do a horseback ride nearby). You'll then want to spend at least 2 days in Zion, which is much larger and can also be a little trickier during peak season because of the crowds.
Where to go next
If you're interested in extending your trip to Utah into other Southwest destinations, consider these options:
Utah:
Arizona:
Colorado:
New Mexico:
California:
Texas:
Wyoming
Want to get more helpful travel tips like this? Sign up for our email list!
Still planning? Pin this for later!