Looking for the best all-inclusive Cancun resorts for families? Consider Hotel Xcaret Mexico !
My friend and Tiny Globetrotters co-moderator Jordan visited Hotel Xcaret Cancun with her toddler and kid and has tons of helpful feedback and planning tips for families who are considering going. Read on for all of Jordan's great advice!
---
We spent a lot of time researching the best all-inclusive family resorts in Cancun for us. We have previously had very mediocre experiences at all-inclusive resorts and tend to steer away from them, but it felt like the right fit for this particular visit to find an all-inclusive that would be kid-friendly and unique. Our children were 4 and almost 2 at the time of our visit, but I think the Cancun Xcaret Hotel would be great for older kiddos as well.
Are kids allowed at Xcaret Hotel?
Yes! Hotel Xcaret Mexico is kid friendly with a kids pool, game room, drop off care center and in-room babysitting service.
What age is Xcaret for?
Hotel Xcaret and the Xcaret parks offer something for all ages. Two of the three hotels are adult only, while Hotel Xcaret is kid friendly. The wide variety of tours, pools and activities on the grounds are extensive. There is something for everyone.
Is Xcaret park good for toddlers?
There is a lot to do and see for toddlers at Xcaret park. Children's life jackets are available for water activities. We recommend bringing a stroller or wagon for when little legs get tired.
What is Cancun Hotel Xcaret?
Xcaret resort refers collectively to the three hotels and nine parks and tours in the area run by Grupo Xcaret. When you stay at any of the Xcaret hotels, you get an all-inclusive experience that includes lodging, food, ground transportation and unlimited access to all of the parks and tours. Even if you aren't staying on-site, you can still buy access to the parks and tours as well.
Xcaret hotels:
Xcaret parks and Xcaret tours:
Read more: Must-read tips for visiting Xcaret Park
---
How to get to Hotel Xcaret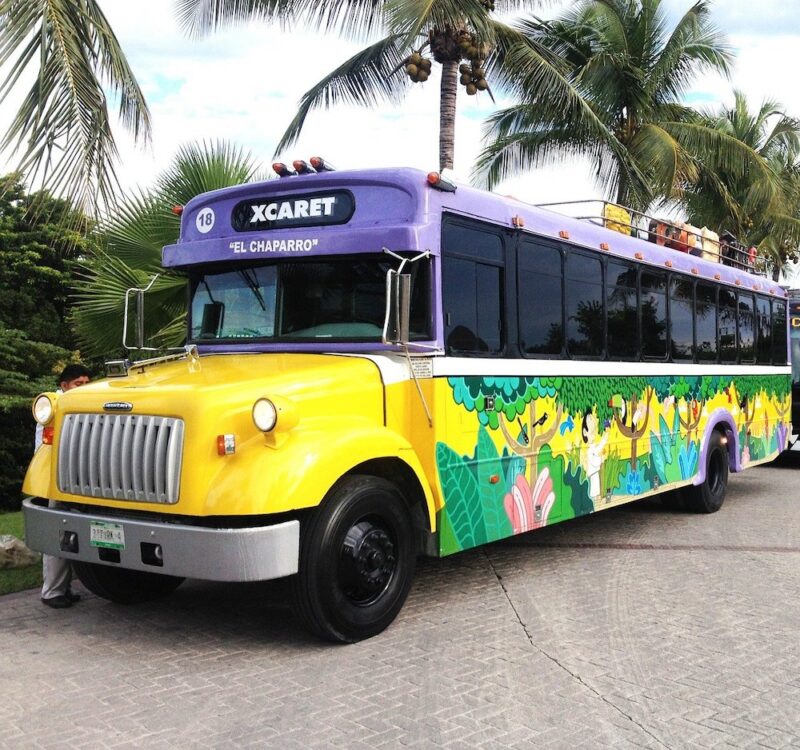 The closest airport to Hotel Xcaret is Cancun. Fortunately there are many airlines across the budget spectrum that provide non-stop flights from all over the US to Cancun. Click here to search for flights from your home airport.
We opted to rent a car for our trip because we only stayed at Xcaret for part of our time in Mexico and then continued on to Tulum. We paid $476 for a minivan including all insurance and fees. Xcaret Resort is not close to much else, so if you want the flexibility to explore on your own I recommend renting a car. Be sure to read these important tips for renting a car in Mexico.
It is important to note that when renting cars in Mexico, you should expect to pay about double the lowest price you will book because of the required insurance. We made use of our CDW coverage through our Chase Sapphire reserve card and saved some additional money there too but you can't get out of the mandatory insurance.
If you only plan to go to Hotel Xcaret, they will transport you free of charge to all of their parks, so you may not even need a car. There are also lots of other private transfer options. Friends of ours used and liked CARM. I do recommend bringing your own travel car seat, as car seats in Mexico are not subject to the same regulations as in the US and may not be available, unexpired and in good working order.
---
Is Hotel Xcaret worth the price?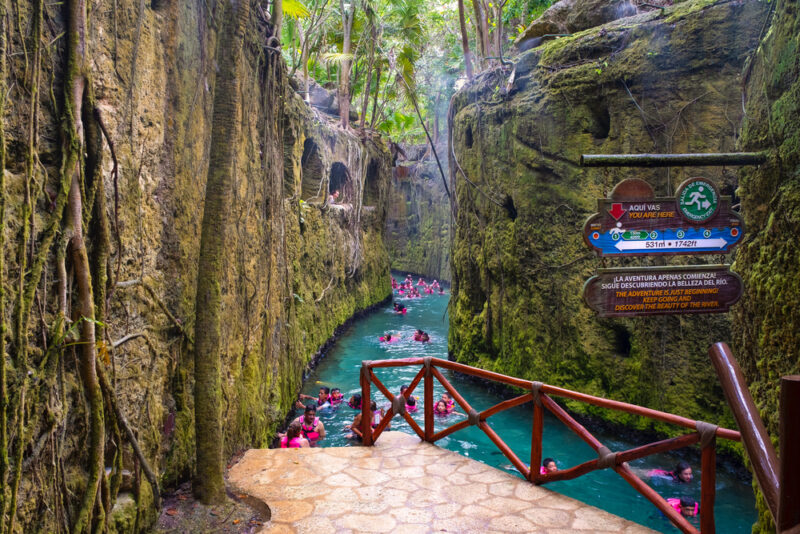 We narrowed the field down to a few of the best Riviera Maya resort options, but Hotel Xcaret continually stood out. Initially, I couldn't get beyond the price ranging from $400 to $600 per night for the four of us. It was, by far, the most I have ever paid for a hotel for a single night.
We used Chase Ultimate Rewards points to cover the cost – you can rack them up quickly by opening a Chase Sapphire Preferred credit card! Having now been, I can say that Hotel Xcaret is definitely worth the price! I can understand why it's one of the most popular all-inclusive Cancun resorts for families.
For a family of four with all food and drinks included, as well as access to all of the parks, you really will spend nothing but money for tips (pro tip: bring tons of $1s and $5s) or the spa, if you choose. The access to Xcaret parks is worth over $100 dollars per adult per park and $50 per kid over five. We loved the luxury, yet casual (not stuffy) feel of this resort.
As I mentioned, we covered our stay with credit card points; however, while shopping, I was able to get the price as low as $400/night for an ocean view room using Expedia and Travelocity's price match. My tips for doing this would be to book a fully refundable reservation through Travelocity and Expedia at whatever price is shown. When you find the lowest price from a website that looks halfway legitimate or from the resort itself, you can submit it for a price match (you can find this by searching both sites). Booking.com will also supposedly price match, but I did not have luck with them when I tried the process previously.
Hotel Xcaret also frequently runs sales directly on their website. Be sure to check there to see what they offer.
As far as Xcaret room types, the ocean front was just perfect for us. The only swim up that we would've been interested in was one that goes into the octopus pool (Casa Viento) given children our kids' ages.
---
Our room at Hotel Xcaret: Family Friendly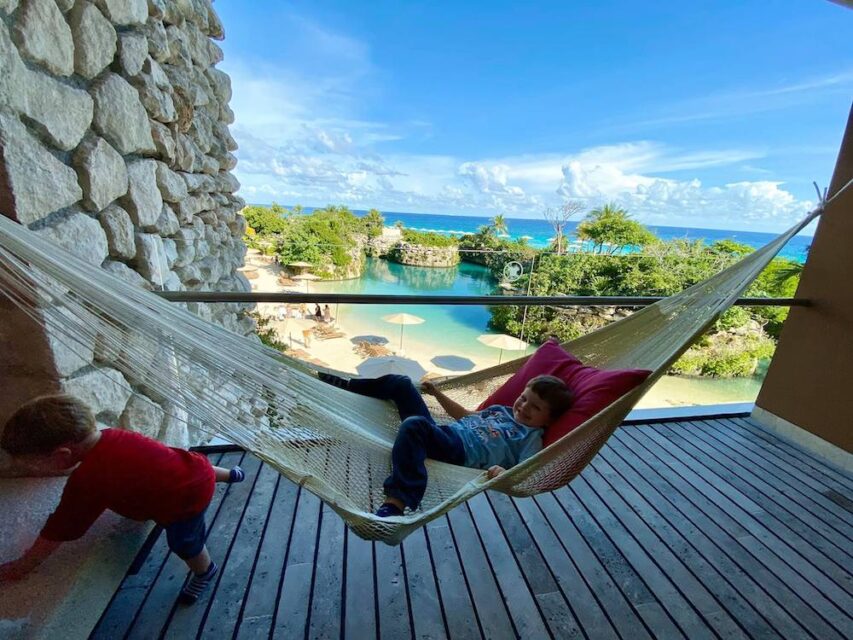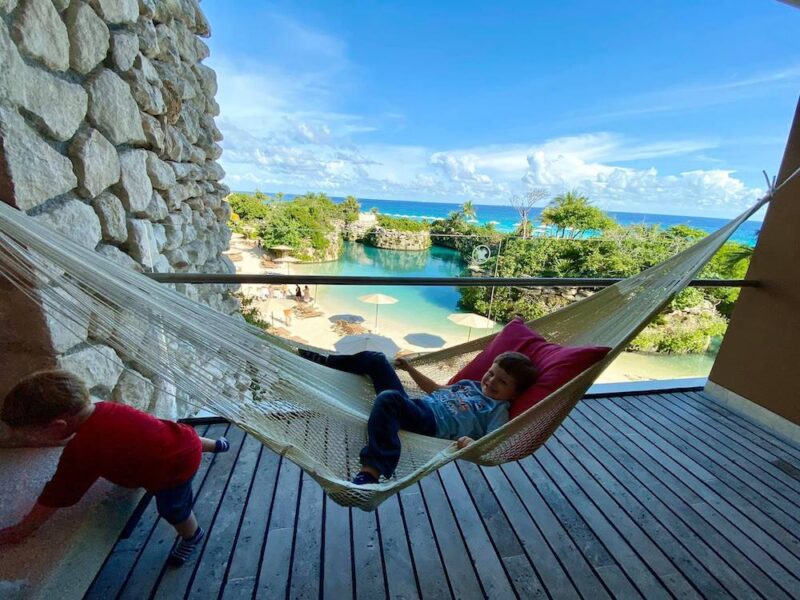 We ended up in room 1341 in Casa Tierra. The view was dreamy and we liked that it was accessed from outside rather than an interior hall. It was also on the same level as all of the restaurants and most of the pools. There was plenty of space in the room with a large king size bed and a pull out sofa (comfortable for kids but probably not adults).
There was a large closet, a large shower and a double sink. There was a small refrigerator in the room which was stocked with beer, soda, and juice. Limited snacks were also provided and both were restocked each day free of charge.
We had heard that there was a significant problem with moisture at the resort. I think this is true in any warm climate that is humid. We did notice that the interior halls – enclosed by the glass sliding doors – were very wet, and I could imagine that there was an even a bigger moisture problem in those rooms. Ours was accessed from open air outside and would still get humid if we left the slider open, but it wasn't too bad.
That said, my allergies did seem to be bothered by the extra mildew. If you are sensitive, I would recommend bringing allergy meds to help with this and request your room not be in the enclosed interior hallways.
---
The Hotel Xcaret resort grounds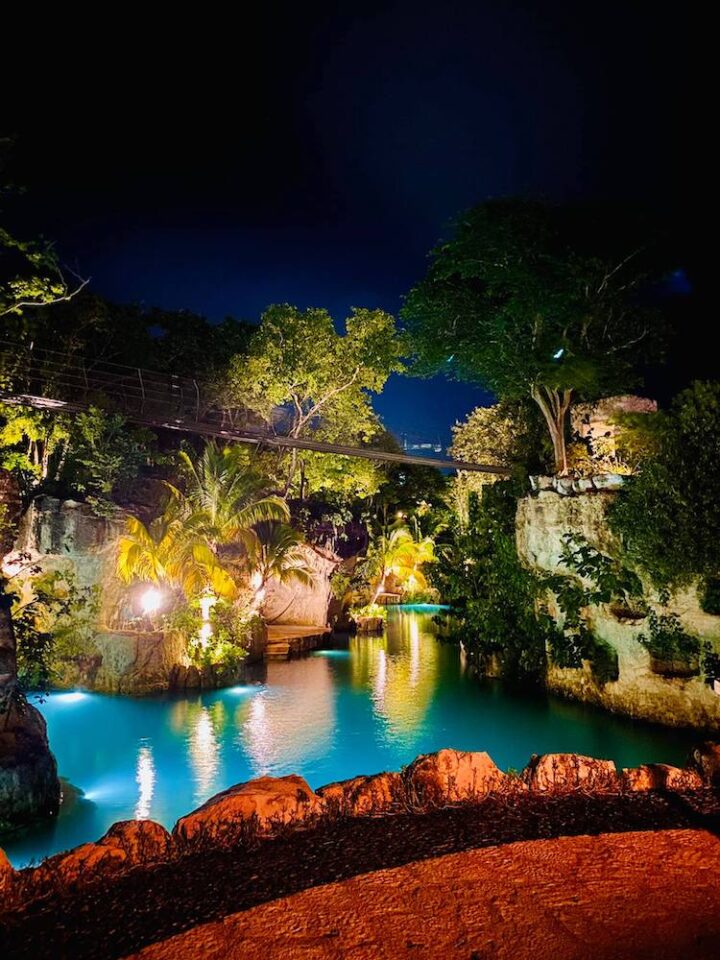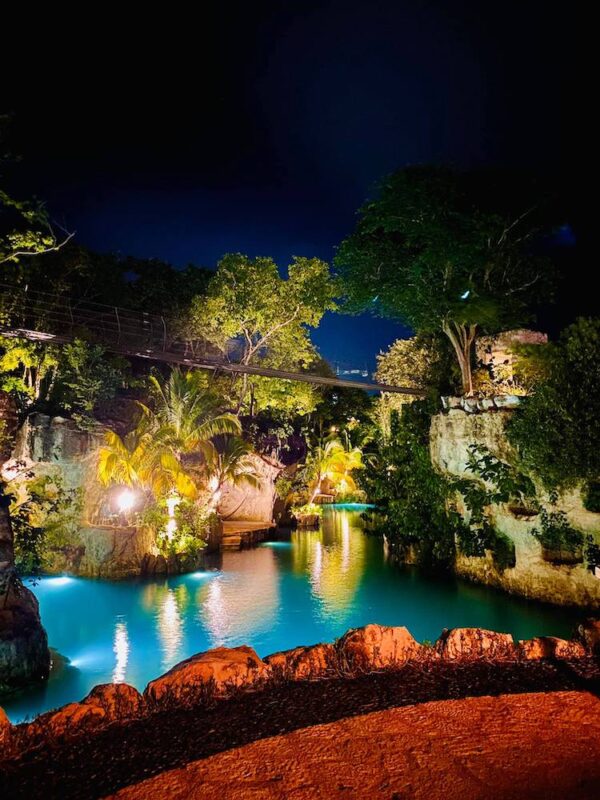 There are tons of pools and endless grounds to explore which makes Xcaret great for kids. There's a great teen game room (which we visited with young kids), kids pool with manageable slides, and kids drop off care center (Hotel Xcaret Kids Club). We also heard great things about the in-room babysitting service but did not have a chance to take advantage of it.
This resort has truly focused on the details. From decor in the rooms, auto-on lights when you enter, to the way you're welcomed "hello, family. Welcome home," to the keyless wrist bands, they've thought of it all. Even housekeeping went as far as to line up my toiletries every day!
Our experience visiting Xcaret with kids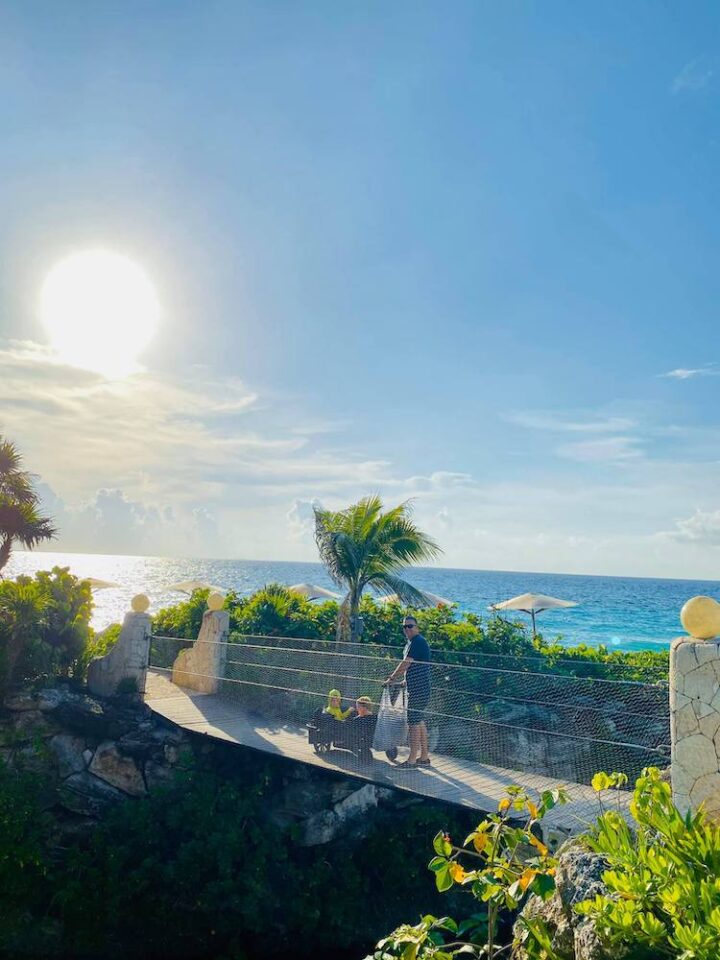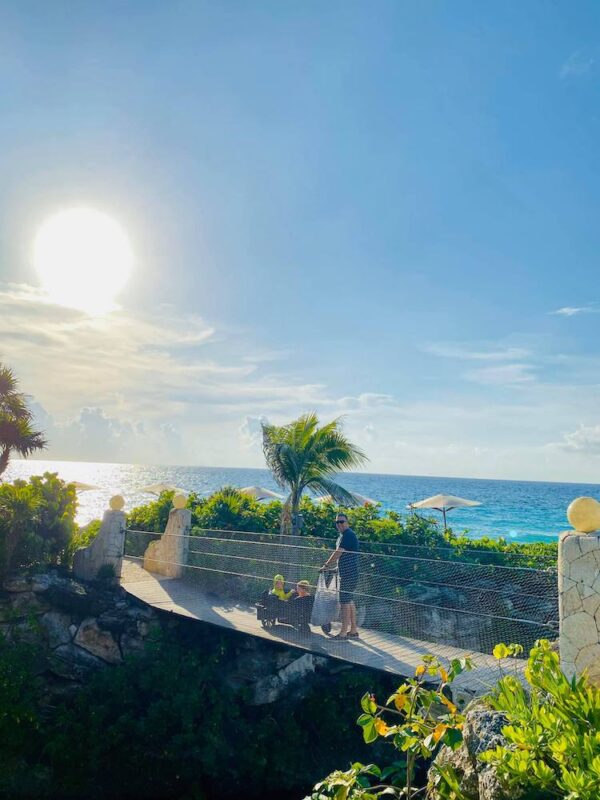 Our Hotel Xcaret itinerary planned four days and four nights and figured that would give us a good taste of the resort. We are active travelers and tend to want to switch up our accommodations every few days. Four days was a good amount of time for us, but you can easily fill a week, even if you're visiting Hotel Xcaret with toddlers or young children.
Is Hotel Xcaret kid friendly? If you're only going to come once, you may want to wait until you're comfortable with your kids ATVing, etc, but we absolutely loved Xcaret for toddlers. Many people discouraged us from bringing them, but we felt their presence at the resort was truly valued, and we had no trouble keeping them busy.
We appreciated the diversity at the resort during this time of year. It was largely Mexicans and those from South America, with some Europeans mixed in. We had anticipated the majority of people being Americans, but, refreshingly, that was not the case (perhaps because of the Festival de Vida y Muerte). While most people spoke Spanish as their primary language, almost everyone that we talked to understood English and my broken Spanish easily.
Hotel Xcaret food options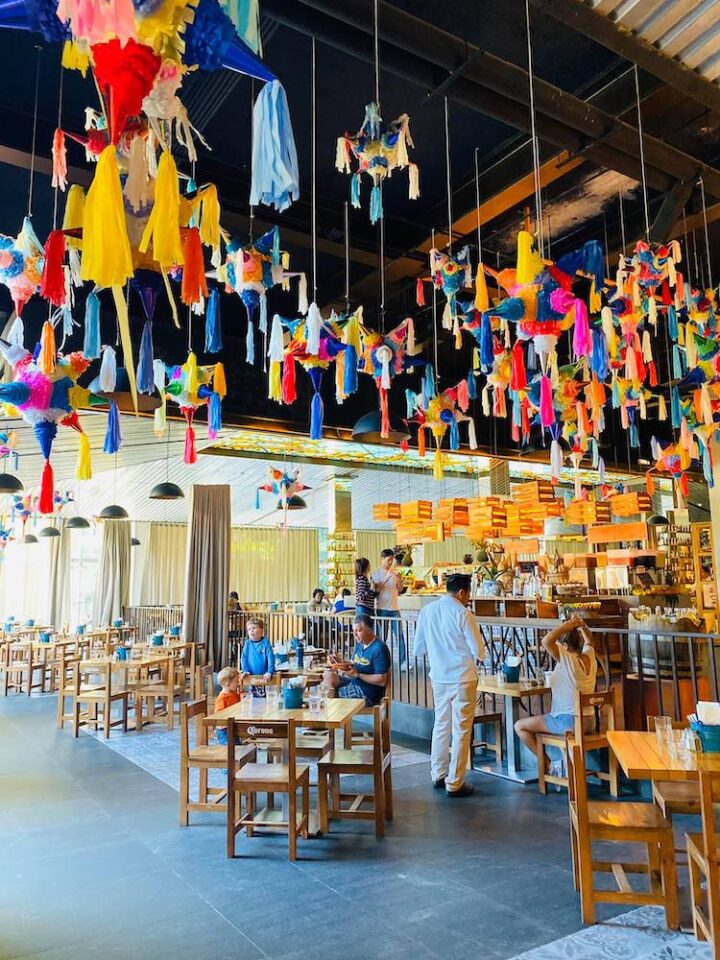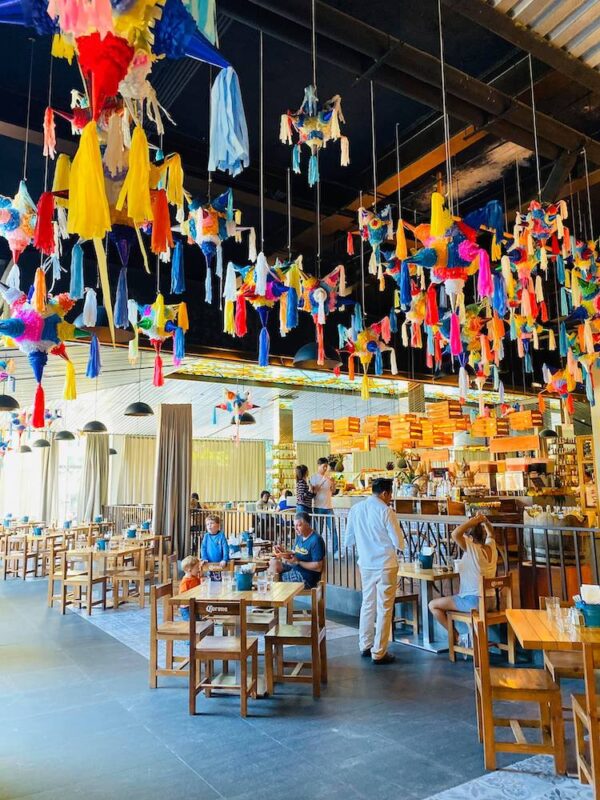 One of our main complaints with all-inclusives previously has been availability and quality of food. You won't have any issues with that here as the Mercado is always open (and totally delicious). With the exception of room service, which arrived cold, all of the food exceeded our expectations.
Our absolute favorite meal was Xin Gao Teppanyaki (hibachi) where we loved the mixed chicken and steak. We did not eat at Ha which is an extra cost, adults only, and supposed to be delicious. My favorite mocha was served at the bar attached to the lobby. We enjoyed the spicy passion fruit drinks, though, one of our only complaints was that the drinks were not very strong.
This is probably an all-inclusive issue (vs an Xcaret issue) and I certainly understand from a safety perspective why you would limit alcohol when there is water all around, but it is something to note. We appreciated the unique vegan and vegetarian nature of the breakfast at Bio. The green and blue smoothies were the best. This was also a great way to experience the caves after having to cancel our dinner reservation at Las Cuevas due to a sick kid.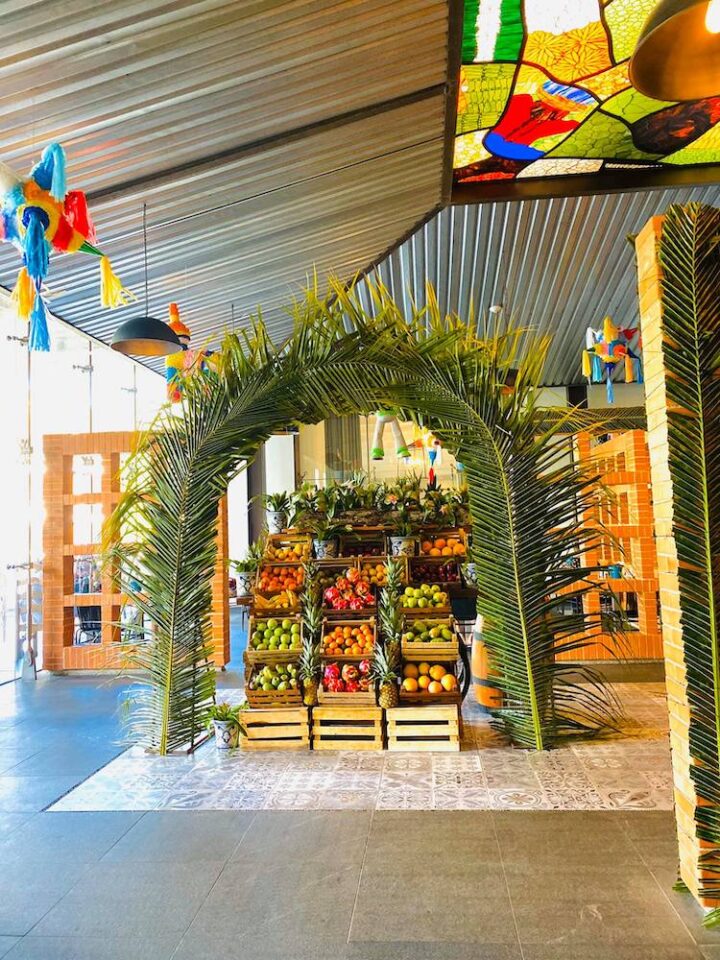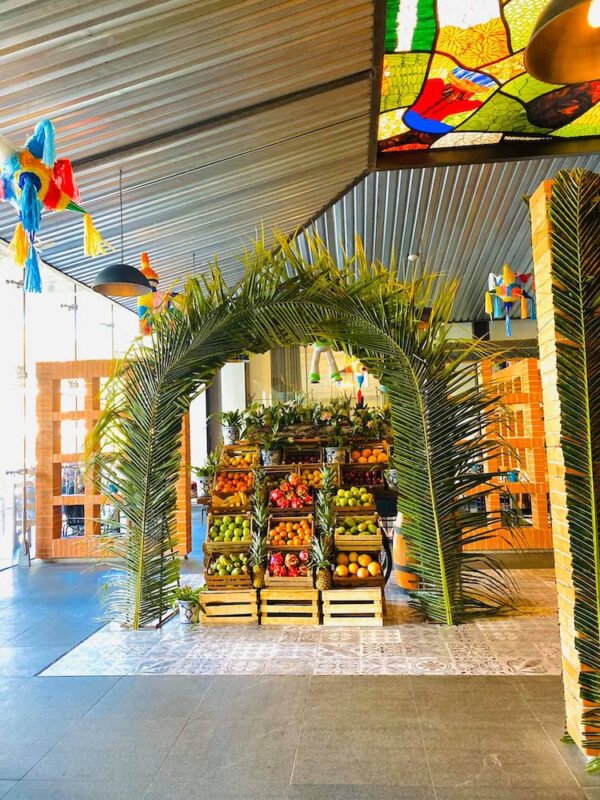 I would say the most kid-friendly options were Chibali (you can't beat the giant candy bar) and the huge variety at Mercado, which was our most frequented. We never made it to Las Playas, so that's likely a good option, too. The late night taco cart was amazing and perfect for a quick bite after returning late from the parks. In particular, we loved the crispy pork. We originally had a reservation at Teatro Del Rio, the theater at the resort, but after watching a few minutes of the show on our first night there, we thought it might not hold our kids' attention and we cancelled it.
While we are on the topic of the food, it's important to discuss food allergies. We had very high expectations for the resort due to having read great experiences, but they really missed the mark. I would give them a B for effort, but F for execution. They did indeed ask at every single restaurant, but the information given to us was almost always incorrect or we weren't given any information at all. Our son has an egg allergy and I am able to communicate that well in Spanish. In spite of that, the servers continued to provide us inaccurate information. If you have a severe allergy, this would likely be a significant issue and this is something you should seriously consider.
Hotel Xcaret Tips: Planning Your Trip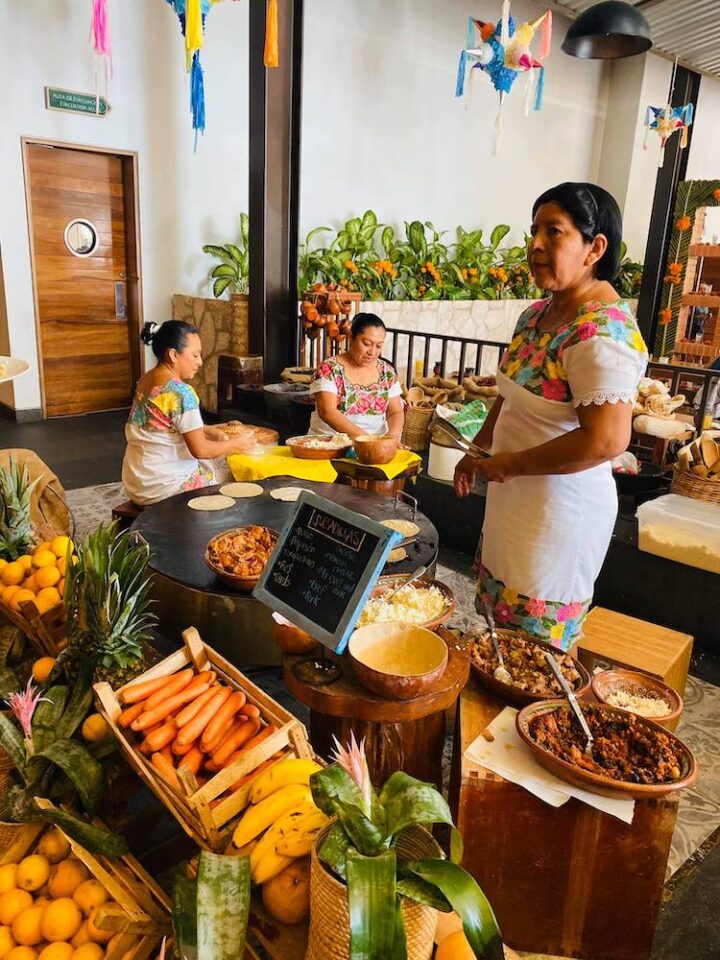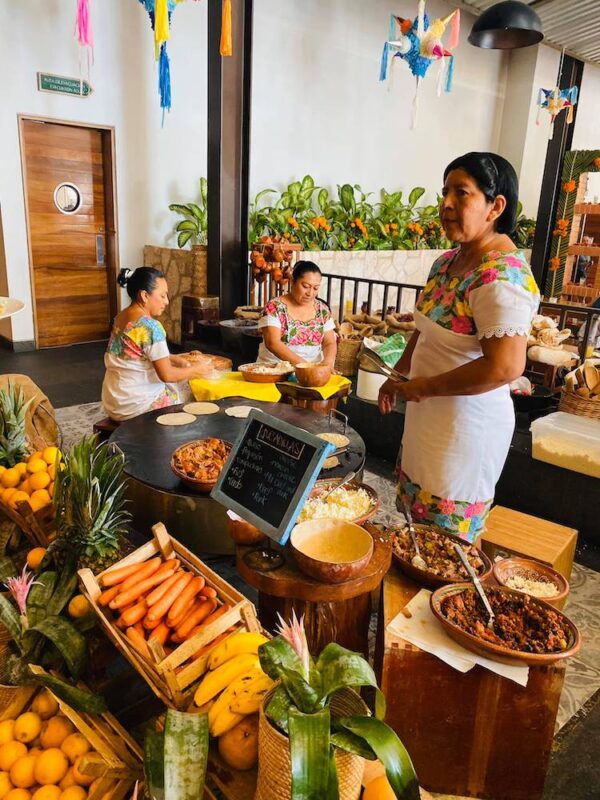 To best enjoy this Mexico all-inclusive resort with kids, you do need to do a bit of planning ahead of time. Dinner reservations at Las Cuevas, Xin GAO, Teatro del Rio, as well as Ha book up ahead of time. Additionally, if you plan to go to Xavage, Xel Ha, Xenotes, or Xichen, those require transport and would be good to book ahead. While you can definitely wing it, the thought of having missed the hibachi because we didn't plan ahead makes me sad.
For planning purposes we found a couple of resources very helpful. There is a great Facebook group available for fans and we got most of our information there. This group was especially helpful for restaurant details like hours and meal offerings, as well as pricing for the spa.
You could explore just the resort property for days. There are hidden things in the woods like an outdoor gym, hanging bridges, waterslides, and animals. We were, however, disappointed that there wasn't a better map available. We found this to be true at the parks, as well.
We had heard from others that the pressure to join their vacation club was significant but we never once experienced anyone even suggesting it, so that was a welcome surprise.
When's the best time to go to Xcaret resort?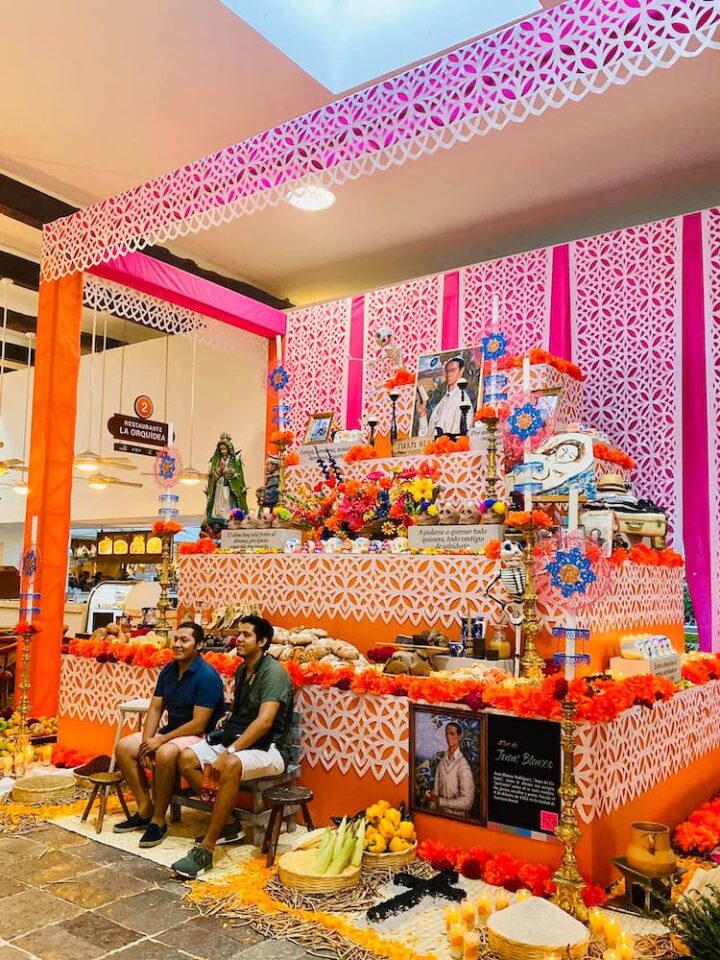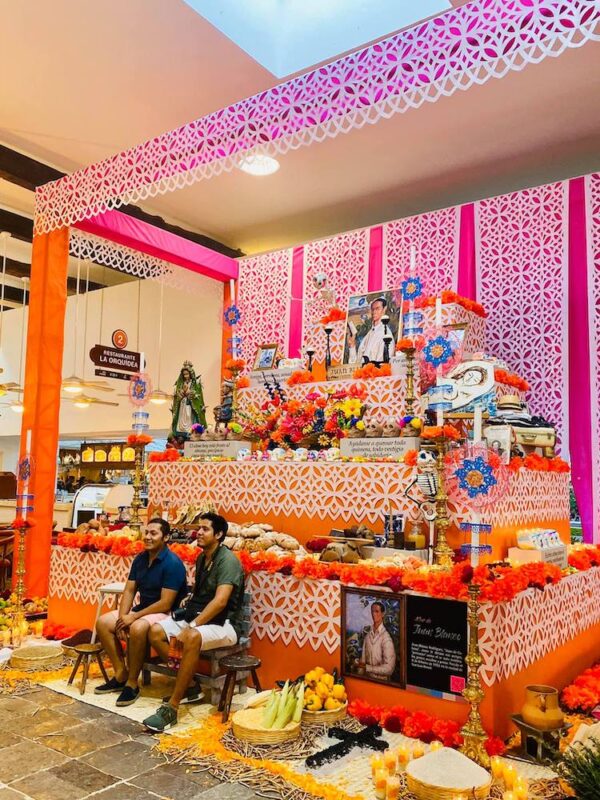 We visited the resort in late October and were able to catch a couple of days of the Festival de Vida y Muerte which runs Oct 30-Nov 2. The resort was beautifully decorated, there was storytelling, a parade, face painting, and music at some mealtimes. There were also a ton of activities and shows available at Xcaret Park (but it was also packed, hard to navigate with our stroller wagon, and a bit overwhelming).
This festival is so significant that they even had a special app for it which covered all of the events at Xcaret Park. The map feature did not work well and we had trouble communicating our desires to staff even in Spanish. This is a very magical time of year to come, but if you plan to, I would try to bring small children in carriers only to Xcaret Park. It was just too crowded to manage anything with wheels. I highly recommend bringing your own white and black face paint as well as some face painting tools. They did provide face paint at the park, but the lines were long and I worried about quality.
The weather in Cancun in fall was lovely, pretty much 80F all day long and only a few sprinkles; that said, in the days before we left the entire forecast called for rain. The bugs were minimal and though we brought a bunch of DEET and Picardin bug spray, we only used it at Xel Ha.
What to bring to Xcaret resort
Read more: Our detailed Mexico packing list
As far as how to dress at the resort, we found our swimsuits, swim coverups, Sunday Afternoons hats, and rash guards for everyone (UV Skinz for kids, Coolibar and Lands End for grown ups) super helpful. Honestly, you could get away with just three days worth of clothes and wash them in the whirlpool tub every few days.
Sadly, there is no laundry facility on site. Management doesn't want you hanging clothes out to dry on the balcony, but we found plenty of spaces on the interior in the closet, shower, and on the outdoor chair. You could also bring a travel clothesline to hang more items inside.
While it was humid, our quick dry shorts and shirts dried overnight. You are required to wear clothes, including a shirt, and shoes to enter any of the restaurants. You must also be fully dry, which makes the transition from pool to restaurant a bit inconvenient – especially with kids.
Full-size towels are provided by the resort and easy to find near the pools, so there's no need to bring those. We found having a small microfiber towel at the parks to be helpful with young kids.
Our large Baggu bag helped to hold all our our beach stuff for the kids. The resort also provides you with a smaller beach bag as a gift to take home. Check the closet when you get to your room! Another amazing option is the Logan + Lenora beach tote, which has tons of pockets for organization and a built-in waterproof section for your wet beach stuff. It also works perfectly as your carry-on for the plane.
They do provide life jackets for children, but we prefer to travel with our puddle jumpers, so we brought those as well as our own goggles. I did wish that we had full life jackets with head support at Xel Ha. They did provide them there at many locations, but they were more for snorkeling and seemed to push the kids' heads down into the water.
Everyone in our family made use of the provided water shoes. I prefer the Speedo brand for myself and our kiddos used some lightweight water socks that we found on Amazon. I brought some more substantial water shoes for them, but the water socks worked best as they didn't weigh them down. The surfaces weren't so rough that I felt we needed a harder, thicker rubber sole.
We love All Good brand sunscreen, which is non-aerosol, reef safe, and biodegradable (they do want you to use biodegradable sunscreen at the resort and parks). Thankfully, we didn't use much of it since we always wore rash guards and hats.
The only things that we found ourselves wanting that we didn't bring were waterproof phone cases (available for sale at parks, but it's probably cheaper to bring your own) and reusable straws. We didn't think to bring straws, but with all the fruity drinks for the kids they certainly would've come in handy as there are no straws at the resort or parks.
If you're picky about your snorkel gear, I would recommend bringing your own, but it is available for borrowing when you need it. Find the right kids snorkel set based on your child's age – and teach them how to use it.
If your kiddos are sensitive to noise, I world bring hearing protection for the shows at Teatro Del Rio and Xcaret park. I should also note that the gift shops have a ton of fairly reasonably priced and decent quality options for swim gear/wear in all sizes, in case you forget anything.
We ate most of the food at the resort (avoiding raw seafood) and did have ice in our drinks, but we bought a Grayl bottle to filter all of our drinking water. I highly recommend it for a constant supply of safe drinking water without the environmental impact of a million tiny plastic bottles!
As I've mentioned previously, the grounds of the resort are endless. One piece of gear we found helpful was our Veer stroller wagon which worked out well for us (we also love traveling with our Veer through the airport because it's perfect for hauling car seats). A few times we had to carry it down some stairs and no elevator was available. This is definitely something to consider, and I don't think average strollers would've held up very well for actually exploring the grounds. You can certainly use them for getting from the restaurant to your room in most of the casas, but the off-road features of our Veer came in handy for the bumpy walkways, bridges, and beach. They do have strollers that can be borrowed at the resort (think hard plastic Disney strollers) as well.
A note about walking to the Parks. Via Google maps it looked like it would take just about 20 easy minutes to walk to Xcaret and Xenses Parks. This ended up taking us 30 to 40 (very hot) minutes and some of it was down a road that was busy with buses (with no sidewalk). I would not recommend the walk, but if you are without young children, there are bikes (and helmets) that you can borrow to get around the property.
There are also plenty of shuttles every few minutes – we never waited more than five – so that is definitely the best option. The shuttles were really wonderful in that they had full handicap access so we could roll our strollerwagon on the bus it as is. That said, I would not consider the properties/parks handicap accessible. Most had a fair amount of stairs and in many cases they were unavoidable.
Xcaret beach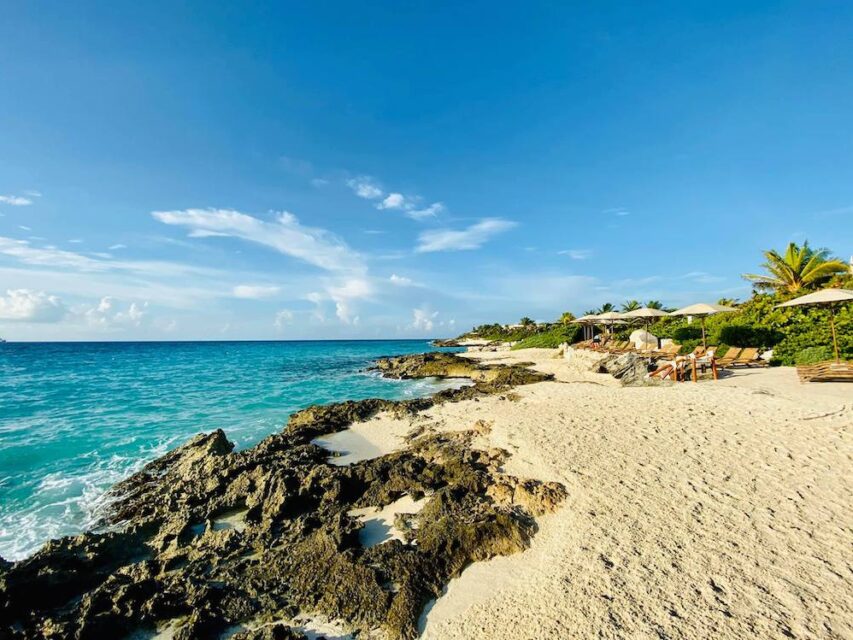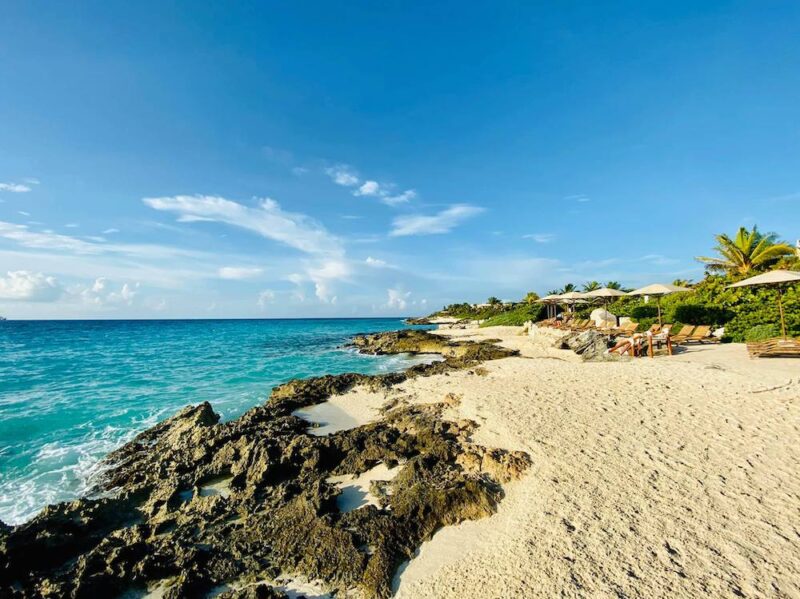 One area we often hear commonly complained about is the beach at Hotel Xcaret. The beach is very rocky, though beautiful, but it is not the focus of this resort. Luckily, there are many inland beach coves for getting in some sandy water time and castle building.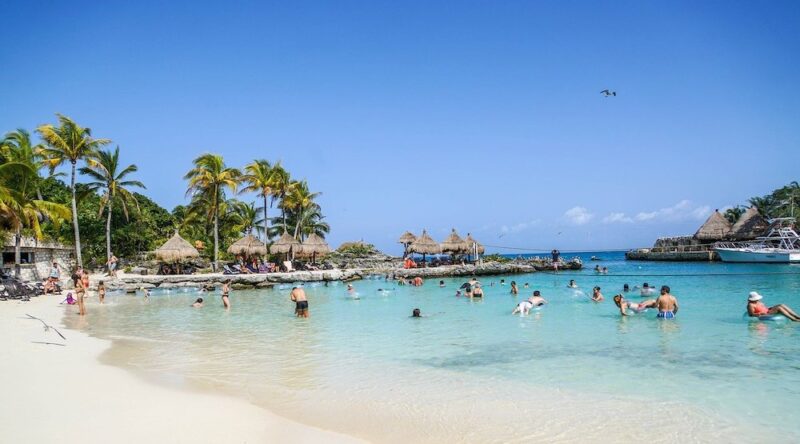 We heard quite a bit about the problem of sargassum in the area, but didn't see any ourselves. There are many river areas for swimming, but the water appeared very stagnant and it was not something I would feel comfortable swimming in personally. This is too bad because there are many beautiful areas where you can swim over to a hammock nestled in the cliff. There are also kayaks that can be used on property.
Muluk Spa at Xcaret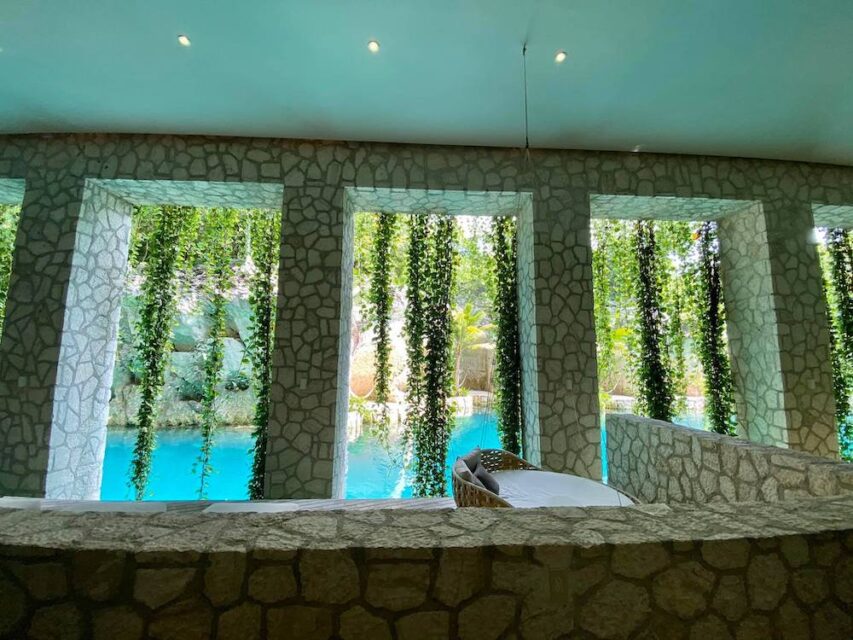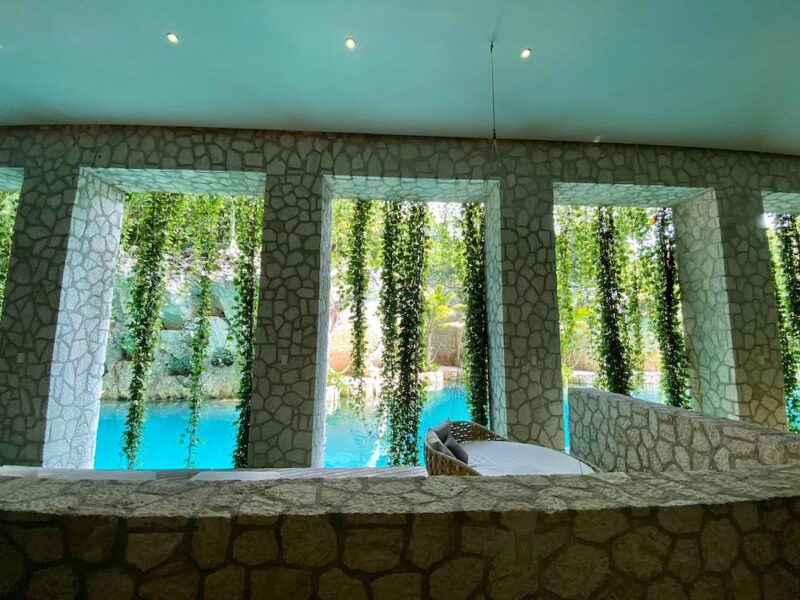 The Muluk spa is a pretty dreamy spot. I found the prices to be on par with normal higher end resorts. I booked an 80-minute massage and facial. Esperanza was highly recommended in a Facebook group, and she did not disappoint.
I recommend arriving at least one hour early so that you can take advantage of the sauna, steam room, and hydrotherapy tubs. Make sure to wear your swimsuit. I was a bit disappointed with the beverage offerings as they only had tea and water while you were waiting. If we ever go again I will be sure to request a cenote room.
Xcaret Parks: the Best Xcaret activities
After much research, we decided that for our children's ages the best parks for us would be Xenses, Xcaret, and Xel Ha. Our favorite, and certainly the most unique, was Xenses. I should note that for Xenses and Xel Ha, the description of the park stated that it was for five and over, but we found plenty to do with our young kiddos. The unlimited access to Xcaret parks really makes this among the best Cancun resorts for kids!
We really loved that we had the option to go to the parks even after we checked out of the hotel on check out day (this required some separate arranging but was easy).
Xenses Park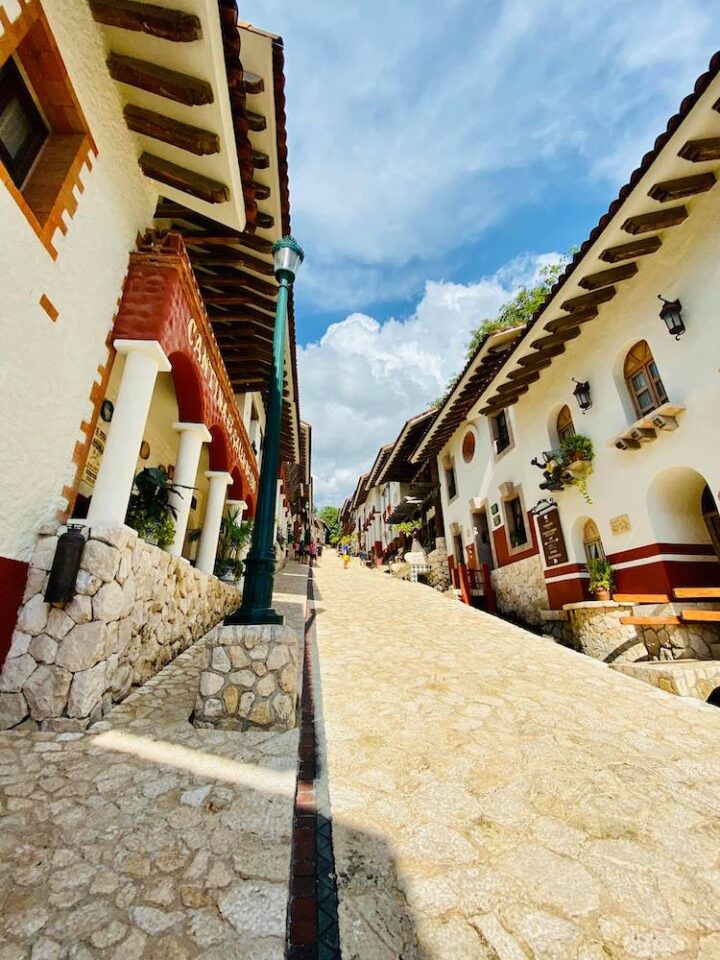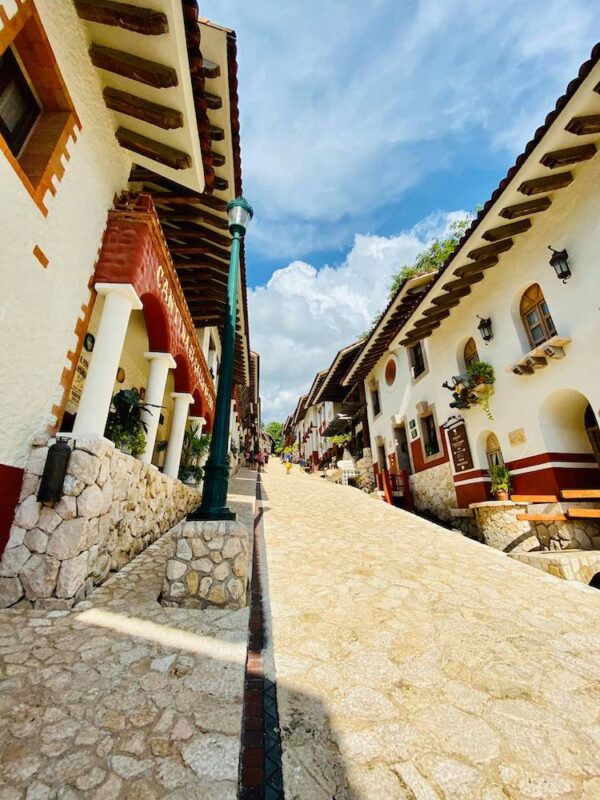 Xenses tagline is "See the Unimaginable." Our kids' favorite activities were mostly in the underground world. Our four year old loved riverlaxing and drinking from the lemonade tree best and our two year old loved the rain part most. My husband and I had to take turns in the underground world because we brought the wagon in. We could have left it outside at the front locked up, but it is a one-way path underground, so once you start through you can't really retrace your steps. We were worried that it would be too much walking for the kids in the heat, so we brought it in.
We skipped the Xensatorium because the line was long and they said it wasn't for young children. My favorite part was the city where water flows uphill. My brain simply couldn't comprehend all that was going on there. Facebook friends were all very confused about some of the pictures we posted and that was fun, too.
Food was not included, but was available, at this park. We spent 2-3 hours there. There are lockers and changing rooms on site.
Park Xcaret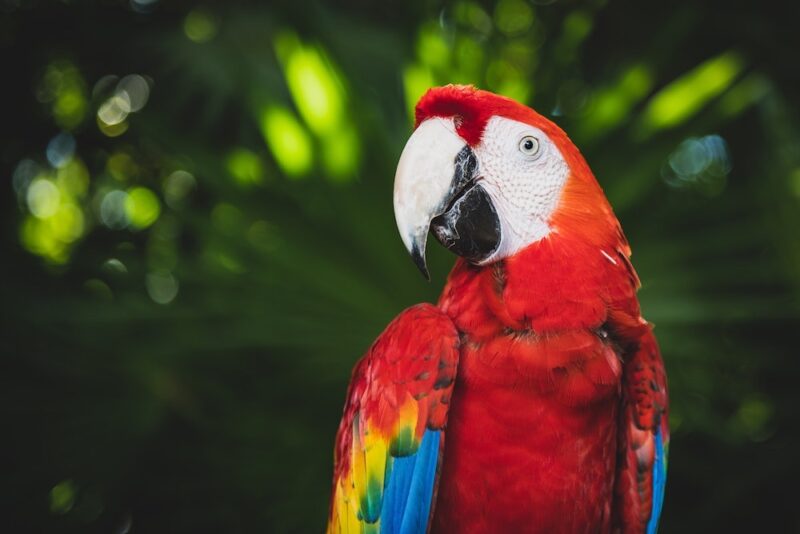 Read more: Must-read tips for Park Xcaret
I can't say much about our experience at Xcaret because we arrived around 4pm during the Festival. Due to the timing we weren't able to see the butterfly house, play in the children's playground, or swim in a cenote, which we had planned to do.
Upon entering the park there was a large bull that looked sad and was wearing a muzzle in a small enclosure. This is my biggest complaint about all of the parks and the resort itself. The animals don't appear to be treated all that well and they are in small enclosures. Our family really tries not to participate in animal tourism so we didn't pay to take part in dolphin, stingray, or manatee swims at any of the parks. This is definitely something to consider if your family's boundaries regarding animal tourism are even more firm.
We were able to make it to the nightly show which is held in a very large arena. It is located at the back of the park and begins at 6:30. I highly recommend getting there around 6 PM or before to get close seats. The show is nearly two hours and snacks were available during. There was a brief intermission about an hour into the show. It was entertaining, but I think it would be difficult for a show like that to hold toddlers' attention for the full two hours unless you were very close. Luckily, it is easy to exit the theater when you are done.
Food is included at this park for resort guests, but you do have to take part in the buffet before 6 PM. We spent about four hours here.
Park Xel-Ha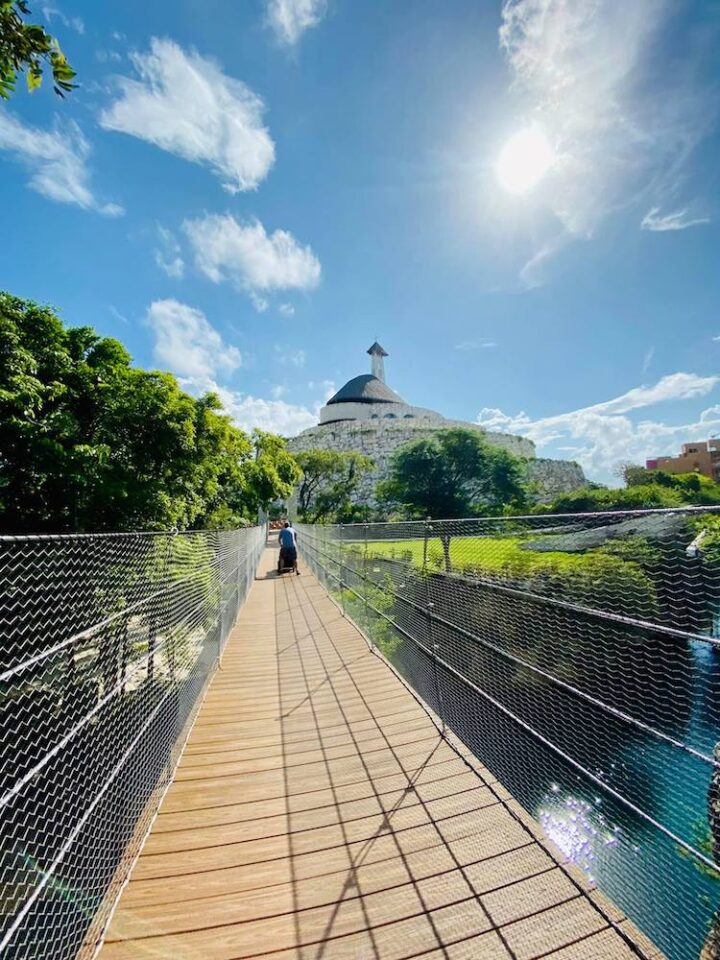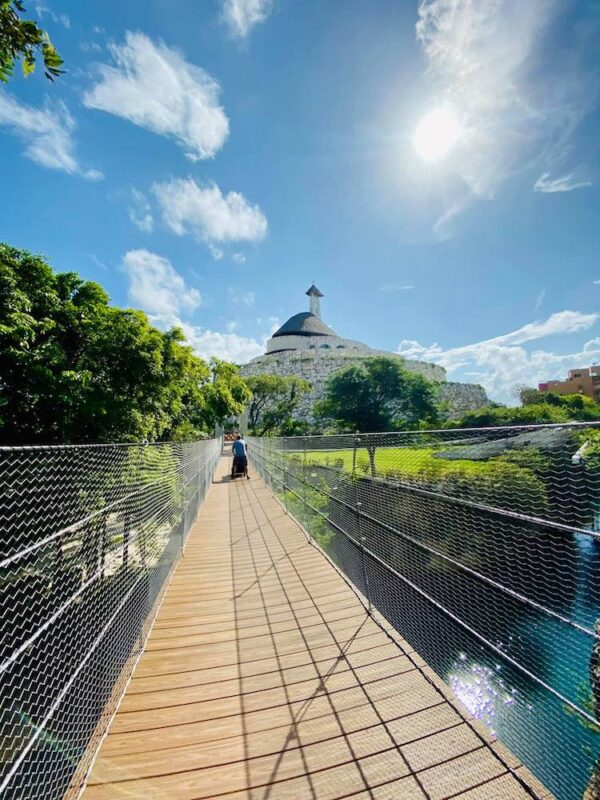 This was definitely our second favorite park and is mostly centered around the water. We started our day out in the children's world which is a great play area complete with areas water play, a little stream, two different climbing structures, swings, and an area where you can slide down into the water and crawl or walk across some lily pads.
This part of the park was a huge hit and we spent most of our time there. We ended up walking around the park in a big circle which worked with our off road wagon. We had to go down quite a few sets of stairs and navigating around the trees was fairly tricky. Our kids also enjoyed swimming in the cave, watching cliff jumpers, and checking out a cenote. When our kids are a bit older we look forward to returning for the ropes course and the sea trek.
The meals and drinks were included here and we really liked the buffet. We spent about six hours here and they do have towels, lifejackets, lockers, and showers on site.
I regret that we didn't end up purchasing the picture packages at any parks. We didn't make much of an effort to scan our bracelets or take pictures at any of the hundreds of pictures stations. It is low risk to do so and you can always decide that you don't want them. They do allow you to preview the pictures but I believe the price is higher if you see them all versus buying ahead of time.
Overall, the Hotel Xcaret experience with young kids was a very positive one, and we would love to return here. It's easy to understand why many people consider it the best resort for kids in Cancun!
As always, I received no compensation or discount for my review. We just love travel and want to help other families maximize their experiences.
About Jordan
Jordan is an avid traveler who lives in Michigan with her husband Nick, two great kiddos and energetic dog. They've enjoyed exploring their home state for the last year and look forwarding to getting back out in the world soon!
Planning your trip to Riviera Maya with kids
Still planning? Pin it for later!