Every traveler has their own priorities in travel planning, but for us exploring the natural world is always high on the list. There's something awe-inspiring and deeply gratifying about reaching a beautiful view after you've really worked for it. The island has some great options, ranging from beautiful coastal views to classic waterfall hikes on Oahu.
Sometimes, though, the challenge is getting our *cough* younger *cough* team members on board. We checked out some of the top kid-friendly hikes on Oahu (which are also perfect for less experienced adult hikers) and now we're reporting back to you on what it was really like taking your average mainland kid on them. One of these short Oahu hikes is sure to fit the bill for your crew!
For context, our son turned 7 during our time on Oahu and our daughter was a little over four. He's an experienced hiker who's tackled mountains in Patagonia, she's only done a few hikes on her own two feet (with the rest being in our favorite baby carrier and toddler carrier). As you can imagine, it takes some planning – and trial and error – to satisfy everyone's needs. But these easy hikes on Oahu will do the trick for most visitors, just pick your scenery!
Use the interactive map to find vacation rentals and hotels in Oahu, Hawaii
---
The best kid-friendly hikes on Oahu
Waimea Falls
1.9 miles each way, 200 feet of elevation gain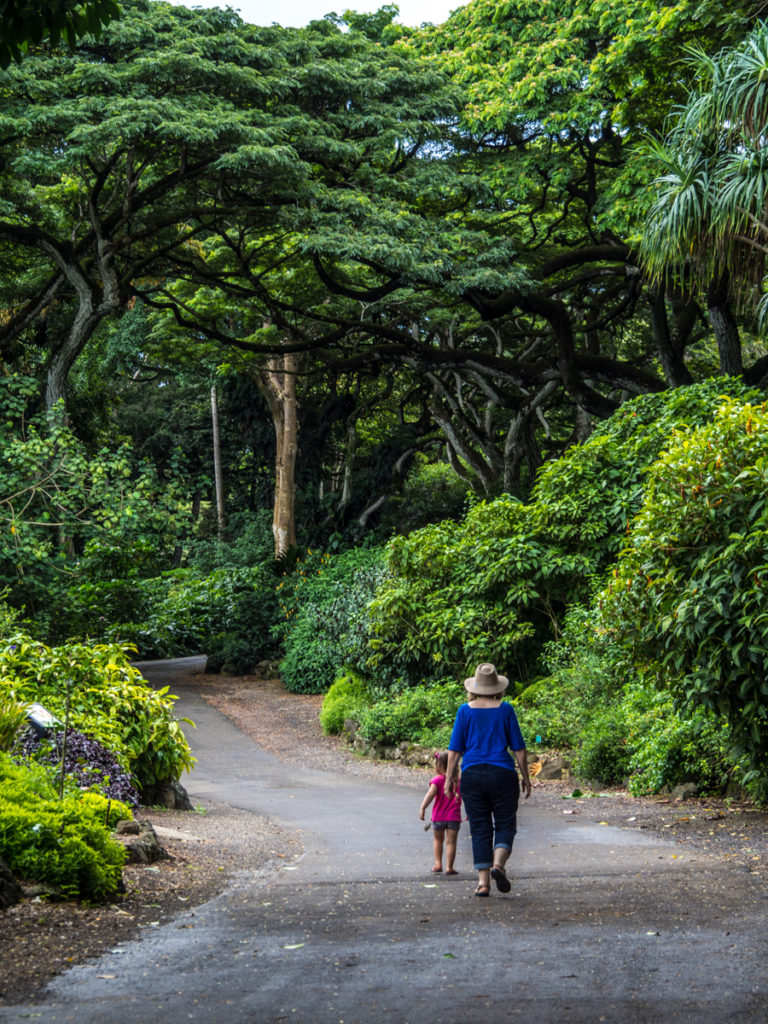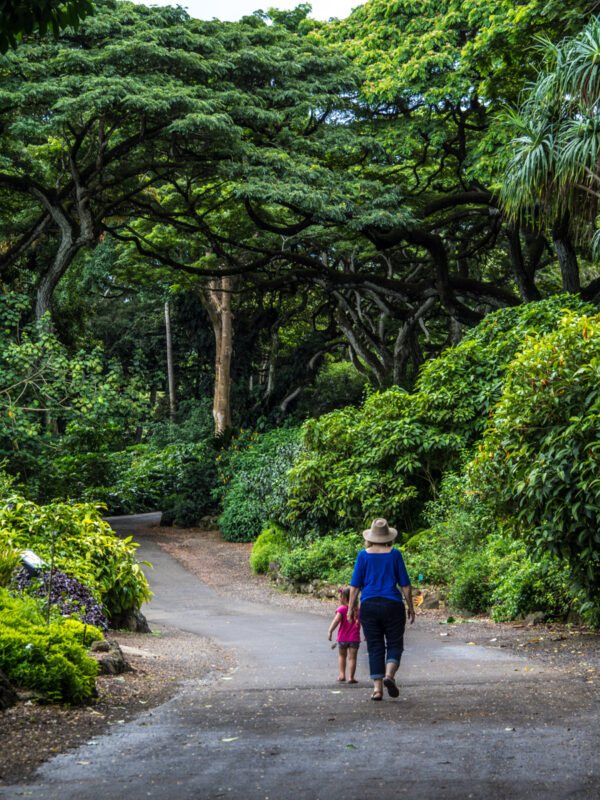 Waimea Falls isn't your typical hike. There's no weathered-looking trail map or dodgy trail to walk. Instead, it's a paved path through some of Oahu's most stunning, lush botanical gardens with cultural and historical waypoints along the route. This is definitely the easiest waterfall hike on Oahu!
Waimea Falls is located at the back of Waimea Valley, nestled on the North Shore of Oahu. The Valley was originally a division of land awarded to the High Priests of Oahu and, after a long and complicated history, is now owned by a non-profit run by Native Hawai'ians. Early in the day you'll find cultural presentations and local artisans on-site to enrich your visit – and break up the walk.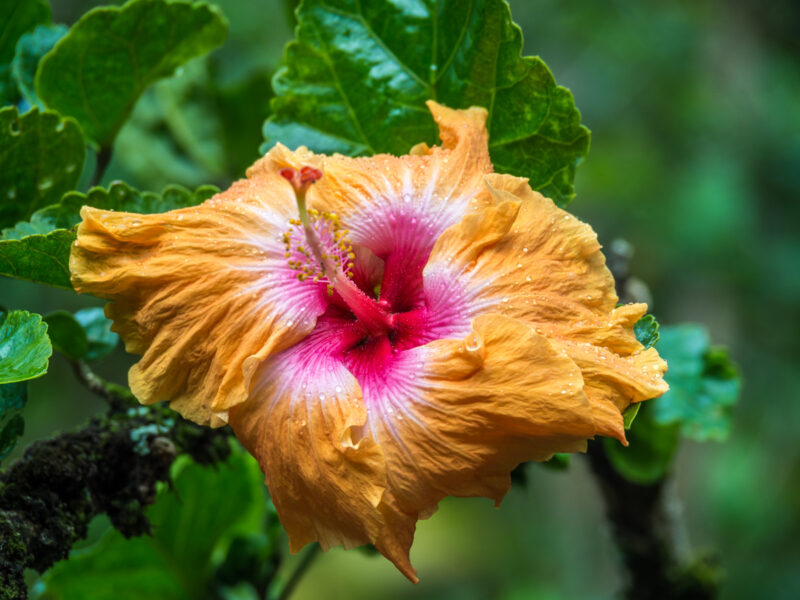 The walk should pose no problem for most walkers of any age and is a perfect perfect stroller-friendly hike on Oahu. There are even benches along the way to rest while you take in the beautiful surroundings. If it proves too long for anyone in your group (as it did in ours) they can hop in the shuttle to the waterfall part of the way up.
We actually all ended up taking the shuttle for the last leg of the walk and for the return due to torrential rain, but our shuttle driver was such a wealth of information about Waimea Valley's history and the plants in the garden that we'd recommend taking the shuttle in one direction. This is a wonderful hike to do if you're visiting Hawaii with grandparents, as there's something to keep everyone engaged.
If conditions allow, you can even swim in the falls! Visitors are required to wear a life jacket (provided for free) and you'll want to throw a travel towel in your daypack for later. But swimming is subject to recent conditions – when we visited, it wasn't allowed because recent heavy rains meant the waterfall was raging. We're talking about a deafening, miniature version of Niagara Falls! Waimea Valley is enjoyable even without a dip in the falls, but if swimming is important to you make sure to call ahead to find out if it's available that day.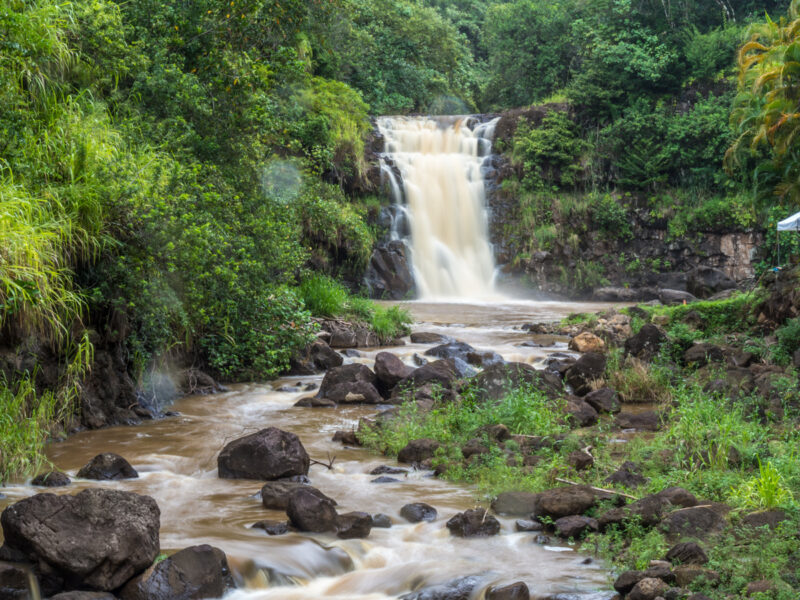 Admission to the Valley is $16.95 for adults $8.95 for kids (ages 4-12) and $12.95 for seniors. Some visitors (and would-be visitors) are put-off by the cost, but you're really gaining access to a stunning botanical garden as much as entry to the waterfall hike, and you're also supporting an important local cultural institution in the process. You can get into Waimea Valley free with your GoOahu card or buy your tickets in advance here.
Makapuu Lighthouse
1.6 miles each way, 800+ feet of elevation gain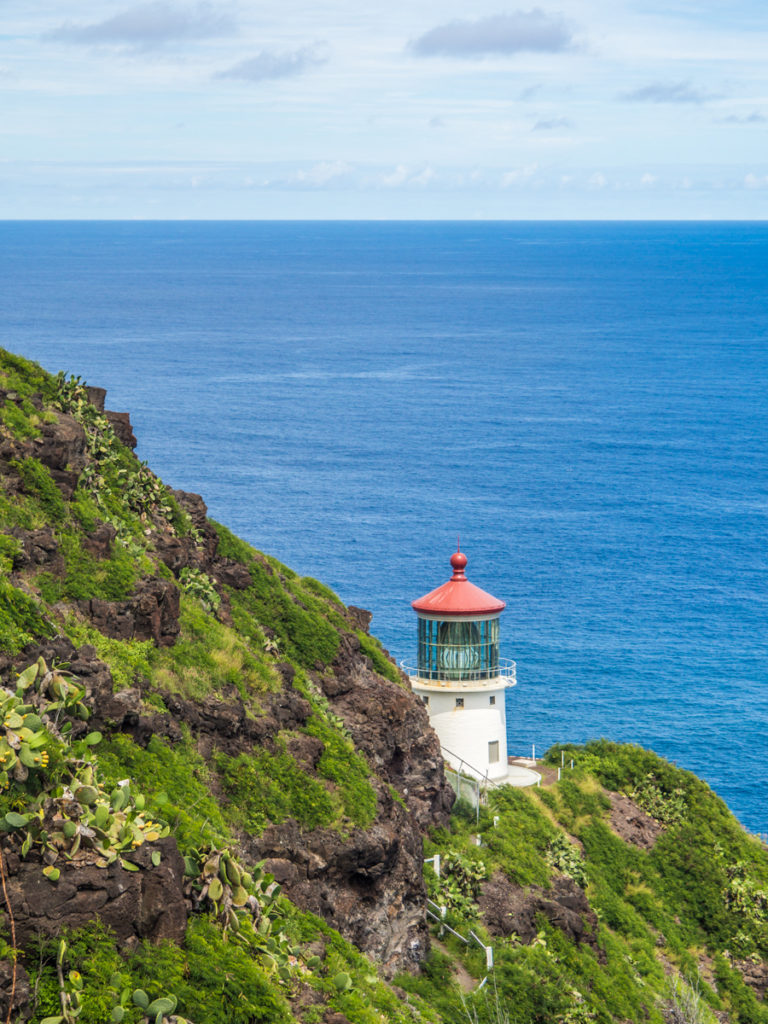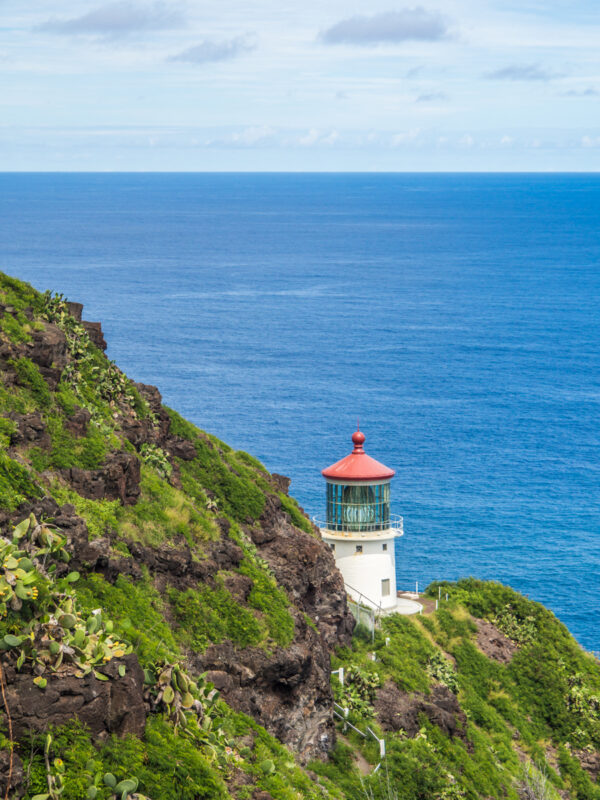 If moms pushing jogging strollers can do it, kids can do it to! Right? The Makapuu Lighthouse Trail is definitely one of the best easy hikes on Oahu. The whole path is paved and we saw plenty of toddlers, parents pushing strollers and families wearing babies in breathable baby carriers.
New family member on the way? Check out the MUST-HAVE travel baby gear for your registry (and beyond)
But the elevation gain is serious! You're walking uphill nearly the whole time. The trail is also completely unshaded and there are no facilities along the trail, so you'll need to bring as much water as you can carry. There are nice break points with information panels and stunning ocean views at several points along the trail, which are great for taking a breather and learning about the history and geology of the area.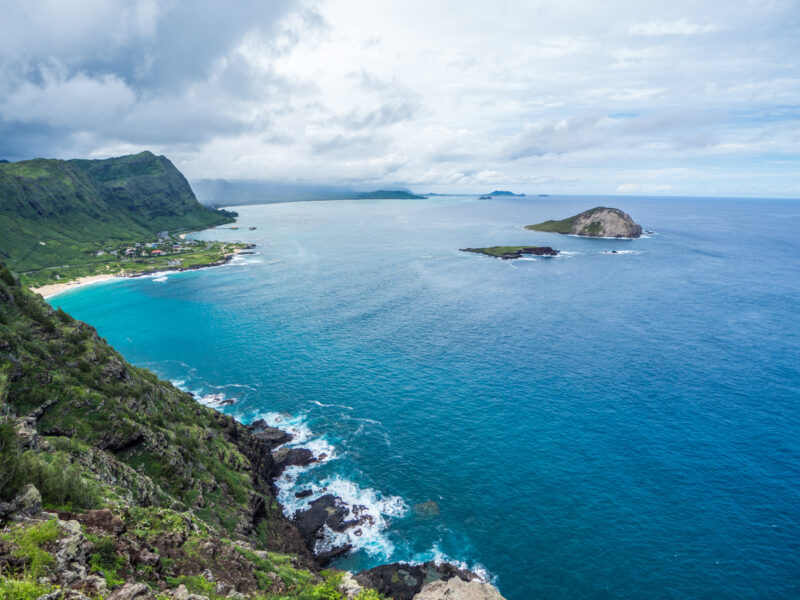 What did the kids think? Overall they thought it was a fine hike. We heard almost no complaints, which is a rarity. We think the Makapu'u Lighthouse trail is a good choice for ages 4 and up, though probably very energetic 3 year olds could handle it too!
There's a fairly small free parking lot at the trailhead. This hike is popular with locals and tourists alike (second only to Diamond Head), so it's better to visit on a weekday.
Manoa Falls
1.6 miles each way, 500+ feet of elevation gain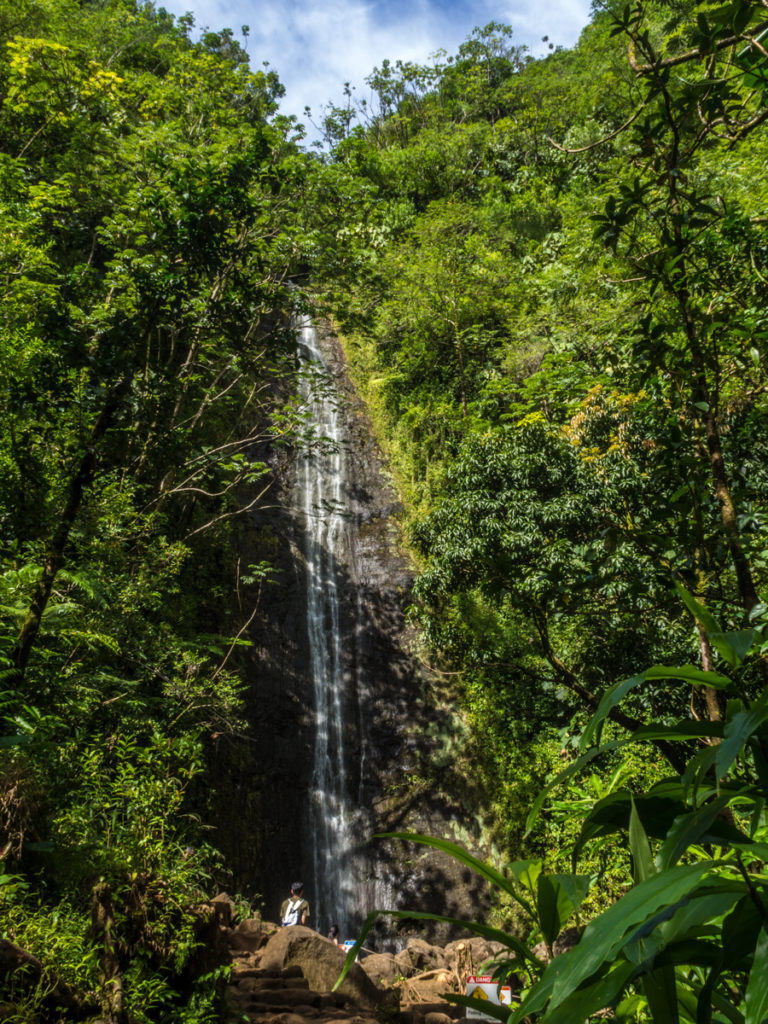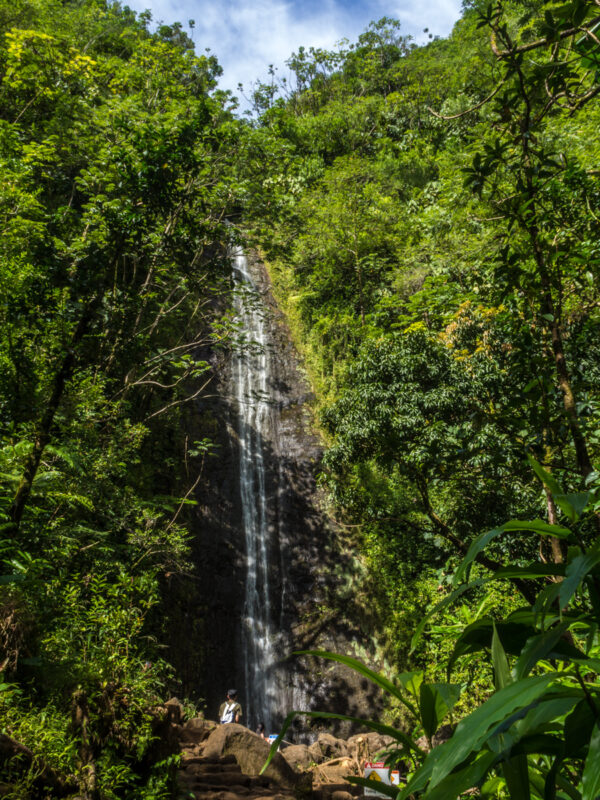 If you look at most lists of Oahu family hikes, Manoa Falls is generally at the top. After all, it's not especially long or steep, it's right near Honolulu and there's an enormous waterfall at the end!
There's also abundant shade throughout the hike, so you probably won't hear complaints about heat like you would at some of the other best hikes on Oahu. The valley views near the beginning of the trail are simply magical.
But our younger kid was (sort of) miserable during parts of the hike.
It's best to conquer hikes to waterfalls in Oahu (or anywhere else) when there's been at least some rain. But the ubiquitous shade and high ambient humidity mean that this path is almost always somewhat wet and muddy. And very, very slippery in some places. It's also narrow and technical in some of the same places where it's muddy and slippery, which can be very frustrating for young hikers who may not be as sure on their feet. The fatigue was real by the time we reached the waterfall and then descended back through the steepest section, but it was more of a mental fatigue than a physical one (in the picture below, we'd already had a good 15 minutes of relaxation so everyone was feeling better). Fortunately she was in good spirits by the time we returned to the flat, stunning valley at the beginning of the trail.
There is no swimming at Manoa Falls due to the presence of leptospirosis.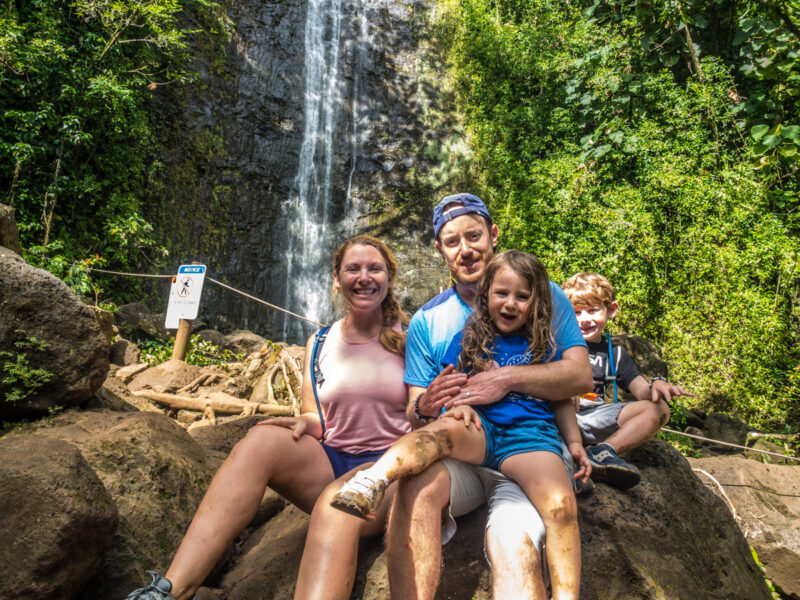 For kids who are fairly experienced hikers and have good balance, Manoa Falls is a great easy hike on Oahu. Still, we'd save this for ages 4 and up.
Parking is $5 in the ample lot at Rainbow's End. The parking lot even has a hose for cleaning the mud off of you!
Pro tip: You know who loves wet, muddy trails more than preschoolers? Mosquitos! Spray yourselves liberally, because we adults left the trail with over a dozen new bites between us. Yikes!!!
Happier pro tip: The big gift shop at Rainbow's End is amaaaaaazing for families! They have tons of Hawaii-themed gifts at very reasonable prices – some items were half the price we'd seen elsewhere for exactly the same items. Take this opportunity to stock up on $1 bracelets and $3 necklaces to bring home for as gifts like the bracelet Shoshana is holding below.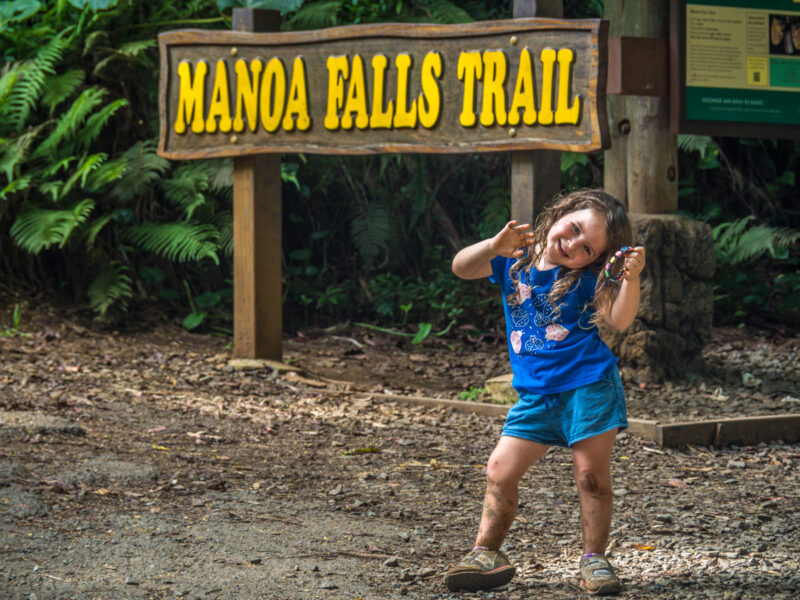 Diamond Head
1.5 miles each way, 500 feet of elevation gain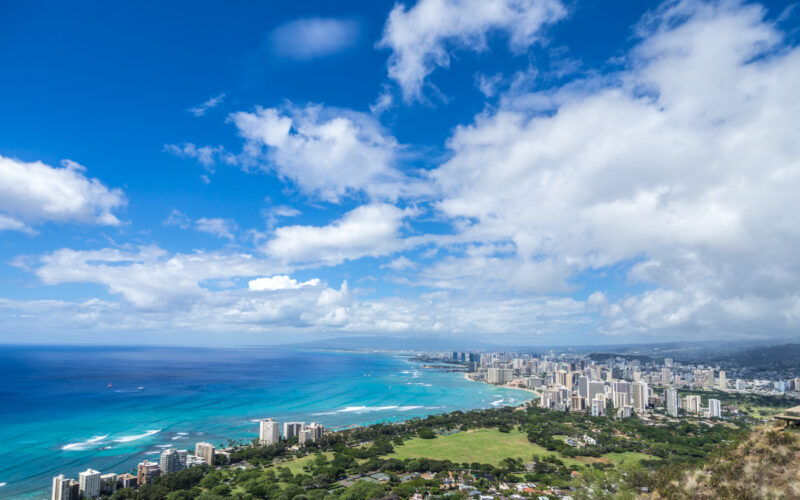 When we were researching easy hikes on Oahu to do as a family, Diamond Head made me nervous. Tons of stairs, tons of people, tons of hot sun.
It turns out all that worry was for naught.
Summiting Diamond Head with kids was no big deal. Yes, it's a lot of up hill and more stairs than you can count. No, you won't have the place to yourself. Yes, some parts have no shade. But don't feel intimidated by all that, just do it.
The trail itself is in pretty darn good condition. It's not paved like Makapu'u Lighthouse, but it's close. Make sure to wear decent shoes as it can be a bit uneven. There are also plenty of stairs, especially near the end. I met one woman walking in flip flops and she wished aloud that she had sneakers. You could manage in many athleisure shoes (like my favorites) but something with no tread like TOMS isn't ideal.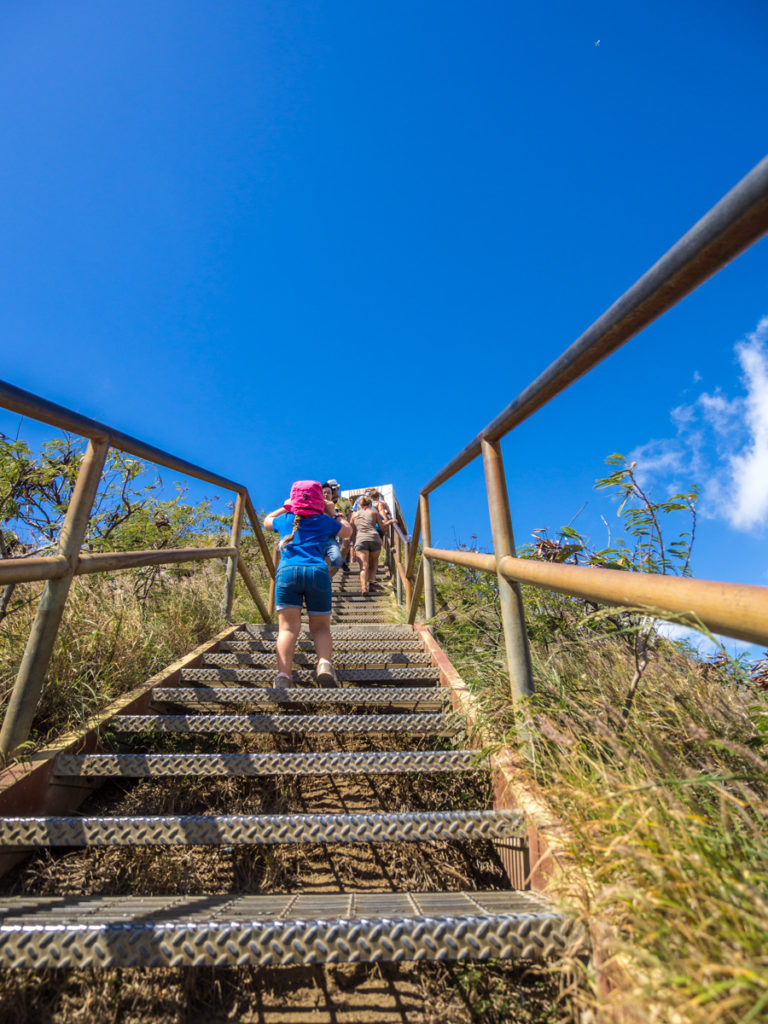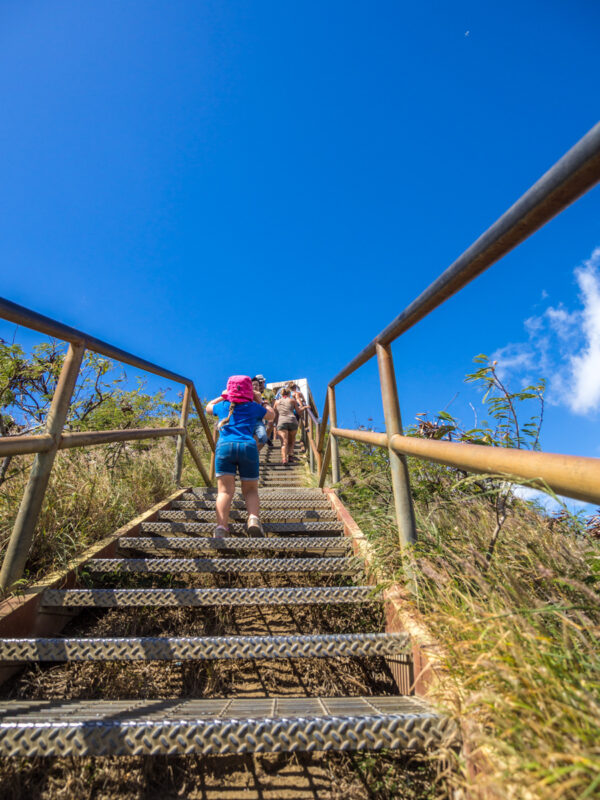 The kids had no issue with the trail in terms of distance or steepness. There are even periodic rest areas with benches! We walked the trail at mid-day (a tour book "no no") and found intermittent shade throughout the hike, along with nice breezes higher up and even an unexpected downpour at the top.
The crowds no doubt vary with the time of year. Many people suggest arriving before 9am or after 3pm, but we arrived at 11am and managed to park in under 5 minutes. The parking at Diamond Head is very well organized by the staff! Rather than circling the lot, cars queue on the side and are directed when a spot opens.
Out on the trail there were plenty of people, but fewer than at places like the Grand Canyon. We find that more people is a big advantage when we hike with our kids – often, as at Diamond Head, they link up with another kid to hike together and there are far fewer complaints! There's also a bunker underneath the summit where kids can crawl around and explore.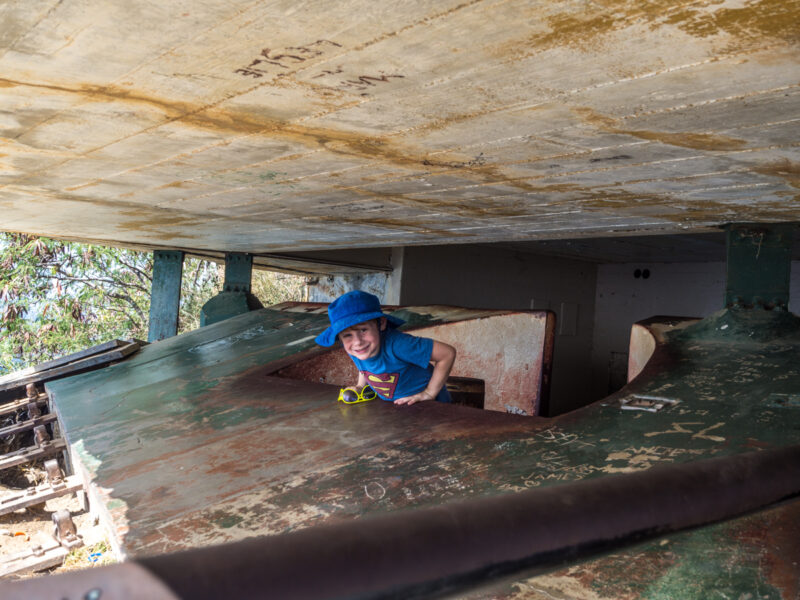 Overall our kids voted Diamond Head as their favorite hike on Oahu – they liked it so much that they requested a return visit. I call that a win.
Parking is $5 per car at the trailhead, or you can pay $1 per person to walk in. If you don't have a rental car, you can easily grab an Uber – click here to save $5 on your first ride. Upon arrival you'll receive a brochure that's loaded with fascinating information about Diamond Head history, science and ecology – I read it aloud while we waited our turn to park, and it made the whole walk more interesting (plus it was a great worldschooling opportunity).
Pro tip: Yes, there's a concessioner selling pineapple smoothies, fresh coconuts and even shaved ice. The prices are insane! $10 for a smoothie, $6-9 per coconut. After your hike, drive five minutes to this little shop in Waialae for some of the best shaved ice on Oahu at a fraction of the price!
Check out more awesome things to do on Oahu with kids
What to bring for easy hikes on Oahu
Pack your bags! Check out our full (but minimalist) women's packing list for Hawaii.
Even though these are all technically easy hikes, the most important thing to bring is appropriate footwear. We saw adults on each of these walks wearing flip flops, but with varying degrees of success. But for kids? No question, they'll have the most success with closed-toed shoes that have good tread. Even the gentle walk to Waimea Falls can get slippery if it's been raining (ask me how I know).
Our kids absolutely love hiking with their kid-sized Camelbak. Having water handy all the time makes any walk easier, especially hot and steep ones like Diamond Head and Makapu'u.
You'll want to bring plenty of sunscreen for your hikes in Hawaii. We found a new favorite kid-and-reef safe sunscreen! It rubs in easily, doesn't have much of a scent and we never burned when using it. The tubes are perfectly-sized for carry-on luggage, in case you roll that way.
For Manoa Falls and Waimea Valley make sure to apply lots of mosquito repellant and bring it with you to re-apply. You might want to try out these wipes to make it easier to apply to kids.
If you have a young one who can't manage a full hike on his own, a good baby carrier is indispensible. And how perfect is this one for your trip to Hawaii?
And, of course, don't forget the snacks.
Where to stay on Oahu
Now that you've figured out which hikes are on your must-do list, it's time to choose where to stay! Use this detailed guide to help you decide, and in the meantime here are a few quick picks by area:
There are wonderful family-friendly places to stay on Oahu, or you can look at these excellent budget-friendly vacation rentals on Oahu.
More resources to plan your trip to Hawaii
See all of our Hawaii travel planning resources in one place

Travel planning resources:
Compare rental car prices for Hawaii
Buy a top-rated travel insurance policy
5 simple money-saving hacks for booking.com

General Hawaii resources:
How to visit Hawaii on a budget
Renting a car in Hawaii: 10 things you NEED to know
What to pack for Hawaii
Is a cheap GoPro knock-off worth it?

Hawaii with kids:
What's the best Hawaiian island for families?
Is it worth visiting Hawaii with a baby?
Ultimate packing list for Hawaii with kids
Top 10 things to do with kids on Oahu
The best snorkel gear for kids of all ages

Oahu resources:
Best Oahu travel guide book
Perfect 7 day Oahu itinerary
Where to stay on Oahu
Family-friendly Oahu vacation rentals
Cheap Places To Stay On Oahu
10 Fun Things to do on Oahu for $10 or less
Getting the most bang for your buck on your Go Oahu discount card
Insider tips for visiting the Polynesian Cultural Center
The best beaches on Oahu (and why to visit them)
Where to find the best shave ice on Oahu
The best easy hikes on Oahu
North Shore Oahu complete visitors guide
Kayaking to the Mokes with Twogood Kayaks
Family-friendly kayaking with Holokai Adventures
Visiting Pearl Harbor

Maui resources:
Best Maui travel guide book
Perfect 3 day Maui itinerary
Cheap Places To Stay On Maui

Big Island resources:
Best Big Island travel guide book
Perfect 5 day Big Island itinerary
Cheap Places To Stay On the Big Island

Kauai resources:
Best Kauai travel guide book
Perfect 3 day Kauai itinerary
Cheap Places To Stay On Kauai
Oahu guidebooks
Still planning? Pin this article for later!